The Friday Scramble: Round 14
The General hit us hard last week and he has struck early this week! At least this week we know about them though and they aren't late outs. Doesn't mean there won't be any though. Let's Scramble!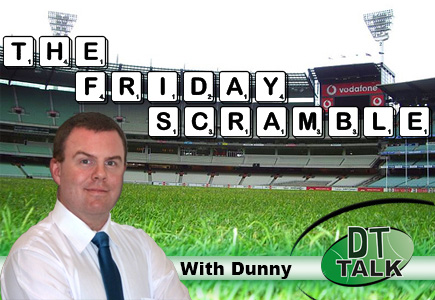 Ok, so who woke him up? We don't normally see "General Soreness" until a bit later in the season.  However, he came out earlythis year. Although he is now trying to hide from us by calling himself "Corporal Calf Soreness".  Of course last week we lost Stevie Johnson, Dayne Beams and Jack Gunston as late outs before their games.  What a horror week some coaches had!  But, that is the way it goes.  Because we don't have a rolling lockout in RDT or AFL Fantasy we have to roll with the punches.  Hey, at least we knew Gunston was out before lockout!
What we did see on the weekend was some upsets in the real side of our favourite sport which filtered through to Fantasy by having no less than 6 GWS Giants score over 100!  Wow!!
Selection News!
Well it seems the General has visited us again this week! But thankfully he returned us some soldiers from duty.
The Returnees:
Jared Polec – returns from his ankle injury, so if you are relying on him he is back again thankfully.
Jack Gunston – Not too many of you probably have him, but he is back and ready to go.
Dayne Beams – Thank You!!  I reckon nearly every team has him, so him going out really tested people's bench cover.  He is back, so rejoice!
Jack Martin! – No one would still have him, but it is great to see this kid back again this week.
Steve Johnson – I can hear the collective sigh of relief from all those coaches that brought him in last week only to see him miss out.  Hopefully his rest means his form turns around.
Luke Shuey – He is not in every team, but he is a POD that a lot of teams have, I am sure they are relieved.
The Departed:
Dan Hannebery – With his ankle tendon injury he will be out for a few weeks.  He needs to be traded out.
Jarman Impey– Out with the General Soreness.  This is not a surprise. He has played every game so far this year and he is due for a rest.  If you have him for bench cover, I hope you don't get a late withdrawal!
James Aish – Another of our rookies out for a rest.  This is also his first week off (apart from the bye of course).  If he is bench cover, certainly keep himin your team!
Paul Chapman – We all knew that this was going to happen! He is up for one for one of his scheduled rests for the season.  He should only be out for the one week, so if you have him and have cover, hold as he will be back next week.
#AskDunny
https://twitter.com/15Gizmo/statuses/479207555512537088
To be honest mate if I had to trade one of those guys out I would be trading out Langdon.  Mainly because I think that Hodge has the higher ceiling scores.  Langdon has made all the cash he is going to make, so I would only be looking at keeping him if you are going to keep him until the end of the season. Having said all that, I would be keen on getting Jimmy into my team.
@pkd73 Langdon, Birch or Suckling to Bartel?

— Jeffrey Lau (@Jiffy888) June 18, 2014
Of those three guys I would be looking at trading out Birchall or Langdon.  I still like Suckling as that damaging left foot can score some goals.  Birchall has been very consistent in the last 4 scoring 83, 87, 75 and 77.  This isn't the consistency we would be hoping for, it is a bit low!  However, Langdon will be ok for a couple of weeks without Fasolo in the team.  We know that he is better when Alex is out.  So if you had to trade out one of these guys I probably say Birchall at this point.
https://twitter.com/gdavidb7/statuses/479210061836091392
This answer depends on the form of the game you are looking at.  If you are playing in RDT or Supercoach where you have limited trades I say no, don't do it, you never sideways trade apart from a long term injury.  However, in AFL Fantasy, you can afford to do this, so by all means if you think that Dunn can do better (with a name like that how can he fail!) then bring him in.  Personally I think that both of these guys are capable of scoring well, but they are both likely to score poorly.
@pkd73 sloane or Kieran jack???

— Liam Reardon (@reards_123) June 18, 2014
Both great players having great seasons.  Sloane is averaging 103 and has had 4 games under 100.  Priced at $487k in RDT he is a bit of a bargain.  Jack is averaging 102 with three games under 100.  He is priced at $548k. It is a very tough call.  I like both guys.  Sloane will get more attention each week because of the Adelaide midfield not having as many out and out guns as the Sydney midfield.  However, with Hannebery out now, Jack will draw more attention.  I think this one comes down to price, I go Sloane.
Leagues Update
Wow!!!  Great stuff Fellow Friday Scramblers!!  Can you believe it.  We have 2 of the top 5 leagues in AFL Fantasy!!  Well done, very proud of my Friday Scrambler leagues!
Things To Remember
Have some bench cover! – now that the General is in town, bench cover is more important than ever.
Don't blow trades for one week restings. – In the limited trades forms of the game, don't blow a trade if you don't have to, and if you are  going to then make sure you bring in a guy that won't get rested and you are ok to keep for the rest of the season.
Give Calvin another chance – I am sure he wasn't happy with Rocky's performance last week as his captain choice.  He will deliver this week.  Trust me!
Don't give up! – The AFL threw up 3 upsets for us last week, you can do the same in your leagues.  There are enough games left for you to make that leap into the top 8 if you are only a couple of games outside.  Go for it.
Another week, and hopefully no late outs.  I don't think that I could take it again this week.  The scores are starting to get high and the Par score is starting to rise which means that you have to keep your team ticking along.  Make sure you listen out tomorrow in case there are some late changes.  If I hear anything I will let you know on twitter via @pkd73.  Good luck and catch you all next Friday.