Jeppa's Juniors – Round 13
Round 13 was a harsh reminder that team depth is crucial to success. Luckily, a new breed of rooks are coming through the ranks and there are plenty of options suitable for bench cover going forward. Check out Jeppa's thoughts here.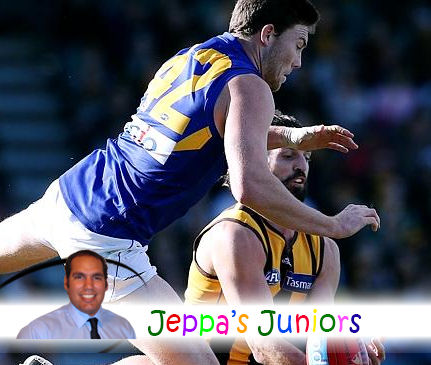 Fantasy aside, what an awesome weekend of footy. Ballantyne was relentless, Buddy showed his worth, West Coast were lucky, the Giants stood tall, Bartel had a million possessions, the Doggies caught the Pies knapping and young Christian Salem kicked a match winner. Almost every game had a headline but the headline for Fantasy read 'Diabolical'.
Prior to lockout, we knew Watson, Cox, Gunston and Polec were all going to miss however, it was the late outs of Beams and Stevie J that really hit those that didn't have adequate backup. It's not the first time multiple outs have stung coaches and as we get deeper into the season it will only get worse! So let's learn from the misfortune of Round 13 and ensure that you have suitable backup in every line whether it is by way of a cheap premium (Zorko & Dahlhaus) or a young up and comer (Miles & Martin).
Three-Or-More Gamers
KEEPERS
Round 13 saw a new wave of rookies come through the Fantasy ranks. No longer will I dwell on the usual suspects in Dom Tyson, 93 (Mid. $451,284, 95 be AF. $450,100, 128 be DT), Jared Polec, inj. (Mid. $393,371, 94 be AF. $383,300, 109 be DT), Tom Langdon, 91 (Def/Mid. $393,733, 68 be AF. $385,300, 54 be DT), Luke McDonald, 72 (Def/Mid. $323,131, 56 be AF. $320,700, 60 be DT), etc. You should have upgraded these players by now (or they're currently bench cover). From here on in, it will all be about the fresh faces available.
Jeremy McGovern (Fwd. $206,114, -34 be AF. $190,900, -68 be DT) is the most exciting young prospect in AFL Fantasy/Dreamteam. They call him 'Big Turbo' at West Coast and you can see why. He gets to contest after contest and has hands like buckets that allow him to clunk most high balls that come his way. McGovern has taken 20 marks over the past two rounds and it appears the Eagles want to use him as a swingman, a bit like Ben Reid and Harry Taylor. He finished with 95 Fantasy points against the Suns, kicked the winning goal and was named in the Eagles' best players after his efforts. There are no job security issues for McGovern in the short term and given that he has the lowest breakeven in both Fantasy and Dreamteam this week, there is plenty of money to be made if you pick him up.
Marcus Bontempelli (Mid. $269,863, 6 be AF. $272,200, -1 be DT) was the last person I expected to step up against the Pies. He wreaked havoc in the midfield, racking up 22 possessions, 5 marks, 4 tackles, 1 goal and 92 Fantasy points at the final siren. There's no doubting that Bontempelli is a confidence player so hopefully he can build on his performance that saw him win this week's NAB Rising Star nomination. Lewis Taylor (Fwd/Mid. $315,219, 44 be AF. $311,000, 38 be DT) was another to play out of his skin. Against the Giants, Taylor kept his team in the match by kicking three goals and he scored 83 Fantasy points in the process. He is a keeper for one more week but after that I'd look to upgrade/downgrade him.
Uncommon selections in Dean Kent (Mid. $249,050, 16 be AF. $261,900, 13 be DT) and Jon Ceglar (Ruc. $292,642, 20 be AF. $301,700, 30 be DT) both get a mention for being unsung heroes for their respective clubs. Kent used his pace to great effect and kicked two excellent second half goals. He had 91 Fantasy points and was one of the Dees best on the day. Ceglar was a pillar of strength for the Hawks with 16 possessions, 4 marks, 2 tackles, 22 hitouts, 2 goals and 88 Fantasy points but unfortunately he's biding his time until McEvoy returns. As good as they were on the weekend, I still wouldn't look to bring in these players however, if you already own them then hold for now.
Those that still have Jake Lloyd, 76(Mid. $275,256, 10 be AF. $280,500, 59 be DT)…keep him! Dan Hannebery is out for the next 4 weeks and John Longmire has indicated that Lloyd, who is in great touch, will step up his midfield role to fill the void. Same applies to Xavier Ellis, 77 (Def/Mid. $277,574, 25 be AF. Mid. $280,300, 26 be DT). With Scooter and Shuey missing in action, Ellis played the majority of last week's match in midfield. He'll play on the ball again this week against the Saints so expect a 75+ score.
DON'T PANIC
Zac Merrett, 68 (Fwd. $352,561, 47 be AF. $358,700, 61 be DT), Patrick Ambrose, 68 (Fwd. $271,224, 33 be AF. $264,700, 35 be DT), Cameron Shenton, 63 (Fwd/Mid. $246,430, 21 be AF. $256,400, 47 be DT), Matthew Spangher, 63 (Fwd. $291,382, 37 be AF. $288,500, 10 be DT) and Claye Beams, 59 (Mid. $251,721, 17 be AF. $258,200, 3 be DT) were all solid without being amazing. These youngsters can score well and given their respectable breakevens, I'd hold them. Don't lose sleep though if you need to offload one of these players to more profitable youngsters in Martin, Miles and/or McGovern.
Zac O'Brien (Mid. $148,311, 9 be AF. $128,600, 8 be DT) copped his third consecutive vest from as many games but he is still scoring at a reasonable rate when he's on the field. Against the Giants, O'Brien had 46 Fantasy points from just 41% game time. C'mon Leppitch, give him a full game so we can see what the kid can do!
TRADE, TRADE, TRADE
If I haven't categorised a player from Round 13 under 'Keepers' or 'Don't Panic' then trade them out as soon as you can but when appropriate!
Two Gamers
Stefan Martin (Ruc/Fwd. $258,121, -16 be AF & $241,500, -54 be DT) proved that his score of 99 in Round 12 was no fluke. He had Mumford's measure in the game and finished with 9 kicks, 7 handballs, 4 marks, 4 tackles, 28 hitouts and a whopping 100 Fantasy points. I'd argue that Martin is Brisbane's most important player at the minute given the way he is able to compete in the air and on the ground. Being more nimble than his taller and heavier opponents, he picks up a few cheap possessions along the way. The way I see it, Martin is a must have in both Fantasy and Dreamteam. If you don't have him, then trade him in!
Anthony Miles (Mid. $307,055, 10 be AF & $249,800, -42 be DT) should have been playing months ago and there are no job security issues for him now. He was easily Richmond's best player against the Dockers after amassing 30 possessions (15 contested), 1 mark, 4 tackles, 1 goal and 105 Fantasy points. Even though he's a little pricey, Miles' average of 96 is hard to ignore and he'd make a great M9. Think of how handy it would have been if he was your emergency this week with Stevie J and Beams late omissions!
Notable mentions to Nic Graham, 37 (Mid. $195,582, 24 be AF & $196,700, 15 be DT) and Aidan Riley, 21 (Mid. $137,477, 22 be AF & $152,300, 27 DT). Vests and poor scores from these two are slaps in the face so stay away.
One Gamers
Darcy Lang (Mid. $213,321, 31 be AF & $137,800 DT) was the one gamer that impressed me the most this week. He started in the green vest against the Saints but came on at half time after Horlin-Smith sustained a back injury. Lang is a terrific user of the footy, has plenty of speed and is very composed for such a young player. He played at half forward and had 5 kicks, 2 handballs, 2 marks, 6 tackles, 1 goal and 57 Fantasy points from just 41% game time so there's something to work with from a Fantasy point of view. Lang's fellow young teammate, Brad Hartman (Fwd. $122,963, -3 be AF & $119,200 DT) also made his debut in Round 13. He plays with plenty of energy from half back but lacks a little polish with his disposal. He finished with 14 possessions, 1 mark, 5 tackles and 59 Fantasy points but his numbers were propped up after he had a run on the ball in the last quarter when the game was dead and buried. Ultimately, both Lang and Hartman won't play in too many more games this season. Stevie J, Caddy and Christensen will all return over the next couple of weeks and unfortunately it will be at the expense of these youngsters.
Ben Ross, 31 (Mid. $111,171, 15 be AF & $98,500 DT), Elliott Kavanagh, 19 (Mid. $206,265, 58 be AF & $237,400 DT) and Tim Broomhead, 17 (Fwd. $164,186, 45 be AF & $119,200 DT) were others to be given the green vest in Round 13. You can't ignore Ross's score of 31 in a quarter and a bit so hopefully he gets more opportunities to build on his debut for the Hawks. Broomhead and Kavanagh were both late ins on Sunday and they didn't excite during their limited game time. I rate Broomhead highly so hopefully we get to see more of him soon. Hold off picking these three for the time being.
I'll give a quick shout out to small forward turned defender, Nathan Wilson (Fwd. $143,826, 21 be AF & $184,400 DT) and key defender, Mark Austin (Def. $175,726, 40 be AF & $213,000 DT). Both were late ins for their respective clubs and they scored just 38 and 28 Fantasy points respectively. That's enough of a reason to stay away from them in my opinion.
Keep Your Eye On
This is the week Mitch Honeychurch (Fwd/Mid. $135,500, 48 be AF & $112,800 DT) will debut for the Bulldogs. If he doesn't get a guernsey, then we may need to send Brendan McCartney some hate mail! Honeychurch knows how to find the footy; he's tenacious around the contest and will fit nicely in the Bulldogs setup. He was hands down, the best player in his VFL game last weekend after gathering 25 possessions, 10 marks, 3 tackles, 5 goals and a whopping 136 Fantasy points. As a dual position player the upside is massive! A green vest is likely first up so put him on your watchlist.
There was big hype around Shane Kersten (Fwd. $115,200, 41 be AF & $119,200 DT) at the start of the year. With Podsiadly leaving Geelong at the end of last season, the view was that Kersten (and Vardy) would play a key forward role for the Cats but a knee injury has seen him miss the first 13 games. After 13 possessions and 6 goals in the seconds last weekend, Kersten is in prime position to be named this week. He'll be a popular F7/F8!
Blaine Johnson (Fwd. $115,200, 41 be AF & $98,500 DT) is a medium sized forward making waves in the VFL. He was named as an emergency for the Blues in Round 11 so after 13 touches and 3 goals in the reserves last weekend he'll be close again to being named on Thursday night. Given the role he plays, I doubt Johnson will average more than 65 but he's cheap as chips!
It's pretty sad that Tim Membrey (Fwd. $124,400, 44 be AF & $119,200 DT) can't get a game at the Swans. He has been in superb form in the NEAFL all season and after two years on Sydney's list he is still yet to make his debut. Membrey is a medium sized forward (a bit like Chris Mayne) and the only way I see him fitting into Sydney's 22 would be if Adam Goodes went down with injury.
Got a question? Ask me on Twitter @JeppaDT.