The Weekend Wash-Up – Friday the 13th
This week's wash-up comes to you exclusively from my shed, where I've resided since about 2pm this afternoon. I don't really know where to start this weekend, but what did we expect to happen when Round 13 begins on Friday the 13th?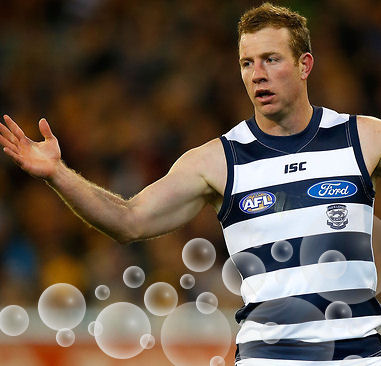 This week's wash-up comes to you exclusively from my shed, where I've resided since about 2pm this afternoon. I don't really know where to start this weekend, but what did we expect to happen when Round 13 begins on Friday the 13th? Late withdrawals, donuts and bad trades were just the start, but my final score? R.I.P Matt. Hold onto your butts, it's time to take a look at the weekend wash-up.
The Legends
Miles (105) – If a player was on my radar then were was a high chance they scored well. Miles was fantastic for the Tigers on a dark day for the club, GWS look to have let exactly what they needed slip. A ball winning midfielder. He's a tough nut and will continue to rack up solid scores, he's easily in Richmond's best midfield. VERDICT: Great option for your bench as cover.
Franklin (122)  – There's not much more I need to say about Buddy, when he's on he is unstoppable. Redemption for his poor score last week. VERDICT: He's still solid value for a bloke who has 6 tons in his last 9 games.
Jack (117) – One that has slipped under the radar is Jack. Many would've been put off due to his shocking form towards the end of last season, but he doesn't look like slowing currently. His low ceiling makes me hesitate, however 7 consecutive tons is hard to ignore. VERDICT: I still have to pass.
Lobbe (133) – I really should back myself in more often. Backed Lobbe in for a massive second half of the season, but didn't have the balls to go through with it. Congratulations to those who did, he's on fire. Hit 40 hitouts again, before the last 2 weeks his season best was 34. VERDICT: Now is the time to pick him up.
Ebert (136) – 40 disposals is a great outing in anyone's book, if only he could do this consistently! The potential is there, the consistency isn't. VERDICT: Still not sure he's a top 8 mid.
Naitinui (116) – I called this one too! Nic Nat is back at full fitness and thrived without Coxy in the ruck. He's still a bargain and should be strongly considered if you're after a ruckman or some quick cash. VERDICT: He's looking good.
Prestia (139) – 4 consecutive tons, 3 round average of over 125. Hard to argue with those stats, we all knew Prestia had the ability to go big, now he's doing it consistently. VERDICT: Great POD.
McGovern (95) – He's been a shining light in a terrible season for the Eagles. He will be a sensational rookie to have as cover for the rest of the season, job security is no longer an issue. VERDICT: Still great value.
Harvey (126) – I can't argue it anymore. Harvey is the second, if not best forward in the comp. He should be high on everyone's prority list. VERDICT: Gun.
Hanley (113) – I gave you the stats last week and he didn't let me down. He's now averaging 100 vest aside. He'll be coming in for me this week.  VERDICT: Top 6 defender comfortably.
S.Martin (100) – I don't regret not bringing him in, however he was brilliant for those who did. Negative breakeven this week so it's not too late to get on board! VERDICT: Great value, but has Sandi this week.
Bartel (148) – I don't need to say anything more about this bloke, he is a true legend! VERDICT: Just get him in.
Kelly (129) – He has his quiet games, but when Kelly is on he can go big for a defender. 12 tackles propelled him to a brilliant 129 and worthy of another mention. Keep him on the radar. VERDICT: He should be a top 6 defender, don't be afraid to grab him!
Liberatore (126) – He just keeps getting it done. Libba was a colossus for the Doggies on Sunday and single handedly dragged them over the line. He's had 10+ tackles for a ridiculous 5 weeks running and hasn't gone under 7 tackles since Round 4. VERDICT: Beast.
Goddard (157) – Finally BJ rounds out the legends, and what a legend he is! He smashed out a famed triple double to propell him to a whopping 157 point haul, more than enough to make up for last weeks disappointment. VERDICT: Not sure I'd bring him in now, although he should be as consistent as anyone!
The Losers
Docherty (48) – Straight back to Earth for Docherty owners this week, it's been a great run but this probably spells the end. Shouldn't be on your field and is peaking in value. VERDICT: I'd be trading.
Rohan (0) – Many of you may have missed the fact that Rohan managed to actually play a game of footy without registering a single stat. Wow. (It was sub affected, but even so…) VERDICT: Irrelevant but interesting to see how bad things could have gone for us.
Cornes (53) – It's never a good sign to see one of your premium mids is being tagged, however getting the news that they have a shut down role of their own is a complete disaster. This is why Kane can't be considered a legitimate option. VERDICT: Trade.
Le Cras (53) – I had him firmly on my radar, he's now drifting well off it. This wasn't his best effort. VERDICT: Avoid.
Kolodjashnij (34) – I seriously hope everyone has moved KK on, from their fields at least. If not, I'll see you in rehab tomorrow. VERDICT: He is worthy of a spot on your bench in my opinion.
Jaensch (69) – If this has seemed brief it's because there is the slight matter of this game sh*tting me off to attend to. This bloke played a part of my psychological downfall, and to make things worse I can't trade him. VERDICT: If you have the luxury trade available, it's time to upgrade.
Dangerfield (73) – As bad as he's been, it's not the worst of our problems. Most of us own him, and you'd be a brave soul to trade him out now considering the damage he can do. Not to mention the fact he's due, remember what I said about his 4 game runs of form. It's time for a turnaround. VERDICT: Hold.
Rockliff (75) – I had Rocky captain and yes, this wasn't his best effort. However there was bigger losers this week, myself the main culprit. He's still averaging over 120, Rocky will be back big time. VERDICT: Remain calm people.
Selwood (74) – Ok panic. Time to f**kin panic! God knows what has happened to him, but since I traded him in 4 weeks ago he may as well have been an out and out forward. Pathetic. VERDICT: I'm going to hold and pray for a miracle. Gold Coast go head to head in midfield so hopefully he goes big this week, last chance.
Riewoldt (41) – St Kilda were simply disgusting on the weekend, it's time for N Roo to go. You can't carry these shockers. VERDICT: Trade time.
Stanton (68) – As I said on twitter, the only thing that will be picking up in terms of Stanton's game without Watto is a tag. This turned out to be the case, and as we all know when Stants gets a tag… I will say no more. VERDICT: Nowhere near a top 8 mid.
Beams +SJ – I wonder if for once, JUST ONCE the top teams could name the squad that they will ACTUALLY BE PLAYING COME GAME DAY! Christ sake, these mind games are pointless and only piss everyone off. I highly doubt SJ got injured between Friday and Sunday, same deal with Beams. They were never playing, and those (like me) who just traded SJ in were played for fools. VERDICT: Anyone who says there isn't luck involved with DT is kidding themselves. To those who say something along the lines of "How did you do so bad, I'm on 2500 with 10 in play", screw you.
Talking Point
Yes I wasn't a Buddy fan at the start of the season, and yes I'm sitting here with egg on my face writing this. Although it took them a while, Sydney have overcome their Mummy problems and are clearly the team to beat this season. Buddy was undoubtedly the weekend's talking point, with 3 incredible goals in a matter of 5 minutes when the game was directly in the balance. What a superstar.
This Game Sh*ts Me
I sit here sobbing whilst writing in a puddle of my own tears, so you can guess where this section is going. I had a weekend that deserves to rot in hell, starting from last Friday. Lemony Snicket's sequel to 'A Series of Unfortunate Events' was a cracker. *Novel incoming* Jobe Watson managed to pull a muscle nobody thought possible, starting the downward trend. However this situation was recoverable, and who better to do that job than Steve Johnson? St Kilda had no taggers starting, Geelong should win easily and he will have a day out. You can't keep a great player down for long. So I brought him in despite his massive BE. There was an alternative I was strongly considering, involving bringing in Hanley this week with his low BE, then moving him back to defence next. My other trade was between Nic Nat and Mumford in for Cox. I had tipped Nic Nat to thrive without Cox in the team, and his cheap price was too hard to ignore. As I'm sure you can tell, I went with the supposedly 'safe options' and brought in Mumford and SJ. Not only did that cost 146 points (Yes, 146) but it has set me back roughly $100k as well. I'll be honest I can handle my core players deciding to play dodgeball as there's nothing I could do to change that. Beams' late withdrawal was nasty, but I had cover. However when it's your trades that f**k you over, all you can think about is what could have been. What should have been. AND THAT'S WHY THIS GAME SH*TS ME!
Here are the 5 nominations for this week, I'll just skip the voting as my best player here is not applicable:
Bartel – He's been by far the best defensive pick of the season, Jimmy has been a DT legend for year's and he's winding back the clock. Superstar.
Goddard – He was looking for redemption after last week and he produced it in style. Forget how bad his Bomber teammates were, his 157 was a highlight on a dark day for the Dons. Massive.
Liberatore – He just keeps getting it done! Once again he laid 10+ tackles and had 23 contested possessions. Beast, certainly worthy of the neutrals votes.
Harvey – Speaking of getting it done, Boomer is going to new levels. Things are getting out of control, he's averaged 117 in his past 5 games and his making or breaking DT seasons! Huge.
Prestia – 4 consecutive tons sees Prestia make it into the nominees, and rightly so. His 3 round average of 125 is unmatched, he looks to have come of age and what a sight it is.
Who will get your vote?
Loading ...
The Other Bits and Pieces
The moment I've been dreading. I actually thought my players might bounce back after last week's catastrophe. Little did I know that World War 3 was about to breakout. You know what, let's just skip this section, pretend the last 3 days never happened and start a fresh next week. No? Well I scored 1885. Rest in pieces. Didn't pass 1900 in RDT either for what little it's worth. Yeah… Hope you enjoyed etc. etc. I'm off to drown my sorrows! Thank god for the World Cup.
If you enjoy seeing me rage and want a punching bag when sh*t goes tits up, follow me on twitter@MattCraigDT. My views are honest, mostly helpful and occasionally entertaining! Hit me up with your weekly Golden Stubby nominations, and mainly what gave you the sh*ts! I value everyone's opinion