The Friday Scramble: Round 13
Another tough round for Fantsy coaches last week with a lot of mediocre scores from our favourite players. No one said this game was meant to be easy, oh hang on, isn't that what EVERYONE was saying when we went to two trades per week? Where are they now, I guess they are sitting in the top 10.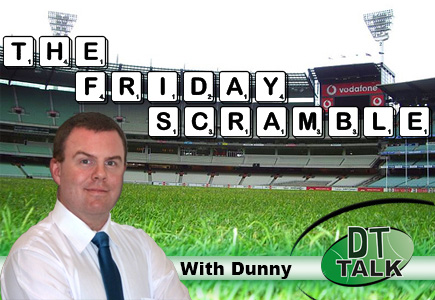 Another tough round for Fantsy coaches last week with a lot of mediocre scores from our favourite players.  No one said this game was meant to be easy, oh hang on, isn't that what EVERYONE was saying when we went to two trades per week?  Where are they now, I guess they are sitting in the top 10.  Anyway, enough of that.  At the end of the day, it comes down to what the players are doing on the field, and we all know that we can't control that.  There are certainly a few things we need to discuss this week as well as a few tweets to answer.  So, let's not chip it around the half back line, let's get right into it up forward!  (although chipping around the backline is great when you own the two guys chipping it to each other!)
Jobe Watson
Let's be honest, this is one of the biggest issues that we have this week.  There are a lot of people that have him (myself included) and we need to trade him out given that we know that it is going to be 8-10 weeks that he will be out.  Firstly have a read of our mate Daniel had to say on it here in his article Daniel's Dilemma.
My preferred guys to replace him would be Josh P Kennedy, Steve Johnson (despite high BE), Michael Barlow, Nathan Fyfe and Tom Rockliff.  This obvioulsy assumes that you already have guys like Ablett, Pendlebury, Beams and Joel Selwood.  In my team I have traded in Michael Barlow, he is a jet who doesn't seem to get tagged as much as Fyfe or Mundy do and he also drifts forward and kicks goals.  I have been a Barlow owner before and never really have to worry about him getting his points (cue him getting his lowest score ever now that I have said this).
One other thing that people may not have thought of is what is the effect on the Bomber players that are left.  Normally Watson would have taken the number one tag from the opposition.  This will now fall elsewhere.  Who will it go to?  Well the obvious options are guys like Heppell and Goddard.  Which one of these it is I truly don't know.  So if you are an owner of either of these guys, beware that they may pick up that tag now.  Certainly not a reason to trade either of them out, but if they have a dip in output, don't be surprised.
Selection Issues!
Wow didn't the teams give us some problems this week.  There were a couple that we were expecting but not this much!
Jared Polec – After injuring his ankle last week and topping out in price it is time to trade Jared and not being picked this week just underlines it!
Dean Cox – Wow, this one came out of the blue.  He is one of the first big names to suffer at the hands of the General Soreness.
Charlie Cameron- Has a Groin injury, but he doesn't appear on the club or AFL injury lists so I don't know how bad this is.  At this stage I would hold him if you can as he still has cash to make.
Jed Bews – Has been omitted with a reason of Managed.  So this would hopefully mean that he will be back again next week.  At this stage I would hold him.
Jay Kennedy-Harris- Not sure if you are still holding him, but even if he was picked I think he had topped out in price.
SYLVIA!!!!!
Someone keep Warnie away from the trade button this week!  Whatever trades he tweets, don't believe him, he will bring Sylvia in!!
#Ask Dunny
I am trying a new way of putting tweets in here, but it keeps showing my tweet too. It is too late in the night for me to work out how to stop that so I am sorry that you see my original tweet 4 times here, but I will work on it for next week!
@pkd73 who should I go as captain?

— Calvin (@CalvinDT) June 11, 2014
Well I am glad you asked Calvin. I have this mate, apparently he is a Pirate.  He tells us occasionally who he thinks would be a good captain.  Perhaps have a look at his article, I believe it is called Calvin's Captains.  My choice this week would be Barlow or Ablett.
@pkd73 was wondering what your thoughts are on Jaensch with the impending return of Henderson in the coming weeks.

— Craig Madden (@cmadds) June 12, 2014
This is an interesting one as it is Henderson's role that Jaensch has been playing.  He has been playing well enough to keep playing that role.  Even though Henderson has been returned to the senior list, I see him playing a couple of weeks in the SANFL first before returning to the AFL side.  I guess my conclusion is that Jaensch has shown enough to keep his role.  Hopefully they can play alongside each other.
@pkd73 @DTTALK If morabito gets named for this week, would he be a good downgrade option? #AskDunny

— Ashley Owen Pearce (@pearce_ash) June 11, 2014
This is a real concern in the one game price rises that we live in now.  In RDT or SC obviously we would wait a week or two to see how he goes.  But with AFL Fantasy after the first week he will have a price rise (or drop).  At this stage I can't see him playing a full game, at best he gets the red vest so I still think you can wait a week.  If he has a good game he certainly would be worth a downgrade option, but only as bench cover.
https://twitter.com/ThomasBennetts/statuses/476705759237898242
With this one there are a couple of factors to consider.  In AFL Fantasy where we have two trades a week I would be making sure that my team on the ground was in very good shape and that my backup on the line I was going to a cheap non player was a reliable guy that will play nearly every week.  Effectively making sure you never ever have to hope that that super cheap guy plays.  Now in the limited trade forms of the game I am always a little loathed to do this as trades are valuable.  But if you have absolutely no cash and this is the only way that you can do it then I guess you can do it, but I wouldn't do it everywhere as you would be burning 4 valuable trades to do it.
 Things To Remember
It seems that the General is paying his visits early this year! – Dean Cox, Hamish McIntosh and Jed Bews all have reasons of Soreness or Managed.  This will be the start of many that we will see in the second half of the year.
Don't trade for the sake of it.  In RDT you have limited trades, don't just trade too much otherwise you may find yourself short at the end of the year.
Congrats on a great career Darren Glass – Can't say you ever featured in my fantasy team and if you have him, I am fairly sure you don't read DTTalk and if by chance you do… trade him out immediately.
Watch out for the Reverse Tippett effect.  When Tippo wasn't in the team, Buddy was bad.  If you own Buddy then just be careful as he may go back to those poor scoring ways.
Apology.  Last week I mentioned that someone may have been tagged by Andrew Raines.  Now clearly Raines was only an emergency.  I am not sure how I missed that but I did.  So sorry guys, no excuses, just a stuff up by me.  Promise I will try not let it happen again.
What an eventful last 36 hours in the DT world with some shocks at selection!  Hopefully you don't have any major issues (like I do in SC with Watson, Polec and Cox!).  Best of luck in your league games and also the Eliminator in RDT (unless you are the coach of Oinkers Champs who I am playing this week).  As usual catch you all on twitter where you can find me @pkd73.