Jeppa's Juniors – Round 12
We're just over halfway in season 2014 and it's at this stage that Fantasy and Dreamteam gets a little interesting. Gun rooks are always handy replacements for those underperforming so check out Jeppa's review of all his 'juniors' from Round 12.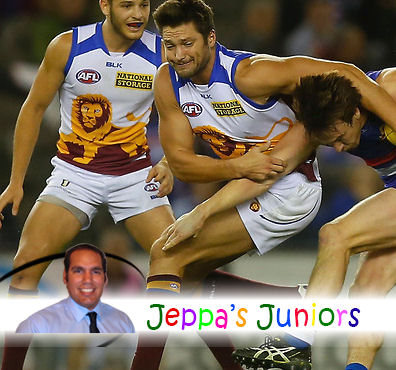 Dreamteam and Fantasy are games of emotion. Sometimes it goes our way, sometimes it doesn't. There were a heap of premo players in Round 12 that failed to live up to expectations but you've got to take the good with the bad.
I was lucky enough to spend last week in Tassie on holiday and finished up in Launceston drinking beers and watching a heap of footy with Warnie, Roy and Calvin. Many good times were had but all of our teams were pretty poor. If you scored over 2000 in Round 12, well done, and if you avoided injuries to Watson, Johnson, Polec and Hartung then you're doing even better. As far as rookies go, there were the usual suspects but a couple of newcomers surprised.
Three-Or-More Gamers
KEEPERS
The current favourite for the 2014 NAB Rising Star award, Tom Langdon, 87 (Def/Mid. $384,697, 69 be AF. $374,900, 69 be DT) bounced back after a couple of quieter performances in recent weeks. With his DPP status, keeping Langdon means he's flexible as a D7 or M9. I'd hold him if you can. Luke Dunstan, 89 (Mid. $377,638, 56 be AF. $362,900, 39 be DT), Kade Kolodjashnij, 82 (Def. $363,720, 70 be AF. $351,100, 74 be DT) and Zac Merrett, 87 (Fwd. $333,969, 23 be AF. $336,000, -19 be DT) are other handy backups that I would be sitting on in the short term.
Less popular rooks in Robin Nahas (Fwd. $324,540, 32 be AF. $331,000, 49 be DT) and Jarman Impey (Fwd. $230,042, -2 be AF. $229,000, -17 be DT) had scores in the 90's last weekend. Both were named in the bests for their respective clubs and their job security is solid for now. Keep, keep, keep.
It took three games but Claye Beams (Mid. $227,369, 1 be AF. $233,600, 5 be DT) looks to have found some much needed confidence. 24 possessions, 4 marks, 3 tackles, 1 long-range goal and 93 Fantasy points were his numbers against the Western Bulldogs and after watching him closely, to me, he looked fitter and stronger. Beams is still cheaper enough to bring in for Fantasy for those that are keen.
Matthew Spangher (Fwd. $277,240, 29 be AF. $271,900, 27 be DT) deserves a mention after scoring a ton against West Coast. I still wouldn't trade in Spangher but if you've got him then obviously keep him on your forward bench till he stops earning you money.
DON'T PANIC
Don't let Ben Lennon's (Fwd. $247,691, 61 be AF. $215,000, 58 DT) green vest put you off. Lennon only managed 7 Fantasy points in Round 12 but he's still got plenty more to offer. Angus Litherland (Def. $168,069, -7 be AF. $180,200, -28 be DT) didn't have a great game last weekend but 50 Fantasy points is far from embarrassing. He's still earning decent coin so hold him for now.
Others in the same boat as Litherland include Marcus Bontempelli, 73(Mid. $240,480, 22 be AF. $230,200, -1 be DT), Xavier Ellis, 66 (Def/Mid. $256,616, 27 be AF. Mid. $263,700, 41 be DT), Charlie Cameron, 61 (Fwd. $177,095, 8 be AF. $165,500, 4 be DT), Patrick Ambrose, 56 (Fwd. $256,062, 32 be AF. $246,600, 29 be DT) and Cameron Shenton, 44 (Fwd/Mid. $223,890, 9 be AF. $234,700, 15 be DT). Hold these players.
TRADE, TRADE, TRADE
If I haven't categorised a player from Round 12 under 'Keepers' or 'Don't Panic' then trade them out as soon as you can but when appropriate!
Dom Tyson (Mid. $450,049, 89 be AF. $456,600, 110 be DT) copped a heavy tag from Brent Macaffer last Monday, scored only 50 Fantasy points and his breakevens have skyrocketed as a result. Trade him before he loses significant value…it's time.
Two Gamers
Well one thing's for sure, Jeremy McGovern (Fwd. $155,160, -27 be AF. $119,200, -66 be DT) can take a contested grab and if he doesn't he'll crash through anyone in front of him. In Round 12 against the reigning premiers, McGovern was one of the Eagles' better players after 12 kicks, 3 handballs, 10 marks, 1 tackle, 2 goals and 88 Fantasy points. The big question is, will he hold his spot and be an effective cashcow? Personally, I think there's a spot for McGovern in the Eagles line up for the next month of footy. I much prefer it when West Coast play two lead up forwards (McGovern & JJK) with a resting ruckman in the square and Darling running hard up the ground and doubling back. McGovern won't average 80+ each game so don't get carried away. For Fantasy he's a decent downgrade option this week and I'd consider him for Dreamteam but only as an F8 given his uncertainty in the Eagles 22.
Two green vests in two weeks for Zac O'Brien (Mid. $133,376, 10 be AF. $98,500, -21 be DT) doesn't appeal massively to potential owners but he's scoring at a healthy rate when you consider how long he's out on the field. O'Brien backed up his debut score of 58 from 43% game time with 23 Fantasy points from just 20% time on ground last weekend. If he plays a full game this weekend then expect a score greater than 75. Long term, he could be in and out of the side but the Lions are playing the kids thus he should play at least another 6 of the final 11 games of the home and away season.
Another bloke who could rack 'em up if he avoided the green vest is Liam Anthony (Mid. $202,963, 35 be AF. $262,200, 75 be DT). In a half of footy, Anthony scored 57 Fantasy points and he was pretty effective around the ground. I still wouldn't pick him up this week with plenty of value elsewhere. Brodie Murdoch (Fwd. $216,225, 24 be AF. $224,000, 22 be DT) is another I'd pass on. Scores of 62 and 52 aren't great returns for a player priced above $200,000.
Christian Howard (Def. $136,704, 26 be AF. $169,300, 42 be DT) was revolting in his second game of the season. He could only manage 4 disposals and 14 Fantasy points in 2.5 quarters of football. After copping a red vest it looks like he'll be banished back into the VFL.
Notable mentions to Ben Newton, 40 (Mid. $141,242, 0 be AF. $119,200, -27 be DT), Josh Walker, 35 (Fwd. $212,343, 45 be AF. $242,500, 66 be DT), Tom Simpkin, 17 (Def. $154,706, 29 be AF. $183,500, 43 be DT) and Kristian Jaksch, 15 (Fwd. $145,579, 28 be AF. $174,500, 43 be DT). Stay well away from these blokes, scoring and job security are big concerns.
One Gamers
Stefan Martin (Ruc/Fwd. $215,267, -2 be AF & $241,500 DT) stepped up in a big way for the Lions when it was needed most. Martin was the Lions sole ruckman and he was dominant in the air and at ground level. He finished with 17 possessions (6 clearances), 3 marks, 32 hitouts, 99 Fantasy points and was close to best on ground. At $215,267, Martin offers plenty of Fantasy value but don't jump the gun early in Dreamteam just in case. I'll be picking up Martin in my Fantasy forward line this week, no doubt.
Hardwick finally gave Anthony Miles (Mid. $275,122, 29 be AF & $249,800 DT) a guernsey and what do you know, he's named in the bests for the yellow and black. Playing purely in the midfield, Miles had 19 touches, 4 marks, 6 tackles and 87 Fantasy points. Don't underestimate how big he can go. Miles had 103 against the Hawks last season (playing for GWS) and this year in the VFL he's averaged 110. Personally, Stefan Martin offers more at this point but I'm not ruling him out down the track.
It took six seasons but Luke Lowden (Ruc. $125,963, -8 be AF & $119,200 DT) finally made his debut against the Eagles in Launceston. Other than his haircut everything went perfectly for the big fella. Playing in the ruck against Nic Nat and Coxy, Lowden played his role and finished with 12 touches, 15 hitouts, 2 tackles, 3 important goals and 66 Fantasy points. It's obvious that Lowden is just a temp replacement for the injured McEvoy and Hale who could both return in Round 13 so I wouldn't pick him up.
Cameron Ellis-Yolmen, 15 (Mid. $104,532, 25 be AF & $119,200 DT) was a late change for Calvin's favourite Matty Wright and started in green. He's an athletic chap with a massive wingspan that suggests he should have been a basketballer. As a Crows midfielder, he's still pretty raw but I can see the hype surrounding him. Given that he's a fringe player and a likely green vest candidate, I'd stay away.
Rory Lobb, 53 (Ruc. $181,734, 22 be AF & $112,800 DT), Cory Dell'Olio, 48 (Fwd. $245,371, 49 be AF & $235,800 DT), Sam Dunell, 40 (Mid. $213,906, 44 be AF & $255,700 DT) and Karmichael Hunt, 26 (Mid. $202,711, 52 be AF & $112,800 DT) are not Fantasy relevant so avoid them at all costs.
Keep Your Eye On
Tim Broomhead (Fwd. $184,300, 65 be AF & $119,200 DT) has an abundance of talent, he's just got to stay injury free. This medium sized midfielder is quick, a clean user of the football and plays inside and out. Broomhead was named as an emergency for the Pies in Round 12 after some solid VFL form and word is that Buckley loves him!
Jack Redpath (Fwd. $115,200, 40 be AF & $119,200 DT) is a mature age, bullocking forward that would slot in nicely at the Bulldogs. He's got strong hands and has averaged two goals per game in the VFL this season. If Redpath is upgraded from the Dogs rookie list this week, expect him to play.
The previously mentioned Mitch Honeychurch (Fwd/Mid. $135,500, 47 be AF & $112,800 DT) was the first emergency for the Dogs last weekend so it's fair to assume that he's close to making his debut. Note that his recent VFL numbers have been good but not amazing.
Got a question? Ask me on Twitter @JeppaDT.