The Weekend Wash-Up – Round 12
Having a look at my team following Dream Team's Black Saturday, things weren't pretty. Luckily for most bald jesus healed the sick and cared for the poor, saving most from disaster. Matt takes a look at the weekend wash-up.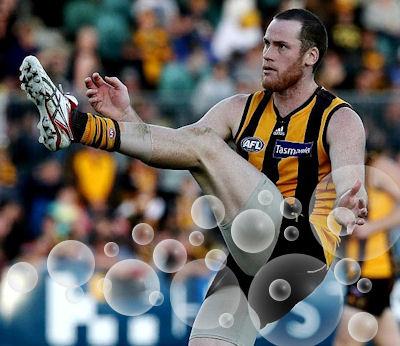 Having a look at my team following Dream Team's Black Saturday, things weren't pretty. Luckily for most bald jesus healed the sick and cared for the poor, saving most from disaster. It's time to take a look at the weekend wash-up.
The Legends
Gibbs (139) – Legends were hard to come by this weekend, and they came from unlikely sources. Gibbs was clearly the BOG on Friday and to be fair, it hasn't come out of nowhere. He's managed to crack 110 in 5 of his past 7 appearances. Unfortunately his other 2 were 67 and 72. VERDICT: Certainly worth a look, bear in mind he will still throw up the occasional shocker.
Roughead (163) – Anyone (like me) who came up against him in your head to head league, I feel your pain. This is an outlier if I've ever seen one, he won't manage half this score most weeks. VERDICT: It was only his second ton of the season, I'd be avoiding unless your desperate for some quick cash.
Naitinui (91) – I saw him live last weekend against the Kangas and thought he hadn't moved as well in 2 years. He's backed it up against the Hawks and I'll be seriously considering trading him in this week. VERDICT: Great value, his fitness levels look back to AFL standard. He's even plucking marks!
Wingard (125) – WINGAAAARD WHADDA MARK. He also scored 125 points. In all seriousness he has become hugely relevant after that concussion affected 18, he certainly wasn't feeling the ill effects on Saturday. VERDICT: Now priced under 400k, the time to jump on board is here. Just keep in mind he's had 5 scores under 73 already this season, he may frustrate!
Lobbe (125) – Although he hasn't yet lived up to the pre-season hype, we finally saw Lobbe back to his best. 8 tackles and 43 hitouts took him to a score of 125, his first ton for the season. He's certainly worth taking a look at, he's only dropped under 80 twice all season. Sandilands is the only other ruckman to match this feat. He's been tackling well, however he hasn't had over 34 hitouts all season. In comparison he surpassed that mark 7 times after returning from injury in Round 12 last year, passing 40 hitouts 5 times in his last 9 home and away games. He finished off last season strong and could well be a POD for the run home. VERDICT: Strongly consider.
Gray (124) – Robbie Gray has dropped under 90 just once since Round 3, having 20 disposals in each game and surpassing 110 four times in the process. Definitely worthy of an upgrade. VERDICT: Looking more and more like a top 6 forward.
D.Smith (128) – Perhaps we need to take a more serious look at him. I maintain that the ship has probably sailed, however his third score of 120+ must have him on our forward line radars. VERDICT: He's still lacking consistency and now seems slightly overpriced.
Treloar (130) – Legend! Those who backed up their call in picking him have been handsomely rewarded. He has a 3 round average of 123 and his season average has now gone past 108, making him a top 10 mid. Incredible! Let's hope he keeps up the pace. VERDICT: Great POD.
Macrae (139) – This was always going to happen eventually, we know he's capable of racking up these huge numbers. It was a legendary effort for those who've held onto him at M8, however those who traded shouldn't curse themselves. It was his first ton for 5 weeks, let it rest. VERDICT: A solid M8 until the perfect premium becomes available. Still averaging over 105.
Hanley (124) – This makes perfect sense to me. His bulldog opponents were scared to go near him with that bandage, and why would they. On a serious note he must be strongly considered down back, listen to these numbers. His lowest score for the year is 76, ignoring that sub affected 44 (Which incidentally was early in the second quarter, he was going huge). In fact take that score out and he's averaging 98.25, making him clearly the third highest averaging defender this season. VERDICT: He's cheap, get on board.
Ablett (146) – Bald jesus, welcome back. I actually captained him for the first time since Round 7, and he didn't let me down. He just loves the challenge of playing the top sides. VERDICT: I'm sure a lot of people learned a captaincy lesson or two this week.
Sandilands (123) – Remember that guy we picked up at the start of the year for 244k? Yeah him. He scored 123 and is now averaging 95.5 for the season. VERDICT: Keeper.
Barlow (109) – Although his score wasn't massive, it's was what we can expect from Barlow week in week out. His direct competition this round was Goddard, and he came out a clear winner. VERDICT: What else do we expect from Mr Dream Team?
Harvey (119) – I could never bring myself to trade him in, however he's clearly a top 6 forward. That would have to be the least logical sentence ever written, but I stand by it. Everyone else should get on board. He's having his best statistical season by far at the age of 36. Go figure. VERDICT: How he's still playing at such a high level is just as complex as the big bang.
Goldstein (130) – Suddenly ruckman are popping up everywhere! He came up against a rusty Maric, don't get too carried away. He scored 49 the week before, I'd be steering well clear. VERDICT: Avoid.
Martin (123) – After only managing to reach 93 by half time, many feared he would not quite reach the ton. He stormed home by his standards to post his highest score for the year and his 4th ton on the trot. VERDICT: Gun.
Swan (114) – Finally Swanny gets a quick look in as he backed up his owners decision to hold him during his one week spell. Let's hope he comes home strong. VERDICT: A 110 average would be solid, I'm still not totally convinced though. I rate Barlow ahead of him as a target.
The Losers
Johnson (77) – His score would've once again appalled his owners, but given delight to those who still don't have him! His average is down to 111 and falling fast, surely he will bounce back this week down at Simonds Stadium. He's my trade target for the injured Watson. VERDICT: About to bottom out, get on board.
Enright (58) – As hard as it is to say, Boris looks cooked. If there's anyone still clinging on to him in hope, make sure he's on your bench. VERDICT: His time looks up.
Cox (68) – Saturday was the first time I've ever thought that Coxy looks like he's ready to retire. Unfortunately he just didn't have the run in his legs and he just isn't covering the ground anymore. I'd be seriously looking at a straight swap to Nic Nat and pocketing the cash, otherwise look for another ruck premo to trade to. VERDICT: I think his time is also up.
Montagna (66) – His name will go down in the DT history books, but not for all the right reasons. How someone can pump out 150's week in week out, then suddenly go missing for a month is beyond me. We all know he has the capability, he just doesn't always choose to utilise it. VERDICT: He's a confusing player, I'd just avoid all together.
Watson (95) – This hurts! Watto was just starting to return to his best form before injury has crippled him, and it's not your average injury. According to Tim Watson he has torn his rectus, which to my human biology knowledge is somewhere between the rectum and the anus. In all seriousness I don't know how he managed it, but he'll be missing the rest of the season. VERDICT: Trade time!
Goddard (74) – Yikes, this was a nasty score for those who traded him this week expecting his usual consistency. This was the round when we needed it most, and he let us down. Back him in to return to his best against Melbourne, however be warned. They have been known to tag differently to other teams (Just ask those with Beams captain) and with Watson out, he will move up the tagging chain. VERDICT: Don't trade him in now, however back him in if you're an owner.
Dahlhaus (58) – It was these kind of scores that make us want to erase this week from memory. Having been so reliable all season with just one previous score under 80, Dahl decided now would be a great time to do his best Jarrad Grant impersonation. I'm not sure what that actually means, but it was bad. VERDICT: Hold strong.
Higgins (52) – You know what let's just keep them rolling. Higgins posted his fourth score in the 50's this season and it's now time to trade. VERDICT: I'm sure the trade button will come as a relief to many this week.
Franklin (56) – Spuds. Spuds everywhere. Thank god he got off for that bump, otherwise nooses would have been tightening. I think you have to stick with him. VERDICT: Back him in to smash it this week.
Tippet (27) – I'm not sure if anyone had Tippet as a POD, but I'm sure if they did they're no longer in the country so it's irrelevant anyway. VERDICT: Moving on!
Bird (71) – Didn't see this one coming. As I said, the Bird is definitely not the word. VERDICT: I suppose you have no choice but to hope he comes good.
Walker (47) – I've seen better deliveries from Ricky Ponting than Adelaide served Tex on Sunday. He will be inconsistent, but hopefully he can pump out enough big ones to make some more cash. VERDICT: Hold.
Jaensch (53) – I'm going to put this one down to the concussion he suffered from that Ballantyne head clash. This is certainly an outlier and I wouldn't be too worried. VERDICT: Hold.
Dangerfield (66) – He started of the season with 4 consecutive double figure scores, then pumped out 3 tons.  He's had another 3 poor weeks, see where I'm going with this? You just feel he's about to explode again. VERDICT: Still a must have.
Cotchin (94) – This is just headbutting material. He's going absolutely nowhere. VERDICT: If you have the luxury, I would look at trading. No point in treading water.
Deledio (64) – He must be one of the most frustrating players in the AFL. He managed just 5 disposals in the second half when Richmond were put to the sword, he just isn't proving to be the leader that Tigers fans hoped he would be. VERDICT: Certainly not a DT option.
Lennon (7) – Finally it was another tiger that summarised many peoples weeks. If you had Lennon on at F6 you had a right to think you were entitled to at least 60 points. 50? His pathetic 7 had many wishing for the byes regime of best 18 players back! Vest aside, he scored 7 points in over a quarter with fresh legs. VERDICT: His time on your field is up.
Talking Point
When isn't the MRP a talking point? I'd just like to come out and back up their decisions this week. Ballantyne would have recieved 2 weeks with his bad record and they clearly thought that was too harsh, so they've rightly sent it to the tribunal. Like it or not if you go after a player and hit them high, incidentally or not you're in trouble. Just ask Lindsay Thomas. That's the new rule and he should end up with a week. Buddy was right to get off for his hit, the force was minimal. Those who are either complaining about consistency or their name is Damian Barrett should take a walk.
This Game Sh*ts Me
I love how bad weeks in DT snowball. When I say love I mean it has most of us slowly pressing our pens deeper into our skin at work. This week was a bloody nightmare. The best way I can summarise it is to take a quote from the DT TALK facebook page, thanks Jackson. More 70s than a retirement village. And that's why this game sh*ts me.
On to the positive for the round, and I've had to dig deep to somehow scrounge out 5 nominees. Here they are:
Treloar – He's gone 118, 120 and now 130. Surely that's worthy of a vote! Just rewards for those who took the risk in selecting him.
Ablett – You don't hold down a champ for long, he showed leadership in our time of need, just what we want from our captain!
Sandilands – Even though everyone had him, Sandi has been by far and away the pick of the season. Surely nobody expected him to be this good, certainly worthy of a vote.
Macrae – As a previous winner, Macrae knows what it takes to win the people's hearts. Lot's of +6's! He's a player for the future.
Roughead – Finally we have the customary big forward punching well above their weight. Roughy single handedly won many league match-ups with his monsterous 163, surely he'll get 27,163 votes!
Who will get your vote?
Loading ...
The Other Bits and Pieces
The DT gods are a sick bunch, however there are times when we can save ourselves. My team had an absolute nightmare, but getting the right captain in GAJ helped me past 2k to end up with 2035. It can't get much worse than that, roll on next week thanks. Feel free to vent in the comments below, I'm sure you all need it!
If you enjoy seeing me rage and want a punching bag when sh*t goes tits up, follow me on twitter @MattCraigDT. My views are honest, mostly helpful and occasionally entertaining! Hit me up with your weekly Golden Stubby nominations, and mainly what gave you the sh*ts! I value everyone's opinion