The Friday Scramble: Round 12
Late outs and some selection dilemmas have meant that we still need to scramble this week. This game just keeps sending curveballs at us! Let's jump in and scramble.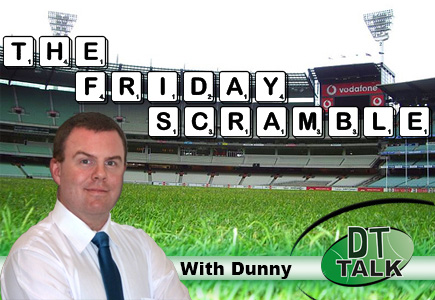 So we get ourselves out of the byes, we make our trades on a Friday like we have been taught to do (some even on a Thursday before the first game) and what does the game then do?  It takes Dane Swan away from us… that's ok, we can cope with that it is before full lockout so we can still make our changes.  Many of us kept Polec and traded out Langford as he had missed the cut.  Lockout hits…. then what happens?  Polec is tagged and sucks and Langford is a late in and dominates!  Seriously!  What the hell are we supposed to do.  I will tell you what we are supposed to do, suck it up and move on!  Get ready for this week and hope it doesn't happen again.
Selection Dramas
Wow didn't selection throw us a couple of curveballs.  I will have a look at a couple of them for you now….
Langford – This is the second week now that he has been omitted even though he came back in as an emergency last week it is clear that he is going to missing sooner or later so I would recommend getting rid of him now.  His BE is 52 so even if he plays he won't make much more cash.
Hallahan – I am not sure why he is out this week, personally I think he has been great.  Rioli and Lewis back in may have meant he drops out, but there was another first gamer in.  Hopefully this is just a rest for him.  I will be keeping him as he still has cash to make.  He has made $180k for you, so it wouldn't be a disgrace if you do trade him in.
Buckley – If you still had him, dropped or not it was time to get rid of him.  His BE was 79 and he was set to lose more money this week.
Rohan – He has been named again!  But…don't even go there.  He is last on the extended interchange bench.  I am fairly confident that he won't make the cut.  But if by some miracle he does he will get the vest.
#AskDunny
Thanks for those that sent me in some questions to help them out this week.  Here are a few…
I reckon he will come back to some form.  He did have 86 last week but his Break Even is still sitting on 100 in RealDT.  So I reckon I would hold off one more week as I think that he will drop in price once more, even if he does get to 100 I don't think he will go up much.  It has been wet in Adelaide this week and I think it may not help him.
Personally if you have the cash to make those two trades then I would go for it.  Whilst you might make some cash by going with O'Brien you would be hurting yourself in points.  O'Brien has only played one game so in RDT there is no need to jump on him yet.  If you are talking AFL Fantasy he went up $7k last week and has a BE of -3 so in that case I can see that it may be better to pick him up.  I guess it depends on the strength of the rest of your team.
Both of these guys are playing weaker opponents this week in Melbourne and Brisbane respectively.  Both have BE's around the 100 mark. Personally I think that I would be trading out Langdon first as he has less chance of getting to his BE.
I think that is something that we are all waiting for.  He had another 48 last week after being tagged.  This week he could run himself into Andrew Raines so it may get worse.  This year he has had three scores under 50 a 60, three in the 80's and only two 100+ scores.  I don't know that he has fitness back, but he would be a unique pick, but to be honest I would like to see a bit more consistency of big scores out of him first.
Random Thoughts
Polec – I think he will bounce back this week so if you have bigger problems to deal with you should be able to rely on him, but he will probably drop in price.
Wingard – with his red vest concussion last week he dropped in price and his BE went up, so I think that if you have luxury trades to make in AFL Fantasy you could be excused for trading him out.
Enright – is back this week, I think that he was simply rested last week despite the stories of an injury.  He is an older player and will be managed.  He should be fine.
Maric – played his first game for the year, he didn't score big and unless he goes big this week his BE will be very high.  For those thinking of trading to him, I would certainly wait for at least this week and possibly one more.
Nic Nat – seems to be getting his game back together.  He could be a nice downgrade for you from a Cox or a Sandi as he is only $333k and has a BE of about 24 this week (in RDT).  He seems to be over his injury problems, if so, jump on.
Captains Choices!
Well done to those that took Rocky as captain last week!  But I bet there weren't any that took second or third in Murphy and Cloke!  Anyway, Who do you take this week?  I reckon you should be trusting the Irish Pirate again as he seems to be in form with his Captain picking (is he ever out of form?  I don't think so).  So head on over and check out Calvin's Captains from this week.
Things To Remember
There are NO partial lockouts in AFLF or RDT this week.  Just because there is a game on Monday we don't have a partial lockout.
Teams for Monday aren't known until Sat night.  We won't know the final lineups for the Monday until late on Saturday afternoon, so be careful with your trades.
Don't be shy to pull the trigger – If you have some rookies that are starting to top out in price, don't hold on to them too long.  No point holding them until they start losing cash.
The Elements matter – When considering your matchups and captaincy choices take the weather into account.  We saw a couple of wet games last week which we haven't seen many of so far.
Another elongated round this week, but with a Monday game this makes it harder for us.  Hopefully your trades won't be affected by this.  Good luck with your teams and your trades this week and you are well on your way to getting a fully upgraded team.
Keep an eye on twitter and as always check the final teams this afternoon, they tend to come out about 5pm.  I don't expect there to be any surprises this week, but you never know!  See you all on twitter, @pkd73