Jeppa's Juniors – Round 11
There was mixed news from the rooks this week and Jeppa has got the full analysis here. Take a look at the keepers and weepers from Round 11 as well as some new rooks that could potentially be suiting up this week. Another must read!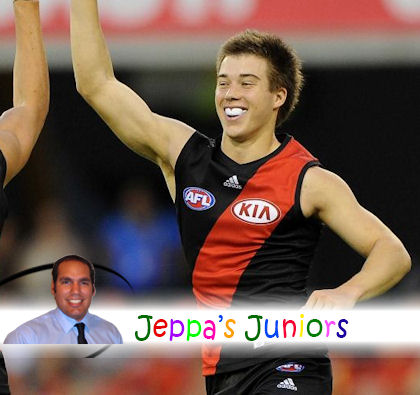 Well isn't it nice to have 9 games of footy again. There were plenty of good quality matches in Round 11 and I especially enjoyed watching cellar dwellers Brisbane get over the line against Carlton. The Swans were quite scary in their demolition of the Cats and they had eight players that reached the magical Fantasy ton, North Melbourne were the next best with seven.
I made a couple of poor decisions this week. A rage trade of Swanny to Heppell in Real Dreamteam was an instant regret but in the heat of the moment on Friday evening nothing was stopping me. It was a little more painful in Fantasy. With Callan Ward scoring 63 in Round 10, I decided to downgrade him to Shenton and start Polec on my field given that he was facing the Dees. What transpired was a score of 38 from Polec versus 134 from Ward! Bugger.
Three-Or-More Gamers 
KEEPERS
This week's NAB Rising Star, Zac Merrett (Fwd. $303,132, 12 be AF. $295,100, -3 be DT) was the pick of the rooks in Round 11. His skills around the ground make him a huge asset for the Bombers and he reads the play so well for a first year player. Merrett had 98 Fantasy points on a big stage last Saturday night and I suspect there will be more of the same this weekend versus the Giants. If you own him, enjoy the earnings!
Dom Tyson (Mid. $445,874, 37 be AF. $455,300, 50 be DT) keeps rubbing salt into my wounds. Three back-to-back tons has me ruing a knee-jerk Round 6 trade out after his Round 5 red vest. Tyson has not only become a consistent ball winner, he's kicking goals as well! Against the Power, he was unstoppable and finished with 30 possessions, 9 marks, 1 tackle, 2 goals and 117 Fantasy points. It's a no brainer to hold him for a while yet. A week off for Luke Dunstan (Mid. $366,489, 60 be AF. $342,800, 46 be DT) appears to have done him wonders. The solidly built teenager fought hard against an unstoppable Collingwood midfield. In a losing side, Dunstan had 10 kicks, 10 handballs, 4 marks, 5 tackles, 1 goal and 92 Fantasy points. He didn't look fatigued like he did before the Saints Round 10 bye so if you've still got him then I'd hold.
When you least expect it, rooks can come from nowhere and provide owners with a big score. Will Langford (Def/Mid. $318,048, 31 be AF. Def. $321,800, 34 be DT) was a late inclusion for Jordan Lewis last Sunday and he took his second chance with both hands, amassing 20 possessions, 1 mark, 8 tackles, 1 goal and 90 Fantasy points. Reasonably healthy breakevens in Fantasy and Dreamteam means you should hold him for at least one more week. Tom Derickx (Ruc. $280,782, 90 be AF. $286,600, 25 be DT) has been another great pick up for his owners. For a player who was only meant to play a couple of games at the start of the season, big Tom is now one of this year's most important cashcows as a R3 for most teams. Against Geelong last Thursday night Derickx had 12 touches, 3 marks, 18 hitouts, 4 tackles, 2 very good goals and 81 Fantasy points. I suspect that Mike Pyke will need a week in the NEAFL before taking Derickx's place so hold him for now.
I hope you all picked up Cameron Shenton (Fwd/Mid. $197,756, -19 be AF. $196,000, -42 be DT)! The handy dual position player improved a little further in his third game scoring a very respectable 83 Fantasy Points. Playing back pocket for the Saints, Shenton has the ball coming into his defensive 50 pretty frequently thus he's involved in the play more often than your typical lockdown defender. Against a barrage from Collingwood, Shenton finished with 24 possessions, 6 marks and 2 tackles and although he had a couple of skill errors, he stood up pretty well under pressure. A good get!
Luke McDonald (Def/Mid. $312,537, 52 be AF. $304,000, 54 be DT) deserves a mention after the role he played for the Roos in their big win over the Eagles. On his way to 81 Fantasy points, McDonald continually delivered the ball lace out to teammates and set up the Roos in their forward thrusts from defence. His DPP status means he's a handy D7/M9 at this stage of the season but long term, if trades allow you to, you should be looking to upgrade him to someone with a better average.
DON'T PANIC
With Corey Enright touch and go with an ankle injury, Jed Bews (Def. $178,643, 8 be AF. $159,900, 17 be DT) should hold his spot in the seniors for at least one more match. He wasn't convincing against the Swans but with his current low breakevens, there are still plenty of earnings to come from him yet.
There are a heap of youngsters with decent job security still earning good dollars. If you own Jason Tutt, 70 (Fwd. $302,525, 33 be AF. $307,000, 49 be DT), Jake Lloyd, 68 (Mid. $255,450, 13 be AF. $258,400, -2 be DT), Patrick Ambrose, 65 (Fwd. $239,522, 15 be AF. $220,200, -2 be DT), Ben Lennon, 65 (Fwd. $254,489, 22 be AF. $200,000, -25 DT), Mitch Hallahan, 64 (Mid. $291,502, 21 be AF. $299,500, 25 be DT), Brodie Martin, 61 (Def. $221,875, 2 be AF. $251,500, 13 be DT), Xavier Ellis, 53 (Def/Mid. $245,438, 38 be AF. Mid. $234,600, 2 be DT), Lewis Taylor, 50 (Fwd/Mid. $289,935, 41 be AF. $292,200, 42 be DT), Ryan Schoenmakers, 50 (Def. $279,468, 43 be AF. $275,400, 48 be DT), Billy Hartung, 43 (Mid. $255,956, 45 be AF. $186,000, 2 be DT) and/or Charlie Cameron, 35 (Fwd. $156,850, 12 be AF. $145,700, 17 be DT) then hold on to them for now.
TRADE, TRADE, TRADE
If I haven't categorised a player from Round 11 under 'Keepers' or 'Don't Panic' then trade them out as soon as you can but when appropriate!
Let me highlight Jared Polec's (Mid. $402,339, 103 be AF. $392,700, 108 be DT) disappointing effort against the Dees in Alice Springs. A score of 38 is a good enough reason to trade him out immediately! Polec was never going to be a top 8 midfielder, just a stepping-stone to the likes of Rockliff, Pendlebury, Stevie J, etc.
After a disappointing score of 57, his lowest of the season, it is time to trade Kade Kolodjashnij (Def. $360,775, 73 be AF. $351,000, 84 be DT). He had a whopping 40 Fantasy points to quarter time but could only manage another 17 to the final siren. With Kolodjashnij's current breakevens, I'd look to maximise your profits.James Aish (Mid. $366,286, 84 be AF. $352,600, 82 be DT), Tom Langdon (Def/Mid. $376,248, 64 be AF. $376,400, 93 be DT) and Jack Billings (Fwd/Mid. $332,762, 68 be AF. $330,200, 81 be DT) are in a similar boat. All are at risk of dropping in price this week so why hold them!? Jaensch and Cloke are a couple of cheap 'near' premo options that cost just a little more than these youngsters.
Two Gamers
There's not much excitement coming from the two gamers this week. Claye Beams (Mid. $197,857, 22 be AF. $198,800, 16 be DT) is the best bet but with an average of just 53 playing a midfield role, his price outweighs his return in my opinion. Job security doesn't appear to be an issue for Beams, thus if you're patient with potential earnings then he's a safe bet. Matt Dea (Def. $192,346, 26 be AF. $219,600, 41 be DT) is the other option but averaging a little less than Beams and is equally as expensive. Additionally, Dea is filling the void for the injured Nick Vlastuin at the minute so expect him to be dropped in a week or two when his predecessor returns.
One Gamers
Standout NEAFL performer, Zac O'Brien (Mid. $122,921, -3 be AF. $98,500 DT) started in the green vest for the Lions in Round 11 but came on just before half time after Trent West was subbed off with a season ending knee injury. O'Brien is one of those players that is always in the right spot at the right time. From only 43% time on ground, he managed to gather 15 possessions, 2 marks, 2 tackles, 1 goal and 58 Fantasy points which is an awesome effort on debut. No doubt, O'Brien will hold his spot in the short term but he's still a green vest risk. Nevertheless a cheap O'Brien is a Fantasy lock this week but I'd wait and see how he goes in his second match before picking him up in Dreamteam.
Christian Howard (Def. $135,664, 11 be AF. $169,300 DT) did little to convince coach Brendan McCartney to keep him in the Bulldogs 22. Howard was a late in for Matty Boyd and played half back against the Dockers. His recent VFL form has been excellent but he was hardly sighted on his way to 11 possessions, 1 mark, 4 tackles and 47 Fantasy points. He's a fringe player at the Dogs so I'd look at other options but if you're desperate for a rookie priced defender then he's your only option!
There wasn't much to take from Brodie Murdoch's (Def. $204,734, 23 be AF. $224,000 DT) first game of the season. He scored a respectable 62 but looked lost and made a few notable skill errors that could see him dropped this week. At $200,000+ in both Fantasy and Dreamteam, I wouldn't touch him. Same applies for Liam Anthony (Mid. $200,487, 50 be AF. $262,200 DT). Anthony is a noted ball winner but he just can't cement a spot in North's 22. He was the sub last weekend and scored 27 Fantasy Points so at his price why bother!?
Kristian Jaksch (Fwd. $145,271, 13 be AF. $174,500 DT) deserves a quick mention. He was given the job on Gunston last weekend but had 4 goals kicked on him. Coach Leon Cameron has made mass changes all season and given that Jaksch is one of many young key defenders on the Giants list, he's likely to be used intermittently. Pass.
Keep Your Eye On
Stefan Martin (Ruc/Fwd. $203,600, 70 be AF & $241,500 DT) – With Trent West gone for the year and Leuenberger still out for a couple of months, Stefan Martin is a certainty to get a senior call up this week (source). Playing predominately forward last season, Martin only averaged 45 Fantasy points per game but as Brisbane's current number one ruckman that average will be improved upon dramatically. Martin is a suitable R3 option this season and his DPP status gives you more flexibility going forward. With Sam Jacobs touch and go this week, a cheap Martin shouldn't be ignored.
Zak Jones (Def. $224,900, 77 be AF & $142,800 DT) – A slight knee injury to Dane Rampe may open the door for hard running defender Zak Jones. Brother of Melbourne Captain Nathan, Zak is equally as tough and also loves the contested ball. He is highly rated at the Swans and was selected with pick 15 in last year's draft. Jones has been named in the bests for the Swans Reserves for four consecutive weeks so watch him closely.
Darcy Lang (Mid. $222,200, 76 be AF & $137,800 DT) – After Geelong's poor performance last Thursday night there could be a few changes on the horizon and Lang is certainly in contention for a call up. He's very quick, has neat skills and can play a variety of positions. I see Lang playing between half forward and wing for the Cats and I have little doubt that he'll make an instant impact at AFL level. Can play!
Anthony Miles (Mid. $279,700, 96 be AF & $249,800 DT) – Surely after another lacklustre effort from Richmond, Miles will finally get his chance to suit up for the seniors? He had 35 possessions, 7 marks, 2 tackles and a massive 121 Fantasy points in the VFL last weekend thus would be first in line for a senior call up. Miles doesn't come cheap this year and note his current breakeven of 96 in Fantasy. It may pay to wait a week before bringing him in but please be aware that he has reached 90+ scores in the past.
Got a question? Ask me on Twitter @JeppaDT.
I am on holiday in Tasmania at the moment but I will try and get to your queries when I have some spare time and decent internet access!