The Weekend Wash-Up – Round 11
It was great to have a full round of footy once again, boy were our premiums up and about! I suspect there will be some huge scores this week but don't worry, there was still the usual obligatory spuds ruining our weekends. Matt takes a look at the Weekend wash-up.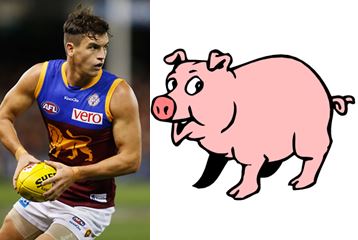 It was great to have a full round of footy once again and boy were our premiums up and about! I suspect there will be some huge scores this week but don't worry, there was still the usual obligatory spuds there to ruin our weekends. It's time to take a look at the weekend wash-up.
The Legends
Rockliff (153) – Everyone stop and take a moment to appreciate the perfect DT specimen. You would think he's out there playing to maximise his DT score, and one day he'll win a brownlow while he's at it. In all seriousness he's now lifting his game to an elite level, and I'm not talking in fantasy. He had the Carrazzo tag and worked his way to 83 at 3QT by tackling everything in sight. However it's the final stages of the game where he really turns it on. Following on from his consecutive 100 point second halves in his previous 2 weeks, he took things to a new level with a 70 point final term. Best tank in the AFL? He's now cracked the 140 point barrier on 3 consecutive occasions. To put that into perspective, no player has done that 3 times all season, Rocky now has 4. He's the highest averaging player by 10 points and should be your highest priority to trade in. Captaincy gold. VERDICT: Picken may keep him under 140 this week, but don't let that put you off!
Malceski (143) – The Eski ran riot against an awful Geelong on Thursday, however he cannot be considered a keeper. VERDICT: He seems to have rubbed out his shockers this season and fair play to him, however this was only his second ton of the year. Surely better options out there at his price.
McGlynn (133) – He's been huge all season, and has now taken his season average to 99. Bear in mind his 5 round average is 112! Still, I wouldn't be paying almost 500k for a guy who can often get a tagging role when the team needs it. VERDICT: The occasional selfless role cannot be tolerated! Reckon we've missed the boat.
Bird (131) – I suppose the Bird is once again the word. Only I've been here before, and I guarantee it doesn't end well. At almost 450k it's probably a week too late to chase his price rises, and it would take a brave man to pick him up as a keeper. He has been playing brilliantly, however his 108.8 five round average won't last. VERDICT: I'd be giving him a wide birth.
Kennedy (123) – JPK is turning into an out and out fantasy jet. He's getting the tight tag every week and every week he burns it off. You're paying a premium for him now, however you're also paying for a top 8 midfielder. VERDICT: Gun.
Franklin (113) – Franklin is amazing value at the moment there's no denying it, but can we forget the demons he's left us scarred with? The Sydney forward line is averaging well above normal right now, surely it can't last. I'm finding it very hard to make a judgement on them, I think we've missed most of their value. Franklin is the final port of call, and at 435k if you're after some forward value, you could do a lot worse. My one issue is his ceiling seems to be around 120 with Sydney's other potency up forward. If he pops up with the odd shocker, he won't be worth it. VERDICT: Tough call, now is the week to make your move. I'm passing.
Cloke (150) – Let's all sit back and have a good laugh. Now sit upright and slap yourself in the face, you're not going to trade him in under any circumstances. If you own him for whatever drunken reason, pat yourself on the back and count yourself lucky. VERDICT: I'm not going to buy it, bring him in at your own risk.
Beams (126) – It's been very easy to captain Ablett (and for great reason) however there is points to gain if you look elsewhere when he's up against it. Beams hit his 7th consecutive ton and has gone under 100 just the once all season, he did a great job for me this week as skipper. So underrated as a captain option. VERDICT: DT gun, Pendles takes his tag every week.
Tyson (117) – I can't bring myself to talk about his exploits anymore, it cuts too deep. Well done to all that kept him, he still has another week or two left in him for cash purposes, there's some bottomed out midfielders screaming pick me. VERDICT: Trade whenever the right premium puts their hand up. *Cough* Barlow *Cough* Goddard
Murphy (153) – Murph was sensational once again this week, however it's his consistency that lets him down. He hasn't put together  more than 2 consecutive tons this season. VERDICT: I'd be avoiding him.
Zorko (114) – Well done to those who held him, but for those who traded him don't panic! I get the feeling most of us dumped him for another legend this week, and Zorko's price will bottom out nicely when he plays GWS. Reassess him then. VERDICT: He should be a 90-95 average player, will be on the fringe of the top 6 forwards.
Zaharakis (131) – If you're after a cheapish mid around 470k then you could do a lot worse than Zaha on the back of consecutive 130's. Upcoming fixtures against GWS, Melbourne and Adelaide are tempting, but there's too many other options in midfield for my liking. VERDICT:  Interesting POD.
Goddard (114) – You can lock him in for a score between 100-120 every week, and a final season average of around 110. He's that consistent. To be able to pick him up at around 500k, now that's an opportunity hard to pass up. As I said, GWS/Melbourne/Adelaide next 3 for the Bombers. VERDICT: Has to be somewhere in your trade thoughts at least.
Walker (116) – TEX! The big Texan was brilliant on Sunday, probably playing his most complete game of AFL that I can remember. He's slimmed down and covers territory better than ever. 22 disposals and 10 marks to go with his 5 goals, huge. VERDICT: He will still be inconsistent, but he should make at least another 100k whilst averaging well.
Prestia (130) – He's a jet and will be first picked in years to come. However, he's more expensive than Goddard… Common sense must prevail. VERDICT: Pass.
Jaensch (112) – He remains the perfect DT slut across half back, sweeping up after the defence. Adelaide love the ball in his hands and so do us Fantasy players. VERDICT:  In my mind he's a keeper and great value at his current price of 426k.
Barlow (134) – Speaking of DT sluts, here's a man crafted from DT gold. He tackles like a machine and loves a +6, what more do you want? His price has bottomed out at 530k and after just notching his third 130 of the season, he must be strongly considered. VERDICT: He's in my team as things stand. Owned by a criminally low percentage of players, he'll average 110+ comfortably.
Liberatore (129) – Hopefully those who picked him up at the start of the season held the faith, it seems his breakout year to premium has arrived. A 5 round average of 121.5 has him in the elite bracket over that time period, however he does tend to slip off for a few rounds. VERDICT:  At 550k there are safer options out there.
Ward (134) – From the losers to the winners, Ward is everywhere at the moment. He was heroic this week with 22 contested disposals, 13 clearances and 13 tackles almost getting GWS over the line. VERDICT: Too inconsistent to own at his price.
Whitfield (125) – He is showing exactly why he was the number 1 draft pick last year, what an absolute jet. VERDICT: Not worth looking at in DT just yet.
Langford (90) – A very handy late inclusion for those who held him on their benches this week! That extra 50k could be so vital. A quick shoutout to the unlucky few and their family who had the VC loophole on Langdon. They may have even had a ton on the bench. At least it wasn't too bad, we should be spared of any Godzilla impressions. VERDICT: Hold for one more week, Langdon now goes onto the chopping block.
Priddis (143) – As pathetic as the West Coast midfield group is, Priddis once again was a shining light. Don't even get me started on West Coast (Give it 5 paragraphs). He's averaged 140 over the past 2 weeks. VERDICT: Too expensive. If only he had been subbed early this year!
Le Cras (133) – Those who gambled on bringing him early, give yourselves a pat on the back. He was keen to make amends with 12 tackles and 20 disposals. He's actually averaged 116 minus his vest score this season, with two 130+ scores. VERDICT: Hawthorn next week isn't pretty, but he should be looked at as a forward upgrade option. Well undervalued at 446k.
Greenwood (133) – I may have gotten this one wrong. I thought he would be wasted as a tagger, but a 4 round average of 122.5 seems to indicate otherwise. His value is starting to diminish now as he reaches 500k. VERDICT: The train has surely left the station.
The Losers
Polec (38) – *Heavy breathing*. What the f**k was that? Perhaps we should have seen the tag coming, however last time I checked the best way to break a tag isn't by sitting behind the ball and not moving. I've seen grazing cattle move faster than he did on the weekend and as good as he's been, I don't need to see that strange head again. VERDICT: If he was after the Pale-throated sloth look, he nailed it. Straight onto the sh*t list.
Billings (45) – After 5 scores of 70+ in a row, Billings finally hit the wall. VERDICT: Time to sell.
Wingard (18) – It was extremely unlucky for his owners to see him stretchered off midway through the third term, but it can't be ignored that he was only on 18 points midway through the third term!!! This is an extremely tough call as he will probably line-up again next week, but perhaps it's time to cut your losses. VERDICT: If you can afford to trade him, do so.
Ebert (66) – He only had 13 disposals, half of which came in the last term! Thank god he can still tackle as he seems to have forgotten how to find the pill. I thought he was past this, but clearly not. Apologies to all who followed my advice. VERDICT: Trade!
Jacobs (44) – My best ever draft pick (Expect many more references of the only thing I got right all draft) was cruising along once again on 24 at quarter time, looking at yet another 90+ score when Dangerfield thought it would be a fantastic idea to come and knee his own ruckman in the ribs/groin/hip whatever it was. Luckily it looks like he'll be fine for next week. VERDICT: Should be just a corky, makes him affordable for the rest of us! Hold.
C.Beams (44) – Claye is not living up to expectations at this point, he certainly wasn't worth the extra cash over Shenton. VERDICT: Not looking like a great pick in the early stages, but shouldn't be anything more than a M9/10 anyway.
Griffiths (21) – I'm running out of adjectives to describe this bloke. He tries, and good on him. Unfortunately he has the co-ordination of a mule. VERDICT: I hope no one still has him. Even Vickery can do better than that.
Kolodjashnij (57) – After being on 40 at quarter time, KK hit the wall. He's not only hit the wall for this week, his price rises have come to an end. He's been great, now bid him farewell.VERDICT: Trade time.
Griffen (48) – This is satisfying personally, so many people refused to accept my harsh treatment of him! He's living of tackles at the moment, having only 10 disposals against Freo. He actually lost value this week! VERDICT: The tags are getting the better of him. Trade!
Fyfe (65) – A mystery injury seemed to be holding him back, perhaps he got a bout of Picken. His time seems up, he's been of great service for many. VERDICT: A swap to his midfield teammate Barlow seems preferable.
S.Selwood (42) – This was a new low for Scooter. Never have I seen such a weak performance from an experienced midfielder who was breaking into A grade territory last season. He had 7 disposals and no tackles up until 3 quarter time. How can a tagger have only 1 tackle, let alone let his opposite number get more than double his disposal count. Not good. VERDICT: No one has him, right?
Hill (7) – Speaking of weak efforts, here we saw the worst impact sub of all time. I actually said that Cripps was worse than Hill, I take it all back. At least Cripps puts in the effort. In indiginous round Hill could only manage 1 disposal in 30% TOG with fresh legs. Say no more. VERDICT: His once promising career is almost over.
Talking Point
With that rant out of the way, let me begin another. "Sydney's cost of living allowance" *People exit room*. It's been talked about way too much this weekend so I'll keep it brief. It's probably not fair. They've abused the extra 9.7% in their salary cap, and fair play to them. Unfortunately we will have to sit through a competition dominated by one team similarly to how soccer teams do the same. It's very easy to get carried away, but seriously the Swans have got a gold mine up there. It's tough to see who can break them down at the moment, hopefully the AFL fix things up quickly and at least reduce the COLA. Great times for Swans fans!
p.s All that fuss I made about Buddy, I may have been very wrong. They're surviving without Mumford no worries!
This Game Sh*ts Me
I had the right idea. "Stay strong with your midfield rookies" I told myself. Hold them for the byes. Why is it that things always go wrong at the final hurdle? I had a simple choice between Tyson and Dunstan, and I chose horrifically wrong. Perhaps Tyson could go on to average 90, yes it would've hurt but life would have moved on. However Dom had other ideas. Bloody Dom. Was a 3 round average of 115 really necessary after most of us traded you out? He's now on his way towards breaking the 500k barrier, what a monumental f**k up. That wasn't the only midfield rookie mistake I made. I had the choice between trading Polec and Macrae this week, but chased the unnecessary extra $$$$. Surely Polec could at least scrape 60? Wrong. Another 60 points gone. What sh*ts me? Midfield rookies. And that's why this game sh*ts me.
I'm going to put this bluntly. If player X doesn't win this prestigious award this week, I'm going to re-name it the Rockliff memorial award. I mean the Player X memorial award. No bias intended. *Cough*
Cloke – If somebody traded him in this week then I guess they'll give him their vote, and their first born child. But seriously…
Murphy – An equal high career disposal count of 38 was almost enough to get his team over the line, clearly a sign of Murphy's continually improved captain performances.
Tyson – If you're one of the smug few who kept him, surely he gets your vote! Another lazy 30 touches, 9 marks and 2 goals for a BOG performance.
Walker – There's not many things more exciting than Taylor Walker in full flight, he's a great entertainer and will become one of the games great key forwards. He's symbolic for the AFL and is the good news story of the year.
Rockliff – 36 disposals (22 contested), 9 clearances and 13 tackles made him clearly the best player on the ground. His 70 point final quarter carried the Lions over the line, he was nothing short of heroic. Surely DTTALK's own can get a stubby for his 3rd consecutive 140+ score!
Who will get your vote?
Loading ...
The Other Bits and Pieces
There was a slightly jagged edge to the wash-up tonight, and it wasn't because of my Dream team for once! I need to get this off my chest. Less than 2 years ago I went to Subiaco to see a young Eagles team simply destroy the Kangaroos by over 100 points in a final with some of the best footy I've ever seen us play. Here we are today with basically the same squad of players, only more experienced, looking like the D grade WAFL side of 2010. Our pressure is bi-polar, and our disposal has gone from bad to severely depressing. What's happened in that 2 year period? I'd love to know the answer, because I can't figure it out. Injuries were just an excuse last year, where we go from here I have no idea.
Anyway, on a positive note I ended up with 2283, I've come from outside the top 10000 to storm up to 1500, and it could have been so much better. I've finally got it together, the aim is for a third consecutive year in the top 1000! Never mind me, I'm sure plenty of you are giving my team a bath. If not, feel free to vent your frustration in the comments, I've been there! As always I'll be there to answer your queries, good luck with your trading!
If you enjoy seeing me rage and want a punching bag when sh*t goes tits up, follow me on twitter @MattCraigDT. My views are honest, mostly helpful and occasionally entertaining! Hit me up with your weekly Golden Stubby nominations, and mainly what gave you the sh*ts! I value everyone's opinion