Nix Fantasy Good Food Guide
Which teams are pigging out, and which teams are setting up an all-you-can-eat-smorgasbord for their opposition? Find out here. Nix tells you which teams have upcoming bookings at the best nosheries …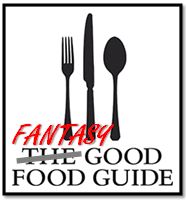 We are approaching the half way mark of the season and the Byes are over (yay!).  We are now free to get the most gluttonous premiums into our sides for the run home.  Happily after many weeks of trying dubious looking rookies bought from road side stalls we should now all have a bit of cash to seek out some silver-service fine-dining.
First a bit of history.  The good news for fantasy coaches is that the points available each week is gradually increasing.  This was handy during the bye rounds and contributed to the gluttonfest that was round 11.
However the number of hundreds in round 11 wasn't much more than normal.  In effect the 100 earners went very big in round 11.  So instead of getting 100 to 110, the big scorers in round 11 jumped up to 130 to 150.
Team Tables
Let's look at how the various teams are travelling.  Which teams are pigging out, and which teams are setting up an all-you-can-eat smorgasbord for their opposition?
Some points of note from the Points For side:
Essendon continues to head the table despite some pretty bad losses this year and their 10th position on AFL ladder.
Hawthorn continues to be rock solid as #2.
Sydney is the form team and rocketing up the scoring ladder.
Gold Coast are surprisingly low given they are now in the 8.  Collingwood and Geelong are also lower on the table than many would expect.
North and Adelaide are generating more points than their win loss ratio would suggest.
Points of note from the Points Against side:
Brisbane and St.Kilda are solid at the top, giving up over 5 tons every week on average.
GWS are next on points, although they only give up an average amount of 100s.
Freo and Sydney have traditionally been among the most miserly teams, but not this year.  Although Sydney is starting to move down the table after the last few games.
Geelong had the lowest defensive position, however they were blown apart by Sydney last round conceding 1,900 points and 8 hundreds.  Expect this to be an aberration and they will stay with the black teams at the bottom.
Carlton, Melbourne and Western Bulldogs are all conceding less points than their positions at the bottom of the AFL ladder position would suggest.
Bring Your Doggie Bag
That's all very interesting, but what we really want to know is who is going to score lots in the next few weeks.  Which premiums should we bring in that will go straight to the head of the table and start carving?  Also which of our non-keeper players with questionable appetites might struggle when faced with a few weeks of slimmer pickings?
The following table shows which teams are likely to get extra (or less) points compared to if they played the average team.
Some points of note:
Of the highest scoring teams (green teams) Sydney, Adelaide and Hawthorn are highest.  While Port and Essendon players' scoring might fall away slightly.
Freo looks to be coming into a good patch.  This is good news for coaches targeting Barlow.  Also it is too early for Chef Ross Lyon to start coming up with dodgy menu offerings yet.
Richmond looks to have a good run coming.  However I expect they will find a way to stuff it up.
Collingwood looks to have a leaner run coming.  This could be an issue for many coaches who currently hold a lot of Collingwood players in their teams.
These projections are applicable to both AFLFantasy and RDT.  However, Fantasy coaches are more able to take advantage of changing player scoring levels, and subsequent price changes, simply because they have more trades to exploit the situation.
End of Season and Finals (added Wednesday night)
I've had requests to extend the analysis for the rest of the year.  The table for the rest of the year is below with separate columns for the finals weeks (rounds 20-23).  However a word of caution first.  Previous years have shown that team dynamics take over in last few finals rounds, for example:
Teams in finals might rest players,
Teams battling to get into finals, or a more favourable spot, will be going flat out,
Teams lower down ladder will play their kids, send star players for early surgery and give club veterans farewell games.
So in my opinion this team scoring percentage methodology will be more reliable and useful in the rounds leading up to the finals, than in the last few rounds of the finals.
Points to note:
Adelaide is the standout – having the best percentages of any team and much better than any of the other high scoring teams (coloured green).  Start thinking about borderline premo Adelaide players such as Walker, Jaensch and Jacobs as likely keepers.
The big 3 Sydney, Port and Hawthorn are all at the bottom, and other high scorers Essendon and North are in the bottom half.  So expect some of these players' scoring to fall off a bit, which may present buying opportunities if you don't have the players.
Teams that are mid and low scoring but have a lot of fantasy relevant players – i.e. Gold Coast, Richmond, Freo, Geelong, Collingwood and Bulldogs – are all clustered in the upper middle section of the table.  This is probably good news for those players – you know who they are.
Melbourne has a good run.  However, we need to see the same Melboure players start to get consistently high scores in order to take advantage of this.
That's it for this week.  Please make comments below or hit me up on twitter @NixTrader.
Buon appetito