The Friday Scramble: Round 11
The Byes are behind us but that doesn't make the game any easier! We have our full squads and we now need to finish off our teams. Did you loophole last night? Are you considering premo pick ups? Me too. So let's Scramble!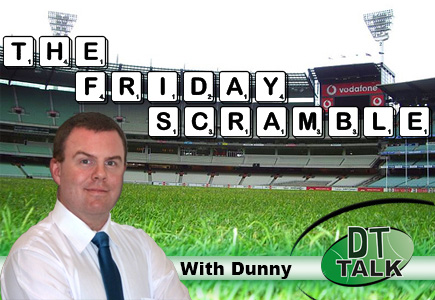 You Bloody Beauty!  Bye rounds are over and we can now get our guys back on the ground without having to play the duds that we only ever play in an absolute emergency!  On top of that we get Stevie back from suspension and there are certainly some other bargains out there.  But!  Just to mess with us a little more the AFL decided that we had to have a Thursday night game so hopefully you have had some good scores from last night's game.
Loopholin Along
So, let's have a look at the scores of the players that you may have had last night had your VC on and whether or not you should keep those guys as your C score.
Joel Selwood – 103 is not enough.  Had a quiet night.  His Kick to Handball ratio was terrible.  Far Far too many handballs.
Steve Johnson – 94  His return from suspension wasn't a successful one.  Less than 30 touches and no real influence.
Jimmy Bartel – 91 No massive score like last week.  No goals and under 30 touches for Jimmy.  Had the short sleeves on.  Never a good sign.
Josh P Kennedy – 123.  Close but it depends on the rest of your team.  If you have no other options then you could take it, but 120 is usually the cut off so no one would get stuck into you for taking it.
Kieren Jack – 123  Another guy with a good night that is almost a lock for captaincy.  However, if you have a GAJ or Pendles you may want to hold out.
They would be the most popular choices.  Others that I would consider are Calvin's mate Bird (131), McGlynn (133) and Malceski (143). However, I bet no one had the VC on them.  Just remember if you want to keep this score you will need to have a non playing player that you can put on the field with the C on him.
The key is that you need to have someone on your team that is capable to score more than your VC guy if you aren't going to take it.
Premo Pick Ups
The last in my series of looking at guys who have just come of the byes who are primed and ready for you to pick them up!
Brendon Goddard –Need a bargain in the midfield?  This could be your answer.  He is only $489k in RDT.  His average is low at 98 and his BE is 52. His average is low due to the 13 he got in round 4 when he was injured.  Other than that he has only 1 score under 100 which was 95.  He will be a popular pick up.
Jobe Watson – Started with a bang but then went into his shell and then had 5 weeks in a row where he scored under 100 before he jumped out of the box again with 149 and 116 in the last two weeks.  He is down about $20k on his starting price and hopefully it now looks as though he could be back on track.  Not sure he would be your first picked but could be a nice point of difference.
Nathan Fyfe – Averaging 105 in RDT and he has a BE of 95.  Priced at $553k in RDT he is not much higher than his starting value.  Fremantle have a great run coming up and he should put some fantastic scores in.  He will go up in price so he is ripe to get now.
Michael Barlow – Had two scores in the 130's before he got injured.  Has come back with 80, 88 and 98.  This has seen his price drop $50k from his starting value.  For me this makes Barlow a tasty option, once again like with Fyfe, they have a great run coming.  Their next 8 games see them play Dogs, Crows, Richmond, Lions, Eagles, Demons, GWS then Saints.  That is a phenomenal run where Freo should do very well!
Tom Rockliff – I am sure Roy would sack me if I didn't mention his boy!  He is averaging 123 and is priced at $584k in RDT.  His last two scores have been over 140.  Interestingly his lowest score of the year came in their only win where he scored 76!  If you don't have Rocky I think he is well worth picking up and if you do I am sure you won't be disappointed.  If you are tight on cash though, you may want to wait until these 140's roll out of his pricing which will see his price come back down to the mid $500's.
How Many Trades?
In the limited trades versions of the game we need to start considering how many trades we have used and how many left.  There is no magic number of trades you should have.  What I would do is say that you need at least 2 trades for every non keeper you have on the field and then I would say about 8 trades for emergencies for the rest of the season.  Obviously the more the better, but that would be the minimum I would want to have at this stage.  But that is me and I am fairly conservative.
Things To Remember
Trades Will Stick – In RDT and SC any trades you make today can't be reversed because the round has already started, so be careful
BE's and Prices don't matter for Keepers – If you have a keeper who has a poor score, don't stress on any Be or price change, you aren't going to trade them so it won't affect you!
Upgrade and Upgrade some more!  – No point hoarding trades if you are playing rookies on the field, so get to and upgrade, there are really no restrictions now.
Wear your mouthguard! – can you imagine the spray Elliot Yeo's mum gave him for not having his mouthguard in!!
This is a big comeback week for us all.  Hopefully you have only one or two rookies left on the field and you can upgrade them soon!  Given the Saints play tonight you will know whether or not Shenton is the sub or not.  So hold off on trading him in until you know if he is or not.
Catch you all on twitter!  Cheers