Jeppa's Juniors – Round 10
Boom! The dreaded byes are over so now it's time to get serious. There are plenty of premium players on everybody's radar and to generate the cash we need a 'keeper' rook that we can all rely on. Check out who's on Jeppa's radar ahead of another important week of trading.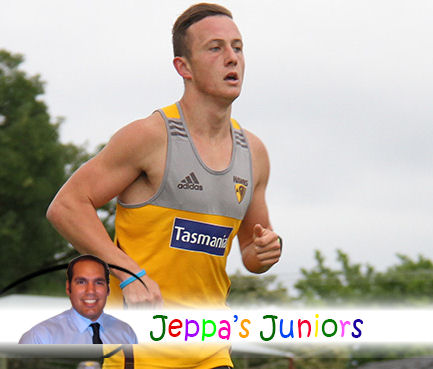 The bye rounds are done and dusted so now we can finally look to the business end of the season. The well rested Rockliff, Parker, Heppell, Goddard, Watson and Franklin are all on my radar this week and I'll be making some aggressive trades to secure one of them. Luckily there are a few uber-rookies to pick from and if you're a little conservative then this might be the week for a double downgrade!
Ensure that those you bring in play a big role for the remainder of the season. Do not underestimate the effect of injuries, suspensions, omissions, etc especially in Dreamteam. Even our backups need backups!
Three-Or-More Gamers
KEEPERS
In a time of need, Mitch Hallahan (Mid. $261,156, -10 be AF. $266,500, -13 be DT) gave his owners plenty to smile about. The tough half forward/midfielder was amongst the thick of the action in the absence of some big Hawk names and he finished with 20 possessions, 4 marks, 7 tackles, 1 goal and 95 Fantasy points. Against GWS this weekend, Hallahan should score 70+ so there are plenty more earnings on the horizon. Xavier Ellis (Def/Mid. $241,356, 41 be AF. Mid. $218,100, 14 be DT) is another cashcow showing form. After hitting a wall with a calf strain in Round 5, Ellis is now fit and firing. He was more than handy last weekend after scoring 89 Fantasy points and I suspect there will be more of the same against North Melbourne and his old side Hawthorn over the next two rounds.
Jared Polec (Mid. $418,033, 71 be AF. $419,200, 94 be DT) just keeps on keeping on. Against last year's premiers, Polec was at his attacking best after amassing 26 possessions, 8 marks, 1 tackle, 1 goal and 95 Fantasy points. More big scores are likely over the next two rounds with the Power facing Melbourne and St Kilda. I'm a huge fan of Kade Kolodjashnij (Def. $360,461, 53 be AF. $349,100, 50 be DT). The silky left footer is a consistent scorer and ideal back up in defence as we head into the second half of the season. His lowest score this season is just 67. Hold!
Other three-or-more gamers that are scoring well and earning decent coin at the minute include Robin Nahas, 73 (Fwd. $280,043, 8 be AF. $286,200, -10 be DT), Matt McDonough, 69 (Fwd. $195,106, 10 be AF. $207,100, 13 be DT), Billy Hartung, 69 (Mid. $249,226, 25 be AF. $171,400, 8 be DT), Ryan Schoenmakers, 71 (Def. $268,772, 22 be AF. $272,300, 40 be DT), Brodie Martin, 80 (Def. $193,329, -9 be AF. $213,900, -26 be DT) and Jason Tutt, 69 (Fwd. $283,089, 21 be AF. $279,200, 4 be DT). If you've got these blokes then keep them for now but plan to trade them out in the short term.
DON'T PANIC
Tom Langdon, 67 (Def/Mid. $366,959, 45 be AF. $368,900, 50 be DT) didn't reach the heights that his owners may have hoped for last weekend but don't forget his scoring potential. Odds are that Langdon will dominate his next three opponents in the Saints, Dees and Bulldogs so there is no reason to trade him just yet.
Will Langford (Def/Mid. $295,223, 33 be AF. Def. $298,200, 34 be DT) was quiet against the Power but I'd hold him for one more week. With breakevens in the low 30's in both Fantasy and Dreamteam there is nothing to lose but you may want to offload him prior to the commencement of Round 12 to maximise your earnings. If you still own Luke McDonald (Def/Mid. $308,778, 69 be AF. $285,900, 37 be DT) then show a little more faith. He only had 51 Fantasy points in Round 10 but it was pretty hard going against Geelong. I have high hopes for McDonald this weekend versus a loose checking West Coast on the vast spaces of Patterson's Stadium.
TRADE, TRADE, TRADE
If I haven't categorised a player from Round 10 under 'Keepers' or 'Don't Panic' then trade them out as soon as you can but when appropriate!
Bye Round Sleepers
There are a stack of rooks returning from the week off!
Well-rested keepers that were in great form prior to their Round 10 bye include Dom Tyson (Mid. $411,910, 32 be AF. $414,700, 21 be DT), Jake Lloyd(Mid. $226,080, -4 be AF. $245,900 DT, 37 be DT) and Jack Billings(Fwd/Mid. $332,734, 42 be AF. $332,800, 48 be DT). Nothing should change for these three.
Zac Merrett (Fwd. $269,027, 14 be AF. $254,900, 5 be DT), Patrick Ambrose (Fwd. $214,326, 3 be AF. $194,100, 4 be DT) and Lewis Taylor (Fwd/Mid. $279,560, 23 be AF. $272,200, 2 be DT) are improving at a healthy rate so hold these youngsters too.
Mike Pyke is still at least week away from returning, which is great news for Tom Derickx (Ruc. $253,609, 41 be AF. $262,100, 23 be DT) owners and a week off would have done wonders for Luke Dunstan (Mid. $361,229, 76 be AF. $330,100, 60 be DT) and James Aish (Mid. $372,526, 67 be AF. $361,100, 72 be DT) both who looked tired in their last games.
The Saints' Cameron Shenton (Fwd/Mid. $159,167, -10 be AF. $147,500, -28 be DT) will be a popular downgrade options this week. He's tough, wins his fair share of ball for a back pocket player but it's his dual position status that is most appealing. As a DPP, Shenton gives coaches greater flexibility going forward and with pretty solid job security, it makes sense to pick him up.
Claye Beams (Mid. $187,560, 18 be AF. $198,800 DT) and Kurt Aylett (Def. $140,340, 9 be AF. $119,200, -7 be DT) are a couple more options I'd consider but both average less than 65.
Two Gamers
Ben Lennon (Fwd. $235,924, 11 be AF. $157,800, -32 DT) is the pick of the two gamers this week. Last year's number 12 draft pick was very handy in Richmond's demolition of the Giants. Playing as a half forward, Lennon's first two kicks in the game were lace out, goal assists to Jack Riewoldt and Tyrone Vickery. He finished the game with 13 kicks, 3 handballs (high kick to handball ratio), 8 marks, 3 tackles and 83 Fantasy points and will definitely hold his spot this week. I'm not Hardwick but it appears Lennon has taken over Sam Lloyd's role. His class is noticeable and if he was cheaper in Fantasy then I'd get him but at $157,800, he's a lock for Dreamteam. A very handy backup forward!
After an excellent debut, Jed Bews (Def. $158,755, -6 be AF. $119,200, -50 be DT) was a big disappointment against the Roos. Bews played tight on Lindsay Thomas deep in defensive 50 and as a result wasn't too worried about winning the ball. His score of 38 came from just 3 kicks, 5 handballs, 1 mark and 4 tackles. As a lockdown defender, sub 50 scores are likely each week but that's if he holds his spot! Stay well clear of Bews in Dreamteam and if he's in your Fantasy team, don't offload him yet as he still has a breakeven of -6.
Charlie Cameron (Fwd. $143,017, 1 be AF. $118,500, -28 be DT) just couldn't get near the footy against Carlton. He was used as a stay at home forward mainly at the toes of Jenkins and Walker but the Crows wouldn't kick to him on the lead. He scored only 37 Fantasy points, which included an awesome crumbing goal and his forward pressure is excellent. I'm quite concerned about his scoring potential and job security going forward so stay away.
Notable mentions to Aidan Corr, 61 (Def. $171,701, 11 be AF. $167,700, 5 be DT), Alex Sexton, 39 (Mid. $154,440, 25 be AF. $199,400, 53 be DT) and Fletcher Roberts, 32 (Fwd. $143,829, 27 be AF. $119,200, 14 be DT). All three are fringe players at their respective clubs and average less than 50 Fantasy points per game this year. Look elsewhere!
One Gamers
Richmond's Matt Dea (Def. $185,409, 26 be AF. $219,600 DT) was the only one gamer less than $250,000 to get a gig in Round 10. He replaced the injured Nick Vlastuin at halfback but failed to register a big Fantasy score even with the Tigers dominance last Saturday. Tough nut Vlastuin is out for a few more weeks but after an excellent game against Werribee in the VFL, Ricky Pettard may replace Dea for Dreamtime at the G on Saturday night. Too risky.
Keep Your Eye On
Viv Michie (Mid. $213,517, 50 be AF & $214,100 25 be DT) is back! This popular 'junior' has fully recovered from his broken jaw and has had a few weeks in the VFL to build up his form. In Casey Scorpion's last VFL game,Michie had 31 possessions, 7 marks and 108 Fantasy points in a best on ground display and he deserves a senior call up.
Patrick Karnezis (Fwd/Mid. $212,700, 71 be AF & $244,200 DT) has been unstoppable in the VFL. A BOG game followed by a flawless 14 possession, 9 mark, 6 goal and 110 Fantasy point performance usually sees a player rewarded with a senior opportunity. Many have him on our never again list after he failed to live up to his hype last season and I'll be honest, with two trades a week, I'd only consider him for Fantasy. We'll know if he avoids the green vest before FULL lockout this Friday night and given that the Pies have an easy run coming up (Saints, Demons & Bulldogs), picking up DPP Karnezis could pay dividends.
Previously mentioned midfielders Nick O'Brien (Mid. $175,600, 59 be AF & $224,000 DT) and Alex Woodward (Mid. $115,200, 39 be AF & $119,200 DT) were both BOG for their respective sides in the VFL last weekend. I expect both to be named for Round 11 but they'll likely be given the green vest so watch them closely. With Clay Smith suffering a shoulder injury last weekend, don't rule out a Round 11 debut for Mitch Honeychurch (Fwd/Mid. $135,500, 35 be AF & $112,800 DT). Honeychurch has been far from his best in the VFL in recent weeks but he and Smith are very similar players and he'd be a sensible replacement.
Got a question? Ask me on Twitter @JeppaDT.