The Friday Scramble: Round 10
Last week of the byes. Thank god for that! And many thought that round 8 was going to be hard. We underestimated round 10. But it isn't just the players that are on their bye, it is the guys that have been dropped or suspended that are making it even harder!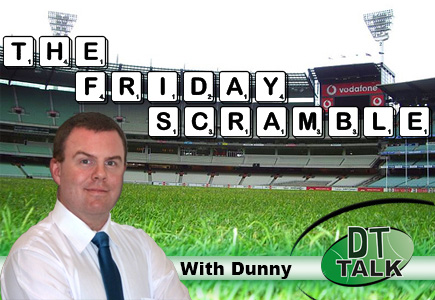 As has been said many times this week, this is our last bye round thankfully!  How is your bye round strategy going?  Has it stood the test of time or is it just a complete shambles!  I thought I had it all sussed out and was patting myself on the back as we entered the byes.  As we get to round 10 it is on the verge of falling apart!  So no matter how much planning you do, there is always an injury or a suspension that can just ruin everything, thanks Roughy and Stevie.  Anyway.  Hopefully you are going ok and can do some more upgrades this week and next.
Despite all the doom and gloom there are some positives to be found this week.  So let's see what we can do!
Big Moves!
Some people take the opportunity to use the byes to make a big move in the game.  Some people like to trade their big guns around the byes but there are some big risks with this too!  Let's just have a look at what may have happened and what you can do.
You dropped a big gun and planned to get them again.   I know a few people dropped guys like Dangerfield and Ablett before their bye and wanted to get them in again after but haven't yet.  The thing that will catch them out is that these two guys had massive games in round 9!  If you are in this boat then you simply have to decide whether or not you actually chase them.  Luckily Ablett hadn't gone up in price, but held his price pretty much steady, but Danger did go up.  But that isn't the main problem.  I bet that you didn't just leave all that cash in the bank.  Where did you spend it and are you now willing to part with the player you got in to get these jets back in again.  Big decisions for those coaches. The decision is basically, do you like the guy you picked up or do you want your premo back.
Risky Downgrades.  I think we have all been in this boat!  I know I am this year!!  Earlier on there were cases of this with Gary Rohan being the main culprit.  Now we have Blake Acres.  Now you certainly can't be hard on yourself for picking him up, with that juicy negative break even he was just staring you in the face.  He wasn't really risky, only for the fact he had the bye this week.  You worked your bye strategy and you knew you could take him.  Who was to know he would injure his ankle after only a couple of minutes and even less points!  So… what do we do with him?  Once again this depends on your situation.  If you have 8 great midfielders and also a good backup then you can probably afford to stash him on your bench for the time being.  However if you are struggling for players on the field or your other backup player is also non playing then you need to get rid of either Blake or your other spud who is doing nothing for you.
Planning Ahead
Now that the byes are almost behind us you should be looking further ahead.  If you haven't "completed" your team (note: a team is never complete, there is always something that will happen to it!) then what you need to be doing is planning your trades ahead as far as you can to look at what you can do to get the guys you want into your side.  Now yes I can hear you all saying 'but what if this happens' or 'what if that happens'.  There will be lots of speed bumps along the way, but you should certianly be planning.  At least you can always tweak your plans where you need to.  This will give you the framework to work around as you go.  I find that without that framework you can drift aimlessly without ever getting to the team you want.
Premo Pick Ups!
The second in my series of Premo Pick Ups of guys that have now had their bye in round 9 and you should certainly consider for your teams going forward.
Marc Murphy – Has had a good season so far and is averaging 106.3 in AFL Fantasy and is priced at $536k.  This is cheap for a quality midfielder.  Have him on your radar.  His scoring has seen only 3 under 100 but they have been 74, 75 and 89.  He is getting a few tags but still, at that price he is worth a try.
Brad Ebert – Yes Tbetta, I had to mention him.  He is averaging 110 and has only two scores under 100.  The worst was a 62 with the other being 91.  he is only $552k in AFL Fantasy and $538k in RDT.  With the tag generally going to Boak, Ebert is often left to roam free picking up uncontested possessions.
Kane Cornes – The old man just keeps on going.  Average of 111 with prices almost identical to Ebert, he is picking up uncontested possessions all over the place.  Only two scores under 100 which were 72 and 73.  However, he has 4 over 118 and doesn't seem to be doing quite as much tagging these days, only every few weeks is he getting a big job.
Robbie Gray – Is over the soft tissue injuries that kept him out of our teams in the past.  He is $485,800 in RDT and $482k in AFL Fantasy averaging 95 which as a forward makes him very valuable indeed as there are a lot of forward that simply haven't fired this year.
Tom Liberatore – Having a breakout season with an average of 102.  A bit cheaper than the guys I have mentioned with a price of $512k in AFL Fantasy and $509k in RDT.  He has had 4 games under the 100 barrier, but he does have the potential to go big, just like his 146 in round 8.
Ryan Griffen – A lot of people are talking about him.  He has only one game over the 100 so far and is averaging 75.  He is plummeting in price and is $415k in AFL Fantasy and $426k in RDT.  His BE is down at 61 in AFLF so won't stay this cheap.  Personally however, I think that if you need a bargain and have no cash, jump on, but if you can afford to wait a week or two then do so, I like to see a bit of form before I pick up a plummeting premium.
Sub Watch
Just a couple of things that I noticed from team selections this week.  Now this doesn't mean anything, but it is just a couple of things I noticed this week.
Ben Lennon – Named last on the bench.  Never a good sign
Charlie Cameron – Named on the field.  A good sign, but you never know!
Simpkin and Hartung – Last two spots on bench.  My money is on Simpkin
Matt Crouch – Last on extended bench… definitely doesn't fill me with confidence.
Things To Remember
Follow the dots! – Yes put all your Blue and Red Dotted players on the bench.
No Loopholes – This week we have no partial lockouts so make sure you have read Calvin's Captains and made all your captaincy selections prior to lockout.
Check late teams – If you are considering Jed Bews this week, wait until 90m before lockout as we will know for sure if he is the sub or not.
So… there you have it.  I hope your team is set up nicely for this round.  I must say it has proven difficult.  The byes have been particularly tough, but you should be able to load up on premo's now.  It will be a lot more fun next week when we can start putting all our stars back on the field at the same time.  Enjoy the footy and keep an eye on twitter tomorrow for any info.
Catch ya later.
@pkd73