Jeppa's Juniors – Round 9
With the last of the dreaded bye rounds upon us, it's all about survival. Balancing our teams to ensure 18 respectable scores hasn't been easy but with plenty of well-rested premiums available, upgrades are essential. In order to upgrade you'll need a rookie to bank some cash so see what Jeppa has to say about the latest crop of 'juniors' coming through.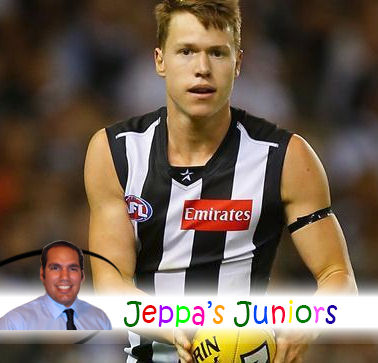 Two down, one to go. We all hate the bye rounds but thankfully they are almost over. Swanny, Zorko and Rockliff were the big disappointments of Round 9 along with green vests to Crouch, Robinson and Kennedy-Harris. If you were one to have a bad week, spare a thought for a mate of mine who put the VC on Swanny and made Rockliff captain. No matter how bad it is, remember it could always be worse!
Looking ahead, a new wave of rookies have put their hand up in a time of need. Earnings and team depth should always be a priority thus the youngsters that we bring in at this point must be decent scorers that are playing a significant role on the field.
Three-Or-More Gamers
KEEPERS
It was another epic performance from Tom Langdon (Def/Mid. $347,898, 20 be AF. $339,500, 0 be DT) last Thursday night and it could have been so much better. He was on a whopping 105 Fantasy points at three quarter time but unfortunately couldn't add to his tally in the last. Langdon was still named in the bests for the Pies and it was justified given the amount of intercept marks he had as well as his countless pressure acts and run from defensive 50. I'm pretty confident that Langdon will come close to another ton against West Coast this weekend so expect more rapid earnings.
Dom Tyson (Mid. $411,910, 29 be AF. $414,700, 20 be DT) played the best game of his short career in the Dees big win over the Tigers. Not only was he wining the footy, linking up with teammates and delivering the ball lace out into forward 50, he was also laying tackles and kicking goals. In my opinion, Tyson was best on ground after his 15 kicks, 8 handballs, 9 marks, 3 tackles, 2 crucial goals and 112 Fantasy points. Those that showed faith in Tyson a few weeks back after he was subbed off for 46…well done!
Jake Lloyd (Mid. $226,080, 21 be AF. $245,900 DT, 37 be DT) is growing in confidence with every week that passes. He played his hard running midfield role to perfection against the Bombers and finished with 20 possessions, 7 marks, 6 tackles and 92 Fantasy points. Lloyd benefits greatly from having dominant teammates around him and with his current breakevens it makes sense to hold him but note that he'll always be susceptible to the green vest especially with Tom Mitchell due to come in post bye. Lloyd's teammate Tom Derickx (Ruc. $253,609, 15 be AF. $262,100, 22 be DT) has stood up in the absence of Swans No. 1 ruckman Mike Pyke. He had to deal with both Ryder and Bellchambers in Round 9 but competed very well to finish with a sound 70 Fantasy points. As good as he's been, Derickx will likely be dropped in Round 11 when Pyke returns but I'd still hold him as backup because there are no other ruck rooks coming through.
Young Zac Merrett (Fwd. $269,027, -8 be AF. $254,900, 4 be DT) looked determined to perform from the first bounce last Friday night. He was in the thick of the action for most of the match and upstaged his older brother scoring 86 Fantasy points. If only he was playing this well in Rounds 1 and 2 when a few of us owned him. Conversely, Merrett's teammate Patrick Ambrose (Fwd. $214,326, 10 be AF. $194,100, 3 be DT) started slow but was able to work his way into the contest. His 7 Fantasy points to quarter time had me worried but he rallied, presented strongly up the ground, got his hands on the footy and finished with a score of 72. His low breakevens in both Fantasy and Dreamteam means he's a keeper but for not much longer.
Even when his team is being comprehensively beaten, Jack Billings, 76 (Fwd/Mid. $332,734, 51 be AF. $332,800, 47 be DT) still manages to produce a decent score. The skillful half forward leads up very well and is able to turn his opponents inside out. It is preferable to hold Billings given that he's a reliable scorer but if a good upgrade option presents itself then don't lose sleep trading him out. Lewis Taylor (Fwd/Mid. $279,560, 13 be AF. $272,200, 1 be DT) isn't as reliable as Billings but he backed up his Round 8 score of 75 with an 87 in Round 9. Taylor's efforts saw him rewarded with this week's NAB Rising Star nomination and given his excellent job security, low breakevens and DPP status, his owners must hold him for a few weeks yet.
DON'T PANIC
Sam Lloyd (Fwd. $286,531, 32 be AF. $246,600, -5 be DT) was pretty average against the Dees but still managed to score 71. After last week's effort, one would assume Richmond is going to put in a more spirited performance against the Giants this upcoming round and I expect big things from Lloyd as a result.
Tom Cutler, 61 (Def. $223,027, 19 be AF. $200,700, -2 be DT) and Christian Salem, 33 (Mid. $199,925, 39 be AF & $171,600, 31 be DT) aren't scoring well but I'd give them one more chance before hitting the trade button. They've had a relatively slow introduction to the AFL so hopefully vast improvement is forthcoming after their week off.
Those that own the injured Kade Kolodjashnij (Def. $349,197, 46 be AF. $328,800, 27 be DT), he's listed as 'test' on the AFL's current injury list thus I'd hold him for now because there is a little value left in him. We don't yet know the extent of Blake Acres' (Mid. $206,998, 49 be AF. $139,400, 24 be DT) ankle injury so avoid any knee jerk trades because he's barely hard the chance to show us what he can do. The Saints timely bye means it's likely he will be fresh for Round 11.
TRADE, TRADE, TRADE
If I haven't categorised a player from Round 9 under 'Keepers' or 'Don't Panic' then trade them out as soon as you can but when appropriate!
Depending on your bye structure, it appears to be a good time to offload Luke Dunstan, 72 (Mid. $361,229, 71 be AF. $330,100, 59 be DT) and James Aish, 78 (Mid. $372,526, 74 be AF. $361,100, 71 be DT). Both have the Round 10 bye and after average performances last weekend they have little more to gain. Jay Kennedy-Harris, 30 (Fwd. $263,277, 67 be AF. $270,600, 78 be DT), Nick Robertson, 26 (Mid. $244,856, 73 be AF. $225,400, 99 be DT) and Matty Crouch, 20 (Mid. $331,360, 86 be AF. $297,300, 88 be DT) are also on thin ice after all copped the green vest in Round 9. With their earnings hitting a wall, it's time to cash in.
Just quickly, son of a gun Luke McDonald (Fwd/Mid. $316,095, 67 be AF. $295,800, 73 be DT) is back in form after scoring 84 against a young Lions outfit. Even after such a great score, I'd still get rid of McDonald when you can. There is more to lose than to gain.
Bye Round Sleepers
Popular rooks that return from the week off include Jared Polec (Mid. $407,346, 68 be AF. $406,400, 65 be DT), Will Langford (Def/Mid. $276,757, 10 be AF. Def. $267,700, -14 be DT) and Mitch Hallahan (Mid. $216,273, -12 be AF. $221,300, -7 be DT). Langford and Hallahan will earn their owners a fair chunk of coin this round but Polec is close to topping out. Remember that after this week's clash with the Hawks, Port face Melbourne and St Kilda so Polec could get a second wind like Dom Tyson!
Billy Hartung (Mid. $231,343, 25 be AF. $112,800, -63 be DT) will be a popular downgrade option for Dreamteam this week and rightly so. The Hawks have a host of injuries at the minute and fringe players like Hartung will need to step up. The Giants, West Coast and Carlton are Hawthorn's opponents in the weeks proceeding Port Adelaide so Hartung should get a good run over the next month of footy. Fingers crossed he avoids the green vest!
Two Gamers
Cameron Shenton (Fwd/Mid. $159,167, -15 be AF. $147,500, -28 be DT) improved significantly last weekend. The hard-nosed defender stood up under pressure against the Suns, accumulated a respectable 22 possessions and was named in the Saints best players for the match. His score of 79 is hard to ignore especially with his dual position status. The way I see it, you can bring in Shenton as your M10 or F8 and switch him between both benches as required. He's not the most skillful player going around but he should get plenty of opportunities this year with the Saints playing their youth. St Kilda has the bye this upcoming round so wait till next week before bringing him in.
Like many of his teammates, Kurt Aylett (Def. $140,340, 8 be AF. $119,200 -7 be DT) was pretty average against the Swans. He avoided the green vest but could only manage 9 touches, 5 marks, 4 tackles and an uninspiring 51 Fantasy points. It's not panic stations for those that own him but given that Chappy and Winderlich are likely to return after Essendon's bye, Aylett's job security looks shaky.
One Gamers
In a time of need, youngster Jed Bews (Def. $134,742, -20 be AF. $119,200 DT) took his opportunities on debut. In the cauldron of Patterson Stadium and in Pav's 300th game, he was incredibly composed for a first gamer. I was a big fan of Bews' pressure acts, speed and efficient ball use. He finished the game with 15 possessions, 8 marks, 5 tackles and 84 Fantasy points, which is a big improvement from his VFL averages this year (6.8 k, 2.6h, 2.4m, 2.8t & 47fp). It's Bews third year in the AFL system so he's physically ready to make an impression. After seeing him in action, I'd feel comfortable picking him up in Fantasy this week but obviously wait another round before downgrading to him in Dreamteam.
Livewire Charlie Cameron (Fwd. $125,430, -5 be AF. $118,500 DT) is your typical small forward. A high turn of speed, constant forward 50 pressure and an excellent goal sense are his biggest weapons and he became a cult hero for the Crows after just one game. Against very good opposition in the Pies, Cameron finished with 13 possessions, 1 mark, 5 tackles, 1 goal and 62 Fantasy points. His efforts will see him hold his spot this week but I see him as a player prone to the green vest therefore his scores are likely to mimic a rollercoaster ride.
Ben Lennon (Fwd. $219,211, 42 be AF. $157,800 DT) started in the green vest but it's easy to see why he was picked up early in last year's draft. On debut against the Dees, his skills stood out and he reads the play like a 10-year veteran. Lennon came on early in the third quarter and joined the exclusive club of kicking a goal with his first kick in the AFL. He finished the game with 44 Fantasy points from 46% time on ground, which is pretty decent. I suspect he'll avoid the green vest this week against GWS and score 70 plus.
In his first home and away match in over a year, Claye Beams (Mid. $187,560, 28 be AF. $198,800 DT) made a reasonable return to AFL ranks. The Lions were absolutely spanked by the Roos and as a result, it was pretty hard for Beams to make an impression. He tried hard but could only manage 12 possessions, 2 marks, 5 tackles, 1 goal and 62 Fantasy points which is less than I'd like for a player of this price. On the plus side, job security is no issue for Beams, as long as he stays injury free. With cheaper options in Bews and Cameron available and Lennon looking more dominant for around the same price, I'd stay clear of the more expensive Beams at this stage.
Aiden Riley, 44 (Mid. $135,251, 22 be AF. $152,300 DT) and Alex Sexton, 28 (Mid. $151,483, 31 be AF. $199,400 DT) didn't do much to excite potential owners. Riley looks unfit to me hence maybe why he was red vested and Sexton had limited game time after starting the day in green. With other juicier options available, I'd stay away from these two.
Keep Your Eye On
Brisbane, Melbourne and St Kilda are three teams that have looked to their youth this season. Unfortunately, these teams all have the bye this week and as a result there is not much excitement by way of new comers.
Mason Wood (Fwd. $135,900, 45 be AF & $119,200 DT) is unstoppable in the VFL. He's been named in Werribee's bests for three consecutive weeks after averaging 11.7 kicks, 4.7 handballs, 9 marks, 3.3 tackles, 3.7 goals and 108 Fantasy points. For a key forward he does it all, problem is who do you drop from the Kangaroos lineup? He may play but I can't see him holding his spot in the long term.
After two knee reconstructions in two years, Alex Woodward (Mid. $115,200, 38 be AF & $119,200 DT) could make his long awaited debut this weekend against the Power. He's strongly built, loves the contested ball and is good overhead. Again, job security is a concern especially since fellow Hawk youngsters in Hallahan and Hartung were named ahead of him in previous rounds.
Note that Nathan Bock (Fwd. $135,900, 45 be AF & $180,300 DT) missed last weekend's reserves game due to a leg complaint so we'll need to be a little more patient. With all the Suns' talls flying at the minute, it will be interesting to see whom Bluey McKenna drops for his vice captain.
Got a question? Ask me on Twitter @JeppaDT.