The Weekend Wash-Up – Round 9
Round 9 was supposed to be the easiest of the bye Rounds, however if you didn't have 20 or more on the field you will have likely struggled. Let's take a look at the weekend wash-up.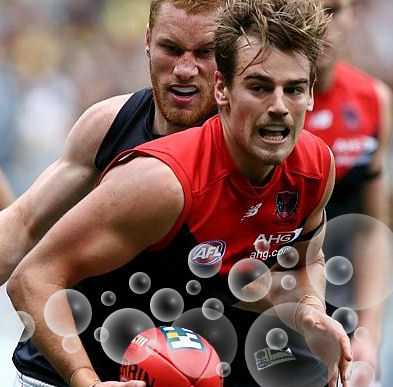 Round 9 was supposed to be the easiest of the bye Rounds, however if you didn't have 20 or more on the field you will have likely struggled. Some key late withdrawals played havoc with our Round, in particular a bug sweeping through the Brisbane camp which I have a bone to pick with. Let's take a look at the weekend wash-up.
The Legends
Dangerfield (135) – What poor history? Danger was the first person to beat up on Macaffer this year, now that he's hit form there doesn't look to be a tagger that can stop him. VERDICT: Must have up forward now.
Langdon (105) – Oh the regrets of people who traded this kid, he's an absolute jet. Play him with confidence this week then re-assess his spot in your side after the byes, I'm not really sure he will be a keeper. VERDICT: Don't get carried away, he's not going to score consistently enough for D6. He should be milked for every cent.
Jaensch (90) – His owners who stuck with him during his bye were rewarded handsomely with a solid 90. He's been extremely consistent all season and looks to be a keeper. At least he's a better scorer than he is a doctor. VERDICT: Keeper. Top 6 defender? He'll be up there.
Goddard (117) – Everyone could see he was brilliant value a couple of weeks ago, however his bye has come at a nice time for those without him. If you need a midfield upgrade after the byes, here's your man. VERDICT: He should push an average of 110 for the rest of the season, just over 500k is a steal.
Kennedy (139) – JPK is the form player of the competition without question. He hasn't dropped under 27 disposals since Round 1 and has had over 33 touches in 5 of his last 6 games. Six consecutive tons, highlights by 139 two weeks in a row. Now that's what I call form. Will he keep it up? That's another question. VERDICT: You're now paying a premium for him, surely teams will start to lock down on him.
Parker (119) – Every week this hurts. I don't really want to talk about it. VERDICT: Gun. Get him in ASAP after the byes.
Lloyd (92) – This would have been a relief to all his owners after last weeks vest. A very handy score to have unexpectedly during the byes. VERDICT: He has plenty more cash to make yet.
Tyson (112) – Hold of the year. Troll of the year? He's now busted out a 3 round average of over 109 and averaged 114.5 over the byes. Jobe Watson was my only Round 10 bye player to score more, he's been ridiculous. VERDICT: The big decision is whether to dump him with such a low BE. I saw yes, his job his done.
Harvey (144) – The perfect Round 8 bye acquisition. Those who brought him in for Merrett saw a 100 point turnaround, a ton would have made a successful trade. 144 from 39 disposals was legendary. How does he still do it! VERDICT: Certainly worth selecting as a keeper.
Gibson (126) – Flying under the radar is North's Sam Gibson. He's dropped under the ton just once in his last 7 and has a 3 round average of 126. Ideally we would have picked him up earlier when he was cheap, but I'm sure the Round 8 bye put of most. I'm on the fence as to whether he's worth 540k. VERDICT: Not convinced he's worth getting now, still a great POD. Loves some uncontested footy.
Nahas (110) – I'd love some debate over this one. I can't make my mind up. On one hand Nahas is an experienced player and has the class to make it at AFL level. He's building his fitness base and has great scoring potential. On the other hand he has great potential to ruin your season. He's inconsistent, is a vest risk and has plenty to work on. This score came against Brisbane at their lowest point, which is pretty hard to reach. VERDICT: Flash in the pan.
Selwood (138) – I posed the question during the week, the midfield upgrade debate was clearly Selwood v Swanny. I made a bold call which I may still come to regret, I think the Pig has past his uber premo days. Selwood has them ahead of him. It's only 1 week in, however Joel is taking the cake so far. VERDICT: We all know how he loves a monster second half of the season. Currently a bargain.
Kelly (103) – In his first outing as a defender in fantasy, he didn't disappoint. After being on just 40 at HT he picked it up with a huge third term. He's great value down back. VERDICT: He'll be a POD for the time being, in my opinion a top 6 defender.
Ablett (127) – Here's a scary thought. He's getting better. Perhaps not DT wise, but he's taking his game on the field to new levels. This weekend he notched a lazy 4 goals straight from 37 disposals, 22 of which were contested. He's kicked 18.2 in front of the sticks this season, the best conversion rate in the competition. I know we don't speak of that other game, but an average of over 150 tells you all you need to know. He leads the competition for average disposals and sits 9th in the coleman. Dare I say it? I wouldn't put it past him to kick 70 snaggers from the forward pocket. Best player I've ever had the pleasure of watching grace the football field. VERDICT: We all have him, right?
Swallow (115) – Finally I finish off with the man I believe has taken Gold Coast's game to a new level. He is a beast in the clearances, with an ability to win the contested ball just as well as his brother. He was the number 1 pick a few years back, then became the best secret in the AFL learning the game from half-back. Gold Coast have just unleashed their super weapon. Swallow, O'Meara, Prestia and Ablett. I'll let that sink in GWS fans. There I said it, can't remember the last Premiership won thanks to a power forward line. That's a debate for another day. VERDICT: That put the keeper doubters to bed.
The Losers
Swan (79) – Those who brought in the pig will have been extremely disappointed with his lack luster performance. I'll be honest, it's how he looks most weeks. I'm not sure what's happened but his midfield time is still there, he's just not winning the footy like he used to. I'll be willing to make the call that his uber premo days are beyond him, 110 looks his limit and I'm not even sure he will hit that. VERDICT: His owners will be relying on a huge month with some kind fixtures, it's now or never Swanny!
Crouch (20) – This surprised a lot including myself, I thought Crouch would be well rested after his bye and ready to put in another solid performance. The vest surprised us all. Let's hope he bounces back with a start next week. VERDICT: Hold him this week, then it might be time to trade.
Cloke (57) – Looking for a cheap forward option? Look elsewhere to key forwards playing like spanners. VERDICT: Eugh.
Merrett (44) – Speaking of spanners, here's one tool that's past its expiry date. VERDICT: Mistakes happen. Cut your losses.
Hooker (47) – Hooker didn't score well against Franklin. Football is a game played on an oval field. VERDICT: Normal service has resumed.
Salem (33) – This was extremely disappointing for his owners who were backing him in to shred the vest. He did so, but failed dramatically in his first full game. 33 from 4 quarters of footy is never a good sign, he doesn't look to be worth the extra cash from a DT perspective. VERDICT: Check out Jeppa's review of him on Wednesday.
Griffiths (63) – Haven't seen a turnip play football? Well now you have. Ok maybe that's slightly harsh seeing as I haven't exactly played AFL, but 16% disposal efficiency from 6 disposals. If my maths is correct that's one effective disposal during a 120 minute game. I'm not sure what else there is to say aside from Vickery has to play by default. VERDICT: You can guarantee he will be back in the VFL next week.
Zorko (14) – I honestly can't look at this score  next to Zorko's name seriously. A 40 would have been bad enough, but 14? Gastro or no gastro, that was bloody pathetic. He has a lot to make up for next week! VERDICT: I'll be holding. I can see this turning out exactly as it did last year. The good news is there's no long term concerns, aside from his 3 round average of 51.
Rockliff (0) – Shed doors around the country were opened and locked on Saturday afternoon as Rocky was named as a late out. He was many people's captain and rightly so, North Melbourne go head to head in midfield and Rocky feasts on those battles. Spare me the captain hindsight comments. VERDICT: He'll be back. It was better this way than playing ill for a 60.
Johnson (56) – Johnson has a lot to learn about a tag. He's easily the best DT scorer in the competition, however he has been tagged to 56 and 69 way too easily. He needs to focus less on the attention he's getting and move on with the game. I avoided getting him last week with the Crowley tag imminent, however he comes in for me this week. Forget the BE, it's irrelevant. He plays North who don't run with tight tags, so he should run loose for a monster score. VERDICT: He followed his 69 with a casual 168. Don't be surprised if he does something similar this week.
Montagna (53) – Monty confuses me. He looks so dominant for his 130+ scores, then literally disappears for a few weeks. He didn't even get tagged on Sunday, he was just extremely poor. 13 touches and 1 tackle, poor doesn't even begin to tell the tale. VERDICT: That's why he isn't an uber premo.
Riewoldt (64) – Finally it's with regret that Saint Nick must return to the losers column. I'm hoping like many that he will turn his form around and become an upgrade target, however he looks out of sorts. Whether injury is getting to him or the Saints horrible play is undermining his scores is hard to tell. I'd say it's a bit of both. The ball isn't going into their forward line much, however I've hardly seen Roo up the wings at all recently. When he's in form and fit you'll see him taking chest marks across half back. VERDICT: Avoid for now. It would be a gutsy decision to hold.
Talking Point
With all the cutting edge technology, medicine and extreme care taken with modern day players, surely a club could contain a gastro bug to one player? Clearly not. Brisbane not only let the virus spread, but had 2 of their best players fall down with the bug. They weren't just 2 players of course, it was Rockliff and Zorko who were affected. Thankfully Rocky pulled out and saved us a shocker, Zorko didn't take such liberties. This decided your round, you were either like me and relying on both of their scores, or had neither and cruised to 1900. Shocker.
This Game Sh*ts Me
Timing is everything in this game. With most of our premiums in play I didn't think too much back-up was necessary this week, so I gambled on having 19 players. Turns out I had Rocky and Zorko's scores to replace, meaning I had to take Zorko's 14 which ended up in disaster. I'm going into Round 10 with 21 players, and I reckon chances are we'll go through un-harmed. Ok so that comment is probably going to f**k us all over, but I maintain that timing is everything. And that's why this game sh*ts me.
Kade Simpson stole the stubby from our boy Rocky last week, let's take a look at the 5 new nominees:
Harvey – He's just scored 144 at the ripe age of 36! Surely worthy of a vote! Somehow he's still extremely DT relevant, it's a credit to his fitness levels.
Ablett – He played one of the best all-round games you will see, those who played it safe with him captain will have been delighted with this score. He gets my vote even without the armband.
Dangerfield – When in form he's a top 3 player in the comp. Let's just hope he maintains these dominant displays. His 135 was inspiring and helped the Crows to victory.
Tyson – Tyson has been immense for those who held him during the byes, a very worthy winner.
Kennedy – Finally JPK's recent displays cannot be ignored any longer, he gets a nomination for his second consecutive score of 139.
Who will get your vote?
Loading ...
The Other Bits and Pieces
I finished on a pretty average 1736, purely down to the Brisbane gastro bug. Yes the joke it's given us the sh*ts has been overused, but it's true. My team suffered as a result, however 21 on the park next week points to brighter skies ahead. Good luck for the final round of the byes next weekend, I can't wait to get back to normal footy!
If you enjoy seeing me rage and want a punching bag when sh*t goes tits up, follow me on twitter@MattCraigDT. My views are honest, mostly helpful and occasionally entertaining! Hit me up with your weekly Golden Stubby nominations, and mainly what gave you the sh*ts! I value everyone's opinion