Jeppa's Juniors – Round 8
The first of the bye rounds is over so it's time to get serious. We've got to quickly forget the handful of green vested rookies from last week that got us down because there are a few up and comers on the horizon that will bring a smile to many. Enjoy.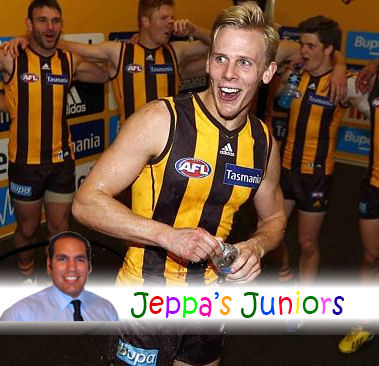 What a relief it is to have the dreaded Round 8 behind us! On top of managing our scheduled bye players, many of us had to deal with injuries to Mitchell, Hodge, Treloar and Lobbe, the omission of Georgiou and green vests to a host of popular rookie selections in Hartung, Lloyd, Robertson, Aylett, Salem and Ellis. I was very lucky to have 19 players in AFL Fantasy last weekend and with a bit of luck finished with a respectable score of 1720. My dreamteam was a different story. Hodge's late omission meant I only had 17 possible scorers but bringing in Kade Simpson was timely and I stumbled to 1574.
This week you should be looking at trading in a premo (or two) that had the Round 8 bye. Very few teams have all of Stevie J, Ablett, Beams, Pendlebury, Swan, Selwood, Bartel, Martin, Dangerfield, etc so look to bring in one of them this week. My must have is the Pig himself. Swanny would have benefited greatly from the week off after battling numerous niggling injuries early in this season and with the Pies facing the Crows, Eagles, Saints, Dees and Dogs over the next month, it's blue skies ahead! To make an upgrade, we need a suitable downgrade option, so let's get into the rookies shall we…
Three-Or-More Gamers
KEEPERS
In a time of need, Dom Tyson (Mid. $379,497, 35 be AF. $366,600, 7 be DT) proved invaluable for his owners. The Dogs paid him little respect last Saturday night and as a result he was able to rack up 27 possessions, 6 marks, 3 tackles, 2 goals and 117 Fantasy points. With a loose checking Richmond as his next opponent, I expect another 90+ score and given his healthy breakeven in both Fantasy and Dreamteam, he'll be earning his owners a few more dollars yet. I wish I held him.
The rookie of the round, in my opinion, was Will Langford (Def/Mid. $276,757, 9 be AF. Def. $267,700, -12 be DT). A personal best of 91 Fantasy points in a round where we relied on our bench cover is excellent timing. On the field, Langford tried to nullify an awesome Josh P. Kennedy but found himself wining his own football especially at the clearances and he finished up with 15 kicks, 8 handballs, 4 marks and 5 tackles. With his recent DPP gain in Fantasy and incredibly low breakevens, he has become more valuable than ever! Langford's teammate, Mitch Hallahan (Mid. $216,273, -13 be AF. $221,300, -6 be DT) also performed better than expected in Round 8. Hallahan continues to line up at half forward but his role is to push up as an extra midfielder. Clarkson would love his hardness at the contest and with more injuries hitting the Hawks; he should stick around long enough to earn another $100,000.
Who'd have thought that backup ruckmen Billy Longer, 88 (Ruc. $234,602, 4 be AF. $262,800, 20 be DT) and Tom Derickx, 65 (Ruc. $226,354, 5 be AF. $229,500, -2 be DT) would be scoring well enough to be listed as keepers. Don't get your hopes up though, these two wont crack 60 often! Other rooks to hold on to in the short term for value and scoring potential include Jack Billings, 77 (Fwd/Mid. $309,798, 22 be AF. $310,700, 29 be DT), Lewis Taylor, 75 (Fwd/Mid. $257,767, 35 be AF. $245,700, 29 be DT) and Dylan Buckley, 68 (Mid. $258,887, 23 be AF. $249,100, 20 be DT).
DON'T PANIC
Jared Polec, 64 (Mid. $407,346, 67 be AF. $406,400, 68 be DT) didn't have the best game last weekend but note that there should be a couple more big games from him in the near future. After a well deserved rest in Round 9, a fresh Polec will face an injury ravaged Hawthorn at Adelaide Oval then Melbourne and the Saints. Those looking to maximise profits and maintain 18 players this week may offload Polec but be warned that he should average around 90 against his next three opponents.
Josh Kelly, 68 (Mid. $340,600, 44 be AF. $336,600, 47 be DT), Patrick Ambrose, 41 (Fwd. $183,537, -1 be AF. $149,500, -27 be DT) and a green vested Jake Lloyd, 19 (Mid. $190,054, 7 be AF. $201,900 DT, -5 be DT) performed well below their expected average in Round 8 but they have a little value left in them so hold for now. Also keep Zac Merrett, 63 (Fwd. $241,017, 20 be AF. $217,900, 4 be DT), Tom Cutler, 61 (Def. $208,178, 26 be AF. $175,500, 6 be DT), Sam Frost, 61 (Fwd. $208,993, 22 be AF. $204,400, 5 be DT) and Jay Kennedy-Harris, 54 (Fwd. $257,563, 16 be AF. $265,400, 20 be DT) for the same reason.
Unfortunately, Nick Robertson (Mid. $255,068, 50 be AF. $231,000, 40 be DT) and Christian Salem (Mid. $207,568, 51 be AF & $172,800, 37 be DT) both copped vests unexpectedly last weekend. It's clear that the Lions are playing the 'kids' this year thus the decision to start Robinson in green appears to be a means of managing his workload. As for Salem, well I'm shocked and annoyed that he copped the green vest for a third consecutive week. I still rate Salem very highly and he has an instant impact every time he gets a run on the field. Surely it won't be a fourth green vest for Salem this week!
TRADE, TRADE, TRADE
If I haven't categorised a player from Round 8 under 'Keepers' or 'Don't Panic' then trade them out as soon as you can but when appropriate!
Depending on your bye structure, it appears to be a good time to offload Luke Dunstan, 67 (Mid. $364,223, 79 be AF. $324,200, 61 be DT) and James Aish, 68 (Mid. $365,649, 61 be AF. $359,100, 76 be DT). Both have the Round 10 bye and after average performances last weekend they have little more to gain.
Two Gamers
Jason Tutt (Fwd. $259,803, 12 be AF. $247,300, -2 be DT) was the better of the two gamers in Round 8 after amassing 13 kicks, 5 handballs, 1 mark, 8 tackles, 2 goals and 95 Fantasy points. As good as he was, Tutt doesn't come cheap and he's been in and out of the Dogs side all season thus I wouldn't pick him. Another I'd avoid due to cost is Ryan Schoenmakers (Def. $246,871, 18 be AF. $239,700, -1 be DT). He started forward against the Swans but was push back into defence in the first quarter to try and contain a hit Kurt Tippett. Schoenmakers finished with 53 Fantasy points as a trademark defender which is right on his likely average. Pass.
Blake Acres (Mid. $216,986, 25 be AF. $122,800, -34 be DT) has no problem finding the footy, he just needs to use it better. He had 9 possessions, 2 marks, 5 tackles, 1 goal and a massive 55 Fantasy points to half time but that included a few notable turnovers. After half time, Acres ran out of legs and could only add just one more kick to his tally before being subbed off at the 15-minute mark of the third quarter. The potential is there for Acres to score big and he's obviously very relevant in Dreamteam given his $122,800 price tag. Don't hesitate to bring him in but if you do make sure it's as your M10 as I suspect he'll be up and down with his scores.
Much to my disappointment, Billy Hartung (Mid. $231,343, 1 be AF. $112,800, -62 be DT) was given the green vest for the Hawks on Friday night. He was subbed on early in third quarter after Cyril did his hammy but struggled to win the football and scored just 26 Fantasy points from 47% time on ground. With the uncertainty surrounding his job security, I wouldn't bring Hartung in this week given he has the bye. If he's named for the blockbuster against Port Adelaide in Round 10, then that should transpire into more game time against likely bottom 8 teams (Giants, West Coast and Carlton) in the weeks preceding.
Lastly, stay well away from Matthew Buntine (Def. $225,794, 48 be AF. $215,400, 46 be DT). He's a lockdown defender who will average less than 50. Enough said.
One Gamers
As expected, Kurt Aylett (Def. $128,552, 23 be AF. $119,200 DT) copped the green vest for Essendon in their game against the Lions. He came on late in the third, was effective from the offset and scored all of his 28 Fantasy points in the last quarter alone! Fortunately, we'll know if Aylett is the sub prior to FULL lockout on Friday evening. If he avoids the green vest then I'd take a punt and pick him up in Fantasy. Aylett has been a big ball winner in the VFL and that should carry on into the AFL especially with Essendon's high possession style game plan. Hopefully, he's the defender rook we've all been waiting for.
Cameron Shenton (Fwd/Mid. $132,778, 17 be AF. $147,500 DT) looked far from impressive in my opinion. Playing at halfback, Shenton started on Menzel got beaten and was subsequently moved to Mitch Robinson and was beaten compressively again. He finished with a mere 38 Fantasy points but it's irrelevant to be honest because he should be dropped this week.
Please avoid Andrew Phillips, 36 (Ruc. $150,648, 24 be AF. $135,800 DT), Aiden Corr, 35 (Def. $158,132, 28 be AF. $167,700 DT), Fletcher Roberts, 26 (Fwd. $143,317, 30 be AF. $119,200 DT) and Brent Renouf, 19 (Ruc. $162,765, 42 be AF. $213,000 DT) for obvious reasons.
Bye Round Sleepers
In form rooks refreshed from a week off include Tom Langdon (Def/Mid. $317,256, 28 be AF. $293,200, 3 be DT), Matty Crouch (Mid. $341,621, 39 be AF. $306,600, 43 be DT) and Sam Lloyd (Fwd. $264,175, 15 be AF. $218,100, 9 be DT). All three should score 75+ this week.
If you listened to @RoyDT's exclusive on the latest AFL Fantasy podcast, you'd know that Kade Kolodjashnij (Def. $349,197, 41 be AF. $328,800, 30 be DT) is in doubt for Round 9 due to a knee injury. If 'KK' misses only a couple of weeks then I'd hold him. He's an absolute gun that should reach $400,000.
Keep Your Eye On
Nathan Bock (Fwd. $135,900, 25 be AF & $180,300 DT) is the perfect downgrade option for Fantasy this week. Gold Coast's vice captain has fully recovered from a broken leg and looks set to make his long awaited return against the Saints on Sunday afternoon. In his most recent NEAFL game, Bock was best on ground for the Suns and after a solid month of reserves games he's is ready to make an impact in the AFL.
Claye Beams (Mid. $187,400, 35 be AF & $198,800 DT) deserves some luck! He's had a retched run of injuries for the majority of his career but thankfully got through unscathed in his first NEAFL game for the year and was named in the bests for his troubles. I suspect that Leppitch will reward Beams with selection in Round 9 but note that it will likely be as the sub.
I'm convinced that this is the week Ben Lennon (Fwd. $233,100, 40 be AF & $157,800 DT) debuts. The Tigers play Melbourne at the G and Lennon would fit nicely on a wing or at half back. His vest risk is high so I'd avoid him in Fantasy but pencil him in for Dreamteam in a couple of weeks if all goes to plan.
My mail is that Anthony Morabito (Mid. $215,100, 40 be AF & $119,200 DT) is likely to suit up for the Dockers this weekend. It's an amazing story to return from three knee reconstructions and one would suspect that he'd be a little rusty given that it's his first game since 2010! Don't expect any huge scores.
Got a question? Ask me on Twitter @JeppaDT.