The Weekend Wash-Up – Round 8
Personally the word bye used to stand for a simple farewell. I even used to say the word goodbye out aloud. Not anymore. Just the thought of a bye makes me sweat profusely, it's a mechanism for DT disaster. Thankfully team news wasn't too harsh on us this week, and most could sneak through with the bare minimum.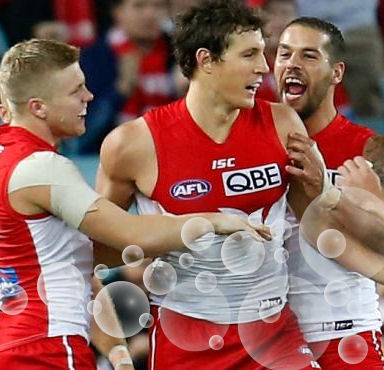 Personally the word bye used to stand for a simple farewell. I even used to say the word goodbye out aloud. Not anymore. Just the thought of a bye makes me sweat profusely, it's a mechanism for DT disaster. Thankfully team news wasn't too harsh on us this week, and most could sneak through with the bare minimum. We're not out of the woods yet though, it's time to take a look at the weekend wash-up.
The Legends
Hannebery (143) – He was incredible value a few weeks ago, but most of us weren't brave enough to jump on. He can still get tagged out of games on occasions, and I expect him to face a lot of that in the near future. He's incredibly damaging when in forn. VERDICT: Very risky, boat may have passed.
Kennedy (139) – Sydney's guns are starting to fire on all fronts, and leading the way is JPK. He's cracked the ton in each of his last 5 appearances, and hasn't dropped below 80. His fierce tackling can make for some whopping scores. VERDICT: Just like Hannebery, we may be too late. Better value out there.
Parker (121) – Surely the forward pick of the year, in hindsight there is no way we should have been passing on his obvious value with midfield time almost guaranteed. VERDICT: The one we let slip, but must be picked up ASAP. Top 3 forward.
McVeigh (119) – Just like his teammates, McVeigh is starting to hit his straps. With Mitchell out he's going to be the top defender for the time being, although there is another vying for that title. 5 round average of 105. VERDICT: Get him in when you can.
Langford (91) – I was confident that he was only being rested, however that didn't change the fact that it was a massive relief to see him back on the teamsheet. None of us saw the 91 coming though, he looked like a class player in the final term. VERDICT: Certainly a keeper for the time being.
Fyfe (130) – He was great value a few weeks ago and looks to be another we have let slip. He's yet to prove his consistency and with the risk of tags and a lowish ceiling, 525k is getting on the expensive side. VERDICT: Absolute gun, but I would still be passing for now. His teammate Barlow is much more tempting after their bye.
Liberatore (146) – Libba against Melbourne is now officially a captaincy lock. If only he could put together these performances more consistently, especially since Griffen takes the hard tag every week. VERDICT: Capable of the odd shocker which puts me off getting him.
Tyson (117) – Not many would have cared for my bye advice, but I hope you listened to my rookie advice! Culling guys like Tyson for Robertson as turned out to be nothing but a disaster. Dom suddenly has a BE of 35 and could pass 400k before his bye! VERDICT: Great hold.
Griffen (113) – "He's back" is what I've heard for the past 3 weeks. He struggles to handle the tags and that was his first ton of the season. His 15 tackles was a great effort, but there's surely better options out there. VERDICT: Pass.
Rockliff (147) – Now here is a legend. He cruises around first half, spends a bit of time up forward. Rests up on the bench. Then enters second half beast mode. He has now scored a combined 201 points during the last half of the past 2 games. The man is a DT machine, he's been my perma captain in RDT and I haven't had a problem. Now averaging over 120, it seems the faith has been vindicated. VERDICT: Beast.
Watson (149) – Make no mistake, we were owed this score. 5 consecutive games under 100 was unforgivable. However this was a good start in the search for redemption, he's now gone over 120 each time he's passed the ton. Consistency please Watto. VERDICT: Ripe for the picking.
Goddard (126) – Speaking of ripe for the picking, Goddard has averaged 111 in his 5 unvested games, is priced at 480k and has a BE of under 100. VERDICT: Get on if it suits, perhaps after the bye is best.
Kennedy (160) – 11 goals 0 behinds. Enough said. Pitty this wasn't last season! It was great to watch a full forward dominate a game, it's too rare these days. VERDICT: Don't do anything irrational (like trade him in).
Selwood (129) – Scooter was back to his best with 10 tackles and 129 points. Do I think he's worth picking up? It's too risky at this stage, GWS were pathetic. VERDICT: Hold off, the Eagles have a tough month ahead.
Cox (122) – Cox really did have to feast on the hapless Giants, and feast he did. He's been inconsistent this year, but with the lack of reliable ruck stocks an average of 90 is solid. VERDICT: Perhaps a trade off to Mummy is on the cards in the near future.
Simpson (145) – The man is a DT hero! He racked them up in midfield to end up with 36 disposals and 10 marks. He has the highest ceiling of any defender, and is now the equal of McVeigh and Mitchell. VERDICT: Gun.
Murphy (120) – Murphy was a brilliant pick up for those who snagged him cheap a few weeks ago, however there is a big call to be made. Personally at 536k and Round 8 midfielders now ready to be stocked up, I'd be getting off whilst ahead. VERDICT: Stay ahead of the game, I think holding him would overstay his welcome. Hasn't convinced me he will be a top 10 mid.
The Losers
Lloyd (19) – The list of losers was far shorter this round, however their impact was severe. Those who planned to bring in Lloyd avoided a bullet when he was named in the vest. A potentially brilliant cash cow halted. VERDICT: I'd stay away.
Shaw (47) – Will the real Rhyce Shaw please stand up? Thanks Rhyce. VERDICT: Milk him for one more week, then drop him like it's hot.
Cunningham (31) – Talk about hitting the wall! Cunningham was horrific for his 31, his time is up. VERDICT: Cull.
Goodes (33) – Those who contemplated Goodes after 1 quarter against Brisbane have quickly shuffled back to their caves. VERDICT: No. Not yet anyway.
Suckling (57) – What a roller coaster he is! 31 at quarter time and on track for another great score, only to stop completely. It's tough when to know it's time for him to go. Ideally this would be the week, but Round 8 defenders aren't exactly walking through the door. Most of our cash will go towards upgrading our mids I'd suggest. VERDICT: I'll be holding.
Hartung (26) – He seems like a specialist sub. VERDICT: Avoid, even if only for a quick buck.
Higgins (59) – This was Higgins third score in the 50's for the season after passing the ton twice. His price has peaked at the perfect time, surely it's time to trade. VERDICT: He's stayed fit which is all we could ask. Don't ask for too much.
Merrett (37) – My god. How bad has he been?! I watched him intensely before bringing him in, and he seemed a solid 80 average player who was performing extremely well. Nobody saw a score this horrific score coming. He was literally spotted about 10 times in 120 minutes of football. VERDICT: Trade ASAP.
Robertson (10) – Leppa, Leppa, Leppa. ****ing Leppa. I thought you were better than Vossy! This hurt a lot including myself, just when we needed him to shine. Hopefully this was just a rest and he returns with a bang next week. VERDICT: Hold for 1 more week.
Ambrose (41) – To be honest even his 41 saved me this week, I was just glad he was back out there. VERDICT: Must maintain his spot this week, then his job is done.
LeCras (108) – What ever idiotic thought process went through LeCras' mind when he made that bump, it sure better not happen again. He has cost himself and his team big time, take the week and run. VERDICT: Will be a great option come Round 11 after his vest score filters out.
Ellis (29) – Vests. Don't get me started on BLOODY VESTS! DT killer. VERDICT: For those who held him hoping for a Round 8 return, this was a dagger to the heart.
Thomas (48) – Finally I end the losers column with Daisy Thomas, how fitting. Malthouse praised his performance! 8 disposals, 1 goal and 2 tackles? He's playing like just about the worst $700k forward pocket in the games history. Ok so he's the only $700k forward pocket player in the games history. VERDICT: Release that frustration with the trade button.
Talking Point
I don't really want to bang on about this, but Monday football really isn't suitable. Easter Monday, yes. Queens birthday, yes. Thursday nights? Maybe. Monday nights? It simply doesn't work, the footy shouldn't be ending at 10pm on a weekday. Then we have the issue that these different time slots are being tested during the shortened bye rounds! Footy is for the weekend and 1 game on Sunday isn't good enough, let alone a 111 point thumping. We have a Thursday night contest coming up this week, batter down the hatches for another drawn out round of football.
This Game Sh*ts Me
Honestly, things fell very kindly for me. I had Hodge 20 minutes prior to lockout, only to find he was a late withdrawal. I switched him over to Simpson who ended up on 145. If it hadn't of been a Friday game I would've been left with Robertson's 10, 135 points worse off and who knows where things would have gone from there. Well and truly kissed on it. However some players ability to fall off a cliff simply astonishes me. Jackson Merrett couldn't stop finding the pill in his first few games, and I watched him closely before bringing him in. He was a ball magnet! I would happily take a few spud 60's, but 37? Combine it with Ambrose 41, Fletcher Roberts (Don't ask) 26, and Robertson's vest and you have a perfect meal of mashed potatoes. Don't get me started on vests, why on earth was Acres subbed?! And that's why this game sh*ts me. Yeah I'm not sure what the reason was there either, but it sh*ts me nonetheless.
Polec snagged the Stubby from a man who's come back for more this week, here's the fresh list of nominations for this week:
Watson – It was about time he showed us something, and those who held strong were finally rewarded. He was brilliant this week, but it was certainly owed.
Rockliff – What a legend. Another monster second half of 94 sent his owners who captained him flying up the rankings with 147 doubled. He's a DT machine, no other way to explain it.
Simpson – If anyone is to challenge Rocky this week, it must be the defensive pick of the season Kade Simpson. He ran free in the middle of Etihad stadium to pick up 36 disposals for his 145.
Liberatore – Libba notched his third straight score of 140+ against the Dees, he didn't let anyone down who took the punt on him. Great pick.
Kennedy – Finally JJK has to make it. You can't notch 160, snag 11 sausage rolls without missing and not get a nomination for the Stubby. If you had him, I suspect you've stopped playing by now.
Who will get your vote?
Loading ...
The Other Bits and Pieces
For once this isn't so embarrassing for me. 1727 pushed me well up the rankings, over 4000 spots to move into the top 4k! How pathetic. 3 scores of 140+ countered my 4 below 41, however my bye structure is looking solid for the weeks to come. Let's hope for no selection dramas! Good luck for next week, may the DT gods be on our side.
If you enjoy seeing me rage and want a punching bag when sh*t goes tits up, follow me on twitter@MattCraigDT. My views are honest, mostly helpful and occasionally entertaining! Hit me up with your weekly Golden Stubby nominations, and mainly what gave you the sh*ts! I value everyone's opinion