Jeppa's Juniors – Round 7
With the bye rounds upon us, don't miss out on Jeppa's complete rookie review from Round 7. There's plenty to talk about including a few downgrade options to consider. If you're serious about Fantasy and Dreamteam then this is a must read!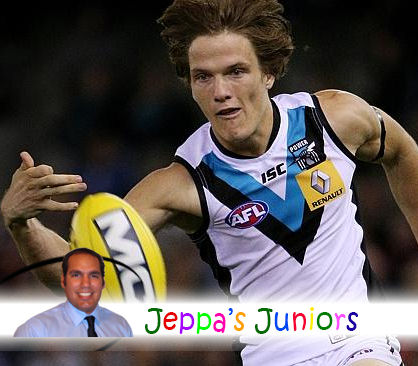 We are on the brink of the bye rounds and the performance of our players over the next three weeks will dictate the master coaches from the pretenders. Many of us have been very patient, sacrificing the 'must haves' to ensure a well balanced team over these trying rounds and of course a bit of luck is involved in avoiding suspensions and injuries.
For those loaded up with Round 8 bye players, a double downgrade this coming lockout will maximise your options in Rounds 9 & 10. Others should be looking to the classic downgrade, upgrade. There are a few cheap rooks we can turn to this week so lets get into it.
Three-Or-More Gamers
KEEPERS
There were plenty of awesome performances from the three-or-more gamers in Round 7 but none were more impressive than Jared Polec (Mid. $394,088, 28 be AF. $400,900, 47 be DT). He did what he pleased against the Giants collecting 30 possessions, 2 marks, 2 tackles, 3 goals, 115 Fantasy points and an assured 3 Brownlow votes. Polec's form has been scintillating this season and I wouldn't be getting rid of him anytime soon.
In my eyes, Tom Langdon (Def/Mid. $317,256, 28 be AF. $293,200, 0 be DT) was best on ground against the Blues last Friday night. His ability to read the play, cut off opposition kicks inside the 50 and continually spot up targets was excellent. He finished with 99 Fantasy points and was this week's NAB Rising Star. A healthy breakeven in both Fantasy and Dreamteam means his owners must hold him for a couple of weeks yet.
If you're looking for a quick cash grab this week then Jake Lloyd (Mid. $168,200, -35 be AF. $169,000 DT, -57 be DT) is your man. Lloyd was brilliant against the Lions in a four-quarter effort that saw him finish with 29 touches, 8 marks, 3 tackles, 1 goal and 109 Fantasy points. Given that Lloyd had a pretty easy run against a young Brisbane outfit, I doubt he'll score more than 75 against the mighty, flying Hawks this Friday night. Nevertheless, his breakevens are too good to ignore and he should earn you close to $100,000 before his Round 10 bye pending no green or red vests!
If you're a Saints supporter get excited because you've landed a gem in Jack Billings, 83 (Fwd/Mid. $284,804, 15 be AF. $279,600, 4 be DT). Billings' poise and skill is a joy to watch and he was one of the Saints best last weekend on a very dark day for the club. Other Three-Or-More-Gamers to be named in the bests for their respective sides in Round 7 include Dylan Buckley, 63 (Mid. $240,271, 21 be AF. $217,100, -6 be DT), Dom Tyson, 99 (Mid. $355,646, 56 be AF. $330,700, 32 be DT), Jay Kennedy-Harris, 87 (Fwd. $232,439, -8 be AF. $233,500, -21 be DT), Nick Robertson, 90 (Mid. $252,658, 1 be AF. $218,500, -21 be DT) and Kade Kolodjashnij, 87 (Def. $349,197, 41 be AF. $328,800, 26 be DT). Keep them all!
Other rooks to hold on to for value and scoring potential include Josh Kelly, 90 (Mid. $322,682, 22 be AF. $313,900, 13 be DT), Sam Lloyd, 82 (Fwd. $264,175, 15 be AF. $218,100, 6 be DT), Rohan Bail, 86 (Mid. $343,822, 52 be AF. $332,600 DT, 49 be DT), James Aish, 74 (Mid. $358,103, 46 be AF. $339,900, 21 be DT) and Matty Crouch, 70 (Mid. $341,621, 39 be AF. $306,600, 40 be DT).
Timing is everything and Tom Derickx (Ruc. $200,294, 1 be AF. $193,900, -17 be DT) owners will be glad to hear that Mike Pyke will miss at least one week of footy due to a hamstring strain (source). Derickx stood up in Round 7 after the big Canadian was subbed off late in the second quarter and he won a heap of hitouts, kicked a goal and finished with 76 Fantasy points. I'd only expect a score in the 60's from Derickx against the Hawks.
DON'T PANIC
Mitch Hallahan (Mid. $177,209, -15 be AF. $166,400, -47 be DT) didn't benefit as much as his owners would have liked considering more than half of Hawthorn's 22 scored 100+ in Round 7 but he's still got plenty of value to gain yet. With Mitchell out for at least eight weeks, Hallahan's job security firms that little bit more and his hardened body will be needed this week against Sydney.
Nathan Gordon (Mid. $227,577, 35 be AF. $221,200, 27 be DT) and Tom Cutler (Def. $197,428, 33 be AF. $164,400, 34 be DT) both wore a vest last weekend, which obviously limited their output, but I wouldn't get rid of them just yet. Both have the potential to score 75+ and they haven't yet topped out in price.
Don't forget about Luke Dunstan (Mid. $367,679, 69 be AF. $320,500, 55 be DT) who missed last week with concussion. He will play this weekend against Carlton and should score well.
TRADE, TRADE, TRADE
If I haven't categorised a player from Round 7 under 'Keepers' or 'Don't Panic' then trade them out as soon as you can but when appropriate!
Two Gamers
Even after a couple of substandard scores, Christian Salem (Mid. $215,855, 56 be AF & $172,800, 37 be DT) is still a player to consider. Two green vests in two games have hindered Salem's potential but there is no doubting his class. Pinpoint skills, decision-making and speed are attributes of his game that firm him in the best 18 at Melbourne. Salem had just 29 Fantasy points in Round 7 but don't ignore the fact that he can go score big! He had 22 in less than a quarter against the Crows last weekend and 25 in just the 4th quarter on debut. Salem is expensive but has very good job security and with very few rooks putting their hand up this week, he's a solid option.
One player I hoped would take his opportunities early this season was Jonathan O'Rourke (Mid. $143,784, 17 be AF. $135,500, 7 be DT). Unfortunately, O'Rourke is struggling with the pace of the AFL and winning very little footy in the process. After amassing just 7 possessions in almost three quarters, he was subbed off against the Power and looks to be on the outer so stay away for now. Another youngster I wouldn't touch is Brandon Jack (Mid. $173,779, 33 be AF. $194,800, 49 be DT). Jack started in the green vest but came on just before half time after Mike Pyke did a hammy. He scored a reasonable 41 Fantasy points from 48% time on ground but he's been in and out of the team this season and as a running mid, forward his green vest risk is very high.
No Tom Hickey for a couple of months means Billy Longer,52 (Ruc. $206,846, 20 be AF. $239,000, 32 be DT) will get a regular senior gig. After last weekend's 52, scores in the 50's and 60's is what to expect from Billy which is pretty poor for a $200,000+ player. Stay away unless you are desperate for a ruck cover during the bye rounds.
Definitely avoid Ben Kennedy,18 (Fwd. $205,618, 69 be AF. $249,900, 109 be DT) and Marcus Bontempelli, 13 (Mid. $228,856, 66 be AF. $197,800, 54 be DT). Job security, green vests and poor scores are the concern with these pricey options. Joel Tippett, 35 (Def. $117,986, 12 be AF. $119,200, 10 be DT) is another to stay well clear of given his role as a lockdown defender and poor scores to date.
One Gamers
A ton in just three quarters of footy. That's what 'Mr Endurance', Billy Hartung (Mid. $218,414, -7 be AF. $112,800 DT) produced on the weekend. Obviously that's a massive effort in your first game of AFL football but when your teammates are dominating possession and hitting you lace out, it's pretty easy to score. Additionally, the Saints paid Hartung no respect, allowing him to roam free on the vast spaces of the MCG and finish with 105 Fantasy points. His job security over the next month looks solid with a few injuries at the Hawks but as a running, goal kicking midfielder he is a prime candidate for the green vest each week. If you've got Hallahan then I wouldn't add Hartung. It's too big a risk having two backup midfielders with vest and job security concerns. If you are happy to sacrifice your 10th midfield spot then Hartung would be a handy pickup.
In his first game in just over a year, Ryan Schoenmakers (Def. $227,679, 5 be AF. $239,700 DT) looked like he hadn't missed a beat. The big fella was named in the bests for the Hawks after 9 kicks, 6 handballs, 6 marks, 3 tackles, 4 goals and 94 Fantasy points against the Saints and probably would have done better if he wasn't moved to the backline after Lake did his calf. With Lake out for an extended period, Schoenmakers will play as a lock down defender so expect scores in the 60's at best. Not for me at that price.
Blake Acres (Mid. $207,102, 32 be AF. $122,800 DT) showed a bit at half forward on debut. A score of 51 isn't too bad considering that the Saints got pumped by 145 points so rest assured that he'll improve this weekend. With a price of $206,550 and a breakeven of 32 I'd resist trading him in this week for Fantasy and we'll get another good look at him before his price change in Dreamteam so show a little patience.
More young lock down defenders in Tom Simpkin (Def. $155,762, 14 be AF. $183,500 DT) and Matthew Buntine (Def. $229,266, 42 be AF. $215,400 DT) just don't score enough to be considered. Ironically, Buntine was named in the bests for the Giants after he did a pretty good job on Chad Wingard but had only 48 Fantasy points. Simpkin was marginally better with 51. It's a big fat no to both.
Ben Newton, 59(Mid. $124,896, -3 be AF. $119,200 DT) and Simon Tunbridge, 47(Fwd. $137,334, 11 be AF. $169,300 DT) are fringe players at their respective clubs. It's likely that Newton will make way for Hamish Hartlett this weekend and Mark LeCras will replace Tunbridge after the Eagles Round 9 bye. Pass.
Keep Your Eye On
Aidan Riley (Mid. $135,500, 25 be AF & $152,300 DT) is firming for a spot in Melbourne's 22. With Viney despicably ruled out for the next two weeks, Riley is the front-runner to replace him. He was the midfield emergency last weekend and has shown form in the VFL over the past month. If he's named, I'll probably trade him into my Fantasy team even though he is likely to be given the green vest. Consider!
Nick O'Brien (Mid. $175,600, 32 be AF & $224,000 DT) is a player in form. He had 20 kicks, 10 handballs, 4 marks, 5 tackles and 117 Fantasy points against decent opposition in Sandringham in the VFL last weekend and 27 touches in the round prior. In my opinion, O'Brien would suit Essendon's high possession/hard running game plan and even though he's a bit pricey, I wouldn't ignore him.
Got a question? Ask me on Twitter @JeppaDT.