The Weekend Wash-Up – Round 7
Many of us will have been stretched to breaking point over the past few weeks, this was the Round where some will have snapped. Here's Matt's round seven wash-up.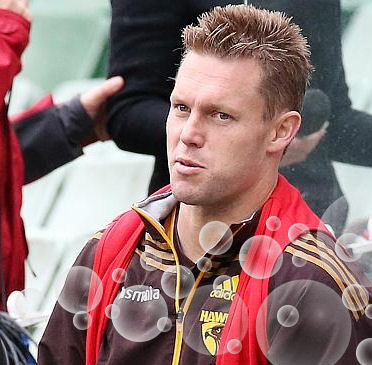 Many of us will have been stretched to breaking point over the past few weeks, this was the Round where some will have snapped. Myself possibly included. The last thing we needed heading into the byes next week was our players to go down with injuries or put in a performance worthy of the axe. Unfortunately, this is exactly what happened. It's time to take a look at the weekend wash-up.
The Legends
Montagna (151) – Joey has averaged 148 over the past 3 weeks to lift his season average above 120. Not only does he have a great bye, he's the 3rd highest averaging player in the comp, and the 3rd most expensive with only price rises ahead before his Round 10 bye. He was the perfect trade a few weeks ago, and even though he will be a straight swap to SJ he may be doing enough to hold his spot as a must have midfielder himself. VERDICT: DT whore, does it tough when his team is getting spanked.
Suckling (120) – On the other end of the DT spectrum, Suckling's class has earned him a spot in our teams for at least the next few weeks with another solid score. VERDICT: Assess his spot come Round 9.
Hodge (119) – I was so close to getting Hodgey in on the back of his increased midfield time this season. There's no doubt he has the potential to be a great scorer, however the fact that he gets moved back in the tougher games has me slightly concerned. VERDICT: Even if he's over his injuries, his role can be a little uncertain. Solid POD.
Polec (115) – This guys role is certain, his run and carry has been instrumental to the Power's game being taken to another level. He's been our midfield saviour along with Macrae with an average of 90. VERDICT:  Lock him in until after the byes.
Gray (113) – An option that has flown under the radar has been Robbie Gray. His teammate Chad Wingard got all the attention, however coming off the back of an injury riddled 2013 he's shown us all up. He holds a 4 round average of 111 and has increased by 85k in that time. His ship may have sailed, I can't see him averaging much more than 90 and he plays Freo this week. VERDICT:  Still deserves to be considered.
Ward (162) – Don't consider him for your Dream Team's, however what he's doing for GWS is nothing short of incredible. He'll become a powerhouse midfielder over the next couple of seasons, great pick for the draft leagues. VERDICT:  As I said, the draft leagues.
Jacobs (110) – Big Sauce Jacobs has proven to be the ruck choice of the year, well played to those that gambled on him. For those that were forced into getting him after Mummy went down, let's just say you've done alright! VERDICT:  Top 3 ruck, still has to prove himself against tougher teams.
Dahlhaus (120) – I've kept wraps on my boy down, however there's no hiding him anymore. His monstrous 85 point first half even prompted Essendon to place a hard Hocking tag onto him. He's been incredible playing as a high half forward, thank god I kept him during his calf "soreness". VERDICT: Gun. Perfect bye, don't hesitate to get him in.
Rockliff (141) – Rocky has shown he can go massive before, however there was something special about this week. Firstly he was subbed off temporarily at the start of the second term due to concussion. We also found out after the game that he was ill. In fact he was visibly sick on numerous occasions during the first half and had blurred vision. This makes his 107  point second half all the more incredible, one of the better DT performances I have witnessed. His score came from 77% game time, bearing in mind he's averaged over 87% all season. His ceiling is huge. VERDICT:  Legend.
McVeigh (122) – McVeigh finally paid back his owners patience with a much awaited big score. His 122 came from 35 possessions and lifts his average to 95. Hopefully we can see more of this as Sydney hit their straps. VERDICT: So much for his 'calf injury'.
Lloyd (109) – This was the Jake variety. We may have found a perfect midfield downgrade option just in time for the byes. His 109 came from 29 disposals at an efficiency of 81%. His price of 168k and BE of -35 sets him up beautifully for 2 big price rises before upgrading him in Round 10. VERDICT: Great rookie option, rated highly by the Swans.
Derickx (76) – I don't tend to believe in people getting "Kissed on it", however this may be one of those cases. Pyke has gone down injured meaning Derickx will be Sydney's number 1 ruck throughout the byes. He scored 60 points after Pyke left the ground mid Q2 and will not only hike in price, but possibly save his owners an extra donut. VERDICT: If you have him, thank your lucky stars.
Robertson (90) – Another great rookie option for the byes, although his ship has also sailed. He has great hands and should comfortably average 70. VERDICT:  Hold with certainty.
Johnson (126) – At quarter time I though SJ was going to go 150+ yet again, before a team finally decided to tag him. His score was still great for those who captained him, I know this will be the last time I have to watch him without owning him. VERDICT:  Get him in ASAP post bye.
Bartel (118) – He's flying under the radar in defence, however Jimmy's average of over 100 will delight his owners. VERDICT: Ever reliable.
Shaw (111) – 3 tons on the trot for Shaw have made him the mid price defensive pick of the year beside Jaensch. He's averaged over 80, increased by almost 150k and should be a straight swap to a premium come his Round 10 bye. Well played to those who picked him. VERDICT: Brilliant pick if you have him, however I think it might be too late to pick him up. He's capable of more than the odd 40 with 2 already this season.
Sandilands (111) – I couldn't have a legends column without Sandi in his 200th game. He's been a DT superstar since the beginning, and has returned to greatness this season at his ridiculously low price tag. VERDICT: Just stay fit and healthy Sandi.
The Losers
Thomas (68) – There was losers everywhere this week, score discrepancies will be huge. Dale Thomas was abysmal against his old team on Friday night, he looks devoid of confidence. VERDICT: If you still have him, why?
Riewoldt (39) – Roo looked an unstoppable force again for the first 5 rounds this season, however injuries have caught up with him. He may require a couple of weeks rest to get back to full fitness. VERDICT:  Hold him and just absorb the pain, he will be back. For those who don't have him, monitor closely. A bargain is coming our way!
Hallahan (61) – Not exactly what we'd hoped for in a 15 point demolition in which the Hawks had over half their players crack the ton. VERDICT:  Let's just hope he holds his spot.
Mitchell (7) – Ok, get me the shotgun. In Mitchell's previous 4 weeks he had averaged over 115. Of all the weeks to get him in… It's almost time for me to head out to the shed. Sure he was getting a Curren tag, but the Hawks won that much of the ball surely it wouldn't have mattered. Not only did I cop his 7 points, I now have an extra problem on top of my other sh*t trains to deal with coming into what will be the toughest round of the byes. VERDICT: Disaster. If it's not serious then perhaps try and hold, that's if you're like me and have injuries going out the door.
Wingard (70) – Wingard's struggles continue, he still cant piece together 4 solid quarters. If I'm honest 70's aren't the worst problem you could be dealing with right now. VERDICT: Has a good bye, hold and he should repay the faith.
Ebert (62) – I do apologise, I pumped Ebert up last week only for him to go and shoot me and his owners down. Temporary blip on the radar in my opinion. VERDICT: I'd back him in.
Westhoff (49) – Some people tried to be smart and pick Westhoff on the back of his new found 'consistency'. The same people probably don't have a team anymore. VERDICT:  Same old Hoff.
Georgiou (15) – Let me put it this way. If you're relying on this guy to be on your field for the bye rounds, I suggest you take a well earned break to the Bahamas and cut off all communications for the next 3 weeks. Or you can trade him to the next available option. VERDICT: Surely has to go.
Jaensch (45) – Hear that? That was the sound of me drop kicking my bulldog through a granite table. He was flying once again and looked like a keeper. Now he's got possible cracked ribs. Let's all come together and pray that he'll be okay for Round 9. VERDICT: I highly doubt it. Seems like the time to trade.
Wright (57) – I almost feel for Wright owners… But I don't. If you're not fooled once, twice, or three times, perhaps it's time to hang up the towel. The same people probably own Brent Stanton and Shaun Burgoyne. VERDICT: If you have the luxury trades, chop.
Merrett (33) – After watching him in that Carlton demolition, it was impossible not to pick him up considering how cheap he was. He's increased in price and actually scored relatively well up until this week, however it's all come crashing down around us just before his final hour. We really need him to last until Round 10, however I don't think he will. VERDICT: I don't have the luxury to trade him, he's staying until Round 10.
Stanton (68) – He never fails to amuse, that is when you don't own him. Luckily I wasn't sucked into getting him again on the back of some good form, in fact I didn't even consider him. I'm permanently scarred, and it's probably a good thing. He relies on the uncontested ball too much and is way too easy to shut down. VERDICT: He'll never be more than a 105 average player.
Watson (88) – While I'm on a roll let's take another scalp. God knows what's happened to Watto. I let him off the hook when he got tagged, and this week was meant to be his turn to shine. The tight tag went to Stanton, so Watson was allowed to roam free. Instead of collecting 30+, he had his 4th consecutive score under 100! What makes things worse is there's no way I can afford to trade him. VERDICT:  At this rate, the quicker he's gone the better. He's hardly playing like a brownlow medalist.
McDonald (21) – Unfortunately most of us held him one too mahy weeks. With his bye upon us it's time for McDonald to go, thank him for his services on the way out! VERDICT: Trade time.
Cox (62) – Finally I have to pick on my favourite big man. We paid a premium for Coxy at the start of the season, and although it could've been worse his average of 84 is nowhere near enough. He's in poor form, but we simply must hold. VERDICT: Surely no one is in the position to be trading him…
This Game Sh*ts Me
Where do I even start this week. I will happily put up with my players spudding and having only myself to blame, however doing a trade only to see it going down sh*t creek due to injury is another matter. Step up Sam Mitchell. I had 3 options. Play Langdon and get Billings for Rohan banking cash, or save some cash and get Hodgey or Simpson. Or get a keeper in Mitchell. Both alternative options would have outscored my final trade by over 90. I'm not trying to be captain hindsight, I'm still happy with the trade I made, but bloody injuries are why this game sh*ts me. Jaensch was also a tough blow to take, but dealt nowhere near the same damage. It hurts, and it's out of our control. God knows what I'll be like next week when the damage of these injuries is truly dealt, I'm currently searching for an extra 6 trades this week!
Dayne Beams took home the Stubby last week, closely followed by Sam Mitchell. How ironic, let's take a look at this weeks nominees…
Dahlhaus – My boy! Dahlhaus has been a brilliant POD for all that held him for that 1 week calf 'soreness', I'm certainly glad I did! 120 in a tough week is certainly worthy of a vote in my books.
Montagna – Monty has been an absolute beast this season, and his success has been compounded by the fact that he's actually a POD! He's averaged 148 over the past 3 weeks, enough said.
Rockliff – He tested our man love last week with a 76, but bounced back with a monster 141. The fact that he was ill and he got concussed makes his 107 point second half even more incredible. Superstar.
Polec – How on Earth was Polec not getting a game at Brisbane? They've let one go here, his BOG performance will earn himself many votes, and not only in the golden stubby.
Suckling – Finally Suckling takes the final nomination. While others were falling down like flies around him, we were desperate for him to perform for us during the byes. This score allows us to hold with confidence, he's averaged 90 for a 310k price tag!
Who will get your vote?
Loading ...
The Other Bits and Pieces
That almost brings the wash-up to a close, with only the scores to get through. 2054. I'm really looking forward to a week where I'm actually happy about my score!!! I get the feeling that the next Round won't be that week… Good luck to all for the first round of the byes. May our butts remain plugged.