The Friday Scramble: Round 7
Only one week until the byes hit. But… have they come early with some of our more popular rookies making an exit this week. It seems like deja vu as I am sure this happened last week. Anyway, no matter what… there is scrambling to be done!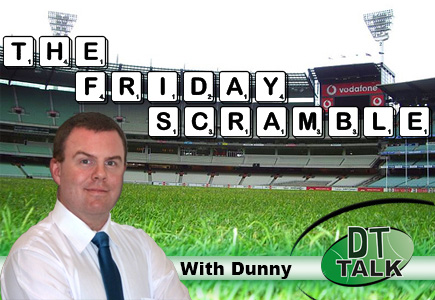 Can you believe it?  Round 7 already?  Where has the season gone?  Why is round 7 so important I hear you ask?  Well it means it is our last round before the bye rounds.  So as you would expect a lot of this week should be spent trying to get your team ready for that period.  I will take a look at some of the strategies you may wish to employ and also some of my thoughts on the subject.
But the most important thing that happened was the return of our favourite pig Swanny!  But… should you trade him straight back in?  Keep reading for my thoughts on that too.
Bye Planning!
Ok, so a bit of the basics here for those that are new to DTTalk.
– During the byes those players that are on a bye won't score (hmm.. seems fairly logical doesn't it so far)
– Only the best 18 players on your field will count towards your score.
– If you have more than the required number on a particular line playing, only those on the field will count.  So if you have say 3 ruckmen who aren't on the bye, only two of them will count.
So…  why am I talking about the bye today when it doesn't happen until next week?  Well it is all about making sure that you have things set up ready to go because it may be too late when you get to this time next week!
In the bye rounds we have a slight deviation between the games when it comes to trading.  AFL Fantasy has its' regular two trades a week, but Supercoach and RealDreamteam both allow you three trades across those weeks.  So if, for example, you look at your squad and only have 15 playing players for round 8, what this means is that if you don't do anything to address that in AFL Fantasy this weeks, the best you can do the following week is bring that up to 17 playing players by making your two trades.  So start looking at it now.
What you should do is either use the premium features in all forms of the game, or your own spreadsheet to see how many players you have out.  Ideally you will have a structure that looks like 8/9 – 8/9 – 11/12.  What this means is that more of your players are out across the round 10 bye.  Then, as the byes progress you can trade out those round 10 byes to guys that have already had their bye in round 8 or 9.  This way you should be able to manage your score across the three weeks.
If you look at your squad and find that you have just about all your good players out in the one round (and I bet it will be round 8) then you may look at "tanking" that week and maximising your score in the other weeks.  This can be a bit risky, but if you find yourself in a hole it may be the only option that you have.
A Fourth Bye Round?
Wow, how was the carnage at the selection table.  The big question is what to do with those guys that didn't make the cut.  The comments below are probably more suited to the forms of the games that have limited trades rather than AFL Fantasy.  With AFL Fantasy with its' 2 trades per week you may be able to trade around these guys this week.
Luke Dunstan – He is out with a concussion this week.  Given that he has a round 10 bye and there is hope that he could come back next week as he will be valuable cover for round 8 and 9.  If you have adequate cover I would recommend holding.
Will Langford – With a Round 9 bye we were hoping that he would be sticking around for at least round 8.  But if you need to trade him then I would suggest that you get in someone that has a round 10 bye so that they can make you some cash before you trade them out for a R8 or R9 bye player.
Ben Griffiths – With him out this week omitted that means that he will now be out for two.  So here I would look at holding him if you can and then get rid of him after R8 where you wouldn't have had him anyway.
Alex Fasolo – Well he was injured anyway, just take the cash and run on this guy.
The biggest concern here is of course that we were relying on Dunstan and Langford for bye cover.  With both of them out with injury I am very concerned!  From memory this happened to us just around the bye time last year too, a couple of rookies we were relying on managed to find their way out of their teams.
All hail the Pig!
Swanny returned to form on Anzac Day.  At the moment in RDT there are about 21% of teams that have him.  A few have traded him in this week.  Personally I would stay away from him this week for one main reason.  He has the bye in round 8.  He has a BE of 78, so if he does go up, it won't be much.  There is also no point trading him in when he will be out next week.  The only way you would consider it is if you are trading out a R8 player for him.
Captain!
Well the Pirate is at it again.  He has shaken up his list and come up with Steve Johnson as his first choice.  Check out the full list on the AFL Site.
Things To Remember
Umm… do I have to say Byes? – Surely I don't have to mention it again?
Keep your eye on the falling premiums – Guys like Jelwood are dropping in price and will be cherry ripe for the picking after the round 8 bye.
Don't doubt the Pig! – Many wrote off Swanny this year, but most of us knew to just wait and he would come.
No Loopholing this week.  Standard Lockouts apply.
Well as if the byes weren't hard enough, now we have questions over some of the rookies that we were very confident about only a week ago.  All we can do is tough it out and hang on!  The strategy with these guys will be different for everyone based on how their teams are set up.
Good Luck this week and also keep an eye on your Eliminator matchup in RDT which started last week.  Hopefully you had a win and are still in the comp.  Cheers til next week @pkd73