Jeppa's Juniors – Round 6
There aint a lot of rookie options this week but that doesn't mean Jeppa takes a backseat. Check out what he has to say on all the Round 6 action as well as his own trading strategy heading into the bye rounds.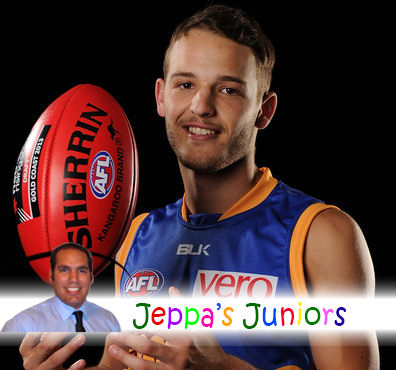 Melbourne. The home of football and my stomping ground last weekend. I love the city and could easily live there especially with so much footy on but the cold weather is a big turn off for a Sandgroper like myself. During my stay I was lucky enough to see an unstoppable Swanny in the flesh on Anzac Day but will need to quickly forget my Eagles' disastrous last quarter against the Blues. A good trip nonetheless.
On to the rookies or lack there of. Only 8 two-gamers and 5 one-gamers suited up in Round 6 which is not ideal as the bye rounds near. Fortunately, there are a handful of youngsters showing form in the reserves so hopefully a couple of debutants are named to play on Thursday night. To cater for the lack of rookie options, I thought it would be a good idea to discuss my own trade strategy this week for both Fantasy and Dreamteam. Here we go…
Three-Or-More Gamers
KEEPERS
What a game by James Aish (Mid. $341,365, 33 be AF. $315,600, 24 be DT)! This week's NAB Rising Star had a day out against the Saints racking up 25 possessions (76% efficiency), 8 marks, 4 tackles, 1 goal and 108 Fantasy points. He's all class and there's no doubt that he'll be a future star of the AFL. Aish has a few price rises left in him, which is perfect timing for a rook with the Round 10 bye. Keep!!!
Other prominent 'juniors' from Round 6 include Tom Langdon, 76 (Def/Mid. $293,610, 42 be AF. $259,200, 26 be DT), Jack Billings, 80 (Fwd/Mid. $257,755, 18 be AF. $228,600, -28 be DT), Kade Kolodjashnij, 83 (Def. $328,798, 38 be AF. $297,400, 20 be DT) and Matty Crouch, 73 (Mid. $318,385, 14 be AF. $264,200, -22 be DT). All four youngsters were named in the bests for their respective sides and all will continue to make an impact on the field in the short term. Special mention for Kolodjashnij whose skills are just sublime. He looks super confident on the field and I doubt he'll slow down any time soon.
I thought Jared Polec (Mid. $357,266, 27 be AF. $362,800, 34 be DT) would find the going tough against a physical and skillful Geelong outfit but true to form he took it all in his stride. 24 touches and 77 Fantasy points was another solid game from this season's greatest cashcow. Look to upgrade Polec in Round 9 when Port has their bye!
Less popular options in Nathan Gordon (Mid. $217,899, -13 be AF. $198,100, -38 be DT) and Jed Lamb (Fwd. $284,120, 12 be AF. $279,600, -1 be DT) had scores of 94 and 87 respectively in Round 6. Both players have performed very well in two consecutive games and thus will incur some healthy earnings over the next few weeks.
DON'T PANIC
I doubt Hardwick will drop Sam Lloyd (Fwd. $233,544, 9 be AF. $179,300, -3 be DT). Pushup King is injured and there are no other current standout small forwards at Richmond (Lennon has been used at half back in the reserves). Lloyd had little impact against the Hawks last weekend hence why he was red vested. A score of 42 caught many off guard but I expect him to bounce back against the Cats this week. Start him on your bench to be safe.
Nick Robertson (Mid. $217,950, 8 be AF. $163,000, -33 be DT) would have gone a hell of a lot better if he didn't give away 4 free kicks! He scored 61 from 7 kicks, 11 handballs, 3 marks and 5 tackles but is in no danger of losing his spot and will continue the battle against a hardened Sydney midfield this week. There's plenty of value left in Robertson as well as Martin Gleeson (Mid. $287,249, 18 be AF. $289,000, 25 be DT). Gleeson is still scoring at a great rate and doing his job at the Bombers. He also has the Round 10 bye.
Even though Luke Dunstan (Mid. $367,679, 69 be AF. $320,500, 60 be DT) scored just 69 last weekend, he was still good enough to be named in the bests for the Saints. Dunstan has breakevens in the 60's for both Fantasy and Dreamteam however he'll be a handy starting midfielder during Rounds 8 (vs Carlton) and 9 (vs Gold Coast) while others have the week off. Don't be foolish.
TRADE, TRADE, TRADE
If I haven't categorised a player from Round 6 under 'Keepers' or 'Don't Panic' then trade them out as soon as you can but when appropriate!
Rookies with the Round 8 bye, like Ben Griffiths (Def. $284,018, 49 be AF. $270,100, 39 be DT) and Luke McDonald (Def/Mid. $336,441, 56 be AF. $313,700, 60 be DT) should be offloaded this week or next. Obviously it depends on your set up but don't trade out a Round 8 premium ahead of rookie! Against Geelong, Griffiths will do very little opposed to Taylor and/or Lonergan so get rid of him first. McDonald could score well against the Suns this weekend but he's coming close to topping out in price so plan ahead.
Two Gamers
The best downgrade option this week is Mitch Hallahan (Mid. $143,112, -20 be AF. $119,200, -43 be DT). He was used as a high half forward/extra midfielder against the Tigers and finished the game with 12 kicks, 8 handballs, 6 marks, 4 tackles and 85 Fantasy points. Amongst a high possession team like the Hawks, Hallahan should score 70+ each week but he's not immune to the green vest. Additionally, Brad Sewell is close to returning and may force him out. I wouldn't trust Hallahan as a first reserve so if you bring him in then make sure it's as your M10. Let's hope he continues to play well and hold his spot.
Even though I would never consider him, Robin Nahas (Fwd. $205,845, 14 be AF. $203,900, 1 be DT) played a hard brand of footy against the Dockers on Anzac Day. The dynamic small forward could only manage 9 possessions, 1 mark, 3 tackles, 1 goal and 44 Fantasy points before being subbed off in the last quarter after suffering what appeared to be severe cramp. Nahas wont score well enough to justify his $200,000+ price tag. Pass.
After a relatively quiet game against the Dees, Jake Lloyd (Mid. $123,517, 4 be AF. $119,200 DT, -1 be DT) appears to be on the outer. Tom Mitchell had a day out in the VFL in his first game back from an ankle injury and looks likely to replace him. O'Keefe is desperate to return to AFL ranks also! Scores of 25 and 49 from Lloyd are nothing to get excited about anyway.
Darcy Gardiner (Def. $191,790, 39 be AF. $112,800 DT, -3 be DT) backed up his debut score of 33 with a 39 against the Saints in Wellington. I'm afraid this trend will continue so look elsewhere. The return of Matthew McDonough (Fwd. $162,398, 29 be AF. $183,500, 44 be DT) only saw him cop a green vest. He came on half way through the third quarter and finished with just 29 Fantasy points. A costly dropped mark and a couple of skill errors will see him back in the VFL so stay away.
Ignore Neville Jetta, 21 (Mid. $176,145, 49 be AF. $237,100, 96 be DT), Tom Campbell, 52 (Fwd. $174,134, 40 be AF. $155,700, 70 be DT) and the injured Tom Boyd, 13 (Fwd. $214,206, 77 be AF. $212,800, 96 be DT). All three are big underperformers and far too expensive to consider.
One Gamers
After playing just a quarter and a bit of footy, Christian Salem (Mid. $225,029, 49 be AF. $172,800 DT) proved that he belongs in the AFL. His skills were notably better than most of his senior Melbourne teammates and he didn't look out of place at any point. Salem had 25 Fantasy points in the last quarter alone thus there's potential for him to ton up. He's a likely downgrade option in Dreamteam prior to Round 8 but with a Fantasy breakeven of 49, I'd hold fire to see what he can do from a full game before trading him in.
Jonathan O'Rourke (Mid. $136,802, 12 be AF. $135,500 DT) is another one gamer with a bit of currency. Like many youngsters, the issue is job security and it must be said that O'Rourke didn't 'stop traffic' with his game against the Suns. 5 kicks, 9 handballs, 1 mark, 2 tackles and 45 Fantasy points were his numbers and with Dylan Shiel and Josh Kelly pressing for senior selection, I see O'Rourke as a future liability.
Tall youngsters Jeremy McGovern, 50 (Fwd. $121,312, 3 be AF. $119,200 DT), Josh Walker, 46 (Fwd. $218,002, 40 be AF. $242,500 DT) and Joel Tippet, 26 (Def. $111,053, 18 be AF. $119,200 DT) all filled a role for their respective sides last weekend and all are likely to replaced by senior players Darren Glass, Dawson Simpson and Scott Thompson ahead of Round 7.
Keep Your Eye On
Darcy Lang (Mid. $222,200, 41 be AF & $137,800 DT) was best-afield in the VFL last weekend after racking up 18 possessions, 4 marks and 3 tackles against North Ballarat. Traditionally, Lang is not a big possession winner but is very effective when he has the ball in hand. Add speed, poise and a high work rate to his attributes and there is a lot to like. It's a crying shame Lang is listed as a midfielder this season because he plays as a running defender. Keep an eye on him.
After a shocking run of injuries, Nathan Bock (Fwd. $135,900, 25 be AF & $180,300 DT) is ready to return. He's played 3 VFL games and was named in the bests last weekend. The Suns vice captain is an important player amongst such a young team and would be handy third tall up forward. A worthy downgrade!
Previously mentioned Ben Lennon (Fwd. $233,100, 43 be AF & $157,800 DT) and Mitch Honeychurch (Fwd/Mid. $135,500, 25 be AF & $112,800 DT) just missed selection in Round 6 but given their respective sides poor form, you'd expect they'd be given an opportunity this weekend. As a Fwd/Mid, Honeychurch looms as a very handy pick up.
Jeppa's Trade Strategy
FANTASY
Round 6 Score – 2050
Remaining Salary – $48,391
Planned Trades – It's pretty obvious that my forward line needs a bit of love this week. A quick fix would be to trade Rohan to Hallahan, DPP Wright back to the forward line and bench Lloyd. That will leave me $82,816 to sideways Cotchin who is my most expendable Round 8 midfielder out of the five that I own. I'm a big fan of Dyson Heppell as Cotchin's replacement. Heppell is in career best form, can go big with his scores and has the Round 10 bye.
Pro's – Forward line is healthier and I have an active emergency in Lloyd. I also have one less Round 8 player to worry about.
Con's – I have to keep Ellis and I'm relying on Hallahan to suit up this week and next.
DREAMTEAM
Round 6 Score – 2121
Remaining Salary – $13,400
Trades Left – 22
Planned Trades – Griffiths to Hallahan and DPP Langdon back to the backline seems logical. Griffiths will do little against Geelong thus I maximise my return. Unfortunately, this trade gives me a total bank balance of only $164,300 which is not enough for a suitable upgrade elsewhere. Grundy to Mumford next week would be ideal. Fingers crossed Mummy plays.
Pro's – One less Round 8 player and an in form, Tom Langdon starts on my field. Making only one change means I can burn other trades during the bye rounds without guilt.
Con's – I miss out on a traditional 'downgrade, upgrade' and consequently still have to field 4 rookies.
What trades would you make?
Got a question? Ask me on Twitter @JeppaDT.