The Weekend Wash-Up – Round 6
Disastrous. Woeful. Atrocious. Awful. Dreadful. All words which could be used to describe the past weekend of Dream team. It started relatively well on ANZAC day, but it was all downhill from there. Matt has the weekend wash-up for round six.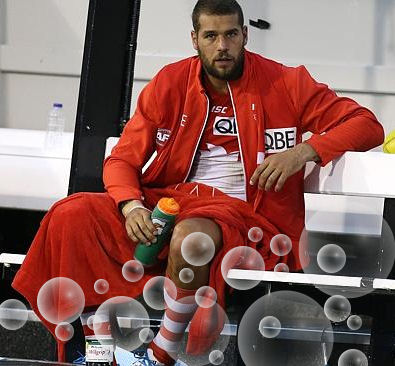 Disastrous. Woeful. Atrocious. Awful. Dreadful. All words which could be used to describe the past weekend of Dream team. It started relatively well on ANZAC day, but it was all downhill from there. A cataclysmic Sunday has left our teams in tatters and those who were once hoping for 2200, would have been quite glad to sneak past the 2000 mark. It was a week to forget, let's take a look at the weekend wash-up.
The Legends
Beams (136) – I brought up some stats last week highlighting Beams' incredible performance levels over the past 2 seasons, so if you went with my captaincy advice you would have reaped the loophole rewards this week. Any other team and he gets the number 1 tag every week, Pendlebury allows him to do as he pleases. VERDICT: Captain contender.
Swan (122) – At quarter time I'm sure there was more than a few nervous coaches who had bought the pig for his usual ANZAC day feast. An incredible 115 points from the last 3 quarters earned him an ANZAC day medal and brought relief to his thousands of owners. VERDICT: The pig is back, but I don't think he's at the level of SJ or Ablett.
Stanton (143) – Let's just keep this as brief as possible. He's been in great form, yes. He has great potential, yes. However he is a massive prick, and will undoubtedly suck in many new suitors this week. I managed to have him for his only score under 100 this season, this says enough about what you are walking into. Just let me say this. You have been warned. VERDICT: Can get shut out of the game too easily for my liking, I will never be sucked in again. Or so I say.
Montagna (158) – Monty is a proven DT champ, and if you're after a POD with a non Rd 8 bye then this could be your man. He's up and about at the moment with an average of over 145 in the past 2 weeks. VERDICT: Great option.
Zorko (122) – The great Dayne is back! He has returned to the midfield and returned to the days of being a tackling machine. An incredible 12 tackles boosted his score, well rewarding his owners for their persistence. VERDICT: He's the real deal this year.
Aish (108) – This one surprised me a little, and for his few owners it is a huge score for a number of reasons. Not only did he return a massive score, his price will take yet another hike, his BE has now been lowered once again and he is going to ripen perfectly during the byes! VERDICT: You can now hold him with confidence during the byes.
Murphy (146) – Another great POD to pick up if you're in need of a Round 9 mid. His last 2 rounds have produced 23 tackles and 287 DT points, his BE is extremely low and if anything he will be a great stepping stone to an uber premium. VERDICT: Great pick up, but you can bet he will run into Brent Macaffer next weekend. It was the only thing stopping me from picking him up this week.
Simpson (105) – Simmo is another premium defender just getting the job done. His consistency is exemplary, and the day he puts together 4 quarters he will go 140+. He recovered from just 4 points at quarter time to pass the ton yet again, a reliable option. VERDICT: Certainly a top 6 defender. Great option to upgrade to with the Rd 9 bye.
Jones (135) – Jones returns! I don't think he's so relevant considering his price has already risen, and we know how inconsistent he can be with a possible tagging role. For those who have him this was a rewarding score. VERDICT: Plenty of other round 10 mids to pick from.
Parker (110) – My regret of the season is undoubtedly dropping Parker from my team for Round 2. He was there all pre-season and looking back on it he was basically certain to breakout with more midfield time, yet most of us missed the boat. VERDICT: We'll all get him eventually.
Mitchell (142) – Sam Mitchell is proving without a doubt that he is the number 1 defender. My call of McVeigh over him is looking more dire by the minute, Mitchell has gone over 120 in 3 of his last 4 appearances, with this his biggest of the lot. I'll be bringing him in this week with a perfect Round 9 bye. VERDICT: Get him in. Cue the tag this week.
Hodge (115) – If you're wanting a cheaper alternative to Mitchell, look no further. Hodgey has flown under the radar this season, mainly thanks to his injury affected 45. Take that out and he's averaging 104. He is getting more midfield time this season and is thriving, the only concern is that he drops into defence for the big clashes. VERDICT: Certainly a great POD in defence and a worthy upgrade this week.
Hallahan (85) – I took Robertson to be safe, however Hallahan proved without a doubt he is the must have rookie this week. He had to bide his time for over 2 years playing in the reserves, people forget he was a top draft pick. He has come in ready made for AFL, his time is now. Will be a great scorer and the perfect downgrade option with a Rd 9 midfield bye, they are all too rare. VERDICT: In my opinion he's a must have if named next weekend. I'm backing him in.
Langford (84) – Ok so Hawthorn don't play Richmond every week, but didn't their rookies enjoy it! Langford played his best game of AFL at the perfect time. His BE has been lowered once more, and he should gain cash during the byes for an upgrade in Round 9. VERDICT: Solidified his spot in the Hawks team and our Dream Team's.
Ebert (112) – Picking one of the Port mids to have in the legends is as tough a task as any, however Ebert just has to be your man. Boak takes the oppositions best tagger, Cornes tags the oppositions best mid, they just can't be relied upon. Ebert will win plenty of his own footy every week and at the age of only 24 (Yes, 24!) he is ready to take his game to an elite level. VERDICT: He's rising with Port Adelaide and should no longer be ignored. Perfect upgrade target, although his price is peaked.
The Losers
Fasolo (19) – Ouch! Sighs of agony could be heard across the country as last weeks hero Fasolo went down injured and was subbed for a lowly 19 points. Unfortunately last weeks hero means nothing in DT, suddenly his owners are left with a 2 round average of 65 and an injured cash cow who's price rises have been cut short. VERDICT: Has to be traded if confirmed out, which is indefinite at this stage. His history of foot problems isn't a good sign.
Hooker (49) – Some things just don't last. At the end of the day he's a lockdown defender. VERDICT: Normality has returned.
Rockliff (76) – This one hurt personally as I've had to painstakingly watch him crush out some monster scores, before bringing him in for a pathetic 76. I'm sure Rocky will bounce back strong, let's hope we don't see too many tight tags on him. It didn't really work out for St Kilda so I'm not too worried at this stage. VERDICT: He will bounce back.
Riewoldt (59) – Riewoldt's lowest score since 2012 came at a bad time for his owners, with many new suitors chasing his consistent services ahead of the byes. he did cop a knock so hopefully that had a big part in his downfall. VERDICT: Watch his fitness closely this week, if he's not 100% he will struggle to find much of the ball against the Hawks.
Tyson (66) – I held Tyson hoping he would fire up after a vesting last week, but that wasn't to be the case. Once again he started slowly to crawl his way to an average score. One of him and Dunstan must be culled to upgrade elsewhere, and at this stage I have Tyson on my hit list. That call may come back to bite me. VERDICT: My man on the chopping block at this stage.
Franklin (41) – Buddy's mind isn't on his driving and it isn't on his football either right now. He hobbled off injured and was subbed for another sub 50 score. VERDICT: A lot has to change for him to become DT relevant again.
McVeigh (78) – This is hurting me. Not because McVeigh isn't scoring well, his average of 90 is very solid. However paying 527k for a defender, I expected more, and his second half fade outs are starting to frustrate. It's only amplified with Mitchell killing it. VERDICT: Still a great upgrade target and a lock defender for your squad.
Griffen (60) – It was less attack dog and more attacked dog. Kerridge did a number on him, if Griffen is still going to take the number 1 tag and isn't fully fit, surely he has to be passed on for now. VERDICT: Keep him on the watchlist.
Hunter (12) – For those who held him, this vest was a knife to the  heart. VERDICT: Trade time.
Martin (71) – I tell you what, Martin's pathetic junk time effort prevented him from getting a serious spray here, and possibly going on the chopping bloke alongside the rest of his fallen comrades. Richmond are struggling big time, and it's affecting their DT scores. VERDICT: Hold fire.
Lloyd (42) – We could be in some trouble… I bet most of us had banked on Lloyd to perform for us during the bye period, now we're left with a nervous wait to see whether Lennon will take his spot. I'm praying that he can at least hold on one more week, he wasn't the worst Tiger on the park. VERDICT: Let's hope he gets another go, otherwise pull the trigger.
Griffiths (46) – The trigger isn't waiting here, Griffiths time is up. I backed him in last week with Vickery's axing and it paid off. I swayed with Langdon before backing in the big man once again, and let's just say I'll be glad to see the back of him. He was fighting with Langdon and Langford for survival through the byes, and he lost. I will mention that he plays Melbourne and GWS in Round 9 and 10, so if you can afford to hold then perhaps consider it. That's if he doesn't get dropped. VERDICT: I'd look to upgrade him this week.
J.Selwood (73) – 2 weeks in a row?! Forget the fact that his brother is a lost cause, Joel could be forgiven last week for copping the heavy tag, however this performance was inexcusable. Yes he was tagged by Kane Cornes, but Cornes collected 33 disposals and 119 points himself. It was another bad day at the office for Jelwood, all I can say is I'm licking my lips come Round 10 post Crowley. Who gets the tag out of himself and SJ is a 50/50 every week. VERDICT: Will be unbelievable value after his bye, exactly like last season.
Enright (54) – Finally it is the ever reliable Borris rounding out the losers. 2 poor scores have his price plummeting, making him yet another potential upgrade target after Geelong's bye. VERDICT: We'll need to see some form first, watchlist.
Bye Planning
This weeks talking point is undoubtedly bye planning. Whilst we will have forgotten about the pain that is to come over the weekend, it was finally at the forefront of everyone's plans leading into the Round. It was certainly high on my own agenda. So where should we be sitting in regards to the byes. How many players should we have from each Round? I have a few ideas of my own, stay tuned for a separate article to be posted later this week! For now just beware the Round 8 carnage.
This Game Sh*ts Me
I'm a little stuck writing this section this week. It's a strange feeling, yet it wasn't like we had a heap of bad luck. It wasn't that our alternative options fired. It's just that almost everyone was mediocre. So this is why AFL sh*ts me. *Warning: Eagles whine incoming*. I'm going to get this over with quickly. With the Eagles 24 points up against Carlton, Masten had his head decapitated, but the call was play-on. He would have lined up from 30m out to put the game beyond doubt, but I thought it was ok as long as the umpires put the whistle away towards the end of the game. 10 seconds later a soft free kick was paid for a high tackle. It went up the other end for a goal. Then Tuohy picked the ball off the turf and was paid a mark. Just to rub salt in the wounds the umpire gave a 50m penalty for the West Coast player tackling him, bringing the margin back to 2 goals and the momentum fully in Carlton's favour. Now I know there was a lot of chances for us to still win the game, and Carlton played extremely well from that point on, but the umpires turned the game. It just had to be said. Also how fat are the post in Melbourne? And we move on…
It was Dangerfield who took home the stubby quite comfortably last week. We have 5 brand new faces this week! In a round of low scores these 5 pumped out some monsters, kudos to those who owned them. Here are the nominations:
Mitchell – Anytime a defender scores 142 he deserves a nomination. Add to the fact that he's a slight POD in Fantasy and has delivered an average of 108, he has to be up there.
Zorko – Zork the magician has returned, his second 120+ score of the year means that he's already bettered his best last season twice. In a round where most forwards struggled, he was a shining light.
Montagna – If you own Montagna, he should get your vote. Fairly straight forward, 158 backing up from a 137 is superb by anyone's standards.
Beams – I'm sure many of you will have given Beams the VC, well done to those who weren't persuaded by the bigger names! He beat the likes of Johnson, Pendlebury, Swan and Ablett comfortably, certainly worthy of a nomination.
Murphy – Finally Murphy gets a nomination for his consecutive 140's, he has been absolute gold for his owners. Not only does he have a favourable bye, he will now make a truck load of cash whilst scoring heavily. Great pick.
Who will get your vote?
Loading ...
The Other Bits and Pieces
The less said the better I reckon, moving swiftly on! The byes are just 2 weeks away now, so our trades must be made with them right in mind! I'll be writing an article later this week to try and best explain how to plan your way through the byes, there's only so much we can do. Oh and my score, another mediocre 2012. My ranking remains around 8000, let's hope for some swift movement upwards during the byes. Good luck rage trading, I'm sure we'll enjoy it this week!
If you enjoy seeing me rage and want a punching bag when sh*t goes tits up, follow me on twitter@MattCraigDT. My views are honest, mostly helpful and occasionally entertaining! Hit me up with your weekly Golden Stubby nominations, and mainly what gave you the sh*ts! I value everyone's opinion