AFL Fantasy Match Day Preview Rnd 6
There's something special about ANZAC day footy that brings goosebumps to the skin of even the most hardend footy fanatic. For a bit of help in selecting your team this ANZAC day we are back again with the Match Day Preview. Hey, and if you lose … maybe try your hand at some two up after !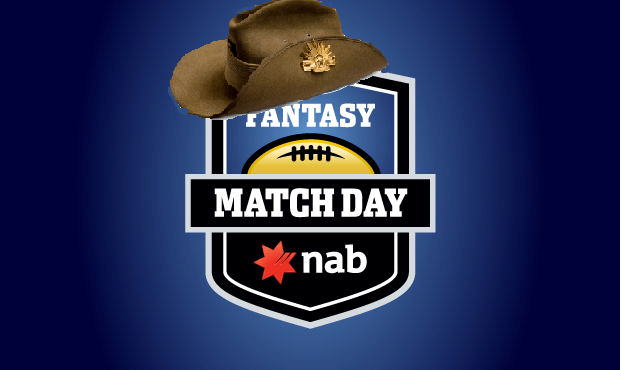 So here we are again, that long weekend that means so much to so many within this great country of ours. The ANZAC day weekend is a huge part of our history, our culture and our identity. For years now ANZAC day and ANZAC day footy has been an integral part of our recognition for those who have battled so galantly to protect our people, ideals and way of life. Every year we celebrate, not morn, those who have given thier lives in the service of others and relived the spirit of the ANZACS through the on field battles that take place over the course of the weekend. None more so than the recent annual matchups of Essendon and Collingwood. There's always something special about ANZAC day footy that sends chills up your spine and gives goosebumps to the skin of even the most hardend footy fanatic. It is a time we can watch hero's do battle within the view and support of the entire football community and not just those priviliged enough to have thier team play on the day. So when that minute of silence ends, before the ball is bounced, take a minute to soak it up and feel what footy is really all about.
Our match day ambitions seem to be somewhat insignificant on a day such as this and I for one will set my team and just be leaving my phone in my pocket untill its all over. But… we cannot just let our obligations and drive to win be overshadowed by emotion. It is part of the ANZAC spirit to undertake all that comes before us with all we have and since we have chosen to compete we must see it through! So for a bit of help in selecting your team we are back again with the Match Day Preview. Hey, and if you lose … maybe try your hand at some two up after !
Collingwood Vs Essendon @ MCG
Another huge Anzac Day clash sure to be a cracker! Until the Bombers went down and the Pies dominated last week I would have had Essendon pencilled in for the win but now I really have no idea which way this will swing. The Collingwood midfield are hitting their straps and the early season dominance of the Bombers seems like it was months ago. What we are left with is two sides trying to define where they are at this year and I can think of no better day for a bit a soul searching and hard at the ball footy! So at the very least, the pre-game promotional video should look great.
Jobe Watson (Mid) was solid last week with 97 points but was down on what we have come to expect from the Essendon Captain. Watson has received more attention from opposition in recent times and Brent Macaffer has been doing a good job of holding opposition guns to sub 100 scores. I expect Macaffer will go to Watson this week and while he won't quell all of his scoring I think we will be looking at a low 100's score. Watson has a current average of 106 with an average at the MCG last year of 105. His past performances against the Pies back up my prediction (109,112 & 104 from his last three). Soft Pass.
Scott Pendlebury (Mid) has been a great producer for us this year and this week should be no exception. Pendlebury put up a very handy 127 last week against the Kangaroos to boost his average this year to 120. Pendles sported an MCG average of 112 last year and has been consistent without dominating in previous Essendon Vs Collingwood matchups with 108, 106 and 113 in his last three against them. Much in the same boat as Watson this week as the question for these two is "Can they keep up with Beams and Swan?"
Dayne Beams (Mid) hit his straps last week and ended on a great note with 131. Beams slotted a couple of back to back goals that really helped him push up that score and looked dangerous throughout. Really your second midfield spot should be a toss-up between Beams and Pendles. Beams has an average this year of 116 and has given us 113 and 121 in his last two against the Don's. He also put up 131 the week before last against the Tigers and is in great form leading in so Beams may just steal that 2nd midfield spot off Pendles for the first time this year!
Dane Swan (Mid) is back! Thankfully. I'm not sure if I can find a way to fit him in my classic team with the bye rounds coming up and Pendles and Beams already locked away there but I will definitely be on him in Match Day this week. A massive 145 last week brings him up over the 100 point average finally ( Avg 101) and boy does he like starring in games against the Don's. 120, 115, 187 and 171 equals a four game average of 148.25 against Essendon!!! Captain material or what?! LOCK HIM IN!
Cale Hooker (Def) has been a surprise development in fantasy this year, somehow managing to increase his output beyond a 100 point average (106). With 131 last week and 3 scores over 95 so far this year you can forget about his previous record at the G (64.5) and his last 2 games against the Pies (59 & 57) and just look forward to watching Cale Hooker version 2.0 in action.
Michael Hibberd (Def) has been solid again this year and is the next best backman in our arsenal this week.  116 last week with an average of 99.8 so far this year helps us to push away thoughts of not including him due to his mediocre 2013 output @ the MCG (avg 85). Hibberd's last outing against the Pies was decent (97) but his scores trail off in prior encounters (68,28). On current form with 96, 95, 95, 97 and 116 we have a new contender for "Mr Consistency" and you need to give him a look in.
Paul Chapman (Fwd/Mid) is a lock! First ANZAC Day clash and I think it is the sort of occasion that will suit Chappy to a tee. He has been nothing but class this year and has left all doubters scratching their heads. Not me tho, I'm loving the ride on the Chappy train and am hoping the end of the line is way off on the horizon. 110 last week for an average of 115 this year. MCG average of 118 since 2012 and a last score of 93 against the Pies. Easy decision, FWD Lock.
So which Travis Cloke (Fwd) will we see this week? It is such a gamble going with Cloke at the moment but it could be one that pays off big. He got back to his best with 111 last week and really monstered the Kangaroo defence. If he had of kicked a little straighter we could have seen a huge score! In line with his inconsistency currently is his inconsistency in Essendon match ups (67, 147 and 76 from his last three) so it is really a 50/50 shot in the dark. I think his confidence should be up after last week tho … if that makes any difference?
Patrick Ryder (Ruc) for the ruck spot hands down. Despite Grundy's hard work and presence on the field he has not produced for us at all this year. Simply put he doesn't get enough ball around the ground and gives away too many free kicks. Ryder had 90 last week, sported an MCG average of 87 last year and really Grundy is just not up to the task.
Captain
1) Swan
2) Beams
Melbourne Vs Sydney @ MCG
Is there anything Melbourne can do to win this one? I don't think so. The best we can hope for here is a tight game for three quarters until Sydney squeezes the life out of the Demons. The question is more about which Sydney combatants take control and who of the Dee's will have the most resilience. Not the most exciting of Match Day games but will prove tricky for fantasy coaches.
Nathan Jones (Mid) has had his nose to the grindstone this year. We haven't seen anything different from him… just more of it. Making some great cash in classic and proving to be a solid selection for Match Day, Jones has worked his way to an average of 111. 11th highest scorer in the comp so far and continues to be the rock in the Melbourne midfield. Jones had 115 last week and his style of play lends itself to consistent scoring. Don't completely forget about his previous output against Sydney (76, 96, 80) and his MCG average (82.38) just add 20 to those scores and that is where he is at this year.
Josh Kennedy (Mid) had a big game last week (123) showing us that he is still around and shouldn't be forgotten. Kennedy hasn't had the impact we would have liked so far tho and has limped to a 100 point average this year. He struggles a bit at the MCG  as well (84.67) and hasn't had huge impacts in previous games against Melbourne (83, 96, 63) but should get a bit of freedom through the midfield and I think we will be looking at a +100 once all is said and done. The fact that I feel Sydney will grind down the Dee's and then proceed to step on the accelerator has got me asking who will be the driver and no matter which way I look at it Kennedy stands out.
Jarrod McVeigh (Mid/Def) is just waiting to explode. McVeigh has given us solid production this year and we are waiting for that one day where he will take over a game. I am picking it to be this week. I don't think the Dee's have anyone that will concentrate on tying him down and that will be to their detriment. He threw up 104 last week for an average of 92.2 this year. McVeigh likes the MCG  (average of 98.67) and has a decent record against Melbourne (126, 72, 94) but I just sense there is a +120 to had this week.
James Frawley (Def) is another flavour of the month type and has been wildly inconsistent so far this year with scores of 77, 124, 75, 122 and 78. If we follow the pattern we should be looking at a +120 this week then back to 70 something next but I wouldn't read too much into this idea.  So he ends with an average so far this year of 95 and if we can get that from him I will be happy. His MCG average last year was 75.31 but he has both his +120's there this year so that doesn't concern me too much. Look I will probably take him this week and cross my fingers but if you want another option…
Nick Malcheski (Def) is the next defender in line for a spot with his average this year of 87.8. He had 89 last week, a venue average of 87.8 and previous two scores against the Dee's of 100 and 79. Not super confident here either but you will probably need one (Malcheski) or the other (Frawley).
Luke Parker (Fwd/Mid) is a good forward option this week and has had a solid year (90, 121, 94, 92) with the exception of their round 2 loss against Collingwood (79). Parker is averaging 95.2 so far and has been a consistent performer for the Swans. Parker's recent history against Melbourne isn't overly helpful to us (70, 96) but I have no doubt he will be in the thick of things and if he can string a couple of goals together he should get up around the 100 mark.
Lance Franklin (Fwd) is starting to step it up and on the back of last week's effort (110) will earn a spot in my team… just. He should be able to eat up the Melbourne defence and use the space of the MCG to his advantage. 60, 114, 87 and 127 against the Demons in his past 4 games and if we are following the pattern (again don't read too much into this) he is due for a +100. I looked at Tom Mitchel but in the end landed on Buddy as his confidence is back up (so important for a player like Franklin), he knows the MCG well and Melbourne just don't have anyone that can stop him. So it's more of a battle within himself on this occasion, one I'm backing him to win.
Ben McGlynn (Fwd)… Who'd of thunk it? 153 last week… really?  I definitely had to double check the scores but there it was, clear as day. To steal one of my co-writers phrases, McGlynn is definitely a flavour of the month type but the thing about that is … it's Match Day, so form is what we want! Look, I don't advise that you put him in but he earned his mention. Average of 95.8 this year (skewed by that 153 last week tho), MCG average of 74.33 and 29, 87 and 82 in his last three against the Dee's. Do what you will with it.
Mike Pyke (Ruc) will be my ruck choice here through lack of options. 49 last week with an average of 73.4 this year isn't great. In fact it is pretty dam average but when you compare it to Jake Spencers numbers (35 last week with an average of 63.8) he somehow manages to worm his way in.
Captain
1) Jones
2) Kennedy