Jeppa's Juniors – Round 5
It wasn't a great output from rookies in Round 5 so which 'juniors' are amongst the next wave of must haves? Don't miss what Jeppa has to say about all the rooks that matter ahead of another all-important week of trades.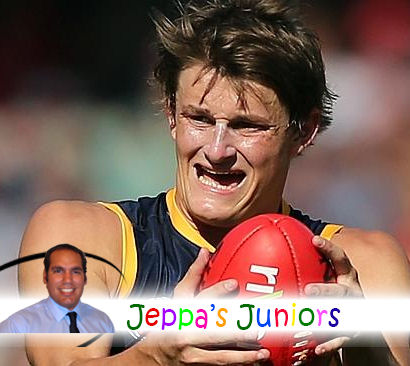 After a topsy-turvy round, this is the week we should all be looking at making our first (or second) significant upgrade. Tyson, Ellis, Langdon etc. are close to topping out in price and given their limited gains that remain it's time to bring in a keeper premo. Whether you decide on Swan, Stanton or Griffen, to name a few, every upgrade needs a rookie downgrade and there are a few suitable options.
Let me add that as far as rookies go, the future outlook appears bleak and a double downgrade is not out of the question. In Fantasy, Honeychurch and Hallahan are solid options that should see regular senior action till at least the bye rounds and in Dreamteam, Lloyd and Robertson are on the bubble. If you fail to plan, you plan to fail!
Let's get into it shall we…
Three-Or-More Gamers
KEEPERS
What a game by Matty Crouch (Mid. $283,697, -13 be AF. $199,300, -73 be DT). Brother of Brad was a force against the Giants after collecting 28 possessions, 10 marks, 2 tackles and 110 Fantasy points in just three quarters of footy! He was subbed off at the last break after experiencing severe cramp but he'll be better for the run. Crouch is an obvious keeper.
I'll be honest; Alex Fasolo's (Fwd. $282,871, -8 be AF. $288,500, -5 be DT) performance on the weekend was a surprise. 32 possessions and 110 Fantasy points was the last thing I expected from a half forward turned half back. In the Anzac Day blockbuster, he's likely to produce another healthy score but I still will resist trading him in given his hefty price tag. Martin Gleeson (Mid. $259,006, -1 be AF. $246,100, -28 be DT) is another to make big inroads. Recent scores of 96 and 82 have seen a once expendable rook turned to a worthy asset.
Back to back tons for Jared Polec (Mid. $326,107, -1 be AF. $319,900, -20 be DT) is invaluable at this time of year. The hard running wingman had a day out on the vast spaces of Pattersons Stadium and finished with 20 kicks, 7 handballs, 7 marks, 4 tackles and 110 Fantasy points. With healthy earnings on the horizon, we'll all need to hold Polec for a while yet.
Kade Kolodjashnij (Def. $309,732, 33 be AF. $269,200, 19 be DT) and Josh Kelly (Mid. $296,353, 22 be AF. $275,900, 8 be DT) were expensive options to start with but both are prominent scorers that have shown improvement with every game. Kolodjashnij and Kelly are elite users of the footy and that's why they have no job security issues. Start them on your field if you are happy with scores greater than 70.
Lastly, Ben Griffiths (Def. $277,137, 25 be AF. $271,200, 48 be DT) is relishing not having Tyrone Vickery alongside him. Griffiths had a good spread of stats against the Lions and scored 80 Fantasy points but I'd only keep him for another week. Tall forwards/ruckmen are inconsistent scorers.
DON'T PANIC
Those thinking about trading Luke Dunstan, 67 (Mid. $364,643, 56 be AF. $313,500, 53 be DT), think again. Sure, Dunstan ran out of legs against the Bombers but his scoring potential should not be ignored. He faces the Lions, Hawks, Blues and Suns over the next month and an average greater than 75 is a fair estimate in my opinion. Have faith!
Luke McDonald (Def/Mid. $327,554, 43 be AF. $307,300, 54 be DT) is another I wouldn't be offloading just yet. McDonald had 20 possessions but took just 2 marks and laid only 2 tackles resulting in a score of 62. Very few defender rooks have the role and scoring capabilities that McDonald has so hold for now. 57 Fantasy points in a quarter of footy is a good enough reason to keep Nathan Gordon 38 (Mid. $179,300, 1 be AF. $151,900, -10 be DT). Super sub Gordon ran hard and kicked three last quarter goals to cement a spot in Richmond's 22 this weekend.
Hold James Aish, 61 (Mid. $317,842, 48 be AF. $282,000, 32 be DT), Tom Langdon, 56 (Def/Mid. $282,923, 46 be AF. $243,500, 41 be DT), Clinton Young, 60 (Mid. $331,686, 44 be AF. $328,700, 55 be DT) and Rohan Bail, 55 (Mid. $329,827, 51 be AF. $316,700, 37 be DT) for at least one more round. All four players have the potential to score 75+ and neither should lose money this week. Wait and see.
TRADE, TRADE, TRADE
If I haven't categorised a player from Round 5 under 'Keepers' or 'Don't Panic' then trade them out as soon as you can but when appropriate!
Just a quick note on Dom Tyson (Mid. $356,481, 78 be AF. $328,500, 79 be DT). The young midfielder looked cooked against the Suns hence why he was subbed off. Tyson's output over the first five rounds has served us well but with breakevens in the high 70's for both Fantasy and Dreamteam, its time to move him on.
Xavier Ellis (Mid. $253,168, 60 be AF. $252,300, 91 be DT) is another popular pick on the chopping block. His injury-affected score of 2 burnt many and such owners wont think twice about off loading him. According to recent reports Ellis is a chance to play this week however, given his history of soft tissue problems, it's sensible to trade him out now.
Two Gamers
Sam Lloyd (Fwd. $206,729, -24 be AF. $112,800, -108 be DT) was on track for back-to-back tons last Thursday night until a head clash with Jed Adcock just before the main break left him groggy. 17 second half points was a bitter pill to swallow for owners like myself who started him on the field but you can't really complain with a total score of 70. Playing half forward is not an easy role but Lloyd is doing it beautifully at the minute. He leads up well, wins the footy, applies pressure and kicks goals. Get him in!
After a green vest and 14 Fantasy points on debut, Jack Billings (Fwd/Mid. $239,105, 32 be AF. $202,800, 22 be DT) showed us what he can do from a full game. Last year's no. 3 draft pick had 19 possessions, 7 marks, 1 tackle, 2 very good goals and 88 Fantasy points in the Saints big win over the Bombers. He was named in the bests for his performance and will stick around in the seniors for the short term. Billings' DPP status is tempting but he's a little too expensive especially with cheaper rooks currently available. Jed Lamb (Fwd. $256,474, 18 be AF. $245,400, 10 be DT) is another pricey option that just misses the boat. Lamb had 85 points on the weekend but after not getting a game until Round 4, which was in a green vest, I feel that he is not value for money.
A much cheaper Nick Robertson (Mid. $194,848, 4 be AF. $112,800, -52 be DT) looked excellent against the Tigers until he ran out of legs in the last quarter. The tough West Australian had 71 Fantasy points to three quarter time but didn't add to his tally in the last. He was given a run with role on Richmond's skipper Trent Cotchin who it must be said, paid him no respect. 19 touches, 6 marks and 3 tackles is a good day out for any young player and with Brisbane looking to rebuild, Robertson will see a decent amount of game time this season. The week's safe bet.
Fellow Lion cub, Tom Cutler (Def. $187,100, 8 be AF. $112,800, -39 be DT) was another to make some noise amongst the Fantasy community. Cutler's form during the NAB Challenge was off putting but he had a decent game on Thursday night. 21 possessions, 4 marks, 1 goal and 73 Fantasy points were his numbers and he looked very confident for a first year player. That said, if I had to choose between Cutler and Robertson, I'd pick Robertson. Same goes for Sam Gray (Mid. $165,817, -10 be AF. $98,500, -70 be DT). Gray was subbed off for 43 Fantasy points against the Eagles on Saturday night and he looks to be biding his time with Monfries due back this week or next. Don't waste a trade!
Normally I would write off Patrick Cripps (Mid. $225,584, 47 be AF. $152,800, 6 be DT) after scoring just 26 from three quarters however, injuries to fellow Carlton mids in Judd, Curnow and Bell means he'll gain a bigger role in the short term. It's high risk trading him in given that he hasn't been convincing on the field but I feel Cripps is a player that can average above 70. A rookie for those who dare to be different.
Even though he scored 79 in Round 5, Matthew Arnot (Mid. $216,337, 7 be AF. $241,700, 17 be DT) isn't a player you should be chasing. He is too expensive for someone with shaky job security that will arguably average less than 65. Pass.
Don't go anywhere near Aaron Young, 20 (Mid. $224,602, 63 be AF. $223,100, 73 be DT), Matt Taberner, 19 (Fwd. $165,817, 32 be AF. $202,100, 54 be DT), Jack Hutchins, 17 (Def. $201,254, 67 be AF. $242,000, 109 be DT), Jackson Paine, 16 (Fwd. $174,134, 40 be AF. $155,700, 32 be DT) and Jackson Sheringham, 6 (Mid. $181,728, 41 be AF. $128,900, 8 be DT). These guys will drag you down!
One Gamers
Mitch Hallahan (Mid. $113,954, 15 be AF. $119,200 DT) showed the most potential from all the one gamers this week. Last year's Liston Trophy winner (VFL B&F) started in the green vest in the Hawks v Geelong blockbuster but showed plenty after scoring 31 Fantasy points in just one quarter of footy. He was used at half forward and didn't waste any of his 6 disposals, which included a goal. In Fantasy, he is definitely worth the risk with very few rooks coming through but don't expect huge earnings early on. Wait and see what he can produce from a full game before jumping on in Dreamteam.
Marcus Bontempelli (Mid. $244,490, 44 be AF. $197,800 DT) will take a lot from his first AFL game. The Northern Knights product looked very green and a little lost at times but didn't shy away from the contest. He had 5 tackles along with 6 kicks, 8 handballs and a 51 Fantasy points. Even after showing glimpses of his potential, Bonts is too expensive for my liking so stay well away from him this year.
Tom Boyd's (Fwd. $238,705, 66 be AF. $212,800 DT) debut wasn't one to remember. Last year's number one draft pick could only manage 5 possessions and 21 Fantasy points from a full game playing between the forward 50 and pinch hitting in the ruck. Darcy Gardiner (Def. $194,125, 41 be AF. $112,800 DT) also failed to post a reasonable score after registering just 33 Fantasy points but I expect nothing less from a young lock down defender. Both Boyd and Gardiner are at very long odds to see action in my teams.
Sydney pair Brandon Jack, 26 (Mid. $175,012, 40 be AF. $194,800 DT) and Jake Lloyd, 25 (Mid. $111,371, 19 be AF. $119,200 DT) provided us with little inspiration on the weekend although Jack did kick a very good goal before three quarter time. A green vest for Lloyd and red vest for Jack doesn't give us comfort from a job security stand point so stay away for now.
Keep Your Eye On
Christian Salem (Mid. $241,200, 45 be AF & $172,800 DT) has been building fitness and form over the past couple of weeks and looks to have hit his straps on the weekend. Suiting up for Casey Scorpions in the VFL on Sunday, Salem had 23 kicks, 9 handballs, 7 marks, 4 tackles, 1 goal and a whopping 133 Fantasy points all of which earned him best on ground honours. His kicking skills are elite and he can punish the opposition with his run and carry. He'll be a welcome addition at the Dees.
Ben Lennon (Fwd. $233,100, 43 be AF & $157,800 DT) was huge in the VFL last weekend after racking up 19 kicks, 7 handballs, 16, yes 16 marks and 110 Fantasy points playing across half back. He was named in the bests for his efforts and I have no doubt that he'll make an impact at AFL level this year. With a hefty Fantasy price tag, don't jump on him just yet but timing could not be more perfect for Dreamteamers with his first price rise set for after Richmond's Round 8 bye.
Previously mentioned Mitch Honeychurch (Fwd/Mid. $135,500, 25 be AF & $112,800 DT) was best on ground in the VFL last weekend. 27 possessions, 3 marks, 7 tackles and a goal will surely have him suiting up against the Crows on Sunday. If named, Honeychurch will be the most traded in Fantasy player and rightly so given his DPP and $135,500 price tag. Don't be surprised if he cops a green vest first up though!
Got a question? Ask me on Twitter @JeppaDT.