The Weekend Wash-Up – Round 5
It seemed like a weekend where most will be happy to stand their ground, fix up a few problems and go again next week. Did you escape the carnage? Matt's here with the weekend wash-up.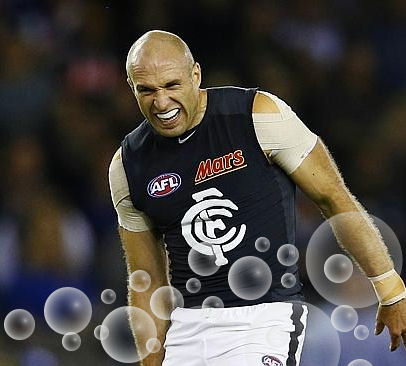 It's been slightly hard to gauge this round. Our premos were mostly solid without killing it, our rookies had their ups and downs. Most of us were still recovering from the carnage that ensued before lockout! It seemed like a weekend where most will be happy to stand their ground, fix up a few problems and go again next week. Did you escape the carnage? It's time for the weekend wash-up.
The Legends
Cotchin (138) – Where better to start than the craziest roller-coaster in DT. He is probably the first person ever to make it into the legends and the losers in every single week this season. How's this for a stat, the closest Cotchin's consecutive scores have been is 38 points. 3 over 115, 2 under 80. Personally I hate the inconsistency, and Cotch seems just as likely to cop a hard tag and stroll to 80 next week. Be warned, however he will be a great source of entertainment in one form or another. VERDICT: Hold onto your butts.
Griffiths (80) – I have thrown him in here for those that backed him to bounce back after his disappointing 37 last week. Vickery's omissions benefited him immensely, so much so that I refuse to trade him until Tyrone returns. He thrived in the second ruck role. VERDICT: Hold.
Swan (145) – Speaking of thriving, the pig once again returned to his favourite sty. He was back to the Swanny we all know and love, collecting +6's and running hard into defence whenever some cheap possies were on offer. It was his highest score since Round 18 last year, the most tackles he'd laid in his past 10 games, and the first time he'd gained the triple double of kicks, handballs and marks since all the way back in Round 1 last season. It was great to see him back in the guts, and with the magpies putting the Kangas to the sword in midfield I think we can guarantee he'll safely stay there. Hopefully Reid will return up forward to seal the deal. It's Anzac day this Friday, do I need to say much more? OINK! VERDICT: The time is right to bring him in, the big question is how he will fit into our bye structures.
Sidebottom (141) – Pig like tendencies seems a popular description these days, and you can throw Sidebottom into that same mix. When he's allowed to roam free on an MCG wing he does some serious damage, and I reckon we'll be in for more of the same on Friday. VERDICT: Needs to work on his consistency.
Beams (131) – Once again Beams was sensational with yet another 130+ score. Since Round 5 2012 he has played 30 games. In those games he's hit the ton 24 times, gone below 78 just once, gone over 110 22 times and smashed out 120+ in over half of his appearances. The stats don't lie, he is a top 5 midfielder in the competition and shouldn't be ignored when it comes to the captaincy selection table, enough if he doesn't pump out the 160's. Yet. VERDICT: Bank the points.
Fasolo (110) – The Faz stepped up for those who brought him in early, however there is a big decision for those who missed out to make. He is loving his new role of half back and is racking up the numbers, surely he still holds some great value at around 300k. He has a negative breakeven in most forms of fantasy, however I don't think we should get carried away. The Magpies had a field day with 8 players cracking the ton, expect Fasolo to average around 80 for most of the season. VERDICT: If that's what your after, then bring him in.
McGlynn (153) – Let's just calm down people. He did post a monster score of 153, boasted by an incredible 14 tackles. However, it was the first time he'd cracked the ton this season, and he achieved that feat only once last year. VERDICT: Better options out there in my opinion.
Pavlich (112) – Are we seeing the return of the Pav? 88, 107 and now a 112 has his average back up to a very solid 87, with only the one poor score in the wet. He will have his shockers, however he does hold some great value at just over 400k up forward. If that's where you need an upgrade this week, then certainly consider him. VERDICT: I'm still shying away.
Hibberd (116) – Hibbo! He has a consistency level like no other we've ever had before in defence. 96, 95, 95, 97, 116. The Bombers chip game style may not have worked for them this week, however we'll certainly accept it! VERDICT: Lock and load.
Ebert (125) – I have a huge amount of respect for this guy, yet I never have the balls to pick him up in DT. Boak will always cop the hard tag, and Ebert will always tackle his heart out. Port's rebounding style of footy is incredible to watch, and Ebert is central to their ball movement. Can't see him averaging under 110 this season, however you are paying a premium for his services. VERDICT: If he suits your bye structure, bring him in!
Polec (110) – Don't need to say much here, other than you should be fielding him! The Polec Ellis decision crushed hopes and dreams this week, may your lesson be learnt. He was the only midfield rookie to shine this week. VERDICT: Avoids the chop!
Dangerfield (149) – ALERT: Man crush levels about to exceed acceptable limits. If there's one person out there who doesn't admire how Dangerfield goes about his footy, then they need to be crucified. His attack on the footy is matched by no other. A handful of sausage rolls to go with 30+ possessions, what else did we expect against GWS? His run into the bye speaks for itself, it's time to bring him in. VERDICT: You'll be hurting without him.
Thompson (131) – This is an interesting one, and an option I had regrettably missed. It was only during the first quarter that I had a look at Scott Thompson's value, and I was blown away. A proven premo and flat track bully, going for under 400k due to an injury affected sub score? We might have missed the boat on this one, although it's not too late with some easy fixtures still to come. VERDICT: If you're going to jump on, do it this week. Decent option, could go either way.
Jaensch (127) – We have a new Hibbo already. He's not spectacular, and he's not often noted during games. Then you look at his score… Sh*t, he's getting the job done again. I can only imagine how many times that has been quoted. 127 is even more than the most optimistic people could have hoped for, absolute gun. VERDICT: Average of 105 and lowest of 90, you can't go wrong. His price hasn't stopped rising yet.
Crouch (110) – My oh my Matty Crouch, you are a future fantasy star. He was on 110 with a quarter to go, before being substituted due to a hamstring complaint. His owners will await the outcome will bated breathe, hopefully he's ok to continue. If he is, we have a tough call to make this week. If he isn't, a Round 9 return after Adelaide's bye is surely not too much to ask for? VERDICT: Have to consider him strongly this week, keep an eye out for the injury news.
Macrae (113) – *Druels*. Time is running out to get on board this non-stop fantasy train, he's the second highest point scorer since round 2 behind Ablett and Rockliff. VERDICT: Pick of the year.
Dahlhaus (114) – My boy Dahl! I chose to hold him last week and praise the Fantasy lords that I did. He is enjoying his high half forward role and should comfortably average over 90 this season. VERDICT: Will go close to being a top 8 forward, however his ship has sailed.
Murphy (141) – Murph came under all sorts of scrutiny last week, and boy did he deliver. He is still great value in Fantasy, the big question is whether Mick will continue to let Carlton play their free flowing brand of football. If they do, Murph has to be considered. VERDICT: With all our midfield troubles, this seems the week to bring him in with a price hike certain over the next 2 weeks.
Johnson (139) –  Finally we end the legends with the greatest of them all. SJ did it again, with Selwood getting the tag due to his recent history against the Hawks. This was his 4th score of 120+ and he's pushed his average close to 130, even with a score of 69. I see what he did there. We have a big call to make, do we go after Swanny on Anzac day, or SJ who busted out 144 against Port last year? The bye is creating havoc for our upgrades, I may still bite the bullet and target him in Round 10. VERDICT: Will be the highest averaging player this season. He goes huge.
The Losers
Taylor (38) – Let's try not to ruin what was a great Easter weekend with these guys. Unfortunately for their owners, the damage is already done. Lewis Taylor was supposed to save our teams for the plague of terrible forward rookie scores. It wasn't to be the case, thank god for Sam Lloyd. VERDICT: His price isn't going much higher.
Heppell (43) – Oh boy. Oh, boy. If you made the decision to chase Heppell's scores and ignore the proven premos, I pray for your soul. Now it's time for him to learn what a tag feels like, and he didn't like it all that much. VERDICT: Swap him straight to an uber premo.
Watson (87) – Watson concerns me. In a season where there are multiple midfielders absolutely tearing it up, Watto was required to go huge against the young Saints midfield. He was on 46 at quarter time and looked destined for a monster, before Bomber Thompson thought he liked the look of him as a full forward. That worked out well. It's been 3 weeks since he's cracked the ton, and you can bet your bottom dollar that Macaffer will head his way on Friday. VERDICT: If you have a luxury trade, it might be a good idea to get ahead of the game and trade him out. In fantasy of course, hold in RDT.
Wingard (62) – After Round 2 some bloke came out and commented like he was the oracle of DT. He forgot to mention the calls that he got wrong, and he laughed at everyone for avoiding Wingard and called him a lock. That has backfired somewhat, Wingard is still extremely young and hasn't made a permanent move into the midfield yet. He will be solid, however I'm not sure he'll step it up enough to pick him just yet. VERDICT: His time will come, watch his price and BE carefully. If it isn't to be this season, it will be next.
Ellis (2) – I wouldn't be surprised if someone who played him over Polec decided to line up 100 nuts along a table, before proceeding to headbutt each one with excessive force, repeating "I will not play a half back on my midfield again". VERDICT: Lesson learnt. Also, his BE has been burst and it's time to trade. Jeppa will have the options in his Juniors!
S.Selwood (56) – What has happened to Scooter? I'll tell you what, Simpson has happened. He's turned him back into a tagger after his brothers retirement, and it doesn't help when Scott decides he's not even going to push forward. 4 marks in 4 weeks says it all, write him off in the short term. VERDICT: Keep him in mind as a seriously cheap fallen premo.
Tyson (46) – The phrase "his bubble has burst" gets tossed around a lot, but this one takes the cake. Following a 116 and 11 in his first 2 games, we thought we were looking at our next Barlow. Although he's not the worst Barlow imitation we've had, scores of 62, 75 and finally 46 (subbed) has his BE at an almost unattainable level. VERDICT: Really should be traded.
Higgins (50) – The thud of Higgins and his owners falling back to Earth could be heard around the country on Sunday evening. He was appalling for his 50, however his price is saved by his 127. VERDICT: If he doesn't smash it next week his time could be up.
Liberatore (67) – This is the risk of trying to purchase breakout players. The risk is understandable with mid-pricers, however when you're gambling on premiums who haven't put together consecutive seasons, I reckon you're asking for pain. To be clear I'm not saying you're masochists… VERDICT: If you have the luxury available, trade.
Selwood (54) – Both the Selwood brothers make it into the losers! Hold on a second… wasn't Joel playing Hawthorn? I haven't been this shocked since the Palmer United party won (supposedly) in the WA senate election. Incredibly it was the first time Jelwood has gone under 90 in his last 10 clashes against the Hawks, never mind a 54. His owners would have been shocked at his inability to escape young Langford's tag, however he usually bounces back hard from poor performances. Expect him to put Port Adelaide to the sword. VERDICT: Hold the faith.
Talking Point
During the pre-season a lot of the talk was what we were going to do with our defences. I don't know about everyone else, but I know my defence has been the shining light of my team. Almost all the mid-price selections have paid off, and most premos have been extremely solid. Up until this round, it was the forwards who had killed us. The rucks were all the talk last week. I reckon it's a safe bet to say it will be the midfield under the microscope for the first time this season. Our rookies who had been floating above the ground have landed hard, with some breakevens suddenly sneaking up on us. The question I have is will we be better going for a couple of midpricers like Thommo, or go the classic downgrade upgrade. I'll be looking to bring in an uber premo personally, it could prove to be a crossroad in the season. This is in fantasy of course, I like the extra options it adds. In RDT the classic question is posed, when to hold your trades… Now seems a good time.
Clown of the Week
Do I need to say much more than the score review system. You can basically allocate 5 weeks of this section to our beloved reviews. All that you need to know is the ball deflected a good metre of someone's fist, so much so his knuckle will still feel the ill affects of it today, yet it remained umpires call and a goal. Don't worry about how the goal umpire missed it from a metre away, I can only assume it was reviewed by a monkey trained to press the inconclusive button. It is without any hint of exaggeration that I say my 8 year old cousin could do a better job. Frawley's shocked expression said it all, and Gold Coast couldn't be blamed for not wanting to give the ball back. Farce. Fix it or drop it.
This Game Sh*ts Me
Every week we think our teams have been patched up well, only for a new gaping hole to appear. One week it's the defence, then it's the rucks, then the forwards, then the midfielders. Can we just upgrade in peace?!?! I know 90% of my trades so far have been forced, and they will be again this round. It's almost impossible to get ahead of the game at the moment, and that's why this game sh*ts me. Relatively subdued, I know. Rehab is going well.
David Swallow took home the stubby in a tight one last week, let's take a look at the Round 5 nominees as voted for on twitter…
Dangerfield – It will be 2 Adelaide boys fighting it out for my vote, however it's hard to go past such a superior performance from the Danger man. 149 is a round defining score.
Jaensch – It is just as much for Jaensch's consistency and value as it is for his 127, he has been the defensive pick of the season so far. Huge.
Johnson – Those who had to wait until Easter Monday to see their captain play would not have been disappointed, certainly worth another crack at the Stubby. For those who started with him, I bow to your greatness.
Cotchin – Everyone's favourite vice captain! If you managed to double his score then surely he gets your vote, stepped up when needed!
Fasolo – Finally Faz gets the last place, although Crouch fought hard injury did for him in the end. If you were desperate for some forward value then Fasolo was the guy, those who brought him in this week would be locking him in for their vote!
Who will get your vote?
Loading ...
The Other Bits and Pieces
Who am I kidding, the lack of frustration wasn't due to rehab at all. 2282 was a great score, but I was almost sure I was going to crack the 2300 mark for the first time this season, only for Suckling to choke harder than Chelsea. I'm still complaining! Nevertheless we move on, hopefully our scores can continue to build as we get into that territory of upgrading season. Enjoy your rage trading, it really does make Monday's that much better.
If you enjoy seeing me rage and want a punching bag when sh*t goes tits up, follow me on twitter @MattCraigDT. My views are honest, mostly helpful and occasionally entertaining! Hit me up with your weekly Golden Stubby nominations, and mainly what gave you the sh*ts! I value everyone's opinion