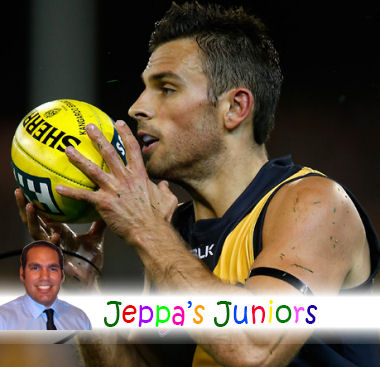 After an eye-catching performance from cheapies Matthew Crouch and Sam Lloyd in Round 4, coaches must elect whether to trade out their cashcows that still haven't topped out in price. Such decisions are made a little easier for some coaches when players like Rohan and Kennedy-Harris keep attracting the green vest or others such as Cunningham and Georgiou underperform two weeks running.
For many of us, Round 5 trades will involve rectifying at least one injury and the opportunity to bank a bit of cash for future security becomes tempting. Having a safety net of funds will be invaluable in the short term given that there aren't many good quality rookies coming through. So pre-plan your next few trades, pray you don't get affected by injuries and ensure that you have the coin to make that first Premo upgrade. Remember, it's a marathon not a sprint!
Three-Or-More Gamers
KEEPERS
Hard running, Jared Polec (Mid. $277,958, -8 be AF. $270,200, -19 be DT) was at his damaging best on the weekend and amongst 10 Power players that tonned up against Brisbane, scoring 105. His gut running and accurate disposal makes him an important asset at Port Adelaide and with West Coast next on the cards on the vast spaces of Pattersons Stadium he should score another 75+. Polec should earn an additional $90,000 by his Round 9 bye in Fantasy and Dreamteam. Upgrading him to a premium midfielder should then be on the cards.
Martin Gleeson (Mid. $221,126, -11 be AF. $207,900, -17 be DT) was fearless on the weekend. The skinny kid from North Ballarat was a shinning light for the Bombers on a disappointing day. He plays an inspiring brand of footy and looks like a natural at halfback. Gleeson finished the game with 96 Fantasy points; his highest score of the season thus there is no reason to offload him now. James Aish (Mid. $308,095, 32 be AF. $265,000, 7 be DT) is another who has surprised me this season. With injuries hitting Brisbane midfielders hard, Aish scored 79 after been given a bigger role last week and he'll be depended upon in future rounds. Expect an average above 70.
Any rookie capable of scoring a ton is a keeper in my eyes. Dom Tyson (Mid. $357,628, 41 be AF. $339,100, 49 be DT) and Luke Dunstan (Mid. $350,798, 27 be AF. $277,200, -32 be DT) had quieter games by their standards scoring 75 and 71 respectively in Round 4 but their projected earnings make them keepers for now.
Round NAB Rising Star nominee, Luke McDonald (Def/Mid. $313,622, 23 be AF. $279,100, -19 be DT) matched up on fellow 'junior' Harry Cunningham and kept him to just 11 possessions while scoring 71 Fantasy points in the process. His racking left foot and decision-making sees him fit in nicely on the North Melbourne's half back line. Kade Kolodjashnij (Def. $291,723, 30 be AF. $235,900, -11 be DT) has also had a smooth transition into senior football. After three games, KK has averaged a modest 71 but he's only getting started. Expect something big from him against Melbourne on Easter Sunday.
Clinton Young (Mid. $316,385, 18 be AF. $310,200, -1 be DT) has given us consistency early on. Young's lowest score this season has been just 74 and his role at Collingwood shouldn't slow down his scoring anytime soon. Josh Kelly (Mid. $273,996, 26 be AF. $236,600, -19 be DT) is another that continues to impress. He's providing plenty of run through the midfield and is consistently hitting up targets. With scores of 73 and 76 from his last two games, you should have high expectations for young Kelly.
I've had to eat humble pie on my opinions of Rohan Bail (Mid. $319,357, 24 be AF. $305,200, 11 be DT). Bail was huge in the second half against the Blues kicking 2 goals in the third quarter and applying plenty of pressure around the packs. He finished the game with 12 kicks, 2 handballs, 4 marks, a massive 10 tackles, 2 goals and 101 Fantasy points. He's a keeper for now.
DON'T PANIC
Xavier Ellis (Mid. $257,519, 7 be AF. $261,300, 7 be DT) and West Coast were far from impressive on Saturday night but I wouldn't worry about his mediocre score of 61 just yet. Ellis relies on his teammates getting him the ball so he can set up play from half back but with the dominance of Geelong's midfield, the supply wasn't there. He'll bounce back this week.
Tom Langdon (Def/Mid. $271,701, 24 be AF. $224,300, -1 be DT) played on first gamer Sam Lloyd and was shown up a bit but should bounce back against North Melbourne this weekend. With plenty of value still to be earned, I'd be holding on Langdon as back up for a while yet but he wont be a keeper for too much longer. Lewis Taylor (Fwd/Mid. $220,709, 6 be AF. $193,900, -25 be DT) is in a similar boat to Langdon. Mid 60 scores provides a steady rise but with an injury crisis at the Lions, Taylor has no job security issues so be patient.
Conditions at the G did not suit key forwards like Richmond's, Ben Griffiths (Def. $253,974, 21 be AF. $247,200, 11 be DT). It's pretty hard to take marks and kick goals when it's wet and slippery and that's Griffiths' game. His score of 37 frustrated me immensely given that I had him starting on my field in Dreamteam.
TRADE, TRADE, TRADE
If I haven't categorised a player from Round 4 under 'Keepers' or 'Don't Panic' then trade them out as soon as you can but when appropriate.
Special mentions to Alexis Georgiou (Def. $185,983, 33 be AF. $160,600, 40 be DT) and Jarman Impey (Fwd. $226,288, 40 be AF. $169,100, 2 be DT) both who cannot crack scores higher than 40 and have 'high' breakevens for rookies as a result. These indicators are enough to cut your loses and trade them out this round or next.
Two Gamers
All eyes were on a vestless Matty Crouch (Mid. $238,749, 0 be AF. $112,800, -92 be DT) last weekend and he lived up to his preseason hype. The young ball magnet was used in the midfield against the Saints and he finished the game with 9 kicks, 14 handballs, 4 marks, 3 tackles, 1 goal and 85 Fantasy points. Similar scores should be achieved from Crouch in the short term with the Crows facing the Giants, Dogs and Dees over the next 3 rounds. Crouch is on the bubble this week in Dreamteam thus is an absolute must and he still provides a bit of value in Fantasy at $238,749. All aboard the Crouch train!
Alex Fasolo (Fwd. $241,565, 9 be AF. $239,300, -16 be DT) backed up his first game with another solid performance against the Tigers. He continued to play his new half back role and provided plenty of attack from defence. Dare I say it but Fasolo reminded me of Heath Shaw with his run and carry. A score of 71 from 20 possessions is great output but with a considerably cheaper forward in Sam Lloyd making and impression on debut, Fasolo is the second forward worth trading in at the minute. The same applies for tough nut George Burbury (Fwd. $243,911, 14 be AF. $236,000, -8 be DT). Burbs reaped the rewards of an all out assault from his Geelong midfielders scoring 77, which included 7 tackles. Like Fasolo, Burbury is not value for money this week with Lloyd lurking.
Another 'forward' in Tom Williams (Fwd. $180,978, -6 be AF. $196,700, -17 be DT) played an important role for the Dogs in their win over the Giants. He started on big Jono Patton but was moved to Jeremy Cameron after Dale Morris went off injured and kept the All Australian relatively quiet. Williams also found a bit of the ball in the process and finished with 19 possessions, 8 marks and 70 Fantasy points. As good as he was on the weekend, Williams is a key defender and his role limits his scoring potential so stay well clear of him.
Dom Sheed (Mid. $208,508, 45 be AF. $162,800, 23 be DT) and Dean Kent (Mid. $235,204, 39 be AF. $243,300, 37 be DT) aren't breaking any Fantasy records scoring 55 and 54 in Round 4. I do feel that Sheed will improve as the year gets on, so keep an eye on him.
John Ceglar (Ruc. $179,883, 1 be AF. $166,100, -23 be DT) has filled in for Ben McEvoy quite admirably but when Big Boy is fit again he'll be dropped. A score of 68 in Round 4 is not the deterrent; it's his job security. Jason Ashby 64 (Def. $176,181, 1 be AF. $119,200, -47 be DT) and Brant Colledge 46 (Fwd. $141,456, 6 be AF. $119,200, -18 be DT) have also had a couple of opportunities at senior level but haven't done enough to hold their spot in my opinion so look elsewhere.
A few Fantasy duds to note include Nathan Gordon 38 (Mid. $156,785, 9 be AF. $112,800, -30 be DT) and vested pair Brodie Martin 15 (Def. $147,191, 32 be AF. $179,400, 45 be DT) and Ben Jacobs 12 (Mid. $168,047, 52 be AF. $213,000, 79 be DT).
One Gamers
What a debut by Sam Lloyd (Fwd. $165,962, -28 be AF. $112,800 DT)! The mature age, small forward was Richmond's best player last Friday night after amassing 22 possessions, 3 marks, 5 tackles, 3 goals and 107 Fantasy points! Lloyd's skills in front of goal, ability to hit targets and forward pressure will see Jake King on the sidelines for a while longer. Lloyd faces a depleted Brisbane side this Round so expect a score greater than 75. Get Lloyd in for Fantasy and lock in a Round 6 trade for him in Dreamteam. We all need a forward rookie!
Rookie listed Sam Gray (Mid. $139,370, -21 be AF. $98,500 DT) was another small forward to make an impression in Round 4. Gray kicked 3 goals on debut (most of them gimmes) amongst 10 kicks, 6 handballs, 5 marks and 3 tackles. A debutant finishing with 87 Fantasy points is hard to ignore but he was up against a very young Lions' team and to be fair, Cale Morton would have posted a similar score. With Monfries out for an extended period, Gray has a role to play in Port's 22. I'd be comfortable picking him up in Fantasy this week but I wouldn't jump on the bandwagon early in Dreamteam.
Small forwards were the flavor of the week with Robin Nahas (Fwd. $191,354, 3 be AF. $203,900 DT) getting his first run in North Melbourne colours. Many coaches (including myself) would have been seething that Nahas got a late call at the expense of Daniel Currie but with the rainy conditions on the day you can understand why. Remarkably, Nahas dominated early and was on 52 Fantasy points at quarter time but could only manage another 27 for a total of 79 before being subbed out at three quarter time. No matter how good he played, I wouldn't go near Nahas. His job security is very poor and previous up and down form in a Tigers uniform is embedded in my brain. I'd only consider him if fellow small forward Lindsay Thomas was out for an extended period with a serious injury.
With little help from senior teammates, Carlton pair Nic Graham (Mid. $192,136, 14 be AF. $196,700 DT) and Patrick Cripps (Mid. $229,625, 30 be AF. $152,800 DT) found the going tough against the Dees. They scored 66 and 61 respectively and had little influence on the game. I'd stay away from them both until they show form. Brisbane trio Jackson Paine (Fwd. $179,362, 24 be AF. $155,700 DT), Nick Robertson (Mid. $174,669, 20 be AF. $112,800 DT) and green vested Tom Cutler (Def. $170,550, 31 be AF. $112,800 DT) are in the same boat. The Lions will encounter a few thumpings this season and with neither scoring above 50 on the weekend I wouldn't expect big earnings from these three. Lets see what they do against the Tigers this Thursday night.
Billy Longer (Ruc. $197,141, 21 be AF. $239,000 DT) gets a quick mention as Hickey's replacement but doesn't do enough to warrant selection in the world of Fantasy. Dylan Van Unen (Mid. $121,121, 6 be AF. $119,200 DT) gets a quick mention for his first game against the Dockers. The defender played deep but had little impact and will likely be dropped.
Expensive options in Matthew Arnot 51 (Mid. $195,629, 27 be AF. $241,700 DT), Aaron Young 43 (Mid. $238,905, 48 be AF. $223,100 DT), Jed Lamb 55 (Fwd. $238,593, 38 be AF. $245,400 DT), Jason Tutt 57 (Fwd. $241,147, 38 be AF. $247,300 DT), Calvin's boy Jack Hutchins 22 (Def. $221,282, 59 be AF. $242,000 DT) and Josh Simpson 55 (Fwd/Mid. $215,807, 31 be AF. $240,200 DT) all wore the green vest in their first games for 2014. Matt Taberner 50 (Fwd. $166,744, 18 be AF. $202,100 DT) is another that didn't score big! We'll need to wait another week for making a judgment call on these players but to be honest they're all a long shot to see action in my team.
Keep Your Eye On
Anthony Morabito (Mid. $215,100 AF & $119,200 DT) – Remember this guy? Morabito, or Avatar as I like to call him, has enjoyed three WAFL games in the past few weeks with his most recent performance comprising 17 kicks, 6 handballs, 3 marks, 1 tackle, 2 goals and 84 Fantasy points. The Dockers have an abundance of injuries at the minute and thus I expect Morabito to be rewarded soon with his first AFL game in over 3 years.
Tom Boyd (Fwd. $262,900 AF & $212,800 DT) – With Big Mummy out, last year's number one draft pick will debut this week. It's scary to think that Cameron, Patton and Boyd will all run around in the Giants forward 50 but it was inevitable. He's pricey and he's not gona score big but he's an option nonetheless.
Got a question? Ask me on Twitter @JeppaDT.