The Weekend Wash-Up – Round 4
This season of Dream Team has been like entering the ring against Mohammad Ali. Blow after blow has been landed, and just when you think you're getting back to your feet, you taste the floor again. Matt looks at Round 4.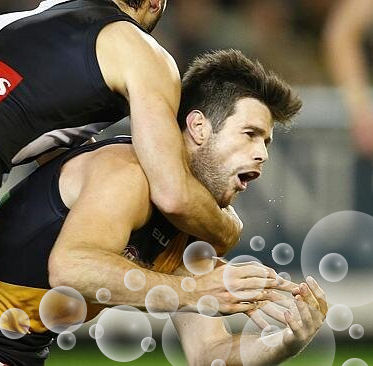 This season of Dream Team has been like entering the ring against Mohammad Ali. Blow after blow has been landed, and just when you think you're getting back to your feet, you taste the floor again. My team has pulled off the first stage of the rope-a-dope with perfection. Unfortunately being pathetic is the easy part. A lot of things went right for us, but the carnage still ensued. Not only were many of us left to deal with empty ruck stocks, the sub vests came into play for the first time this season. It's that time of the year when we start to separate the pre-season specialists from the real deal. It's time for the weekend wash-up.
The Legends
Beams (131) – He might as well head the list every week. There's not much more I can say about Beamer, only that he's over taken our other beloved tatooed midfielder. It just feels right. VERDICT: We all have him, right?
Lloyd (107) – Llllllllllllloyd! What a name, and what a performance he put in during a dismal Richmond display. Unfortunately as I will touch on later, his price has already started moving in Fantasy so we must act quick. Let's just hope it wasn't a flash in the pan. VERDICT: We're desperate for quality forward rookies, so we must bring him in. There's no time to wait in Fantasy, however you can afford to hold off for a week in RDT.
Rockliff (133) – His average of 120 in the run home last season was no fluke, I honestly believe he can match it with the big 3. He may slip under the radar for some as you will need to adjust the order to score by average to see him, however at DTTALK we'll be all over him. The great thing about him is he doesn't just rely on possessions, with 13 tackles next to his name this week he will always put in the effort required to ton. VERDICT: I want to get him in ASAP. I also want SJ and Jelwood and have a hundred other trades to make, so priorities must be ordered. He has a ceiling to match every player in the game, so there's no doubt he's currently underpriced. Will average 115+.
Ebert (152) – I could have included half the Port Adelaide squad, but when someone cracks the 150 barrier they must get a mention. Ebert has been a prolific scorer ever since joining Port, and this isn't the first time he's gone massive. Kane Cornes must also get a mention for his monster 145, we are allowed to get him in! Unfortunately they don't play Brisbane every week and win by 113, so we must take these scores with a pinch of salt. VERDICT: I'd still avoid with so many other midfield options destroying it.
Polec (105) – The Polec and Dunstan decision would've hurt many, me included. He is showing plenty of class since moving from Brisbane and has been a bargain pick up for us in all forms on fantasy. Hold him and enjoy the ride. VERDICT: Gun, but this game was tailor made for scoring. Expect him to continue his 70-80 scores.
Macrae (134) – I don't have much more to say about this kid, other than the fact that he's a DT jet! He sits out on a wing and just collects the footy. A lot of the footy. He'll go back into defence for a few cheap +6's, then gut run up the wing to get the ball back. The Dogs look for him at every chance as his disposal is also quality, there's no reason to be doing anything else other than enjoying his scores as they roll in. Perhaps we should lower our expectations to 100, just so we don't get too disappointed. VERDICT: I'd even consider getting him in at his current price, there's no reason why he can't keep up this pace until at least his bye. Will be an extremely handy stepping stone, which even that is harsh terminology. Surely a keeper in RDT.
Higgins (127) – Thousands of coaches put their reputations on the line when they picked Shaun Higgins. If it went wrong I'm not sure the mental scars will have been curable. Fact is he hasn't been injured (yet), and his monster score on the weekend was the justification for all the hours you sweated over pre-season with him in your squad. VERDICT: Vindication. This week is your last chance to grab him before it's too late. I still don't consider him a keeper.
Swallow (123) – He is a hero. We predict a lot of players to breakout, yet every year only a very select group do. We've picked him up for 380k in defence and he's averaging over 106. Huge. VERDICT: Keeper in my mind, however his price is nearly at its peak.
Mitchell (122) – For those who held him through injury or managed to get him in Fantasy, I salute thee. He's won the battle with McVeigh hands down so far, however you would have to think the tags are coming. He is too influential when allowed to run free. VERDICT: Will be in the top 3 players in defence come the end of the season, however he is in my long term plans at this stage.
Suckling (106) – Another midpricer who has delivered the goods. Suckling is only going from strength to strength, and he will continue to get better with improved match fitness. His current average of 93.75 is more than we could of hoped, just enjoy the ride. VERDICT: Don't think he's a keeper just yet, but I could be proven wrong.
Johnson (168) – What can I tell you here that we don't all know. He likes golf. He also likes the odd case of leather poisoning. He is the biggest DT slut we have seen since the Great Dane of 2012, I'm sure we will enjoy a few more of these scores to come during the season. We could see him score 500 points between rounds 16-18. VERDICT: Round 10 against the no tagging North Melbourne, mark it down as your bye upgrade.
Selwood (125) – Jelwood is going to reach new heights this season with his new partner in crime SJ. With less opposition attention he will continue to rack up monster scores, he is yet to score below 100 this season. VERDICT: Solid, safe point scorer. Top 5 mid.
Adams (127) – Patch Adams must come under serious consideration this week. With all our forward line catastrophes, he has averaged 95 to kick-off the season. Not bad I hear you say. This also included a sub score of 81. 1st quarter injury? No, he came on midway through the third term. He is thriving in his midfield role, we just tipped his breakout season a year too early. VERDICT: Priced at 427k he is very gettable, the only question is whether he can keep the pace up. The battle is between him and Zorko. I'm currently in the Zorko corner, but could be easily persuaded.
Cunnington (127) – I usually give North players the cold shoulder, however it's their time to stand up and be counted. I seem to remember this happening last year as well, so consistency is always a question mark. Cunnington is on fire at the moment, however I doubt anyone will have the room to fit him in. VERDICT: Not the worst POD.
Sloane (131) – Another player that may carry less DT relevance than he should, but puts in an incredible effort week in, week out. They're the players you just have to admire, I don't think a Sloane hater exists. VERDICT: Yet to go below the ton, he's finally hitting the required level of consistency. WARNING: He started last year with 3 tons in his first 4 games, then managed just 5 more for the rest of the season. Need to see more.
Jacobs (125) – Sauce! There were many Hickey owners that were praying he could capitalise on their bad luck and brought him in. A blessing in disguise? He was fantastic for his monster 125, taking his average over 100. VERDICT: If he can average 90 then he's done his job. He's certainly capable of being a top 3 ruck.
Riewoldt (110) – Finally I end with Riewoldt, it's just fitting. It's so hard to get him in at that inflated price, however if you have him there's one to set and forget. VERDICT: Will be the highest averaging forward, however I'll wait for his price to drop slightly. It's peaked currently.
The Losers
Cloke (33) – I will presume at either nobody is stupid enough to have him, or those that do are currently locked away in the shed. This one is for the draft leagues. Those poor souls that thought the new rules may help out Clokey. Those who even drafted him in the second round. You would be correct in stating that I am one of those idiots. He has a lot of ground to make up. VERDICT: It will take something bloody spectacular to have me consider him as a fallen premium, rather than just a general sh*t train.
Griffiths (37) – This was unfortunate. The weather conditions were never going to suit the big man, as Tyrone proved. Griffiths struggled to 37, however I reckon he'll bounce back next week. Especially if Vickery misses. VERDICT: Hold, his price isn't done rising just yet.
Cotchin (70) – First scalp of the wash-up! I copped a fair bit of abuse for having him on the chopping block, however I backed it up by trading him to Ablett this week. No guts no glory. He will have his 120's, however the tags will just ruin things. He still can't break them, and until then the 70k difference between him and guys like Rockliff/Selwood seems like miles. VERDICT: It's a luxury trade, so only trade him if everything else looks settled. He should smash Brisbane this week.
Thomas (65) – Where does Dale Thomas' career go from here? He went to the blues to win a premiership, and instead he will have to re-build. I guess he can decide what he does next while making angels in his left over pocket cash. VERDICT: There began a tale with 3 midprice midfielders. One named Liam build a wooden house. One named Jack built a brick house. The other built a portaloo and used it to sh*t on his owners. I'm really not sure what you can do, perhaps the best thing is to wait until you can upgrade.
Georgiou (19) – Oh boy. He might start losing cash after just 3 weeks, and that's not even a joke. 83% game time for 19 points. Yikes. VERDICT: I remember when Prestigiacomo was at rookie price. It didn't go too well for him either. I guess you hold until the next rookie bobs up, or straight swap to Zac Dawson.
Hanley (44) – Hear that? That's the sound of 30,000 Hanley owners turning on the gas. He looked on track for a massive score on 41 at quarter time. I don't even want to imagine the frustration. VERDICT: His price is stable enough to swap him straight to another premium defender, all is not lost.
Leuenberger (10) – After the ruck carnage this week, I sincerely hope nobody owned Leuey. Not only was he sh*t when fit, he's gone down again with injury. Hopefully for the big fella it's not too serious. VERDICT: Make what you can of the mess. Hopefully Hickey returns to give you a straight swap.
Caddy (38) – That unfortunately, what the sound of those Hanley owners lighting the match. There will be some people out there who took all the carnage head on this week, I just hope they are all ok. VERDICT: Dump him ASAP! Can't win em' all.
Rohan (25) – This was pretty much expected to be honest. See what you've done Chappy and Dahlhaus! Rohan produced what must be one of the worst sub displays seen, it took him almost 30 minutes to get a touch as the freshest man on the field! VERDICT: Lloyd has answered our prayers. Trade.
Mitchell (67) – My Breakout Blues have come back to haunt us. Looking back at it we'd all love our time over again to re-consider. Something pretty simple has happened. Kieren Jack has returned to the mids, forcing Mitchell back down to the forwards. Until he can get consistent midfield time his scoring will always be curtailed. VERDICT: Very soon he will be the first picked in our DT squads come Round 1, and I mean that. However things are out of his control at the moment, if you can then I'd be trading him.
Franklin (40) – Buddy hell. -10,000 points for originality, however it gets the point across. His DT days look behind him, yet we must be reminded that he's only 27! Opponents have learnt to contain him, and unless he finds away to breakout he will be left to mull over these scores around 50, with the occasional 130 to tease us of what could've been. VERDICT: It's painful to watch a guy with so much potential struggle like this. Perhaps he'll return one day, for now write him off.
Watson (78) – This hurts, however with the incredible quality running through the midfield pool now you can't afford to drop your game, even for a week or two. 153. 120. 96. 78. It's a worrying trend that he must turn around this week against St Kilda. They have been allowing for some high DT scores, surely Jobe can bounce back. He made 15k to Tommy Rockliff just last week, the landscape can change quickly! VERDICT: Obviously a keeper in RDT, but must bounce back in Fantasy.
Merrett (67) – Lastly I'm including Merett, but only to calm the doubters. The bombers were in the game early, and he was on 30 to quarter time. Unfortunately they were under manned and therefore punished, so possession was hard to come by. Even though his last quarter was disappointing, we have to remember. He is only a stepping stone. He won't average 120 every week, however he should perform well in games exactly like the one he'll play next week. VERDICT: Remain calm. His score was reasonable and he should repay us this week, his price continues to rise.
Talking Point
The snowball effect. A figurative term for a process that starts from an initial state of small significance and builds upon itself, becoming larger (graver, more serious). Enter the rucks. Firstly we got the news of Hickey's injury on Thursday, but this had little consequence. A luxury trade was tossed aside to fix him up, drawing plenty of complaining from his owners. However things only got worse for some coaches when Mumford decided to wake up and feel the need to go and have a cheeky op. As you do. Why not? I'll tell you why, Shane. BECAUSE WE SUFFER! More like Shame Mumford… Moving on, even this news could be spun positively, with Currie covering for most teams and no price drop to worry about. Please step up to the plate, Brad Scott. He cited the reason for Currie's late withdrawal to be the weather conditions. We all know that his DT match-up had Mumford and was relying on Currie's bench score. Well played Bradley. Unfortunately it caused widespread mass destruction and was the reason for thousands of house fires across the country. That was more a vent than a talking point, luckily I make the rules.
Clown of the Week



Can we really go past the Carlton football club? Let's just settle with Stephen Kernahan. There's thing you probably shouldn't say as a club president, and threatening to fly to Morroco if your team loses might be one of them. Clearly Sticks thought there was no way the Blues were going to lose, and to be frank I thought the same, however the embarrassment was only multiplied ten fold. They've gone from sacrificing youth to recruit daisy Thomas in a bid to push for a premiership, to at least a 5 year rebuild in a matter of months. Brisbane are still paying for their mistakes, and Carlton may have to do the same…
This Game Sh*ts Me
Let's be honest, a lot sh*ts me. Vest scores in particular, of which I had 2. Scores of under 40, of which I had three. However longer term issues are always far worse, and unfortunately I am at opposed to a key new feature in AFL Fantasy. I've kept quiet about their early season glitches, as all new platforms have. They really aren't a big issue. I won't start on the assistant coach debacle. However there's only so far we should change the game. I'm even pro unlimited trades. However changing the pricing system is one decision that I'm struggling to adjust to. They have tried to make the game suited to the more casual dream teamers, yet they expect us to have the knowledge of AFL recruiters?! They clearly didn't think the new system through when at the drawing table. Yes it's fine for premiums and mid-pricers, however it hurts a major part of the game. Downgrading. They have come up with a system which means we don't even get to see the new rookies play a game before their price sky-rockets. If the most dedicated of Dream Team coaches don't have the inside knowledge on every new rookie coming through, then how are the casual players meant to know? Sam Lloyd has obviously fired up the debate. A basement priced rookie is what we all needed after some disastrous scores in our forward lines, and at a price of 135k his score seemed a blessing. We can see him play another game then downgrade (upgrade) to him for Rohan, perfect. Unfortunately with the new system, he has already flown to 165k and is basically a straight swap from Rohan. The difference is huge, as it has stopped me from getting Caddy to Higgins. Now I know my issue is isolated, however I feel for all the people who don't research their dream teams and are expected to push through that. How can we upgrade our teams if the rookies we want to downgrade to have already risen in price by 50%? We're left with no choice but to guess which rooks to pick and have no ability to plan our trades around downgrading. On the plus side it will add differentials to our teams, or at least rewarding those who take the gambles, we'll just see how it pans out when you gamble and lose. The 2 week wait for a price rise seemed an integral part of the game, and that's why this game sh*ts me. Rant over.
Onto a more positive note! It was Macrae that took home the stubby comfortably last week, so he is ineligible for the award this week. That's a real shame, as he's been my only risky selection to step up. We have a couple of fresh faces, as well as some guns returning for another run at the coveted prize. Let's take a look at the nominees…
Swallow – His performances have snuck under the radar with so much to worry about elsewhere, I only got 1 nomination for him! It's time to recognise Swallow's outstanding efforts. We took a big risk on him at the start of the year, paying 380k for a player who averaged just 70 last season. We've nailed it, he's producing a 4th year breakout season just like his brother. I know his average of 106 is treasured in my team, earning him my vote for the week. A big 123 this week got him over the line, don't take it for granted.
Higgins – Missy Higgins is a serious contender for the Stubby this week after notching a monster score of 127. Some beautiful late junking helped push his score well past the ton and send his breakeven under 0. Proving to be a great pick for those who held strong and well worthy of a nomination.
Johnson – My Eagles frustrate the hell out of my sometimes, and allowing the oppositions most influential players to run around without any sign of a man within 20 metres is one of those times. SJ had his own field on Saturday, waltzing around for 37 disposals, 11 marks and 8 tackles to reach 168!!! Anyone who owns him would surely give him the vote, anyone who had him captain will dream of his effortless "pigging" for the next week. Yes I said it.
Ablett – I just had to include GAJ, even though we take his scores for granted. At quarter time he was nursing a wrist injury and on just 20 points. His final score of 132 saved my week and many others, the game is simpler with him in your team.
Jacobs – Finally big Sauce Jacobs gets a nomination, and I'm leading the line of his praises. Earlier in pre-season we had our DT-TALK mock draft, and I managed to pick up Jacobs at pick 206 as about the 10th ruckman. Even though it's just about the only thing I did right, I'll claim it. He's earned a golden stubby and is well worthy of your votes. He capitalised on Hickey's absence with a big 125 amongst the ruck carnage, well done to those who got him in.
Loading ...
The Other Bits and Pieces
Same old story this week. A lot of promise, but for no result. Too many spuds populate my team for a solid score at the moment, although I did make par for the first time this season. If this was the masters, I'd be missing the cut. 2062. The less said the better. Here's to a week of forward line culling. I'll toast to that!
If you enjoy seeing me rage and want a punching bag when sh*t goes tits up, follow me on twitter @MattCraigDT. My views are honest, mostly helpful and occasionally entertaining! Hit me up with your weekly Golden Stubby nominations, and mainly what gave you the sh*ts! I value everyone's opinion