The Friday Scramble: Round 4
Round 4 is upon us, we have had a price change now in all of our forms of the game. We need to take a good hard look before we pull the trigger on any trades. And I have a Community Service Announcement for you after a small issue I had last week. So come on, get in and Scramble!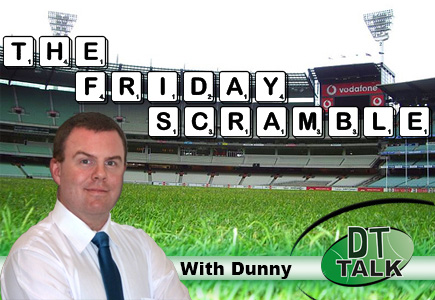 Well we had a bit of a better week last week with a couple of our guns firing and a couple of our rookies scoring well too.  But of course our teams didn't escape complete carnage!  So we will have a look at that as well as so much more.  Prices have changed in all forms of the game and BE's are now well and  truly in play.
There are plenty of people that guys want to trade out and in, don't jump the gun though, there are a lot of things we need to consider.
Oh, and we have had teams announced… so let's scramble!
Community Service Announcement
Last week I committed the most rookie of mistakes in Real Dream Team.  Readers of "The Numbers" would know what it was.  I reversed my trades on the Friday afternoon and made the trade I wanted, however, I forgot to check my bench!  I forgot that I had Tom Rockliff on the bench from the previous week due to his suspension, and I forgot to move him back on the field!  I was not happy at all.  But what that means is you need to make sure that you check everything after you reverse your trades!!
Get Off The Bench
Some of you long time readers may remember my article from back in the day where we had a bye each week.  Well I am sure that I am not the only one that had a bit of trouble picking who to leave on the bench this year!  One of the players that was left on the bench for the most teams was Luke Dunstan.  His score of 113 was most annoying to a lot of coaches who had him riding the pine.  I guess the one thing I would say is that you shouldn't worry.  Knowing exactly when these rookies will fire and when they won't is something you would need to bring in Nostradamus for.  The key thing is that these kiddies are scoring big which means that they are going to be making you money.
Other guys you may have left on the bench unwittingly were Jackson Merrett (131) and Jack Macrae (131).  Just because they had big scores last week, don't be surprised if they misfire this week and score a 70.  They are rookies and hence are allowed to be a bit inconsistent.
Keep or Cull
I have received a lot of questions this week from people about players to keep or get rid of.  Probably the name that has come to me most has been Josh Caddy.  He is averaging 67.6, he scored 63 last week and has a break even of 71 in RDT.  On top of that he lost some cash (just) so based on all of that I would say it is time to cull him.  If you can upgrade to a Zorko then I would consider that, or you could downgrade him to a Taylor.  For Josh I say CULL.
Another name that has been on the block for a few weeks now has been Daisy Thomas.  His average of 77 is nowhere near what we were hoping for from Daisy.  But at least he is making you money.  He scored 86 last week and rose $15,700 in value.  He should rise again this week as his BE is only 22.  Against Melbourne I would back him in to make that score quite comfortably.  He seems to be working his way into games and hence is improving.  So for him I say KEEP.
The other massive talking point of the season so far has been Swan. We all have such high expectations for Swanny and I am sure that some people have kept the faith with him so far.   Last week he scored a 90 which brought his average up to 85.  However, he has already lost $57,500 in RDT and has a BE of 163 so his score should drop again.  If you have him still I say CULL and perhaps wait to see some better form at a lower price before you consider picking him up again.
Am I too late to the party??
All of our rookies have had their first price rise in RDT and SC and are on their second one if they are in AFL Fantasy.  But does one change make them a no go region?  I will run through a few here and give my thoughts rapid fire on them (RDT Stats).
Mumford – Increased $46,600, BE 10.  Price $473,000.  This would be the last chance to get him.  His price is a little high to sideswap in the limited trade forms.
Tyson – Increased $61,800, BE -1.  Price $312,500.  Like Mummy, this is the last chance to get him.
Dunstan – Increased $95,400, BE -62, Price $223,200.  Yes, get him now if you don't have him.  He has a fair bit of price rises left in him.
Swallow – Increased $33,100, BE 39, Price $413,100.  Touch and go.  His BE is getting higher and his price is up there.  If you have a have an injured premium defender then yes.  The only other reason would be if you have the cash to upgrade one of your rookies to a keeper.  Once again it is tough to make these trades in the limited trade games.
#AskDunny
I was really worried about how he would go once Hayes and Montagna came back.  Clearly this didn't affect him.  In fact it means he should get less attention from the opposition.  Will he keep scoring 130's?  No I don't think so.  Will he score in the 80 to 110 range?  Yes I think he will.  So keep riding the wave whilst he is still on his great run.
Jimmy Webster is carrying an average of 47.5 after two games whereas Kolodjasnij has an average of 73.  I can't see Jimmy lifting and KK is a jet.  For me this is a fairly easy decision.  But the easiest part of this decision is the downgrade of Pittard.  I would advocate getting him out of your team as soon as is physically possible!!
 Things To Remember
Check your team after any trade reversal – I can't stress this enough people!
One bad trade doesn't ruin your season – If you were one of the many that went Buddy to Zorko, don't worry, you did it for a reason and Zorko will be better.
Ablett loves playing Hawthorn – So says the Irish Pirate so if you have him, put the C on him.
Watch Late Outs today! – This is most important with Chappy heading to Perth.  We all think he won't play, but he is still named.  So keep a close watch to see if he does.
JKH is now known as Kermit – The guy is amassing a green vest collection to rival that of Kane Mitchell.
Good luck this week guys, second week of leagues, I hope you all got off to a great start last week.  I certainly didn't so I have a lot of work to do this week to redeem myself!  As always watch twitter and your DTTalk writers to catch any late news we hear.  @pkd73 for my twitterings.  Catch you all next Friday for a Good Friday Scramble!