Jeppa's Juniors – Round 3
Round 3 appeared to be a weekend of mixed emotions for popular rookies. Some performed very well, others not so well. See what Jeppa has to say about the rookies that matter.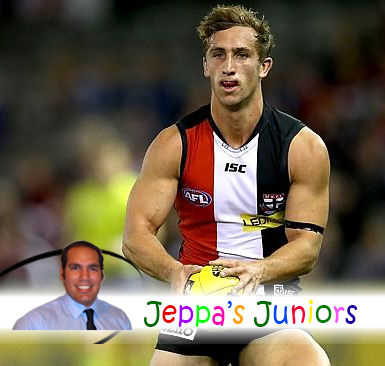 I think Round 3 was a timely reminder of how quickly a week can change the world of Fantasy. Patrick Ambrose was a cult hero in Round 2 and a sudden late out a handful of days later, Tyson went from scoring 110+ to barely hitting 60 and Rohan copped a vest. If you had a bad week, just remember that there is always another coach worse off!
At this stage of the game, it is important to hang on to the rookies that are making an impression on the football field regardless of their dreamteam score. Additionally, don't be shy to part ways with those dragging you down. The likes of Crouch, Kolodjashnij, Cripps etc are all affordable at the minute and I fear that decent rookie options will dry up later in the season.
Three Gamers
What an awesome effort by Luke 'Biceps' Dunstan (Mid. $321,439, -5 be AF. $223,200, -62 be DT) on Saturday night. As a 19 year old in his third AFL game, Dunstan lead the possession count for both teams with 29 and looked liked a 10-year player. 9 kicks, 20 handballs, 4 marks, 5 tackles, 2 goals and 113 Fantasy points were his numbers and interestingly, only 29% of coaches own him in Fantasy and 42% in Dreamteam. Start Dunstan next week given that he comes up against a depleted Adelaide midfield and for those who don't mind a bet, he is currently paying $6.00 for this year's Rising Star, which is excellent value in my opinion but please gamble responsibly!
Luke McDonald (Def/Mid. $289,301, 7 be AF. $231,800, -48 be DT) was the only other rook to ton up this week. He had 10 kicks, 13 handballs, 4 marks, a whopping 8 tackles and 101 Fantasy points. McDonald has slotted in nicely in North's back six so don't worry about his job security and start him on your field. Fellow rookie priced defender, Ben Griffiths (Def. $232,517, -19 be AF. $218,600, -39 be DT) has continued his stellar start to the year scoring 88 against the Dogs. He was involved in a heap of the play while lining up in the ruck and kicked 2 handy goals while resting forward. With Maric & Hampson out with injury, Griffiths is an integral part of Richmond's 22 for the short term so for those that have him, enjoy the earnings.
Popular picks in Xavier Ellis 76 (Mid. $226, 290, -17 be AF. $219,000, -46 be DT), Tom Langdon 72 (Def/Mid. $249,035, -7 be AF. $190,900, -33 be DT) and Clinton Young 86 (Mid. $286,556, 8 be AF. $274,900, -9 be DT) have continued their awesome form and are giving their owners consistently good scores. All three have a lot of dollars to earn yet so hold on to them.
A solid start by Dom Tyson (Mid. $335,846, 16 be AF. $312,500, -1 be DT) against the Giants had me thinking that a third consecutive ton was forthcoming. He had 44 at the main break but did very little in the second half, adding only another 18 for a total of 62 Fantasy points. We'll put it down as a once off. Tyson should ton up against the Blues this weekend so don't lose faith after one bad game. Lewis Taylor (Fwd/Mid. $198,004, 11 be AF. $144,600, -50 be DT) and Eli Templeton (Mid. $179,903, -3 be AF. $167,600, -31 be DT) were also very average scoring 62 and 55 respectively. Taylor and cult hero Templeton both seem to be favourites within their clubs so I doubt they'll be dropped.
Jared Polec (Mid. $233,309, -4 be AF. $222,600, -14 be DT) and Harry Cunningham (Mid. $212,569, 0 be AF. $172,900, -28 be DT) had quieter games in Round 3. I was surprised Cunningham only scored 55 after kicking 3 goals and as for Polec, outside midfielders are prone to having a poor scoring game along the way. Polec was still one of Port's better players even after scoring just 62. If you own Polec and/or Cunningham then start planning to downgrade/upgrade them in the next few weeks when they top out in value.
Jarman Impey (Fwd. $225,234, 30 be AF. $149,000, -14 be DT) and Will Langford (Def. $194,415, 10 be AF. $160,000, -5 be DT) continue to frustrate their coaches with substandard scores of 52 and 47. Both Impey and Langford need to be traded out first so again, plan ahead.
James Aish (Mid. $290,198, 30 be AF. $227,100, -18 be DT), Jay Kennedy-Harris (Fwd. $154,888, 32 be AF. $121,400, 11 be DT), Martin Gleeson (Mid. $183,069, 3 be AF. $160,000, -20 be DT) and Gary Rohan (Fwd. $176,472, 18 be AF. $188,700, 21 be DT) were this week's green vest club. I doubt Aish will see a green vest again soon. He played just over 2.5 quarters and was a shining light for the Lions on a pretty dark day.
Two Gamers
In horrendous conditions, Josh Kelly (Mid. $259,220, 35 be AF. $207,800, 0 be DT) stood up against the Dees kicking two last quarter goals, which arguably sealed the win for the Giants. He was named in the bests for his troubles and won Round 3's NAB Rising Star nomination. Kelly's ability to read the ball of the packs is quite impressive and he has very clean hands even in the wet! So the big question is…
Is Kelly a worthy pick given his inflated price tag?
In short, yes but you won't earn the dollars as quickly as picking up a cheaper ball magnet like Matty Crouch.  Kelly had 73 Fantasy points last weekend and that probably is just below his expected average of around 75. Personally, I have no reason to bring Kelly in this week. My current rookie mids in Fantasy and Dreamteam are earning handsome dollars and I've got other areas to rectify. No doubt at about Round 10, I'll be regretting this decision.
With a few disappointing defender rooks floating about, some should be considering Kade Kolodjashnij (Def. $275,949, 23 be AF. $192,800, -40 be DT). The raking left footer backed up his impressive debut with 10 kicks, 14 handballs, 4 marks, 1 goal and 74 Fantasy points against the Lions playing his customary half back/wing role. If you're like me and you have Georgiou and/or Langford doing very little then consider burning a trade on KK. It's a shame his debut was so early, another couple of weeks and we would have had the perfect trade down option.
There's a lot to like about Dylan Buckley (Mid. $179,955, -4 be AF. $120,200, -60 be DT). Sure, he's not as prolific as most young half backs but he takes the game on and has a very high work rate. Buckley only managed 12 touches, 6 marks and 50 Fantasy points in Round 3 but he looks settled in Carlton's 22. He will improve with every game he plays and hopefully Mick gives him a slightly bigger role this weekend against the Dees. Consider. Jeremy Laidler (Def. $169,084, -4 be AF. $167,200, -23 be DT) had little influence in last weekend's game against the Crows but still managed to score a respectable 60 Fantasy points. He was used mainly as a backman but had stints on a wing and up forward. I'm very nervous about Laidler's job security especially after he was dropped for Round 2 so play it safe and stay away.
Daniel Currie (Ruc. $141,853, 1 be AF. $119,200, -27 be DT) and Tom Derickx (Ruc. $150,508, 15 be AF. $119,200, -13 be DT) continued their sub 50 output but at least they're playing. Obviously, these two aren't going to score heavily so be patient if you have them.
Jimmy Webster (Def. $234,417, 40 be AF. $237,400, 35 be DT) isn't reaching the heights I'd have hoped at this point but he has just come back from a slight groin injury. In his first two games this season he has scored 49 & 46 which is a poor return for someone priced around $230,000. Webster is being used as a lockdown half back so he's not too worried about winning the footy. Stay away.
Don't waste your time on Lachy Plowman 49 (Def. $189,877, 20 be AF. $204,900, 19 be DT), Lin Jong 56 (Mid. $229,351, 25 be AF. $155,000, -28 be DT), Angus Litherland 6 (Def. $114,675, 27 be AF. $119,200, 25 be DT) and Lewis Roberts-Thomson 27 (Def/Fwd. $136,945, 29 be AF. $180,300, 53 be DT). Kelly should be your first picked midfielder this week and Kolodjashnij your first picked defender. It's black and white!
One Gamers
Green vested Matty Crouch (Mid. $211,725, 17 be AF. $112,800 DT) didn't need long to get a run against the Swans. After an injury to Scott Thompson, Crouch entered the game at the 11 minute mark of the second quarter. He was thrown straight on to the ball and even though his disposal efficiency was poor (56%) he had 60 Fantasy points in the second half alone! Crouch's scoring potential cannot be ignored. Trade him into your Fantasy squads ASAP and wait another week for Dreamteam given he is still on the bubble. Amen to a downgrade!
The Faz, Alex Fasolo (Fwd. $219,429, 14 be AF. $239,300 DT) made his long awaited return to AFL football but not in his customary forward role. The East Fremantle product played at half back and used his pace and long right foot kick to great effect. When the game was on the line in the last quarter, Fasolo was switched forward but to no avail. With a very healthy score of 76 against the Cats, he is an obvious pick especially since most forward rooks have disappointed to date. Let's hope Fasolo can maintain a 75+ average.
George Burbury (Fwd. $225,340, 28 be AF. $236,000 DT) made a relatively quick recovery from that shocking broken jaw sustained in the NAB Challenge. Against the pies, he scored 61 Fantasy points playing as a deep forward but failed to kick a goal. Looking at his role, I doubt he'll average more than 70 this season thus he is too expensive for the returns expected. I much prefer Fasolo at that price! Burbury's teammate, Jackson Sheringham (Mid. $188,399, 12 be AF. $128,900 DT) was a late inclusion for Dreamteam favourite Corey Enright which would have upset a few. He's a fiery bugger and definitely played his role but with shaky job security, it would be silly to bring Sheringham in. Stay away.
Notable mentions to Jason Ashby 48 (Def. $156,788, 15 be AF. $119,200 DT), Tom Williams 55 (Fwd. $156,524, 9 be AF. $196,700 DT) and Brant Colledge 37 (Fwd. $129,346, 15 be AF. $119,200 DT). After a quiet first outing we'll need to see what these blokes do in their second game before making a determination. For now, I wouldn't go near them.
Nathan Gordon (Mid. $144,703, 6 be AF. $112,800 DT) and Ben Jacobs (Fwd. $183,122, 42 be AF. $213,000 DT) were our green vested one gamers in Round 3. Both players have very poor job security and aren't worth the stress so look elsewhere.
Please note that if I haven't mentioned a rookie priced player above, it means I don't rate them!
Keep Your Eye On
Nick Robertson (Mid. $173,400 AF & $112,800 DT) – With Daniel Rich gone for the year and Josh Green pinging a hammy, hardnosed midfielder Nick Robertson will debut in Round 4. Robertson was BOG in the NEAFL last weekend after gathering 30 possessions (9 clearances) and kicking a goal. I expect Leppitch to use him as an inside midfielder so he should average above 70. A safe Fantasy downgrade this week.
Mitch Honeychurch (Fwd/Mid. $135,500 AF & $112,800 DT) – Honeychurch is incredibly close to his senior debut. The fiery midfielder had 18 possessions, 4 marks, 5 tackles and 2 goals in the VFL last weekend and provided plenty of run through the middle. If McCartney comes to his senses he'll drop one of Johannisen or Jong to make way for Honeychurch. Even though Honeychurch is a vest risk, his Fwd/Mid DPP will be invaluable down the track. Put him on your watchist!
I mentioned Patrick Cripps (Mid, $230,300 AF & $152,800 DT) a couple of weeks back and it seems certain that he'll debut this weekend after collecting 34 possessions in a BOG performance for the Northern Blues in the VFL. Don't ignore this big ball winner!
Just quickly, Zach Merrett (Fwd, $198,007 AF & $112,800 DT) should come in for Chappy this week and run rampant on the vast spaces of Pattersons Stadium. Dom Sheed (Mid, $235,800 AF & $162,800 DT) will also earn a reprieve with injuries and suspension hitting West Coast hard. Keep these guys if you've got them!
Got a question? Ask me on Twitter @JeppaDT.