The Numbers: Round 3
The Numbers are in for this week. Who leads the competition in 1%ers? What was last weeks biggest margin? Why do Richmond hate their fans? Find out all this and more!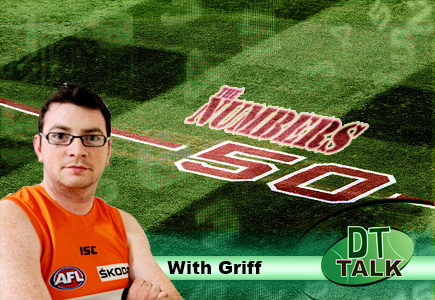 Welcome to The Number for round three. In The Numbers we look at the stats which matter, the figures that effected your round, and the numbers that really shouldn't, but often do, either make or break our weekend. Let's jump straight into it.
0 – The number of wins four teams have after three rounds. There aren't too many shocked by Brisbane's struggles and Melbourne's woes, but it's the fall from grace of the Crows and the Blues that have everyone talking.
1 – The number of wins pre-season premiership contenders Richmond have under their belt. A narrow loss to the Western Bulldogs sees Richmond fans, well, doing what Richmond fans do; getting angry at an under-performing team. Will Deledio return to save them from the Pies?
4 – The number of teams who were not in last year's finals series who currently feature in the Top 8. West Coast, Essendon, GWS & Gold Coast are all off to great starts.  But how much of this is due to the AFLs new system for their fixture? Who's the contenders, and who's the pretenders?
10 – The number of goals a piece that Nick Riewoldt and Luke Bruest have to lead to Coleman medal race. Paul Chapman and Jamie Elliott are one goal behind. What ever happened to the key full forward?
12 – The number of Frees For for Nathan Jones. His in-and-under style is the key to this figure; getting his hands on the ball first. No prizes for guessing which Cat is second, with 11.
14 – The number of tackles awarded to Adam Treloar on Sunday afternoon. Combined with 33 disposals against a spirited Melbourne, Treloar went massive this week, scoring 159pts.
16 – Le Cras' injury hurt 17% of AFL Fantasy coaches, seeing a drop in value by nearly $29,000. Expected to miss a few weeks, it's time to look elsewhere for a mid-priced forward.
44 – The number of 1%ers Steven May has recorded in just three games. With Harry Taylor the next closest in the league with just 29, it's easy to understand why the Suns are challenging his suspension.
51 – The difference between Dom Tyson's first two round average, and his score on the weekend. Despite this, the Melbourne midfielder should bounce back this week against the Blues.
60 – The number of hit-outs to Shane Mumford in the wet. Big Mummy is looking fitter than ever, and relishing his opportunity at the Giants. Combined with 9 tackles, Mumford managed a massive 118 points, and is 8th overall for points scored this year.
61.5 – The percentage of disposals that were handballs from Jobe Watson this weekend. A number that would frustrate his owners, when Essendon's average was 39.9%, and Jobe couldn't break the 100 point mark when eight other Bombers could.
81 – The largest winning margin on the weekend. Essendon are currently on a high, and for homeopathic approved reasons. Can they continue to take their form beyond round 16 this year (and past ASADA)? Only time will tell, but right now, they're looking dangerous.
89 – The average score of Hawthorn players on Friday night. With 17 players scoring above 85pts, and 8 of those players going on to score more than 100pts, it was a good night for some. However, if you owned any Fremantle players, it was a sour night, with the average Docker scoring just 59pts.
113 – The score that many of us had to look at sitting on our midfield bench as St Kilda's Luke Dunstan scored 29 disposals and two goals against the Eagles.
127.3 – The GWS Giants current percentage. Blessed by the AFLs new draw in which clubs are grouped by ladder positions from the season prior, it's the percentage column, not the win column on the ladder that would have those in AFL House positive about the Giants progress.
157 – The number of times Dream Team Talk's Dunny kicked himself on the weekend for accidentally leaving Tom Rockliff on his midfield bench. In a reverse trade oversight which can hurt any of us not 100% switched on pre-lockout, 157 is also the number of times Dunny has mentioned it on twitter.
Did I miss some numbers? Will Tom Rockliff continue to play off Dunny's bench? Is the free-trade agreement with Japan good for the Australian economy? Tell me in the comments section below, or send me a tweet @RLGriffin85 if you find something of interest. Until next week, don't forget; it's just a game of numbers!