The Weekend Wash-Up – Round 3
I hate this game. Last week was a tough time for most, and for those hoping for a turn of fortunes in round three, the result was cataclysmic. Not only were we left with sub-standard scores from our most prized premiums, we were hit by the injury curse as well.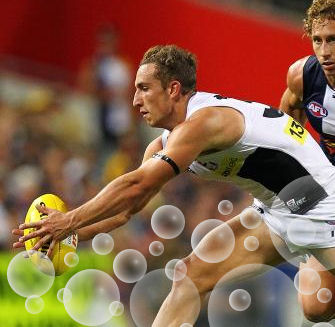 I hate this game. Last week was a tough time for most, and for those hoping for a turn of fortunes this weekend, the result was cataclysmic. Not only were we left with sub-standard scores from our most prized premiums, we were hit by the injury curse as well. Personally my crop of potatoes expands by the minute, compounded by a slight issue in the fact that our forward lines might as well not be there. It's time to take a look at the weekend's wash-up!
The Legends
Mitchell (121) – Thanks to his absence in Round 2 Mitchell became a slight POD in most forms of DT, especially Fantasy. His 121 was great reward for those who held the faith, and he currently leads the head to head with McVeigh comfortably. VERDICT: He's a gun, but no must have. Ok to have as an upgrade target.
Suckling (117) – His kicking style may be slightly out of the ordinary however he is without a doubt one of, if not the most accurate kick I have ever seen in the AFL. It's a blessing to get him so cheap. VERDICT: Surely we all have him?
Macrae (131) – My love for this kid is starting to get questionable. Honestly if it wasn't for him I'm not sure I'd even be writing here today, he was my one shining light in an otherwise dismal week. Monster score for a midpricer, he's looking like a seasoned premium. VERDICT: Knows how to find the footy, almost a must have in Fantasy.
Cotchin (117) – He bounced back nicely from last weeks disappointment, yet I'm still wanting him out! Something isn't right, his disposal has been terrible and he's not the player of 2012. Hopefully this means that the tags will continue to bypass Cotch and he can continue posting some huge scores! VERDICT: Great value, just so many alternatives (I'm not saying to trade him out!).
Liberatore (125) – Libba is starting to hit his straps, and so are the Dogs. If he could just improve on his slow starts then we could see him start to push out these kind of scores consistently! VERDICT: Still young, consistency needs to be proven.
Griffiths (88) – Another highlight for my team, Griffiths rewarded all those who chose to field him in D6. He is yet to score under 70 and has proven to be the second best option of the back rookies, just behind Langdon. He can take a pack mark and knows where the goals are, I can't see him slowing up. VERDICT: Great option, but the ship has surely sailed.
Parker (121) – The Parker v Mitchell debate was a hot one throughout pre-season, and there was one clear winner on the weekend. Parker was sensational running through the midfield, collecting 26 disposals and bagging 4 sausage rolls on his way to a very healthy 121. His score was inflated thanks to his goals, but we should still see him push a 95 average for the season. VERDICT: Seems to have made a permanent move into midfield with rest stints up forward, a very solid option.
Franklin (113) – Buddy has taken a battering like no other over the past few weeks, and boy didn't he respond! No Bondai babes were weighing on his mid on Saturday as he showed glimpses of the Buddy of old. It's early days yet… VERDICT: Hold off, I'd like to see this a few more times before considering him.
Jaensch (96) – Brilliant pick for those who snaffled him up last week (or earlier) and his price rises will make him a nice stepping stone to a premium, that's if he isn't a keeper! VERDICT: Great option down back, probably your last chance to sneak him in this week.
Ablett (146) – As soon as Raines didn't show up on the teamsheet, you could basically write this one down as a 130+. He is still the best player in the competition and whilst he will have that title pushed in DT, he is still the one we like to name Jesus. VERDICT: You can't go wrong having him…
Rockliff (157) – IF YOU SMEELLLLLLL, WHAT THE ROCK, IS, COOKIN! How good was he?! I'm sure a lot of us thought he was capable of a solid 120 here, however a career best 157 blew everyone's expectations out of the water. He has proven that he can score like an uber premo, and he proved that last year he could do it consistently. Forget more forward time, this guy is a gun midfielder. VERDICT: We should all be finding a way to fit him in, no bias!
Hanley (118) – I'm not going to lie, Hanley is proving me wrong. He has gone back to his preferred half-back role under Leppa, and Brisbane's poor form has meant a tag hasn't really been necessary. It became almost a weekly thing last year, I'm interested as to whether teams will bother this season. VERDICT: I wouldn't make too much of a fuss trying to squeeze him in, however he looks on target to be a top 6 defender.
Selwood (116) – Steve Johnson's emergence as a midfield powerhouse is the best thing to ever happen to Selwood. Where he would once take the heavy tag, SJ is now getting the oppositions main attention and boy is Joel loving it. He should comfortably push 110+ this year and will be in all our teams come seasons end. VERDICT: Top 5 mid.
Cox (112) – He was heavily under the microscope this week after a lackluster performance against the Dees, and he responded in exactly the way champions should. With Le Cras injury the eagles may look to re-balance and go in with only 2 key ruckmen, hopefully increasing Coxy's workload and scoring potential. I'm happy to lock him in as my R1 for now, price irrelevant. VERDICT: Hold.
Mumford (118) – If I was to have my time over however, Mumford would have been my choice of ruckman. Those who went the Mummy/Sandi combo are laughing, having nailed the toughest decision of the summer. Not only does he win a load of hitouts (60 this week), he tackles like a machine. 9 tackles helped his score past the ton, even with only 1 mark and 9 disposals. Should push for the number 1 ruck scorer in the comp at this rate, however he will get tested in the coming weeks. VERDICT: Number 1 ruck option at the moment.
Dunstan (113) – Those who got on Dunstan early in the rising star betting will already be planning what to do with their winnings. Ok so that's an early call, however he is playing like a seasoned midfielder. He was in the best 3 players on the ground on Saturday night and is a must start on our fields. VERDICT: Must have, start him every week.
Treloar (159) – The kid is a tackling machine. 14 tackles and 32 disposals helped him soar to the number one score for the week, a minster return for those who backed him in. I still have my doubts, however the potential is there for all to see. VERDICT: Don't chase this score.
Ward (119) – I wouldn't really recommend getting him in just yet, however I just had to include him here. He's an absolute gun and will get less attention as the rest of their mids start to step up. Gun. VERDICT: Still not DT relevant in my opinion.
McDonald (101) – He was unlucky not to receive a golden stubby nomination (spoiler alert), however his owners will be immensely satisfied with his first ever DT ton. Great reward for those who paid the extra cash. VERDICT: Ship has sailed, those aboard can enjoy the ride.
Wines (115) – There are some players I'd just love to have in my team. Ollie Wines is one of those players. In fact looking back on it it's incredible I didn't put more time into him at his original 400k price tag. He is averaging over 115 and has seen his price tag sky rocket towards 500k. He looks like becoming a premo in his second season, the kid is a jet. VERDICT: Not sure if he's worth grabbing now, however he's a brilliant pick if you already have him.
Merrett (131) – Ok, value alert! I had no idea about the guy when asked last week, so I was keen to see how he would get on against Carlton on the big stage. By half time I was convinced we had our Caddy replacement, and I was just planning his way into my team. His second half of 79 was brilliant for his owners, however it's killed the rest of us! His price will soar up towards 400k, making it hard to get our failed midprice selections straight to him. The midfield midpricers were the way to go this season, only one of them found his way into the forward line. VERDICT: The real deal, I'll be doing everything possible to get him in.
Chapman (134) – Finally we have the man, the legend. #3. His monster score of 134 takes his season average to 117, the best of all the forward options. His value at the start of the season was incredible, however his price is getting into the territory where there is a lot of alternatives. There's no doubt he has the scoring potential to be a top 3 forward, however injury still worries me. VERDICT: Will be the cause of some heart attacks over the season, but may well turn out to be the pick of the year.
The Losers
Ellis (64) – All the hope of him pushing on to average close to 100 seems to have been out of place, with yet another poor score coming without any resemblance of a tag. Turned out to be a disastrous pick. VERDICT: Offload to a high flying Macrae or Shiels.
Mitchell (41) – I didn't see much of the game, however I saw enough to know that Mitchell wasn't going to have a good day. The issue was I just couldn't figure out where he was on the field! Just to rub salt in the wounds he was substituted at 3 quarter time, I'm still not sure what to read into that. Did he have a niggle? Did they want him to lift his game? Is his extra midfield time in jeopardy? There's so many question coming out of this one, not to mention the fact he only had 53% game time. He had well over 80% in Round 1 and 2, so he was on track to go well below that anyway. Surely something was up, it just doesn't make sense… VERDICT: I have no idea. I might hold in the hope he can bounce back, but if you can afford the trade then go for it.
Dangerfield (83) – 83 seems harsh, but we were owed a big one by Danger. Unfortunately it didn't come, however St Kilda, GWS, Bulldogs and Melbourne before the bye gives us hope. His price has already plummeted too far to go back. VERDICT: Hold. Even consider getting him in early, perhaps next week,
Zorko (59) – Many were disappointed in his score, however there was still positives to take out of his game. He was running through the midfield, so the big scores will still come. He had a couple of poor scores in his debut year, so hold strong. VERDICT: Still a great option to replace your struggling forwards.
Cloke (33) – Oh boy… I'm not even going to bother. Yikes. VERDICT: He's crap. Without Reid he's crapper. We may still put ourselves through the pain if he becomes a fallen premo, in every sense of the saying.
Johnson (69) – I think it was fairly obvious that the Magpies would send Macaffer to SJ, he has become too damaging for his own good these days. Opposition will target him before Selwood, so buyers beware. He'll still bully those who don't tag him, so don't write him off. VERDICT: Still an uber premo.
Caddy (63) – Luckily for me I haven't seen Caddy's last 2 games, but I can imagine how painful it would be. I saw his score ticking over nicely in the first 2 quarters, what happened from there on can only be described as pitiful. Perhaps Selwood returning to the mids has killed his potential. VERDICT: I'll be looking to trade him off, so put him down for a ton this week.
Le Cras (16) – F***. This is the expletive (and perhaps more) that came from every Le Cras owner as the news was blurted through the PA system at Patersons. As soon as I heard news of an eagles sub I searched the field for Lecca, and I just knew… Honestly why do we even bother. VERDICT: Out for "weeks" apparently, time to trade.
Hickey (39) – I got something right!!! I said here last week that opposition ruckman have nightmares against the Eagles, and so the trend continued… 3 rucks have combined for 119 against the Eagles this year, take note. VERDICT: Gotta back him in, but another low score and your in some trouble.
Georgiou (29) – The Melbourne scoring train came to a searing halt this week in the wet, Georgiou was one to show his true colours. VERDICT: D8. Cash cow almost fattened. That is all.
Jones (73) – The game started off in dry, sunny conditions and the Melbourne possession style game continued. Jones flew past 50 just 6 minutes into the second term, and reached 62 well before the half. Tyson also showed a similar pattern. Then the rain came. Possession football was tossed aside for some rugby, and Jones finished the last half with just 11 to his name. He will make a great stepping stone for those who grabbed him, but for those who captained him… Lesson learnt. VERDICT: Great stepping stone, will continue to rack them up in dry conditions.
Talking Point
I hate to come down hard on them with all the work they put in, and we don't want this site to become the Fantasy Bashers. However the trades centre in all forms of Dream Team this year is terrible. I've never had an issue with the Virtual Sports boys in the past, but a fault in their search engine has probably cost me my RDT season. Trades are crucial in Round 2 with rookies on the bubble and price rises imminent, so to see my screen continuously freeze and I tried to make my trades for half an hour was excruciating. Lockout ticked past and my trades were incomplete, leaving my team in disarray. Obviously it is recoverable, but when there's so many forms of fantasy going on and hopes of a top 15 finish are all but gone, it's hard to come back from. I wasn't the only one to encounter this issue, and I've had similar problems with the AFL Fantasy trade wizard. Let's hope the sites start to minimise the glitches and errors so we can quickly move on from this talking point that continues to linger…
Clown of the Week
This weeks clown is no other than the West Coast Eagles physio staff. In the WA radio coverage of the game against the Saints I've heard that Le Cras had gone into the game with some pain in his arm, but they took the risk with him anyway. It had obviously been injured during the week and was only made worse in a tackle. Not only is he now out for "weeks", we had to cop his 16 point disaster, rather than our benched emergency. Such is the mood that the DT gods were in this week, most of us had Ambrose anyway, but it's frustrating regardless. How different things could of been if he was named out on Thursday…
This Game Sh*ts Me



I'm sure this is why a lot of you are here, and I don't think this week will disappoint. Usually I ask myself the question, what gave me the sh*ts this week? Unfortunately tonight I'm sitting here and asking myself the honest question, what wasn't sh*t? My forward line was an absolute travesty. 340 points at an average of 56.5. You'd think a couple of poor rookie scores pulled that down, you'd be wrong. My cheapest forward is 350k. If I had 6 trades this week they'd all be gone, that's how bad it was. Dunstan and Ellis managed to outscore Tyson and Polec by a minor 65 points (In comparison that is honestly a minor hiccup for me), whilst my only reliable forward backup is now on the sidelines. What really sh*ts me is not the way a premium let's you down after you pay the big bucks to get them in. Not the fact that rookie scores fluctuate more than Richmond's effort levels. It's the way that the DT Gods kick you when you're down. When you think things can't get worse, you're basically signing on the dotted line for disaster. This game is unforgiving, and injuries hurt you more than any other form of fantasy sport I've ever played. Because scores are so large, when a player goes down injured in the first quarter your week is over. There's no doubt the game is factored hugely towards skill, but when you're having a sh*t time of it, that's usually when the luck goes as well. And that's why this game sh*ts me.
The Golden Stubby is back with 5 brand new nominees! Sadly I'm left once again with only 1 player nominated, a pretty accurate summary of my team. Tyson snuck home last week to join Watson in the winners circle, and it's going to be another tough round of polling. Let's take a look at the options…
Macrae – There's no doubt about it, his pre-season was no mirage. He's playing like a seasoned premium and if you got on board early at his basement price he'd surely get your vote. 131 is a monster score for a midpricer, future star.
Ablett – I couldn't leave Gaz out of the poll, of the captaincy options available to us he was the clear winner. Anyone who put his Crowley game aside and handed him the armband would've strolled up the rankings. Never deny bald Jesus, 146 was his second 140+ score of the season already.
Rockliff – To anyone who grabbed Rocky this week, I salute you. He was in my plans until his suspension, and unfortunately I overlooked him for Pendles. I know it's a long season, but Rocky's 157 is a clear statement. He will be a top 6 scoring mid this year, and is a bargain at his current price. Game changer for those who owned him.
Chapman – Everyone loves Chappy. How can you not? He has surpassed all expectations so far with 3 tons at an average of 117. Gun.
Treloar – Treloar sneaks into the last position, you just can't leave out a relevant player who notches a round high 159!!! He did more than enough to make up for a poor game last week and rewarded his owners persistence in spades. Brilliant pick to those who took the gamble.
Who will get your vote?
Loading ...
The Other Bits and Pieces



My focus is off RDT, so I'll be reacting to my fantasy team throughout the season. Now comes to the nasty period where I have to tell everyone my score. Actually I don't, and that's what I'd rather do… But I'm here for the laughs. This week I managed a pathetic 1958. I'm sure just hearing that was worth the price of admission, my rank is slowly slipping towards 20k. I'd appreciate it if the fantasy gods could get of my case for a week, I've forgotten what 2000 feels like. Nevertheless we move onwards and upwards! Let me assure you if it still manages to go downwards from here then next weeks article is off and will be replaced by a suicide hotline. Good luck to all, I hope this helped!!!
If you enjoy seeing me rage and want a punching bag when sh*t goes tits up, follow me on twitter @MattCraigDT. My views are honest, mostly helpful and occasionally entertaining! Hit me up with your weekly Golden Stubby nominations, and mainly what gave you the sh*ts! I value everyone's opinion