The Numbers: Round 2
The Numbers return for 2014 with Griff taking over the reins from McRath. The Numbers are an educational and entertaining look at the stats from the past round.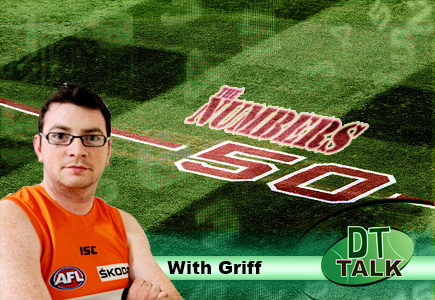 After what was quite possibly the longest off-season of AFL football ever (with an extended trade period of free-agency speculation, more draft coverage than ever before, an NAB practice-match-round-robin-eighteen-day Challenge, and the terribly designed split opening-round), it was good to finally have 9 games in 5 days in the 2nd round of football.
If you are new to The Numbers, welcome. Fronted  by McRath last year, this is where we look at the stats which matter, the figures that effected your round, and the numbers that really shouldn't, but often do, either make or break our weekend.
Without further ado, I bring you The Numbers!
1 – The number of people who were upset by the retirement of Dr Dream Team into AFL obscurity. That one person? Dr Dream Team himself. Thankfully for the rest of us, he has been replaced by Dream Team Talk's own 'The Traders'. Well done Warnie, Roy & Calvin; it's about time you hard work paid off.
2 – The number of players to score 150+ this round. Both Scott Pendlebury & Steve Johnson smashed out mammoth scores in a round where so many failed. It you made them captain, you'd have scored over 300 points from the one player. That's massive when other captain options like Ablett & Swan failed to manage anything respectable.
3 – The number of platforms most coaches are running with this year. In a shake-up that saw Virtual Sports become a stand-alone platform with Real Dream Team, the AFL brought in a new player to run their AFL Fantasy competition, Fan Hub. Combined with Super Coach, it now takes more time than ever to manage teams, double check captains, find the right trades and check your rankings.
4 – The number of teams that could be undefeated after the first three rounds. Port Adelaide, Geelong, and two of either Hawthorn or Fremantle and West Coast and St Kilda will be hoping to have the dream start to 2014.
5 – The number of teams that could be winless after the first three rounds. Carlton, Brisbane, Melbourne, the Western Bulldogs and one of Sydney or Adelaide are all staring down the barrel of a horror start. For Sydney (vs. Adelaide) & Carlton (vs. Essendon) especially, the phrase "must win game" is an understatement given their pre-season expectations.
14 – The number of disposals Jack Zeibell has had in his pat two matches. If you picked him as a point of difference, I'd look at trading. He's going to drop in price soon in Super Coach or Real Dream Team, and the match review panel favourite is looking a long way from his best.
16 – The number of players priced above $500,000 in AFL Fantasy who couldn't crack 100+ last week.
28 – The number of players priced above $500,000 in Real Dream Team who couldn't crack 100+ last week. What happened to our premiums?
 48 – Tbetta's boy Scooter Selwood was supposed to go sky high against the Demons on Sunday, with some expecting a captains knock of astronomical proportions. But five free kicks against and a bit of attention (and lack of interest) saw him manage one of his lowest scores in the past few seasons. That's a miserable 96 points if you made him your captain.
58 – Hit-outs achieved by Aaron Sandilands in the wet against the Suns. The big man was just one of a few under-priced ruckmen to go big this week, with Shane Mumford (132) and Tom Hickey (119) also proving their worth. Between Hickey & Sandilands (104) alone, you would have been looking at beautiful 225 points from your ruckmen.
93 – The margin that Melbourne lost by to the Eagles on Sunday afternoon. In a match that was nothing short of painful to watch, possibly even for West Coast supporters, Melbourne just couldn't get going. Will they be able to turn it around this week against an improved GWS side?
223 – The combined total of the leading Defender in AFL Fantasy & Real DT; Cale Hooker. Yup. Cale Hooker is the leading points getter in the backline. Ugh. Our defenders are doing horrible. I mean, Shaun Burgoyne (211), Matthew Jaensch (208), David Swallow (203) & James Frawley (201) round out the top five. Why do we even bother picking backmen!?
276 – The combined total of the leading AFL Fantasy & Real DT player; Nathan Jones. Wow. Really? Despite getting smashed on the scoreboard, the Demons appear to be sticking to their game plan of maintaining possession as much as possible before they turn it over for the other team to score. That is the plan right Roos? Either way, this has Nathan Jones, Bernie Vince & Dom Tyson racking up the points through the midfield. Can it last?
4,496 – The combined total of the leading coach in Real Dream Team after two rounds. WINNERS & LOSERS scored a massive 2,276 last week to take the lead. Wait. 2,276 last week? Oh come on. He probably has Cale Hooker & Nathan Jones as first picked. No wonder he uses that team name! But seriously, good work.
4,592 – The combined total score of the leader, Bradiculous, in AFL Fantasy after two rounds. How? 4,592!? I can't even right now. That's like an average of, well, a lot, each week. Who's your captain Brad, Clint Jones (averaging 116.5)? I need a drink.
83,220 – The price rise that Dom Tyson saw last round in AFL Fantasy. Averaging a crisp 113.5pts from two games, if you don't have Dom in your team AND on your field, trade him in right now. This article can wait. This is not a drill; the kid has superstar written all over him.
99,999 – The estimated number of customer complaint emails forwarded by the AFL to Fan Hub HQ these past two weeks. Poor buggers. I almost feel sorry for them. Almost. But I don't. So if you want to make yourself heard, you can find them at @FanHubAFL on twitter or the 'Contact Us' link on the site. By all means let them know what you think. Just don't take it out on The Traders, the only bugs those hard working boys have are, well… never mind.
And that's it.
Did I miss some numbers? Do you think I'm too harsh on Cale Hooker? Why does my cat bite my face whilst I'm sleeping? Tell me in the comments section below, or send me a tweet @RLGriffin85 if you find something of interest. Until next week, don't forget; it's just a game of numbers!