Jeppa's Juniors – Round 2
Ahead of the first price changes for Dreamteam and further notable increases in Fantasy, this week's rookie review is a must read. As usual, Jeppa covers all the important players as well as those in line for their first game this weekend. There's plenty to talk about!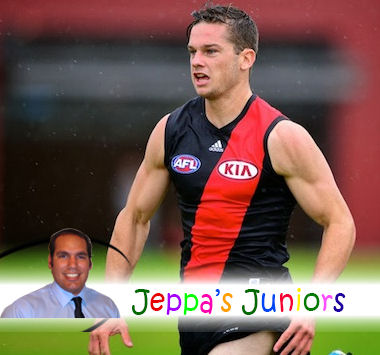 Make no mistake, the trades you make this week will shape your Fantasy and Dreamteam seasons. Decent scorers accompanied with solid job security and healthy earning potential is what we should all be targeting and with rapid price increases apparent in Fantasy, gun rooks now need to be identified early.
At this stage of the game it's not just about the rookies. Dayne Zorko, Matt Thomas, Nathan Jones, Tom Hickey and Matthew Jaensch are a handful of players I'm eying off this week given their red-hot form and monetary value. As tempting as some mid price players are, I'll be locking away all rookie selections as a priority. Rooks may score a little less but they earn the dollars fast, thus benefiting you in the long term. Remember it's a marathon not a sprint!
Two Gamers
In a round starved of rookie stars, there was one shining light. Dom Tyson (Mid, $301,620 AF & $250,700, -89 be DT) continued to rack up the possessions as one of Melbourne's primary midfielders. In a game dominated by West Coast, Tyson still managed to have 30 possessions, 12 marks, 1 tackle and 111 Fantasy points! Tyson is currently in the Top 20 for highest player averages so if you don't have him then trade him in ASAP! In the same game, Xavier Ellis (Mid, $184,842 AF & $163,900, -56 be DT) bettered his Round 1 performance quite considerably and looked far more confident at his new club. Ellis had the majority of his touches in the back half and finished with 14 kicks, 12 handballs (88% efficiency), 5 marks, 2 tackles and 90 Fantasy points. With no Shannon Hurn for over a month, Ellis will be the go to guy kicking and setting up play from defence and I expect his scores to hover above 75 as a result.
'The best athlete I've ever seen.' That's how Brendan Goddard describes young forward Patrick Ambrose (Fwd, $164,215 AF & $98,500, -80 be DT). He was a shining light for the Bombers after kicking 3 second half goals in a near match winning performance. Funnily enough, Mark Thompson joked that he almost subbed out Ambrose before he kicked his first but then Ryder got injured (source). Good form will see Ambrose hold his spot in the 22 therefore his destiny is in his own hands. Martin Gleeson (Mid, $160,964 AF & $119,200, -63 be DT) was another youngster to impress for the red and black army. The Corey Enright protégé showed an abundance of courage on his way to 11 kicks, 6 handballs, 8 marks, 1 tackle and 73 Fantasy points. With Courtney Dempsey suffering an injury setback, there appears to be no threat to Gleeson's job security for at least a month.
James Aish (Mid, $274,224 AF & $182,800, -49 be DT) looks the goods! Yes, I didn't rate him initially but I'm happy to eat humble pie. Aish had 15 possessions (11 uncontested), 8 marks, 4 tackles and 83 Fantasy points on the weekend in a very polished display. He arguably has the best job security of any first year player this season so if you're not concerned about his price then put him on your watchlist. He's not immune to the green vest though!
Leftfield picks in David Astbury 85 (Def, $217,941 AF & $213,000, -26 be DT) and Steven May 80 (Def/Fwd, $272,519 AF & $248,100, -10 be DT) hit the high scores in Round 2 but I feel it's a once off. Both May and Astbury have never averaged above 60 in a season and I'm certain that will continue this year.
The defender rookie brigade of Alexis Georgiou 77 (Def, $162,030 AF & $98,500, -77 be DT), Luke McDonald 74 (Def/Mid, $258,608 AF & $177,800, -29 be DT) and Ben Griffiths 71 (Def, $188,839 AF & $157,300, -58 be DT) all played important roles last weekend. Unsung hero, Georgiou found the going tough against a hard running Eagles side but he still managed to score a very healthy 77 (7k, 9h, 7m & 5t), which says a lot about his character. McDonald was far more composed against the Bulldogs and rarely wasted one of his 19 possessions. Lastly, I thought Griffiths played a vital role for the Tigers with his contested marks and work rate around the ground. Griffiths did give away 5 free kicks but that shouldn't be a regular occurrence. For the record, I've got all three defenders in my Dreamteam and I'm pretty happy about it!
Popular midfield picks in Jared Polec (Mid, $198,966 AF & $169,300, -66 be DT) and Luke Dunstan (Mid, $275,770 AF & $127,800, -108 be DT) didn't break any Fantasy records on the weekend but scores of 74 and 72 are nothing to get upset about. Polec was again damaging with every one of his 20 possessions and was named in the bests for Port for the second week in a row. With Montagna and Hayes back for the Saints, Dunstan spent less time on the ball but was still a significant contributor. Both Polec and Dunstan will be prominent Fantasy players all season.
Brad McKenzie 75 (Mid, $265,590 AF & $249,600, 4 be DT) and Clinton Young 74 (Mid, $255,836 AF & $231,600, -23 be DT) are expensive mids that score consistently but provide no value in my opinion. As far as Dreamteam goes, you can pick Dunstan ahead of Young and McKenzie, save yourself over $100K and obtain similar scores.
Harry Cunningham 68 (Mid, $184,629 AF & $119,200, -72 be DT) and Eli Templeton 68 (Mid, $151,423 AF & $126,500, -44 be DT) have asserted themselves in the best 22 at their respective clubs. Both are competitors with a great goal sense that apply countless pressure forward of centre. If you've got these two then you're a better judge than me. Tom Langdon (Def/Mid, $210,106 AF & $112,800, -109 be DT) is another youngster asserting himself at AFL level. Even though he only scored 66 last weekend, Langdon is still a worthy D6 in any team (for the short term) so don't panic.
A vestless Lewis Taylor (Fwd/Mid, $182,443 AF & $112,800, -15 be DT) tried hard against Geelong but struggled with his disposal efficiency. He finished the game with 19 possessions (47% efficiency), 3 marks, 2 tackles and 67 Fantasy points and should get another full run against a young Suns line up this week.
Gary Rohan (Fwd, $165,814 AF & $176,600, -5 be DT) was subbed out with a knee complaint and is facing a fitness test this weekend. He wasn't turning heads before the injury so I'd be slightly worried about his form. Viv Michie 39 (Mid, $213,517 AF & $214,100, 14 be DT) made my blood boil after failing to live up to his preseason form. If you're a Michie owner, I'd hold him for now and reassess next week. After a ton in Round 1, David Ellard (Mid, $266,763 AF & $228,700, -23 be DT) was another to disappoint scoring a dire 49. Hopefully, all three can turn their form around quickly.
Will Langford 46 (Def, $175,568 AF & $119,200, -51 be DT), Sam Frost 45 (Fwd, $175,887 AF & $172,100, -12 be DT), Jarman Impey 44 (Fwd, $218,260 AF & $112,800, -35 be DT), Lincoln McCarthy 43 (Fwd, $156,646 AF & $119,200, -24 be DT), Jamie Bennell 43 (Mid, $155,900 AF & $119,200, -23 be DT) and Clay Cameron (Def, $131,383 AF & $119,200, -10 be DT) were all part of the sub 50 club this Round and since almost all are lock down players, its looks likely that they wont average higher than 60 this season.
Zac Merrett (Fwd, $198,007 AF & $112,800, -18 be DT) and Jay Kennedy-Harris (Fwd, $157,819 AF & $112,800, -2 be DT) received the green vest for the second week running which doesn't help their earnings. Surely, they'll both be allowed to roam free this weekend. Fingers crossed because both players have plenty to offer.
One Gamers
Dylan Buckley (Mid, $155,900 AF & $120,200 DT) was the best of the one gamers this week scoring 76. Round 2's NAB AFL rising star had 18 possessions (94% efficiency), 2 marks and 6 tackles playing a newfound half back role…not bad for someone who was a late inclusion. With Carlton deflated and Malthouse a fan of Buckley's work ethic (source), it appears Carlton's son of a gun will be holding his spot in the short term. Consider.
The debut of Kade Kolodjashnij (Def, $259,141 AF & $192,800 DT) didn't disappoint. Typically, rookies struggle in the wet against the hardened bodies of the AFL but 'KK' didn't shy away from the contest. His foot skills, athleticism and decision making justifies why he was taken with pick five in last year's draft. This kid can definitely play and I'll be watching him very closely this weekend to see if he is a worthy D6 in Dreamteam.
Josh Kelly (Mid, $252,745 AF & $207,800 DT) started in the green vest against the Saints but was superb when he came on late in the third quarter. He scored 40 Fantasy points (7k, 4h, 4m, 8ho & a goal) in just over a quarter of footy and was thrown straight onto the ball. What impressed me the most was Kelly's ability to read the play! Assuming GWS can remain competitive in the coming weeks, I reckon Kelly can average between 80 and 90 dreamteam points. He loves to run and carry, tackle and win the hard ball and I am seriously considering picking him up this week in Fantasy as he should avoid the green vest (source).
Ruck pair Daniel Currie (Ruc, $125,573 AF & $119,200 DT) and Tom Derickx (Ruc, $143,002 AF & $119,200 DT) scored 49 and 47 respectively in Round 2 with Currie showing the most promise. Derickx looked completely out of sorts in his first game for the red and white and with Naismith dominating in the reserves he may be dropped this week. Currie finally made his debut at age 25 and did the job for North as a backup ruckman and forward threat. Here's hoping Currie gets another go this weekend!
Notable mentions to Lachie Plowman (Def, $181,217 AF & $204,900 DT) who was solid in defence but could only manage 45 Fantasy points and debutant Angus Litherland (Def, $118,911 AF & $119,200 DT) who stumbled to 34.
Please note that if I haven't mentioned a rookie priced player above, it means I don't rate them!
Keep Your Eye On
Matt Crouch (Mid, $203,200 AF & $112,800 DT) – Is a very likely replacement for his brother Brad who suffered a broken leg and will be sidelined for the next 6 weeks. It's no shock that the Crouch brothers play a similar game and since young Matthew had 29 possessions in the SANFL on the weekend, he deserves his spot. Look for him to make an instant impact and average around 75.
Dean Towers (Fwd/Mid, $179,700 AF & $119,200 DT) – A BOG performance from Towers in the Swans Reserves last weekend suggests that he is at front of the queue to add some much needed run and enthusiasm to a Swans team lacking a little confidence. He's your typical running half forward/midfielder who knows where the goals are. Note that if he is named this weekend he'll likely start in the green vest.
Mitch Hallahan (Mid, $115,200 AF & $119,200 DT) – A few injury concerns at Hawthorn could see the 2013 Liston Trophy (VFL B&F) winner finally debut for the Brown and Gold. Hallahan has spent over 3 years on Hawthorn's list and played second fiddle to the likes of Mitchell, Lewis, Hodge etc. He averaged a very healthy 93 points per 100 minutes during the preseason and I see no reason why such form cannot carry through into the AFL.
Good luck with your trades this week!
Got a question? Ask me on Twitter @JeppaDT.