The Weekend Wash-Up – Round 2
We play a fickle game, and at times get ahead of ourselves. Last week was one of those times. Matt has a look at the all the action in the Weekend Wash-Up.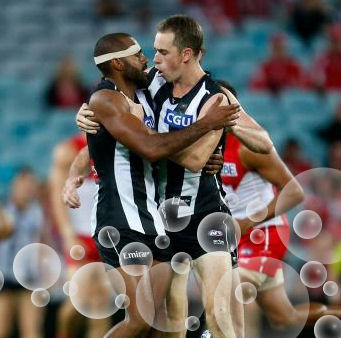 We play a fickle game, and at times get ahead of ourselves. Last week was one of those times. Those who didn't crack 2200 were kicking themselves, this week those who made that mark will undoubtedly be reading this and laughing at our terrible picks. Smug pricks (I'd be doing the same). It was a disaster of a week, and it actually got to the point where if you past 60 you'd avoid a baking. There's plenty to get through, so strap yourselves in. There's a lot to get off our chests…
The Legends
Thomas (107) – Matt Thomas was one of the few Round 1 fliers to back it up. 11 tackles helped him past the ton, and you can bet he won't be around 300k for long. Brilliant pick if you got on early! Even though he's flown out of the gates I reckon there's more viable midpricers out there. VERDICT: Pass.
Simpson (96) – His score wasn't unbelievable, but in a week where defenders were about as useful as the Reb Bull pit crew, it made a huge difference. He looks like he'll be a solid pick all year, I'm tipping him to average 90. VERDICT: Solid.
Watson (120) – Huge man crush developing here, anybody who didn't have the utmost respect for Watson before the start of the year will surely be admiring his brilliance now. Carries the bombers midfield, and with Essendon in great form Watto could be in for a career best season. VERDICT: Gun, get him in!
Chapman (110) – Even though he seems to limp away from one contest every game, those heart palpitations are made up for by his brilliant scoring prowess. He almost carried the Bombers to victory against the Hawks, who must have thought there Chappy nightmares were finished. Getting harder and harder to ignore, a lot of value up forward this year. Usually he would be a massive consideration for me, however there's other options around him with less risk. VERDICT: Big risk, big reward? Could end in tears.
Hibberd (95) – There are many claims to my boy status here already, however I'm willing to chime in with some love of my own. He's a defender who loves a cheap +6. What more do you want? VERDICT: Keeper.
Riewoldt (148) – Hindsight is a wonderful thing, and even though I knew Riewoldt was going to be huge I just didn't even consider him. Yes that's about the level of logic I've been running on this season, an early season average of 137.5 isn't bad for a 30 year old! If I had my time again, he is one I wouldn't be dumb enough to miss early. If you have missed him, unfortunately he won't be coming up against Melbourne and GWS every week, and St Kilda certainly won't be winning every week. VERDICT: Super human. Best forward in the comp, but perhaps a luxury trade.
Hickey (119) – When I turned on my phone to check the half time DT scores in the Saints GWS blockbuster, I thought the numbers were wrong. 83 at half time?!?! Where was that last week Tom! Once again he tailed off towards the end of the game, but that wouldn't dampen his owners delight with a monster 119. Priced at 282k no more, his value will go through the roof. He does however run into West Coast next week, and there are some staggering numbers for opposition rucks against the limitless eagle talls. Will Minson, the competitions premier ruck managed just 54 points. Ok so that's only a one off. How about Jake Spencer today, he actually beat Hickey when Melbourne played GWS, notching 40 hit outs and 108 points. Today he scored… 26. Twenty-six! That's from 21 hit-outs as well. Good luck next week big fella. VERDICT: Great stepping stone, but get the feeling he may come crashing back to earth next week.
Mumford (132) – I feel most of us have made a big mistake. Big Mummy has made the move to Sydney's cross town rivals, and boy is he enjoying being the clear number 1 big man. Not only does he throw his weight around, he knows how to find the footy. He's averaged over 90 in a full season before, so he's capable of being a top line premium ruckman. However I don't think anyone expected a start as good as this, he's averaging 121!!! There's no doubt he's a bargain at anything under 500k, and I'm tipping him to finish in the top 3 ruckmen for the year. Looks the real deal this season, any ruckman averaging over 90 is worth a place in your sides. VERDICT: Great pick.
Cornes (136) – Kane is just an ever reliable source of points, however his price has rightly put us all off. Great for the draft leagues and match day games, but there's still better alternatives at his price. VERDICT: Just too expensive.
Jaensch (119) – I'm in the market for a bloody Birchall replacement, so there's some names I'd never previously considered coming under the micro-scope. This is always a dangerous scenario, however Jaensch was on our radars pre-season as well. He's been huge for those who gambled on him. Whilst Henderson is out he should keep up some decent scoring, being a target for the crows rebound off half-back. Considering that Henderson will miss most of the year, he may well be worth the punt as a stepping stone in Fantasy. VERDICT: Worth the risk.
Pendlebury (152) – There's no such thing as risk when it comes to Scott Pendlebury, and I'm ashamed to say that he left my side an hour before lockout. I'll be headbutting the wall until lockout finally ends, when I can see his score in my team and pretend I made at least one good call this week. I do however have a cheeky little punt on him for the highest DT scorer for the year, so there. VERDICT: Gun. My prediction for the number 1 Dream Team scorer this year.
Barlow (130) – Mr Dream Team has done it again. He's still available to trade in if anyone hasn't realised, owned by a criminally small percentage of players. That percentage would be pretty happy right about now. VERDICT: Forget your roller coaster premos, why not lock in a ton every week.
Johnson (153) – You just have to admire the way he goes about it. I just can't wait to get him into my team, he'll be the first upgrade. A perfect mix of class, brilliance, the impossible and most importantly, he can't stop finding the footy. VERDICT: Ladies and gentlemen, we have a new pig in town. Too far?
Zorko (130) – I'll admit, I might have gotten this one wrong. In my defence, I challenge anyone to own him for for the first 15 rounds of last year (average 70 and ruin your whole season), break your heart while he disappears off the field for hours on end, then back him in again. There is no question he is roaming through the Lions midfield, and with this weeks BOG performance for Brisbane he will continue to do so with Rockliff back in the side. Looks back to his best, I'm giving him one more week to prove himself the real deal. VERDICT: Almost a lock. Almost.
Hanley (113) – Even though he was one of a select few defenders to crack the ton, I'm still not convinced. I'm just always worried that the next tight tag is just around the corner, and I can guarantee it will be. Well done to those who backed him in. VERDICT: Has to be considered with the lack of solid defensive options.
Jones (129) – I was too harsh in completely writing him off last week, but don't consider me a hater. I have him in every draft team I did (admittedly, that's only one)! He's on fire at the moment, however be warned. When a team can actually be bothered to tag a Melbourne player, Jones will be that player. Risky. VERDICT: One for the high rollers.
Tyson (111) – I kid you not, he was one of 4 players who cracked the ton for me this week, and is only the second player I own from this list. He is a true legend! Not often do we see Triple doubles in fantasy (double figure kicks, marks and handballs), however I dare say we have never seen it from a rookie (close enough)! Even when our premiums can't post a ton, this kid can. 15 kicks, 15 handballs and 12 marks saw him register a monster 111. VERDICT: Must have.
The Losers
Cotchin (79) – Ok, it's time to get into the real stuff. To prevent me writing into next week I have decided to trim this list from the possible 100 occupants. First onto the chopping block is Cotchin. His pathetic 2 points last quarter basically summarises why we have always tended to avoid him, and shows how big a difference that 50-100k makes. He's on death row already for me, no more sub 80 scores can be afforded. VERDICT: Too susceptible to a tag, not sure he's ready to make the next step to uber premo.
Deledio (74) – Somebody who will never be making the step to uber premo is Deledio. If somebody goes and touches him he runs away and hides on the pine. This is the only explanation as he literally disappears from the field. He scored an impressive 16 points from the 6th minute mark in the second quarter, that's actually impressively sh*t. VERDICT: No.
Ryder (37) – I dare say if you managed to have Ryder as a POD, then your location in the shed is probably out of wi-fi distance, but hopefully you get this message. It's going to be ok (No it isn't). VERDICT: Unlucky, he wasn't a bad pick. Replacements everywhere.
Birchall (47) – Hear that sound? It's the sound of all Birchall owners violently slapping themselves across the face as they've realised they have picked the most un-reliable defender on the face off the planet. I'm included, the ice helps. VERDICT: I'm on the hunt for a replacement as we speak.
Hodge (45) – Ouch! If you managed the perfect the Hodge Birchall combo, well played. The only way is up! VERDICT: Groin injuries are nasty at the best of times, not what you want on the wrong side of 30. Can't see him getting up.
Dangerfield (80) – Even though it's early in the season, the Riewoldt v Dangerfield head to head for the best forward pick it's almost a knock-out. Dangerfield has been sliding backwards for a while now, and he was atrocious on the weekend. He still gets named in the best 5 players in the comp, only because of the ability we know he has. We have to see it more consistently, no way is he a top 5 performer. VERDICT: Bigger fish to fry, but must fire next week.
Wright (52) – This made me laugh. A lot. It's funny how the DT gods usually conspire to make one week seem like it's the end of the bloody world. It honestly could have been. There will be people out there with 90% of this list, and one of them is our very own Roy. Let's get behind these poor souls on the road to recovery, and the first step is to face your mistakes. This was a mistake. A big one. I did warn you all last week! VERDICT: Think of him as Dream Team HIV, you don't want your team infected.
Swan (68) – WHAT THE HELL IS GOING ON WITH OUR FAVOURITE PIG! We could call back Einstein and he would have no solution to this mystery, especially since the Pies have come out and said he's not carrying an injury. This was my low point of the week, and it was a low week. Swanny's lowest score since the Bulldogs were Premiership contenders. VERDICT: I think he has to be traded now, welcome him back at a bargain price!
O'Keefe (44) – Well there we go. O'keefe this, O'keefe that. Why wasn't he picked. Terrible decision by Sydney. The media pressure got a result, and it ended with O'keefe's lowest non-sub score since they lost to Melbourne back in 2010. Can't see him keeping his spot for next week after that performance, great news for Mitchell's rise into the mids.
Ablett (80) – Ok seriously what is going on. Now Gaz is failing to reach the ton?! To be honest I think most of us feared this might happen up against Crowley, expect to see him bounce straight back this week. VERDICT: Keep clam.
Pavlich (44) – Disastrous. That's about as good as I could come up with for Pavlich's 6 point second half. I know it wasn't great conditions for him, but a goalless 44 is well below par. With so many great forward options around he should be on the chopping block, things don't get any easier for him this week. VERDICT: Chop.
Caddy (55) – I'm a little confused with this one. He was so brilliant all pre-season, and was great last week. However when I turned on the game, he was no where to be seen. It was Zorko all over again! I still think he has the capability to score really well and he's at least held onto his value so far. VERDICT: Patience is a virtue, hold.
Enright (43) – No the DT gods weren't done there, even the ever reliable Borris went down injured. By this stage my RDT was a laughing stock and my care for it had shot down to zero. This is where Fantasy does take the advantage, some Dream Team's will be put out of existence due to injuries by Round 3!  It was an impact injury so you can't really blame his age, just bad luck. VERDICT: If he misses next week (likely), trade.
Cox (51) – Am I reading this score correctly? Because I thought Champion Data were missing a 1 in front of it. When you squeeze out the cash for the most reliable ruck in DT history and get repaid with a 50 against the demons, you just about give up. VERDICT: Next week might be his last for me, scores of 132 and 106 against Hickey have me positive.
Selwood (48) – I can't get too frustrated here, however I do feel for those that saw his captains score of 96 and thought that was decent, until they realised it was already doubled… Tough gig. He was pretty bloody pathetic, as were a couple of other Eagles premiums. I'm not really sure what happened, but I can guarantee most will be hunting that extra cash for Pendles… Or just straight swapping to his brother. VERDICT: Perhaps you picked the wrong Selwood.
Michie (39) – I was actually slightly torn in the Tyson v Michie battle for a spot in my team. Never has there been a more convincing winner, and in this matter loser. Michie managed -1 in the last half. In a whole half of footy, he managed to score negative. Is this real life? VERDICT: Drop it like it's hot, because he's definitely not.
Spencer (26) – When I saw this score I couldn't resist to throw it in here. I'm sure a few poor souls managed to spot his 106 last week and sneak him in as a POD. They are probably curled up in the fetal position pondering where they went wrong. I can tell you. You picked Jake Spencer. VERDICT: Lol.
Higgins (59) – Ah, finally my man Higgins. I'm leaning towards sticking with fantasy this season, and that's for one very simple reason. I don't have Higgins. Not only is he constantly getting injured and sending us back off to a psychiatrist, he's not even scoring well when he's out on the park. Unlike Caddy, you don't want a score of 59 when you're taking such a big risk in the hunt for points. Don't worry, you only have 5 weeks to go. Less if you can generate cash quickly! VERDICT: I will say no more.
Talking Point
There's been a lot of discussion surrounding Sunday night football, however I want to praise the AFL in their handling of the Thursday night clashes. They always seem to be classics, and there's no better feeling than getting home from work on a Thursday to remember there's footy on. An early start to the weekend, why not? I'm all for it! Let me know what you guys think…
Clown of the Week
I simply cannot believe how a team that has traded so well, so smartly, for so long can suddenly make such a mess. I know it's early, and I may eat these words come September. However at the moment, there's no denying it. The Swans look lost. Sydney have always maintained that team is what's most important, and they have always recruited brilliantly from other clubs. Ben McGlynn, JPK, Rhyce Shaw, Ted Richards just to name a few. None however could better the impact that Mumford had on the team when he came across from Geelong. He was a bully in the ruck, and so vitally important to their structure. He allowed Pyke to go forward and become the competitions number one contested marker, before facing up to a battered and bruised ruckman. Tippett's big money move was a first for the Swans, however there's no doubt given time he would be a huge recruit for them. Just as they looked to have it all, they chased Buddy. Now everyone will have their opinions on whether or not he is worth it, and here's mine. Surely the only reason they let such a crucial player like Mumford go was to make room for Buddy, and it has left the team worse off. Pyke for one is not ready to lead the ruck, it's way too much to ask. Their structure seems to have fallen apart, and don't get me started on whether Buddy is worth 10 million. Yes he will attract crowds for a while, and yes he produces some moments of brilliance. However over the full 120 minutes, he just isn't the same player he used to be. Teams have learnt how to minimise his influence on games, and at the end of the day from a pure footballing perspective, I would take Mumford over Buddy without blinking. You don't pay 10 million for flashy brilliance. Sydney may well adjust, but I will always have Mumford down as one of the biggest trade errors ever made. Watch out, GWS are coming.
This Game Sh*ts Me
You may be wondering why there wasn't more rage in the losers? Well that's simply because my side didn't have too many. Yes Birch and Cox were terrible, but things could be worse. My issue was that I didn't have enough legends. I had a team full of crap mediocrity, 11 scores between 79 and 95!!! My rage however comes from my speculative picks. Every time I try to get smart, it backfires. My case and point lies with JJK and Le Cras. I had a 50/50 toss up between the 2 last week, and backed in JJK's great history against the Dogs. 91 points worse off, I copped it on the chin and traded Le Cras in. More midfield time would surely lead to some great scoring, right? There's no need to imagine my unbridled fury when Le Cras couldn't take a mark all day and went into 3 qtr time on 47, while JJK decided he'd actually rock up this week and mark everything that came his way, strolling to 92. It evened up slight in the end, but it wasn't enough to patch the wounds. When you make trades like this somehow, for whatever reason, you end up getting the sh*t end of the stick no matter what. And that's why this game sh*ts me.
The Golden Stubby nominations are in, and there was a furious battle for the fifth spot in the poll. Honorable mentions go to Mumford and Hickey, however they just couldn't quite sneak into the top 5. Good luck picking one, unless you're like me and only had one…
Riewoldt – I'm sure anyone who's had him for both weeks will be voting for him without even thinking about it, such a gun. He doesn't look like slowing up anytime soon, and his 148 was a fairly solid way to back up his opening score of 125. Fantasy beast.
Pendlebury – Speaking of fantasy beasts, I think we'll see Pendles reach that level this season. He's always been under-valued thanks to Ablett and Swan, but he's growing out of their shadows this season. If you had his 152 as captain, I'm not sure why you're bothering to read this.

Johnson – Similar story to Pendles. His guaranteed suspensions and huge starting price worried many of us out of picking him, however those showing the faith are being handsomely rewarded. When you pay top dollar for someone, there's no better vindication then seeing him go and post 150+. Surely his owners are giving him the vote!
Tyson – Rarely does a rookie priced player dominate like Tyson has, he's a true fantasy slut. 32 touches and 9 marks didn't quite get him over the line last week, perhaps 30 touches and 12 marks backing up can get him the Stubby he so deserves. Fantasy gun.
Zorko – The last spot in the nominees was fought down to the last second, however Zorko's owners will be so relieved that their gamble has paid off that he has to be here. If you took him at 400k, you've probably snapped up one of the bargains of the year. 130 was a cracking score, I'm sure better than even the most optimistic people would have hoped for.
Who will get your vote?
Loading ...
Once again my pathetic score of 1964 has me outside the top 10k, the fight back would want to start happening soon! One thing I have learned is that it's a long season, and premos that shot you down this week can carry you the next. Hold tight and hope for some better action next week!
As for my RDT, well…