AFL Fantasy Match Day Preview – Round 2
Cubbo is back again this week with another look at the Match Day Fantasy fixtures for Round 2. With Round 1 in the bag and our match day scores starting to add up, we look forward to what appears to be a slightly easier set of games this weekend.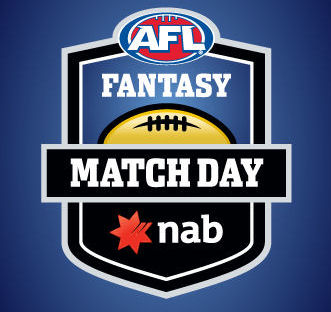 With round 1 in the bag and our match day scores starting to add up, we look forward to what appears to be an easier set of games this weekend. We didn't do too bad during round 1 and I was sitting ranked around 120 until the Saints v Melbourne game left more than a few holes in my scorecard (as it appears it didn't save my team! Big Fat Zero, Grrrr…). Savage, Geary and Terlich went out of their way to avoid the footy anyway (along with McKenzie and Nichols from the Gold Coast game) and ruined what was otherwise an ok round of match day football. Other than these select few, things went pretty well for the rest of the fixtures. So now, despite returning to normal-ish scheduling for round 2, we still have a bit of work to do this week with 3 Match Day games requiring our attention. So let's get into it and as always, hit me up on twitter @CubboDT to continue the conversation!
JOIN THE DT TALK MATCH DAY LEAGUE – CODE: UAR7TERZ
RICHMOND VS CARLTON @ MCG
This is a big game for both Carlton and Richmond after both teams came off 2nd best during round 1. There is no love lost between these two sides and with so many tight battles (less than 10 points separation in 3 of their last 4 games) it's sure to be a dog fight until the final minutes. I think the Tigers will just get it done this weekend tho and that has impacted on a few of my picks here.
Kade Simpson (Def) was ok last week (84) but we will be expecting more from him if he wants to be included in future Match Day fixtures. I will be giving him an opportunity against the Tigers this week as he can turn it on against them when he wants. Simpson's last three scores against the boys from Punt Road have been 101, 77 and 109 and his average at the MCG last year was 90.25. It's time to step up Kade!
With Andrew Walker (Def) copping a suspension after his rough n tumble game last week (and letting me down in my classic team, putting up just 62 measly points) we are left to ponder other options for our backline. Bachar Houli and Heath Scotland (Scotland recently upgraded to senior list again) are our best options although I'm not really sure what's going on with Scotland recently (after foot surgery and de-list/re-list debacle) and if he'll get a game this week (turns out he didn't get listed on the team sheet).  Houli has a pretty poor record against the Blues in particular, with scores of just 60, 54, 70 and 69 in his last 4 against them (well below his last 5 round average in 2013 of 87.2).Despite this, he is probably the best of the rest in defence, especially if we aren't going to see Scotland on the team sheet. Maybe back Nick Vlaustin in to have an above average day if your feeling particularly lucky… but yeah I'll probably pass there too. In fact I'm starting to  notice  some of Richmond's defensive downfalls. Wouldn't we love to have Deledio's DPP back.
Cotchin (Mid) was gold last week and cruised to 127 points. His record against the blues is just as impressive with three scores over 100 in his last 4 hit-outs (120, 101, 51, 114). Cotchin averaged 97.62 at the G from 13 games last year so we have no excuse to leave him out. I have loved seeing Cotchin go forward in games early this year and I think it will be a ploy used to keep him in the game when he gets heavy attention from opposition tags. So far it's working and I think it will again this weekend. Lock him in!
Brett Deledio (Mid) was also firing last week and posted a huge 132 points against the Suns despite the Tigers going down. Against Carlton, Deledio produces consistency with-out dominating (91,99, 78, 114 from last four games vs the Blues) and I think he will be solid again tho probably not to the tune of last weeks' score. He will be fighting it out with Marc Murphy and Bryce Gibbs for my 2nd midfield spot and may just sneak in. Averaged 93.38 at the G in 2013 (again consistent with his previous scores v Carlton) and I think that's where he'll end up this week, somewhere between 90-105.
Hampson vs Kreuzer. (Ruc) These two were once teammates but now meet as direct opponents as Hampson has been given an opportunity to play a bit more footy at Richmond. I think Kreuzer will win this one. Carlton has always seen Kreuzer as the better option during Hampson's time there and I don't think a change of colours will have much effect on that. Kreuzer's record against Richmond is quite decent (96, 114, 102, 78 from last 4 games) and despite a poor start to the season (59) he should bounce back and get the job done for us. I'm not even going to go into venue averages with these 2 as it is pretty much a head to head here. One thing is for sure… If Hampson gets the better of Kreuzer, Carlton (and I) will be left feeling a little sorry for themselves!
Dustin Martin (Mid/Fwd) ended with a 100 point game last week and just did what he does. Nothing overly spectacular but he was solid and ran hard, got his hands dirty and battled it out. Dusty has a pretty poor record against Carlton by his standards posting scores of just 79, 91, 78 and 28 in his last four vs the Blues and has an average of 86.23 at the MCG. The numbers don't look great for him but I think if Richmond are to take the win then Martin needs to have a big day. I'm going to back him in here and say he could be the difference.
Vickery (Fwd), Riewoldt(Fwd) and Robinson (Mid/Fwd) are our only real choices when it comes to the 2nd forward spot and none of them have numbers that fill me with confidence. In fact they all put up pretty average scores last week (Robinson – 69, Riewoldt – 50 and Vickery -70). Vickery did throw up a 103 vs the Blues last year while Robinson's three-game record against Richmond reads as follows- 82, 21, 120. Riewoldt has had scores of 44, 91 and 65 from his last 3 against the Blues.  We can even throw Chris Yarran (Fwd) into the mix here with scores of just 44, 85, 56 and 56 from his last four against the Tigers.  I am at a total loss with the 2nd fwd spot but it will probably go to Vickery as he will get a few ruck taps in, might kick a goal or two and at least he works hard with his forward line defensive pressure, but really it's a stab in the dark.
Marc Murphy(Mid) was ok last week for his 89 points as was Bryce Gibbs (Mid) with 93. They both will need to be better to get the job done this week. With mounting pressure on both teams to get the win, a lot will be riding on Murphy and Gibbs in the Carlton midfield. Murphy's previous scores against Richmond have been 116, 113, 103, 84 while Gibbs has posted 133, 90, 83 and 104 against them in his last 4 games. If you're looking to use one of them instead of Delidio I suggest you go with;
a) Gibbs if you want to play it safe (lower standard deviation of the two in 2013 @ 18.5 to Murphy's 23.65) or ….
b) Murphy if you're chasing the higher score (topped the hundred mark 5 times last year compared to Gibbs's 3).
Captains
1)  Cotchin
2) Delideo
Weather – If it looks like it will rain heavily think about trading out Vickery and Riewoldt.
Melbourne VIC
Thursday
Chance of Storm
Precipitation: 70%
Humidity: 72%
Wind: 5 km/h3 mph
HAWTHORN VS ESSENDON @ ETIHAD
This has got to be game of the round, if not game of the year so far! The Hawks have been in cruize control this pre-season and continued that against the Lions last week despite a gallant effort from the Brizzy boys. Essendon came out and showed that they have been underated so far this season and made everyone stand up and take note. I think the Hawks will be really pushed this week and will need to step it up a notch if they are to walk away with the chockies. They havn't really been tested since last years grand final and unless they bring their A game the Bombers will dispose of them. Look, my tip for this game is probably tainted by my brown and gold colour blindness (Always Hawthorn) and @WarnieDT probably disagrees with me here but I think the Hawks should get up in a close one as long as they are mentally switched on.
Jobe Watson(Mid) smashed it! 153 last week and was just everywhere. This week the tag will probably be on and likely administered by Langford instead of Shiels. Langford's inexperience might cause him to struggle a little against Watson so I'm not too worried. Against Hawthorn Watson has had scores of 108, 33 (injured early) and 114 since 2011 and will put up another +100 this week you would have to think. Lock him in.
Brendon Goddard(Mid) was on fire as well last week with a very handy 119 points. Against Hawthorn Goddard's record is 103, 88 and 54 since 2011, so he has been steadily increasing his output as these battles go on. A smart pick for your 2nd midfield spot. He sports an average of 111 at Etihad from his 11 games there last year and wont receive much of a tag from the Hawks. I think he might spend most of the game running up against Jordan Lewis or Liam Shiels but it appears Shiels has been given more of a license this year and is moving away from that lock down role.
Dyson Heppel(Mid) proved that the past is the past and we can't always rely on history to predict the future. Last week I said that Heppel's numbers didn't really warrent his inclusion in our Match Day side and boy did he give us a lesson.  So I'm not going to say that this week I'm just going to put up the stats. 150 last week (I'm sure he read my article and just wanted revenge) 92 vs Hawthorn last year, 84 in 2012 and 81 in 2011 with an average of 97 at Etihad. I'm not going to say anything else.
Sam Mitchell (Mid/Def) will bounce back this week, of this I am certain. His history against the Bombers is a good as any with an average of 111.5 in their last 4 games with a lowest score of 98! Having the Def/Mid DPP allows us to assign him to the backline and just let him be the ball magnet he is. Lock!
Jarrad Roughead (Fwd) hasn't had the best games of his career vs the Bombers and has limped to scores of  79, 87 and 52 in their previous matchups since 2011. However he did put up 98 last week without dominating and the absence of Buddy in the Hawks forward line should give him more room to move and opportunities to score. I'm on the edge between him and Paul Chapman (Mid/Fwd) who continues to defy what we know about 32 year olds and footy. Chappy posted 106 in a very inspired performance last week and has scored 103, 93 and 91 against the Hawks in his last 3, but I feel like the Hawks slightly more experienced back line will be working to ensure he is shut down. Hodge might take the job on Chappy and that would make it hard for him to blow it out again, but never count out a champion.
Jack Gunstan (Fwd) reads the play as good as anyone and finds space in the forward line easily, he is a good leading mark but has the pace and agility to sneak goals from over the back as well. He is going to be a very hard player to lock down on as he can move up and play off the wing if he is not getting it done up front. If he gets a set shot he makes the most of them and this week will be no different. Gunstan had 86 against the Bombers in 2012, 90 in 2011, 92 last week and he should give us that again this week. I will be locking him in because I know what he will give us. Very few rollercoasters rides with this guy. If you remove his outlieing low score of 37 from last year he gives us a standard deviation of just 17 which is solid!
Ben McEvoy (Ruc) is my ruck pick this week. He looked good in his first offical game in the brown and gold and scored an easy 85. McEvoy has put up 98 and 91 in his last two outings against Essendon as a Saint and I see no reason why he can't put up a similar number this week. Ryder wasn't great against the Roos and struggled to get to 77, even with Goldstien running around with a obviously injured shoulder.
Luke Hodge (Mid/Def) loves the tough games and Essendon always presents as a hard at the footy club. Hodgey's previous scores against Essendon back this up (126, 94 and 100) and Hodge will be there or there about again this week. The luxury of having players like Mitchell and Hodge to pick from in the backline doesn't come around every week and I suggest you jump on it while you can! Both will get a run through the middle at some point which will just add to their fantasy value. Both Locks!
Matt Suckling (Def) is still finding his feet after his long spell on the sidelines and while I'd love to be able to slot him in I don't think he is quite there yet. Had 85 last week and scores against Essendon of 112 and 136 previously but I still think he is working his way back and is maybe another week away from his best form.
Captains
1) Jobe Watson
2) Sam Mitchell
Weather: Non-issue @ Etihad
SYDNEY VS COLLINGWOOD @ ANZ STADIUM
Collingwood are a bit of an anomaly in terms of fantasy, as a select group of players tend to perform week in week out without necessarily getting the job done on the score board. This means that win, lose or draw we are going to see a select group of players controlling their horizontal ball movement and structure at stoppages and as a result we don't need to be too cautious with Collingwood matchups because we will get high scoring players even if their defence is poor and their forward line breaks down. Guys like Dayne Beams, Scott Pendlebury, Dane Swan, Luke Ball and Steele Sidebottom feed each other the footy continuously and will usually produce decent scores even if they are on the receiving end of a belting. Needless to say, this makes our job a bit easier when it comes to Match Day rounds. On the other side, Sydney are a different group who share the heavy lifting and while there are consistent performers a belting will usually heavily affect the core groups fantasy output. I think the Swans will run out winners this week and put last week's fiasco far behind them which thankfully eases the pressure on Match Day coaches. So let's look at the numbers…
Dayne Beams (Mid) put up a very strong showing last week with 122 points against the Dockers despite the Dockers controlling the majority of the game. We don't need to go into things too much here as we all know Beams capabilities and he is sure to produce for us again this weekend. Beams last three against Sydney back that up (108, 131, 99) but he still needs to defy the numbers to become one of the best two midfielders on the ground this weekend (as you will see below).
Dane Swan (Mid) let a few people down last week with his 98 point showing. Now 98 points is no throw away score but we have come to expect so much from him in recent times and if it's not 100+ then it's not the Swan we know. Against Sydney, Swan has produced 94, 85, 106 and 125 from his last four which is a decent output and I may be a fool to say this but… I don't think he will make my team this week. Swan just looked a little underdone against the Dockers and with only 2 midfield slots we need to be cut throat with our decisions.
Sydney threw a spanner in the works last week by naming Ryan O'Keefe (Mid) as the sub for their game against GWS (Initially the emergency… like WTF!?) leaving him with a score of just 21. Now we really don't want that to be the case again this week because he kills it against the Pies! Huge scores of  136, 77,  132, 154, 113 (avg of 122) against them in the past would have him locked in a midfield spot this week but it's anyone's guess what John Longmire is thinking at this point. Look if he is named in the midfield, jump on him… if not maybe swing with Beams.
Scott Pendlebury (Mid) looked in top form against the Dockers and was the standout performer for me in their game last week. Pendles broke the once feared Crowley tag to pump out 122. He has a solid history against the Swans as well with 4 of his last 5 scores against them over the 100 mark (117, 95, 105, 125 107) with the 117 being his last game at ANZ stadium. Number 1 midfield spot .. gone.
Jarrod McVeigh (Def) is a backline lock! Forget last week … pretend it never happened, just move on. McVeigh loves playing at home with an average of 97.67 at ANZ (and 97.89 at the SCG) He drums Collingwood with scores of 124, 108,  57, 104 , 105 in his last five and I'm pretty sure (if my memory serves me correctly) he tweaked something in that 57 score. Safe as houses.
Tom Mitchell (Mid/Fwd) handed us 93 points last week and despite any tangible evidence against the Pies, he will occupy my first forward spot (one score of 74 in 2013). He is a great talent with a fantasy friendly style of play. 4 scores of over 100 last year and another 4 in the 90's plus a 93 last week will do enough to get him in.
Luke Parker (Mid/Fwd) had a decent week last week with 92 against GWS but has a dismal record against Collingwood (53,59, 89, 15) – Pass.
I am going with Brodie Grundy (Ruc) in the ruck. 88 last week against the giant Sandilands shows me he can match it with the best. Pike is not Sandi and Grundy should be able to match him. He is the in-form ruckman in this game and to be blunt … I just like his style.
Heritier Lumumba (Def/Mid) and Nick Malceski (Def) will fight for my 2nd backline spot. Lumumba has looked in good form recently and has been getting a run through the midfield too. 84 last week and a history against Sydney of 75, 103, 72, 94 puts him above any other Collingwood defender while Malceski has posted 82, 59, 83 and 100 against the Pies making him the next best Swan in contention. Because I think the Swans will get up I am going to go with Malceski but it's a close call (and is subject to last minute panic trades) .
Lance Franklin (Fwd) needs a big game to prove he has earned his pay check and I think it needs to be this week in front of the Swans faithful. I have mentioned previously that I never thought the SGC was the best ground for him as it will restrict some of his run but ANZ might not be quite as bad even though the ground does tunnel a bit (SCG dimensions 161 m x 146 m,  ANZ 170 m x 128 m). The thing is .. Franklin's record against Collingwood is quite good with previous scores of 94, 109, 132 and 67 from his last 4. Big risk tho.
Jamie Elliot (Fwd)had two sets of 90 against the Swans last year and they are shaping up to be his favourite opponent to play against. I love Elliot as a player and have been waiting for his breakout year to include him in my side. So far it's not quite time yet … but if you're looking for a unique fwd option in this game think about giving him a run. Also very risky.
Last week I said that round 1 was not the week to include Travis Cloke (Fwd) in your team, and I was right as Freo did shut him down and restricted him to just 35 points (thankfully). This week might be different. Cloke has posted scores of 71, 78, 93 and 53 in his last four matchups with the Swans and presents as a decent choice for that 2nd forward slot.
Captains
1) Scott Pendlebury
2) Ryan O'Keefe (if he plays)
3) Dayne Beams
Weather – If it looks like heavy rain think about trading out Cloke for a small forward
Sydney NSW
Saturday
Chance of Rain