Jeppa's Juniors – Round 1
With Round 1 finally complete and AFL Fantasy lockout fast approaching, it's time to take a look at the notable rookie priced players from Round 1. Some impressed as expected and there were a handful of surprises but the majority need to improve and improve quickly. Enjoy.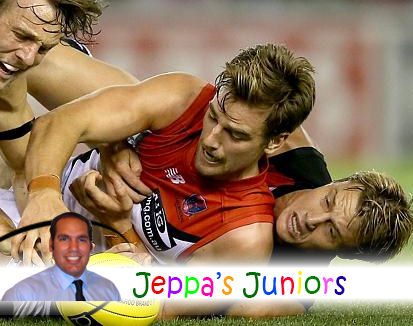 I don't know about you but I am extremely pleased to have finally locked away my 'Real Dreamteam' on the weekend. Last minute changes to my line up proved disastrous after a few 50/50 calls didn't go my way, none more painful than selecting Tom Liberatore (84) ahead of Jobe Watson (153). I spose you can't win 'em all, that's what I tell myself anyway!
For many of us, our attention now turns to locking in our AFL Fantasy teams. 73 rookie priced players ($250,000 and under) suited up in Round 1 but only a handful turned heads. I hate to say it but the 'Guns & Rookies' strategy appears dead this season especially with Macrae (122), Swallow (114), Sheils (109) and Darling (96) all up and firing. Nevertheless, we still need cheap money earners, so which rooks are the must haves and who are the ones to avoid?
Here is my take on the rookie performances from Round 1…
One Gamers
Let's start with the best. Four rookie priced players hit the ton in Round 1 and there's a lot to get excited about. Tom Langdon (Def/Mid, $135,500 AF & $112,800 DT) got us going in the first game of the season with 20 kicks, 4 handballs, 6 marks, 5 tackles and 105 Fantasy points against a disciplined Dockers outfit. He played at half back and stood up well against the likes De Boer and Ballantyne but did turn the footy over a handful of times. Regardless, Langdon was named in the bests for the Pies and is sure to get plenty of senior opportunities this season. His scoring potential suggests that he is a must have this season!
Just when you thought it couldn't get any better, along came Dom Tyson (Mid, $218,400 AF & $250,700 DT). The uncontested mark and possession game of Tyson is a Fantasy delight and after watching the way Melbourne has played under Paul Roos so far in 2014, I doubt a lot will change in the short term. Tyson had 16 kicks, 16 handballs, 9 marks, 2 tackles, 1 hitout, 1 goal and a massive 116 Fantasy points. It's a no brainer to spend the extra coin to get Tyson in your team! In the same match, Luke Dunstan (Mid, $216,800 AF & $127,800 DT) looked like a Lenny Hayes clone with his tough presence around the stoppages, winning the footy and amassing 106 Fantasy points. He is this year's first NAB Rising Star nominee and deservedly so. With Montagna and Hayes returning in Round 2, Dunstan's scores will dip a little but he's good for an 80+ average this season, which is nothing to quiver over.
The last of the ton club came from an unlikely source. David Ellard (Mid, $224,100 AF & $228,700 DT) was a spark up forward for the Blues kicking two goals and was equally damaging on the ball when the likes of Murphy and Gibbs needed a rest. He scored 100 Fantasy points but I wouldn't hit the trade button for him just yet. Ellard's job security isn't guaranteed and he is likely to have a lesser role when Judd and Carrazzo return. On the upside he is a great point of difference for those who don't mind a punt.
Rhyce Shaw (Def, $246,400 AF & $254,000 DT) and Josh Saunders (Mid, $228,700 AF & $230,500 DT) are a couple of expensive rookie options that showed their value in Round 1 after scoring an impressive 90 each. At 32 years of age and his recent injury run, I feel Shaw is a huge risk given that he hasn't averaged over 66 for the past three seasons so don't be fooled by his Round 1 score. Saunders impressed me though. New coach Alan Richardson has the Saints up and about at the minute and it appears second-tier players like Saunders, Webster, Curren & Wright have a big role to play this season. He was used as at half forward for the majority of the match last Saturday night and his speed and forward pressure (7 tackles) were two notable attributes of his game.  Rohan Bail (Mid, $234,400 AF & $251,300 DT) is another expensive option that snuck under the radar. He averaged 85 Fantasy points per minute during the preseason which looks to have carried into the season proper. He's another smokey after scoring 94 in Round 1.
How good was Jared Polec (Mid, $135,500 AF & $169,300 DT) against Carlton? Incredibly good and close to BOG! The homesick South Australian left a sore spot on the hearts of Lions fans after amassing 15 kicks, 9 handballs, 1 tackle, 1 very good goal and 85 Fantasy points. He's cheap in Dreamteam and Fantasy and a must have! Clinton Young (Mid, $218,300 AF & $231,600 DT) drifted in and out of the game between the Pies and Dockers and as a result I suspect his scores will be a little inconsistent this season. If it wasn't for some classic junk time it could have ended a little sour for Young owners but he finished with a very respectable 76. Personally, I'd much rather Tyson in lieu of Young for almost the same amount of money.
Young key forwards Joey Daniher (Fwd, $249,700 AF & $236,900 DT) and Jonathon Patton (Fwd, $204,100 AF & $208,300 DT) were focal points for their teams in Round 1. Patton was a beast in the forward 50 kicking 3 goals on his way to 73 Fantasy points and Daniher marked everything in sight and finished with 72. As good as they were, I have a rule about picking young key forwards…DON'T especially those priced above $200,000. History suggests young key forwards are inconsistent scorers, dare I mention Scott Gumbleton.
Will Langford (Def, $135,500 AF & $119,200 DT) lived up to his preseason form and played as a tagging midfielder, which will also please Liam Shiels' owners. He was far from convincing but still a solid contributor with 16 possessions, 2 marks, 6 tackles and 70 Fantasy points. Langford will have his hands full this Friday night when he lines up against in form Bombers captain Jobe Watson. I'm looking forward to seeing how he goes. All was looking peachy for Harry Cunningham (Mid, $135,500 AF & $119,200 DT) up until three quarter time. He was on 69 at the last break but ran out of juice and failed to score in the final quarter. Cunningham has improved significantly this preseason and unfortunately I opted not to pick him up in Dreamteam, I wont make the same mistake for Fantasy! James Aish (Mid, $246,600 AF & $182,800 DT) was very composed with the footy and started pretty well but like most young players, he had little impact in the second half. I haven't been a big fan of Aish all preseason but he looked very polished against last year's premiers and finished the match with 66 Fantasy points. Aish will improve with every game he plays so expect an average above 70.
Both Viv Michie (Mid, $193,900 AF & $214,100 DT) and Xavier Ellis (Mid, $135,500 AF & $163,900 DT) were quieter than I anticipated. I hardly sighted Michie last Saturday but he did finish with 17 touches and 65 points which is very decent. Ellis didn't get many opportunities for the mark, kick game he's accustomed to but 15 possessions and 56 points is a solid start. Expect Ellis and Michie's scores to improve this week and beyond.
Popular defenders in Luke McDonald (Def/Mid, $243,900 AF & $177,800 DT) 53, Jeremy Laidler (Def, $135,500 AF & $167,200 DT) 55 and Alexis Georgiou (Def, $115,200 AF & $98,500 DT) 54, all tried hard but looked far from their best. McDonald's confidence was shot after Chappy kicked two goals on him early and he appeared nervous every time he had the ball in his hands. We'll call it first game jitters. Laidler was only on 9 at half time! Luckily for his owners, he made a late charge to finish on 55. On a positive note, Alex Johnson is gone for the year, which considerably improves his job security. Georgiou is a shut down defender that wont win a lot of the footy. In my opinion, a score of 54 is on his average but he'll have his work cut out when he lines up against Cox, Nic Nat, Darling and/or Sinclair this weekend!
Jarman Impey (Fwd, $208,700 AF & $112,800 DT) looks set for a permanent back pocket role at the Power after keeping live wire Jeff Garlett to just one goal in Round 1. He had 8 kicks, 4 handballs, 3 marks, 3 tackles and 54 Fantasy points for the game which is very solid for a forward back up. I wouldn't spend $208,700 to have him sitting on my Fantasy bench though! The most popular forward bench warmer this season will be Gary Rohan (Fwd, $138,400 AF & $176,600 DT). His job security is very high at the Swans but he doesn't hit the big scores too often. Against GWS, Rohan could only manage 50 Fantasy points so there is plenty of room for improvement.
Brodie Martin (Def, $150,300 AF & $179,400 DT) and Matt McDonough (Fwd, $166,200 AF & $183,500 DT) were well below par for their respective sides. They both scored a mere 39 and are in danger of being dropped this weekend. I hope Hardwick gives McDonough a reprieve because he did some great things when he had the ball in hand, he just didn't get enough of it. Fingers crossed.
Other rooks from Round 1 worth mentioning include Sam Frost (Fwd, $144,200 AF & $172,100 DT) 62, Brad McKenzie (Mid, $247,700 AF & $249,600 DT) 58, Patrick Ambrose (Fwd, $115,200 AF & $98,500 DT) 57, Lincoln McCarthy (Fwd, $135,500 AF & $119,200 DT) 46, Eli Templeton (Mid, $115,200 AF & $126,500 DT) 45, Jamie Bennell (Mid, $135,500 AF & $119,200 DT) 45 and Sean Lemmens (Mid, $192,400 AF & $112,800 DT) 42. At this stage, all of these players aside from Bennell have poor job security so be careful.
Round 1's green vest club was no big surprise. Ben Kennedy (Fwd, $248,000 AF & $249,900 DT) 22, Tim Sumner (Fwd, $219,800 AF & $221,500 DT) 47, Troy Menzel (Fwd, $227,300 AF & $260,400 DT) 7, Zac Merrett (Fwd, $195,100 AF & $112,800 DT) 45, Derick Wanganeen (Mid, $115,200 AF & $98,500 DT) 20, Lewis Taylor (Fwd/Mid, $189,700 AF & $112,800 DT) 10, Jack Billings (Fwd/Mid, $257,400 AF & $202,800 DT) 14, Jay Kennedy-Harris (Fwd, $157,200 AF & $112,800 DT) 31 and Dom Sheed (Mid, $235,800 AF & $162,800 DT) 11 all got limited opportunities for their respective teams. Zac Merrett was the green vested youngster that impressed me most. He had 40 Fantasy points in the last quarter and his speed and skills were notable features out on the field. Word is that Zac Merrett is one of the best kicks at Essendon too! Fingers crossed that most of these small running forward/midfielders get a full game this weekend.
Lewis Roberts-Thompson (Def/Fwd, $146,700 AF & $180,300 DT) 19 (inj.), Jack Martin (Mid, $268,300 AF & $217,800 DT) 6 (inj.), Ben Griffiths (Def, $135,500 AF & $157,300 DT) 73, Martin Gleeson (Mid, $115,200 AF & $119,200 DT) 55, Tim O'Brien (Fwd, $165,800 AF & $119,200 DT) 31, Michael Close (Fwd, $156,600 AF & $119,200 DT) 33 and Jimmy Webster (Def, $235,500 AF & $237,400 DT) 49 (inj.) all received the red vest in their games. Even though I've had over a week to get over it, I'm still dark at Hardwick for subbing out Griffiths. Richmond's No. 24 was a key target all over the ground and I'm baffled as to why he was subbed out ahead of Vickery. Gleeson was also solid but only had 56% time on ground. It is likely that baby faced Gleeson will make way for Courtney Dempsey this week or next. I thought Webster looked really good at half back for the Saints before a slight groin injury forced him off. When he recovers from the injury he'll be straight back into the Saints 22.
Please note that if I haven't mentioned a rookie priced player above, it means I don't rate them!
Keep Your Eye On
Kade Kolodjashnij (Def, $252,000 AF & $192,800 DT) – After an injury-interrupted preseason, Kolodjashnij had 45 touches in a NEAFL practice match two weeks ago and is pressing for a senior berth. Given that Jack Martin is out indefinitely and Sumner was pretty average as the sub, hard running Kolodjashnij should make his debut this weekend on a the big ground of Pattersons Stadium but it 's likely to be in the green vest.
Josh Kelly (Mid, $260,200 AF & $207,800 DT) – Kelly is pressing for a senior game after he was named in the bests for the Giants Reserves. He had a great end to the preseason and is leading the charge to replace the injured Rhys Palmer (source). Kelly is a future star of the competition but the Giants will ease him into senior footy so expect limited game time early on.
Patrick Cripps (Mid, $230,300 AF & $152,800 DT) – The Blues will wield the axe after their poor performance against Port and Cripps has to be one of the first inclusions. He's had a big week on the training track but more importantly will add some much needed grunt to Carlton's midfield. He's a ball winner, clearance machine and a player not suited to the green vest in my opinion so watch him closely!
If you would like to refer to my 2014 Rookie Guide before locking in your AFL Fantasy rookies, click here.
Happy trading and don't forget to add me on Twitter @JeppaDT for all things Fantasy!