The Friday Scramble Rd1 Part B
Our marathon that is Round 1 is finally coming to an end with our last 4 games. Still plenty for us to look at in our teams though! The scrambling doesn't finish until our final lockout hits!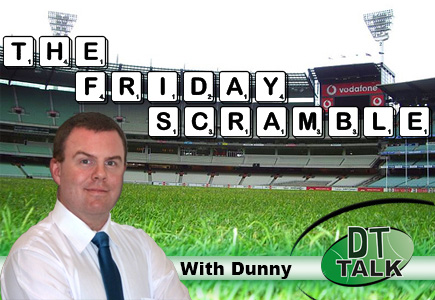 So… 5 games down, 4 to go.  What a long week of footy this has been!  Plenty of success stories (D Swallow, Polec, Wines, Ablett) and a few failures too (Buddy, Cloke, Daisy).  But, we still have plenty of time to redeem ourselves.  One of the toughest thing about an opening round like this is that if you put your faith in a rookie of a team playing later in the week and they aren't named, you are limited in your options (good thing Jeppa gave us a lot of options hey!).
Anyway, let's have a look at where we are at and what is coming up!
Rollin Rollin Rollin along
So one of the things that I wrote about last week was our Lockout status.  Thought I might just give you a little reminder as to where we are at and what to expect this weekend.
AFL Fantasy – Your teams will be FULLY LOCKED at the start of tonights game between Ess and NM.
Real Dreamteam – Here your team will have FULL ROLLING LOCKOUT for each and every game still.
Supercoach – Always has a FULL ROLLING LOCKOUT so nothing new here for Supercoaches.
Next week things get back to normal with Fantasy and RDT having lockouts on Fri night and Supercoach having its' regular rolling lockout.
Loopholing
So if things went to plan last week you would have had these guys on the bench with a big E on them, so unless you have a Delorian and can time travel or you are a fortune teller and had them on your field you are looking at how to get their scores on the field.
The two guys that most of us will have like this would be Tom Langdon and Aaron Sandilands.  Let's tackle the biggest problem first, Sandi. Well he may be the easiest, but he is the biggest!  Many of you may have done what I did which was to put the big guy on the bench with the E just in case.  The rucks is often where we have a non player, R4.  Quite simply put them on the ground and you will get yourself the big fella's score.
Tom Langdon is a bit of a different proposal.  In AFL Fantasy we are ok as we have the free hit, so simply pick the cheapest bench guy you can and put them on the field.  But in RDT and Supercoach where we don't have the free hit you need to ask yourself "Can I afford to have a guy who isn't named?"  The best way to do it would be to pick a guy who is good that is out R1 due to suspension.  It is very risky to bet on a Rookie playing in R2.  So in the backs you might consider Brian Lake (although he isn't someone I would keep in my team but you never know) and in the Mids you may consider Leigh Montagna or Lenny Hayes.
The other Loophole you may have used is the Captains Loophole.  Well done if you put your VC on GAJ, you just need to find a non player to put the C on.  If you used it on Swanny then you will be looking for another Captain this week (like I am) and there are a few options that you could consider.  Jobe Watson, Scooter Selwood or even a left field guy like Sam Mitchell could be guys you may consider.
Selections
A couple of surprises at the selection table this week along with a couple things that didn't surprise us at all.
Mitch Honeychurch was one selection that really surprised me.  Not much from him in the preseason and here is named, but, it is on the extended bench, so I wouldn't put much on him actually playing.  Alex Georgiou was named after being elevated from the rookie list which is a plus, but I think he is a big vest candidate.  James Aish has been named on the field which is a big plus, still not confident on his scoring though.  West Coast youngster Dom Sheed has been named, but only on the extended bench, so not really liking his chances.
Daniel Currie is an Emergency, this is a little bit of a concern if you are thinking he was going to be making you money.  Luke McDonald was named after a few games by Brad Scott earlier in the week.  Xavier Ellis named which we expected as was Will Langford who has actually been named on the ball!
Match Day
Don't forget that the Match Day game is well and truly up and running.  Check out what @cubboDT has to say about this weeks games in his weekly article.
Things to Remember
We are still in Free Hit mode in AFL Fantasy – So go nuts and pick those guys you think will get you across the line.
Don't sacrifice your structure for quick points – If getting Langdon's score on your field in RDT and SC will ruin your structure, think long and hard about it.  Is it worth changing your whole strategy just for a quick 30-40 points?  (yes if that is the difference between first overall and second maybe, but not everyone can win!)
Fill your RDT and SC Leagues – Leagues will lock out this weekend so make sure they are full!  If you have slots left then grab codes from your friends or create a quick league.
Don't feel dirty if you pick Higgins – He is a nice guy, just because he breaks down, don't hold it against him.  I am sure many of us will take the risk with the hope of big rewards!
Don't neglect the old guys – As we saw on Sunday night, Kornes can still get the job done.
So that is the round one done.  I must say I am looking forward to more regular timetables from next week so that I can plan things a little better.  Good luck this week and for those of you whose leagues have already started in AFL Fantasy I believe you will be able to see your scores and live matchups lapvuvdf after lockout tonight or tomorrow morning, don't quote me on that though, it is just what I understand to be the case.  Until next week, keep an eye on twitter @pkd73 and good luck to your teams (unless you are Roy or my mate Peto who I am playing in leagues that have already started!)