AFL Teams: Round 1 (Part B)
The teams are in for the second half of the split opening round. Read them now.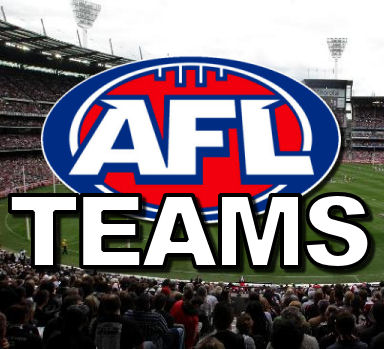 http://www.afl.com.au/news/teams
Thursday, 20 March
GEELONG v ADELAIDE
Simonds Stadium, 7.10pm AEDT
GEELONG
B: Andrew Mackie, Tom Lonergan, Taylor Hunt.
HB: Corey Enright, Jared Rivers, Cameron Guthrie.
C: Jimmy Bartel, Josh Caddy, Mitch Duncan.
HF: Jordan Murdoch, Harry Taylor, Joel Selwood.
F: Mitch Brown, Tom Hawkins, Lincoln McCarthy.
Fol: Hamish McIntosh, Steve Johnson, Mathew Stokes.
I/C: Travis Varcoe, Mark Blicavs, James Kelly, George Horlin-Smith
Emg: Jackson Thurlow, Jackson Sheringham, Dawson Simpson
In: No Change
New: Hamish McIntosh
ADELAIDE
B: Sam Shaw, Ben Rutten, Luke Brown.
HB: Mitch Grigg, Daniel Talia, Brodie Martin.
C: Brodie Smith, Scott Thompson, David Mackay.
HF: Matthew Wright, Shaun McKernan, Matthew Jaensch.
F: Eddie Betts, James Podsiadly, Patrick Dangerfield.
Fol: Sam Jacobs, Rory Sloane, Jason Porplyzia.
I/C: Lewis Johnston, Jarryd Lyons, Brad Crouch, Sam Kerridge.
Emg: Cam Ellis-Yolmen, Josh Jenkins, Matt Crouch.
In: No Change.
New: James Podsiadly, Eddie Betts
Friday, 21 March
North Melbourne v Essendon
Etihad Stadium, 7.50pm AEDT
NORTH MELBOURNE
B: B.McKenzie N.Grima S.McMahon
HB: S.Atley SD.Thompson J.Macmillan
C: R.Bastinac J.Ziebell N.Dal Santo
HF: S.Gibson A.Black L.Adams
F: L.Thomas D.Petrie L.Hansen
FOLL: T.Goldstein D.Wells B.Harvey
I/C: B.Cunnington S.Wright L.McDonald A.Mullett
EMG: D.Currie J.Tippett R.Nahas
ESSENDON
B: D.Heppell D.Fletcher M.Baguley
HB: M.Hibberd M.Hurley C.Hooker
C: D. Myers J.Watson H.Hocking
HF: P.Chapman J.Carlisle B.Howlett
F: D.Zaharakis J.Daniher K.Hardingham
FOLL: P.Ryder B.Goddard B.Stanton
I/C: P.Ambrose M.Gleeson J.Merrett Z.Merrett
EMG: L.Jetta T.Colyer J.Ashby
Saturday, 27 March
Hawthorn v Brisbane Lions
Aurora Stadium, 4.40pm
HAWTHORN
B: T.Duryea J.Gibson S.Burgoyne
HB: M.Suckling K.Cheney G.Birchall
C: L.Shiels S.Mitchell J.Lewis
HF: L.Breust J.Roughead B.Hill
F: J.Gunston D.Hale P.Puopolo
FOLL: B.McEvoy L.Hodge W.Langford
I/C: T.O'Brien I.Smith J.Simpkin D.Wanganeen
EMG: A.Litherland A.Woodward J.Ceglar
BRISBANE LIONS
B: R.Harwood D.Merrett J.Adcock
HB: J.Clarke J.Patfull M.Golby
C: P.Hanley D.Rich J.Aish
HF: J.Green T.West D.Zorko
F: S.Mayes J.Brown T.Rockliff
FOLL: M.Leuenberger J.Redden B.Moloney
I/C: M.Paparone L.Taylor M.Close R.Lester
EMG: R.Bewick N.Robertson J.Lisle
St Kilda v Melbourne
Etihad Stadium, 7.40pm AEST
ST KILDA
B: S.Dempster L.Delaney J.Gwilt
HB: N.Wright D.Roberton J.Webster
C: J.Newnes L.Dunstan F.Ray
HF: C.Jones N.Riewoldt J.Saunders
F: R.Stanley B.Maister E.Templeton
FOLL: T.Hickey D.Armitage S.Savage
I/C: J.Geary J.Billings S.Gilbert T.Curren
EMG: S.Ross T.Dennis-Lane T.Lee
MELBOURNE
B: D.Terlich J.Frawley J.Grimes
HB: L.Dunn T.McDonald B.Vince
C: J.Toumpas J.Watts D.Tyson
HF: R.Bail J.Fitzpatrick D.Cross
F: S.Byrnes C.Pedersen J.Howe
FOLL: J.Spencer N.Jones J.Trengove
I/C: V.Michie M.Jones J.Kennedy-Harris A.Georgiou
EMG: D.Nicholson S.Blease M.Evans
Sunday, 23 March
West Coast v Western Bulldogs
Patersons Stadium, 7.40pm AEST
WEST COAST
B: Bennell D.Glass M.Brown
HB: S.Hurn E.Mackenzie X.Ellis
C: M.Rosa M.Priddis A.Gaff
HF: S.Wellingham J.Kennedy C.Masten
F: M.LeCras J.Darling J.Cripps
FOLL: D.Cox S.Selwood L.Shuey
I/C: (from): J.Hill S.Lycett N.Naitanui D.Sheed B.Sheppard C.Sinclair E.Yeo
WESTERN BULLDOGS
B: L.Picken J.Roughead E.Wood
HB: B.Goodes D.Morris R.Murphy
C: J.Macrae A.Cooney K.Stevens
HF: S.Higgins S.Crameri D.Giansiracusa
F: L.Hunter J.Stringer T.Campbell
FOLL: W.Minson M.Boyd T.Liberatore
I/C (from): M.Wallis L.Dahlhaus M.Honeychurch T.Dickson T.Young J.Johannisen A.Cordy