The Friday Scramble: Round 1 Part A
Round 1 is finally here, so that means we now have lockouts to contend with on a Friday night, and that simply means we now have to Scramble!! Jump on in as I have a bit to say about our first impending lockout.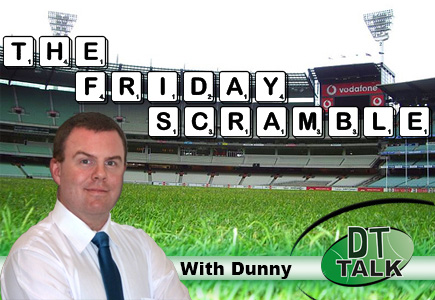 Can you believe it?  Footy's Back!  You little beauty!!  But …. for a Dreamteam coach, this brings with it the inevitable stress of the first lockout.  It's a new year, we have new games to play and what the bloody hell do we do first!!  Well, never fear, I'm going to try and guide you through the first part of this round so that you don't completely lose it.  Throughout the year I will give you some advice that is specific to each of the different games, but I will make it perfectly clear when I am doing that.  So…  without further ado, let's jump on in to season 2014!
We have had a long preseason and there have been plenty of resources on DTTalk to help you get set up for the season.  Have a look back at some of our info that might just help get you over the line.
Jeppa's Juniors 2014 Guide
Deck of DT 2014
Lockouts
Tonight sees our first lockout of the year.  In Supercoach it will be the regular rolling lockout that we are used to, so nothing to write home about there.  In Real Dreamteam we also have a Full Rolling Lockout for round one!  This will allow us to have a look at who is in and who is out of the named sides.  This will be most important when it comes to our rookies.  We will also be able to make sure our players will not be getting a vest.  For AFL Fantasy we have a Rolling Lockout for the first week of games, but then a full lockout will be in effect at the start of the Friday Night game in the second week.
Got all that?  Well, all you need to know at this stage is it is rolling lockouts this week.  I will remind you about next week when we get there!  But for now here is a summary:
AFL Fantasy – Rolling Lockout for each game this week and then full lockout next Friday night before the second half of the round.
Real Dreamteam – Full Rolling Lockout this round prior to each game.
Supercoach – Full Rolling Lockout for every round prior to each game.
Loopholes
With rolling lockouts come loophole opportunities!  Not just the Irish Pirate's patented Captain Loophole, but you can also loophole some other players too.  The most popular one of these will be to put someone like Sandi on your Ruck bench and put the big E on him.  Then wait to see how he goes and if he gets a score you are happy with then put your non playing R4 on the field and sit back and enjoy the Sandi score.
Similarly with your captain, put the VC on someone you like for captain that is playing early… let's say…. Swanny and then see if he gets a score you like and if so, then you could put that C on the non playing R4 that you have put on the ground.
You can also do something similar for the other lines on the ground, but really your two bench players for the Forward, Mids and Backs should be playing.  The only position that you have in round 1 that is non scoring should be your R4.
Free Hit
So for those that don't know yet, in AFL Fantasy this week we have a Free Hit.  That is, after the completion of Round 1 you still have unlimited trades until the start of Round 2.  It is only after the start of Round 2 that we have our teams completely locked in for the season. So this means that in Round 1 you can go for the guys that are going to score you the most you can possibly get and perhaps take a few risks to try and get the biggest score you can.
The idea here is to pick the guys that score well against their opponents this week or the guys that are playing the weaker teams or teams without a matchup for them.  5u5ru7m2 Pick yourself a midfielder that is playing a team that doesn't have a tagger.  Look for a ruckman that will dominate hitouts against the opponent who don't have a recognised ruckman.
Most of all, still be planning your R2 team, don't forget about it, but the key is that by the time you have to lock your final team in we will have a far better idea about the rookies and who we should be considering.  Just watch out for the trolls like we have had in the past (we all remember Tyronne Vickery's round 1 100 that caught a lot of people out)
Check out Tim's article about Free Hit Strategy
Selection Surprises
I am sure that like me you poured over the selections when they came out last night.  Interesting points for me were…
Brent Renouf was elevated from rookie list and is on extended bench.  This spells trouble for Matthew Lobbe.
Tom Clurey has been named for Port, but I think he could be a vest risk but also when Carlisle comes back he may be the first to go.
Jed Lamb, Tom Derickx and Jarman Impey named as Emergencies and down low on the Extended bench respectively, beware!!
ROK has been named as an emergency.
Jeremy Laidler has been named on the ground, but as you read earlier in the week, Jeppa isn't sold on him.
Jack Frost and Tom Langdon both named for Collingwood.  A playing rookie is a good rookie.
Colin Sylvia is only an emergency.  Sorry Warnie.
Captain Choices
This round is a difficult one with the split round, however, if you use the Captain Loophole you should be fine.  We have Swanny up tonight, but he is against Fremantle and could cop the Crowley Tag.  But Crowley could also go to Pendles or to Beamer.  So Swanny may be allowed to go free.  By putting the VC on Swanny you won't go too wrong at least and if he does cop the tag you get a second chance by putting the C on another guy.
Ablett is playing on Saturday night against Richmond and may well cop the Jackson tag which may mean he isn't the best choice this week.  Other guys to consider though would be Scooter Selwood vs the Bulldogs or Stevie J vs Adelaide at the Cattery.  I would also look at maybe Libba on the vast expanses of Pattersons's Playground.
But I am sure you would rather hear from the real Captain, so head on over and check out Calvin's Captains!
Leagues
I am sure that you are all busy finalising your leagues at the moment.  Just a couple of things about leagues for each game….
AFL Fantasy – These need to be full before the lockout of the round that they start playing.  If they aren't full they become invalid, they won't be filled with random players, so make sure they are full
Supercoach and RealDreamteam – Both of these don't need to be full until the end of the first round.  But I would still try and fill it before lockout.
Things to Remember
It is a Free Hit in AFL Fantasy…  so plenty of corrections next week.
Full rolling lockout in RealDT… so say goodbye to the family for the weekend
Use the VC and E Loopholes this week… as you won't get chances again too often (unless you are a Supercoach player)
Shaun Higgins will get injured… it is just a matter of when so enjoy the ride while it lasts
Don't get hung up on NAB scores…. some take those games much more seriously than others do.
There you have it… only a few hours to our first lockout now and the decisions you make this week in RDT will shape your season (no pressure), but seriously keep yourself alert and on twitter to find out about late outs etc.  Give me a follow on twitter @pkd73 and I will keep you up to date with anything I hear.  If you managed to get into any of the DTTalk leagues good luck!  Trust me us writers feel the pressure in those leagues to do well!!