Loop Hole: Captain & Emergency Explained
Confused about all this talk about a 'Loop Hole'? Calvin explains the in's and out's of the process for AFL Fantasy, RDT and SC. He also covers how it can work for emergencies as well so check it out.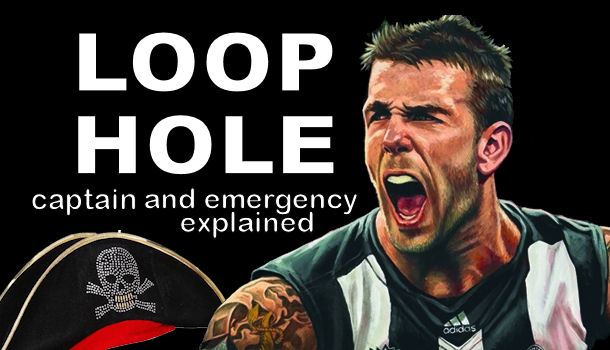 AFL FANTASY
Full lock-out for the first round starts on Friday the 21st of March.
Over the first five games, a rolling-out is in place meaning that you can adjust your side as teams roll in.
This means that the LOOP HOLE can be implimented during this time.
It works like this:
Select Swanny as your VC this Friday night and if he dominates (which he will) then place a non-playing dude on your field so he scores a zero and the score of your VC (Swan) is doubled.
Picking this guy to do this in your ruck department is easier to manage. A guy who is $115k who HASN'T played yet is your best bet. Make sure you have a player who is playing next weekend or hasn't played before pulling this move.
If Swan fails to go over 100, or gets injured, then this is where the LOOP HOLE comes into effect. As he was your VC you can now select another player to be the captain over the course of the remaining games.
THE REAL DREAMTEAM and SUPERCOACH
Firsly, I suggest not to do it in RDT and SC. This is because you are not getting a free hit this week and it starts for real, and you should be aiming for all your players to be playing.
It is still a rolling lock-out though so it can be done it you want. Especially if you have a throw away fourth ruckman. If this is the case then it can still be done as mentioned above, if your fourth ruckman plays after your designated captain.
DOING IT WITH EMERGENCIES
The concept is very similar.
Let's take Gary Rohan for example. He is on your bench and scores 100. You want to have that score so you place a NON-PLAYING person on your field so Rohan covers it with his 100.
RISKS – You now have no bench cover if there is a late withdrawal and if you are playing RDT or SC, you now have a dud player stuck in your squad.