AFL Fantasy Match Day – Round 1 (Part 1)
Taking top honours in a AFL Fantasy Match Day round is one of the toughest tasks in fantasy football. Cubbo will look at the form for each of the Match Day games to help you select your side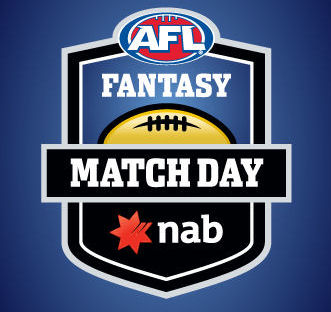 Taking top honours in an AFL Fantasy Match Day round is one of the toughest tasks in fantasy football. Injuries, tags, weather and the dreaded red/green vest debacle are just some of the variables we need to consider when trying to 1 up our mates each weekend and are all the more important considering the small margin of error presented by having to select just 7 players from 44 combatants on any given day.
The previous performances of players against certain opponents and even the ground on which they do battle are all things we need to take into consideration. Not to worry tho because each week we are going to have a look at the AFL Fantasy Match Day games and try to give you that crucial piece of information that may be the difference between weekly glory or you having to buy the first round of drinks after the game!
Due to the split round, we will have a look at this weekend's match day games and follow up next week with the North Melbourne vs Essendon and St Kilda vs Melbourne preview. This is my first crack at writing for the DT Team so go easy on the comments.
JOIN THE DT TALK MATCH DAY LEAGUE – CODE: UAR7TERZ
Fremantle vs Collingwood @ Etihad Stadium.
What a tough one to start the season with.  A match day win in Fremantle games can weigh heavily on the actions of one man, Ryan Crowley. He is not a player we would be putting in our team as he is not a heavy fantasy scorer but the Crowley tag has been a huge factor in recent years and with his ability to lock down and take opposition midfielders out of the game, we need to consider the negating effect he can have on some of our favourite fantasy stars.
In their most recent clash (round 7, 2013) Crowley was sent to take on Scott Pendlebury and limited his output to 92 AF points at Paterson's stadium in the only game that Pendles has played vs Freo since 2011. I would expect Pendlebury to be Crowley's target again at least early in the game anyway. Having said that, Pendlebury likes to play at Etihad Stadium with an average score of 126 points in his last 3 games there with a lowest score of 121.
Simply put, Dane Swan smashes the Dockers. With Crowley being sent to Pendles in their last encounter and the likes of Dayne Beams, Luke Ball and Steel Sidebottom warranting increased attention, Swan is left to do what he likes and has racked up massive scores of 125 (round 23, 2011), 172 (round 14,2012) and 111 (round 7, 2013) vs the Dockers during their last 3 clashes. Lock him in!
Dayne Beams is another midfielder you have to consider. He shouldn't get much attention from Crowley unless he is blowing the game away which would be a good thing for fantasy coaches anyway.  Beams scored 113 in his last encounter with Fremantle and 128 against them way back in Rnd 23, 2011.
Michael Barlow has put up 2 solid performances in his last 2 hit-outs against the Magpies locking away 100 AF points in rnd 7, 2013 and 120 AF points in rnd 14, 2014. Barlow tends to struggle a little bit at Etihad tho, with an average of just 84.33 in his last three games there during 2013 (including 56 points and 91 points vs St Kilda in Rounds 2 and 23 in 2013). Nat Fyfe is also one to consider with an average of 101 at Etihad in 2013 but he did not come up against Collingwood last year or in 2012.
Mathew Pavlich and Michael Walter's are two players to consider in your forward line for this game. Despite a lack of recent history against the pies they have both scored well during their only recent hit-outs with Pavlich scoring a solid 113 points with 5 goals (Rnd 14, 2012) and Walters scoring 120 with 4 goals in his round 7 clash last year(also at Etihad). Both look in good form currently and Pav is worth a look despite his less than impressive average at the ground since the end of 2012 (71).
Travis Cloke has struggled vs the Dockers in years gone by. Cloke has posted scores of just 42 vs Fremantle in 2012 (rnd14 @ Etihad) and 54 in 2013 (Rnd 7) despite putting up other big scores at Etihad during 2013 (127, 121). Both of these games were against St Kilda tho and I would expect the added pressure of the Dockers defensive game plan and the use of the third man up in defence should restrict him again. I'm not confident that this is the week to jump on Cloke but don't worry he will appear in your match-day team throughout the year.
Aaron Sandilands is really the only ruckman I will be considering here. He looks to be in top form and should dominate the ruck knocks while getting involved around the ground. Last year was a disappointing year from his standpoint but Sandilands looks fit and ready to go although he doesn't have a great recent record at Etihad (avg of 71 but only played 2 games there last year). For his last score against the pies we need to go back to 2011 where he dominated the ruck knocks (37) and had 25 disposals for 99 AF points. I'd expect a similar output this time around.
With no real defenders having dominated Fremantle vs Collingwood clashes in recent years and relatively calm performances during the NAB challenge for defenders on both sides it seems likely that this is where your match  day game will be won or lost. With Garrick Ibbotson out with an achilles injury the pickings are fairly slim but the three defenders that stand out for me are Michael Johnson, Paul Duffield and Heritier Lumumbar. Lumumbar had a very solid end to last season averaging 99.6 in his last 5 games and maintained an average at Etihad of 106 over his last three games there. Lumumbar has had a decent pre-season again and will be looking to start the year with a bang.
Michael Johnson put up a respectable 110 AF points against Collingwood in round 14, 2012 but has had a poor showing at Etihad in recent times scoring only 57 and 65 from his 2 games there. Is absolutely capable of turning it up on his day but there are no guarantees it will be this week. I think I will take the gamble on him tho.
Duffield recorded a 109 point game against the Magpies last year but has also had fairly poor showings at Etihad with an average of just 54.3 from his last 3 games at the venue.
So there are some tough backline calls to make in this game so trust your instinct and best of luck!
Gold Coast Vs Richmond @ Merticon
This should be a ripper of a game if history is anything to go by (albeit recent history). You get the feeling these two teams are pretty evenly matched and with less than 2 kicks separating them in their last 2 battles we should expect another tight contest!  Some huge fantasy names to choose from and yet another game where the backline picks are going to be tough … but let's start with the elephant in the room.
The Gary Ablett show is back on at Metricon in Rnd1. Gary loves playing at home and always puts up great performances against the Tigers. With an average score of 117.3 at Metricon in 2013 and scores of 106 and 121 in his last 2 outings against the boys from Punt Road his inclusion in your match day team is a no brainer! If you don't have him, it's going to be tough.
I would be looking at Dustin Martin as a forward for this game and locking him in. Martin scored 120 vs the Suns up at Cazaly's Stadium in Cairns last year and put up 93 the year before when the Tigers suffered an upset loss at the hands of the Suns. So with Trent Cotchin, Brett Delidio, Gary Ablett, Dion Prestia and Harley Bennell all fighting for your midfields picks, just slip Dusty in to your forward line and relax!  With no solid patterns in performance of forwards during Richmond vs Gold Coast games I suggest you have a look into Jack Reiwoldt (Rich) or Aaron Hall (GC) for your second pick but I am not really confident about either of them. Reiwoldt did put up a 112 vs the Tigers back in 2012 but that was prior to his decision to share the ball more and become less of a focal point up forward, so make of it what you will.
Trent Cotchin also had a day out during that game at Cazaly's Stadium last year posting 118 AF points to add to the 38 disposal game (137 AF) the year before and as such will be my second midfield pick despite the stiff competition from those mentioned above. The Sun's midfield have improved out of sight since that day and I expect Cotchin to be on the end of a hard tag this week but he has shown that he can be sent forward if required and this should help him to shake the tag and stay in the game if he is being held down. Lock him in the midfield with Gaz and all should work out well.
David Swallow has been spoken about a lot in fantasy circles this year and a lot of this is due to the notion that he should spend a lot more time running through the midfield. So his DPP MID/DEF helps us out a lot here. His previous performances against Richmond (and in general) don't really support me including him here but his showing in the midfield scoring 88 AF from 71% game time vs Essendon in the NAB Challenge was enough for me to see value when you consider the lack of premium backs around this year. Definitely worth a thought for this game.
The fantasy roller coaster that is Trent McKenzie(DEF) appears to be at its higher points against the Tigers. McKenzie put up an AF score of 112 during their last meeting and 87 the year before. He only averaged 78 points at Metricon last year and is up and down more than you could cope with in Classic mode but the stats indicate he likes playing the Tigers… so if you are going to slot him in this year, Rnd 1 may be the time to do it.
In terms of ruck stocks, both sides are a little light. With Ivan Maric out for the Tigers we are left with Charlie Dixon, Tom Nicholls, Zac Smith, Shaun Hampson and Orren Stephenson. Not exactly a clear cut decision. I am leaning towards Tom Nichols for several reasons. Firstly he has the highest 2013 fantasy average of the bunch with 79.88 but more importantly I think he covers the ground better than our other options and racked up a very respectable 105 vs Richmond in their only clash last year. He will be looking to start the year well and will be given every opportunity to do so.
Once again there is no easy road to travel here and that is the beauty of Match Day games so you will need to combine a little knowledge with a lot of instinct to get the job done! Good luck and see you next week for part 2.
JOIN THE DT TALK MATCH DAY LEAGUE – CODE: UAR7TERZ