DT Talk Leagues 2014
Here's a VERY limited release of AFL Fantasy and Dream Team leagues. Unfortunately this year we haven't had the chance to put together a whole lot like we normally do, but feel free to advertise your league code in the comments.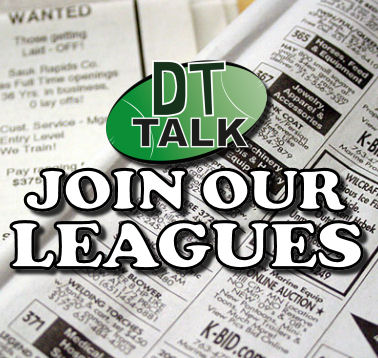 We have a limited run of leagues that feature DT Talk Writers. Join one of the ones listed below (please just join one). If you miss out, you can create your own DT Talk league and advertise it in the comments. Maybe make a state one? Or one based on the team you support or your favourite player. Post the code in the comments.
DT TALK Roy – 9F4PAAF9
DT TALK Calvin – J4CFT3sK
DT TALK Warnie – 62X32XZU
DT TALK Dunny – KDRL4PVA
DT TALK Rainman – 7TKRJCX9
DT TALK Crutton – EV4NM577
DT TALK Anthony– H22NXMR6
DT TALK Jeppa – AXNALZ7W
DT TALK JimBob – Z6RDPWZJ
DT TALK Addicts – 5N4UX6CU
DT TALK Anthony – 619271
DT TALK Lefty – 403963
DT TALK Crutton – 542948
DT TALK Addicts – 224452
DT TALK Scramblers – 294612
Don't forget you can join our MASSIVE league by searching 'DT Talk' in leagues of AFL Fantasy or our group in AFL Dream Team (click here).
If you've got a league that needs filling, or you'd like to set up your own DT Talk one (make sure DT Talk is in the league name), feel free to post your code in the comments. Don't forget you can play against Roy, Calvin and Warnie by adding them in the 'Add Celebrity' section of your league.