NAB Challenge AFL Fantasy Hype Team #2
It's a bit later than what we anticipated, but here's the second and final NAB Challenge Hype Team put together by Warnie. This is no where near a squad that we'd recommend taking into the start of the season, but it is a good base and shows off some stars of the pre-season.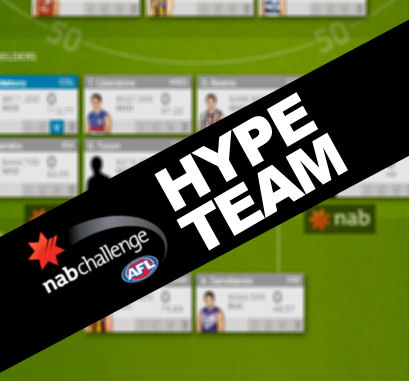 I've put together another Hype Team based on performances over the NAB Challenge and practice matches. This is obviously not the be all and end all of AFL Fantasy squads, but it's certainly a good base and it shows off some of the guys who are in form at the moment.
NAB Challenge scores and TOG – click here.
Fantasy Freako's Rave #2 – click here.
Discuss your squad in My Team – click here.
It's missing some guys that will make up my squad and there are quite a few other guys who have had some pretty decent NAB form that warrant selection in a side like this.
There's only $8,500 left in the kitty… I just wanted to spend up for the sake of it. It's not going to be my side at all, so I've given zero thought to bye round strategy but in the midfield, I have tried to make it guns and rookies – except for Shiels – to go with a structure that will more resemble my starting squad. Also, it's not a round one special either. Just a squad!
I'm going to stop writing stuff as they say a picture paints a thousand words, add some to the comments.
PLAY AFL FANTASY NOW: http://fantasy.afl.com.au
Discuss which players in this side will be in your squad for this year and any other blokes that have torn it up over their three matches that are knocking on the door of selection.
FOLLOW ME ON TWITTER: @WarnieDT.
Follow @WarnieDT