Which Mid-Pricer? – Midfielders
Next up in the Mid-Price articles are the midfielders! Here's an analysis of the top 11 players you tweeted in!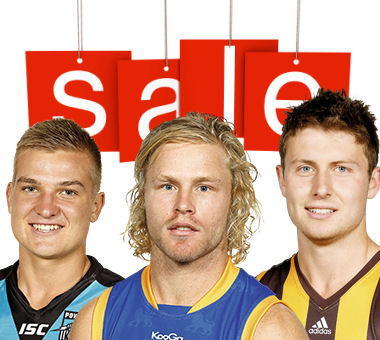 When the Gun's are too pricey and the Rooks can't be trusted where do we turn? It's that dangerous price range known as midpricers.
The most important thing to remember about midpricers is that while they can and should be used as stepping stones to more reliable and premium scorers. They're far too expensive to leave hoping to generate cash from your bench. So their scoring is just as important as their potential for cash generation. While a rookie could score 100 one week and 30 the next while on your bench and not matter, a midpricer doing that will directly effect your league wins and weekly score. In other words, while choosing a mid pricer, one of the most important things to look for is how close each of their scores are to their average. So we're looking for players who'll come close to three scores of 80, 80, 80 as opposed to 80, 60, 100. Because you can guarantee the week he slumps to 60, you'll lose your head to head by 19 points!
So anyway! To help navigate this dangerous terrain I've sent out a tweet earlier in the week asking what midprice midfielders priced between $300k – $400k are peaking your interest. 
Below are the top 10 players mentioned (plus an extra who i've snuck in) and a quick analysis on each one.
Liam Shiels $343,800
Why is he so cheap?
Shiels suffered an ankle injury last year which saw him miss the second half of the year, in a lot of the games he did play, he was used as a tagger. Shiels excelled in curbing the impact of the oppositions elite running players. Playing this role is a huge sacrifice to scoring potential, seeing him average 63 points for the year. This also includes a score of 2 points in round 22 where he re-injured his ankle in the opening minutes.
Why Should I pick him?
It's this NAB Challenge that has put Shiels on everyone's radar. Scoring an average of 118 from 71% TOG from the two games. Shiels has been let off the leash and really shown what he is capable of. He did show this last year though, in fact in the few games where Shiels didn't tag a player or get injured he averaged 97 points per game! Could this be the start of a Scott Selwood style breakout?
Verdict
Yes, it could very well be! But I think he comes at a serious risk. While Selwood is an integral ball winning midfielder at WCE, we still worry that he'll be forced to return to his tagging ways every so often. With Shiels I believe that risk is more likely. Lets be honest, Hawthorn's midfield is mighty scary and anyone of them could stand up and destroy a team on their day. So when an opposition midfielder is doing too much damage I think Shiel will still be first called to run with them. In round 6 last year he started the game running free, then Clarkson moved him to Dangerfield in the 3rd quarter as Paddy had started ruling the game.
His potential as a fantasy scorer is definitely there and he will top the 100's when running free, but I don't believe his tagging days are behind him and those inevitable 60's will hurt!
Pick him if you dare but you've been warned! 
Shane Savage $364,900
Why is he so cheap?
Lack of game time/opportunity at the Hawks saw Savage move to the Saints. Averaged 70 points per game last year but never really given a chance to find his feet. Played everywhere including wing, defence, forward and started 4 games as the sub!
Why Should I pick him?
Take away Savages vested scored and suddenly he has an average of 86 points per game. Which by itself is pretty tasty!
Now add to that the fact that he has gone to a team where he will be a walk up player in their midfield, he very high kick to handball ratio and the fact that he scored a nice 94 points in St Kilda's thumping at the hands of GWS and Savage is looking likely to rise in value this year.
Verdict
Savage is that awesome combination of 'player starved of opportunity' with 'team starved of mature bodies'. With Stevens, Lenny and Joey still taking most of the opposition midfields attention, Savage should be free to float around without much pressure.
Can't see him averaging less than 80 or more than 100. Fit him in if he fits your structure.
Jackson Macrae $344,400
Why is he so cheap?
Who? Macrae is one of the young bulldog pups who debuted last year. He wore the vest 3 times which saw his season average drop to 63 points per game.
Why Should I pick him?
This kid runs all day and gets a lot of the ball. Was already holding his own last year but with another preseason under his belt he looks to have gone up a notch. Speaking of preseasons, his average score for the 2 NAB games was 110 points from 74% TOG. Played so well against Fremantle that he finished the game with Crowley on him! Interested yet?
Take out his vested scores from last year and his average for his debut season lifts to 75.
Verdict
With the young bulldogs list maturing together and an relatively easy draw, I'd expect a nice 80+ average from him this year. While he won't necessarily be a keeper he could certainly provide a nice stepping stone to a premo in the bye rounds.
He's the smoke/sleeper in your draft leagues.
At his price, with their draw, with his potential, he's as good as locked for me.
Daniel Rich $365,000
Why is he so cheap?
TAG! You're it! Averaged 66 points per game last year. Spent it tagged by Jones, Greenwood, DeBoer, Hines, Hunt ect… you get the point. Also missed 8 weeks after injuring his shoulder at trained, then came back and carried more taggers around…
Why Should I pick him?
So much potential. Unfortunately other coaches see it too. Rich has devastating disposal and can cut teams up with a powerful kick if given the chance. He did handle the tags a lot better last year and we can only hope he'll keep improving.
Verdict
Unfortunately I can't see it happening any time soon. Rich is a gun player but he's too dangerous to let run free. Unless he can get a lot more support on breaking tags I can't see his score improving at all.
Andrew Gaff $378,700 
Why is he so cheap?
Here's another tag effected player. After being allowed to run free on the wing in 2012, opposition coaches learnt that sitting a player on Gaff seriously crippled the Eagles run. Even scored the Shiels tag both times WCE played the Hawks. Unfortunately found it very hard to get into a game when things weren't going his way. Averaged 70 for the season.
Why Should I pick him?
Gaff is an elite runner and a player who WCE love to have carry the ball. This is shown by the very high handball receive numbers he racks up. Loves to kick the ball too and often sneaks forward for a goal. If he can learn to shake the tag he could be a very good player.
Did manage to hold his own against a few tags last year. 108 the second time he played Shiels and 109 on Kornes which gives a little hope.
According to Tbetta he played a very fantasy friendly 'kick+mark' game on the wing in the practice match against the Dockers last night. No word on his opponent though.
Verdict
Can't do it. As a massive WCE fan I'd love to see Gaff ripping up 100's every week and I have no doubt that he has the ability to eventually get there but I don't believe this is the season for it. Scored 100 on Sydney in the NAB, but also scored 99 on them last year so that's not really saying enough for me. While West Coast do have more dangerous mids to tag, last year proved that stopping Gaff stopped a lot of West Coast's transition run out of defence. He'll still wear too many tags for my liking this year.
I wish… but no.
Lachie Whitfield $385,400 
Why is he so cheap?
Like the majority of GWS debutants, Whitfield was managed through his first season quite efficiently with minutes played closely monitored and a few vest, GWS like to make sure they aren't burning their recruits out too early and running them into the ground. This of course results in a lower than average fantasy output. Even still, with the games of limited TOG and 3 sub vests Whitfield still managed a 70 point average for the season.
Why Should I pick him?
Whitfield is another hard running outside mid who loves sitting free on the wing. The major tick in Whitfield's  favour is that he isn't the Giant who'll get the close attention. Meaning a lot of the time he is left free to join in those fantasy tasty 'kick mark combos' on the wing.
In the games where he was let lose he did show us what he is capable of, with a couple of scores in the 90's, two 102's and a 121.
With another preseason under his belt he's already looking more built and against Sydney in the NAB challenge showed no signs of losing his running endurance. Racking up 106 points from only 67% TOG!
Verdict
Could definitely be worth a look this year. If not in fantasy then definitely in your draft leagues. Has a lot of Fyfe about him except with better disposal efficiency. Could be an excellent POD player and will certainly improve on last years average. One of those times where he was number 1 draft pick was justified!
He's a gun, if he suits your structure then lock him in a reap the rewards!
Mitch Grigg $325,200 
Why is he so cheap?
Debuted last year in round 17 then played the 5 games to finish the season, 2 of those he played in the sub vest, finishing with an average of 71 points.
Why Should I pick him?
Grigg may have only debuted last year but is a mature aged player. While not exactly blessed with speed, Grigg makes up for it by having elite endurance and having one of the most efficient kicks in the crows line up.
Posted 117 in his 2nd full game to give us a taste of what he's capable of. He's a ball magnet of a midfielder who loves to sneak forward and use that penetrating kick to influence the scoreboard and also loves a tackle.
Finished 3rd in the SANFL medal count last year despite missing games due to AFL commitments.
Verdict
At this price Grigg is incredibly tempting. Unfortunately I still think the risk vs reward is leaning too far towards risk when compared to other players on this list. His 2 NAB games were far too inconsistent to draw anything positive from. 56 points from 86% TOG followed by 77 points from 72% TOG still spells danger for me.
Spend a couple of grand more for piece of mind elsewhere
Ollie Wines $402,300 
Why is he so cheap?
Well, not exactly cheap! At $402k Wines is sitting just outside our $400k bracket, but I'll sneak him in because he is worth a look.
Baptism by fire is the only way I can think to describe Wines debut season! Played every round which is a massive ask of an 18 year old!
Could definitely account for the noticeable decline in his scoring output from the start to the finish. First 5 games of the season he averaged 95 points. The last 5 saw him average 66 points. Also including a couple of vests through the middle rounds, Wine's finished the season on a very respectable 74 point average.
Why Should I pick him?
Another preseason gone and we have a refreshed Wines ready to uncork! (that's the only wine pun I promise)
Started last season like a house on fire! If he's able to do that again then Wines could be the ideal candidate for your first player to use as a stepping stone to a possible dropping premo. Only needs to average over 74 to rise in price for the first few rounds, and showed that he is definitely more than capable of doing that! Averaged a massive 78 points from the minimal average of 57% TOG during the NAB challenge.
Verdict
Wines to me is a perfect midpricer. While he's still relatively expensive you are definitely getting what you're paying for here. His price is ruling him out of a lot of teams, making him somewhat unique and we all know what kind of player this kid will be. Honestly I think he's one of the safest locks on this list. I believe worst case scenario is he averages in the 80's and rises just enough to catch a falling premo, best case scenario is he breaks out and becomes a keeper. The latter option is definitely the dream!
If all goes well, will give you a sideways option to a bottomed out premo before the bye rounds
Sharrod Wellingham $391,900
Why is he so cheap?
Wellingham's career at West Coast started horribly with the ex-Pie injuring his ankle on a trampoline before round 1. This saw him sidelined till round 6, where he then played 2 games before reinsuring his ankle in the 3rd (very early on in the game while on 8 points). He then sat out the next 8 games before returning in round 17 and playing out the rest of the season. Despite the 8 point blemish and stop start season, Wellingham still finished the season with a respectable 75 point average considering.
Why Should I pick him?
Wellingham at WCE this year could be a fantasy gold mine. With the fantasy friendly game plan and the fact that Wellingham is not the number one choice mid to tag, we could see some games where he goes big.
Ankle injuries limit players ability to keep up match fitness as much while recovering. That being said, with the exclusion of the 8 point injury game last year, Wellingham averaged an 80 point season.
He's had a solid preseason so now we'll see what a fully fit Wellingham can do in West Coast colours. Has averaged 76 points per game from 61% TOG over the NAB Challenge.
Verdict
Honestly can't see him averaging less than 80 points per game this year. Has been criticised in the past for being lazy and floating out of games, we can only hope that the disappointment of last season has inspired him to work harder. Has the ability and potential to be a 100 – 110 average midfielder if all goes right but at this stage I see him hovering around the 80 – 95 mark still. Could be a steal in draft leagues.
Would love to fit him in but at this price (and on this page) there are better options!
Dale Thomas $346,400
Why is he so cheap?
After preseason surgery on his ankle, Thomas played his first game of 2013 in round 3, then played the next 5 games before needing surgery on his tendon. While making a return through the VFL, Thomas injured his ankle again and then went back in for more surgery, ruling him out of the rest of the season. Only averaging 75 for the season.
Why Should I pick him?
In 2011 Thomas averaged 104 points for the season. So we know he's capable. Last year in his second last game before going in for surgery last year he scored a massive 121. Showing that he was still capable. Last week in the NAB challenge in his first AFL game back since round 7 last year and a 'chest infection' the week before, Thomas scored 70 points from 66% TOG. Showing that he is definitely still capable!
Verdict
It's not Daisy's scoring potential that has us concerned though. It's those dodgy ankles. While a low scoring midpricer is a worry, a non scoring/late withdrawal/vest risk midpricer is terrifying!
Starting with Thomas could be a massive risk. If playing it safe is more for you, then Daisy is still at a cheap enough price to keep a careful distance from for 2 or 3 rounds while we see how he's coping before bringing him in. Unless of course he completely smashes the first round by over 110. Then we jump on before that price gets out of hand!
He's too cheap for me to leave out. I'll be rolling into round 1 with him firmly locked!
You wouldn't be wanting to start too many of these guys in the same team, But with so little decent cash cow rookie mid options this year fitting in one or two could provide some decent job security while scoring and still earning cash. Do any fit your structure? Who are you considering? Are there any smokies I missed?
Join the conversation below and let us know your thoughts? 
Next up are the forwards, so start sending in any interesting you between $300k – $400k on twitter:
@Anthonydsmith86