NBL Dream Team: Round 21 Preview
It was a great round for big scores as plenty of popular picks and double match players posted big totals for us. Round 21 is the last week before DT finals so it's time to either consolidate your spot or go big and gamble.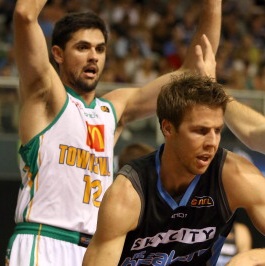 It was a great round for big scores as plenty of popular picks and double match players posted big totals for us. Round 21 is the last week before DT finals so it's time to either consolidate your spot or go big and gamble.
Big Scorers
Thomas Abercrombie was the star this round as he continued his excellent recent form with a even 100. Todd Blanchfield wasn't far behind though with 92 and if you had either of these two as your captain it was a nice scoring boost. Brian Conklin deserves an extra congratulations as he was the third highest scorer with 76, despite having foul trouble in his first game and then a nasty looking injury against Melbourne. There was plenty of support for these three too, as ten players in total scored over 50 points from their double match round.
But it didn't stop there as Rhys Martin played an outstanding single match and delivered a score of 74. Jamar Wilson and Cameron Gliddon both excelled in Cairns' game and got 66 and 56 respectively. Finally there were seven players who scored exactly 50, meaning there were a total of twenty players with a 50+ score and a lot of very happy coaches.
Disappointments
You'd be inclined to think that with lots of great scores there were a lot less disappointing players, but it wasn't the case and it was all the more painful if you had them while everyone else scored big. Making a mockery of my suggestion that he might be a good trade target David Gruber produced a lowly 12 . Tom Garlepp got 10 which was a blow for all of those who traded him in for Pace (myself included), although it was marginally better than a donut. Mitch Creek had a shocker and got 4. If you've got him though I'd suggest holding him, at least until the Adelaide double. Mustapha Farrakhan let people down on the cusp of Melbourne's double by only getting 6.
Casy Frank's 10 from two games would have really hurt if you'd picked him as point of difference. Similarly, if you held onto Greg Vanderjagt hoping for a little scoring boost off the bench then his -2 was not what you were after. Hopefully he'll bounce back this round.
Some players to be trade out as soon as possible if you still have them are Stehpen Weigh (2) and Tom Jervis (0). Shaun Redhage also deserves a mention here. His score of 12 was the fourth week in a row were he's scored under 20 points and his value has plummeted respectively. Maybe he's trying to reduce his starting value for next year?
Double Match Trade Targets
Townsville and Melbourne have the double match this round. Hold onto your Townsville players, other than Conklin who you absolutely need to trade out. You don't want to trade in any of the Townsville player if you can avoid it, they have a Perth / Adelaide road double this week so it could be a tough round for them. Things are a bit nicer for Melbourne who start in NZ but then fly home to host Sydney.
Melbourne Trade Targets
Only grab a Tiger if you've got some spare trades up your sleeve, none of them are ideal to have for the final rounds.
Good: Mark Worthington is playing some great basketball and single handedly kept Melbourne in the match at times against Townsville. You know that you'll get 100% from him every game and is a safe option. Scott Morrison is a bit more expensive and started last match wearing some sort of phantom mask to protect his nose but if you've got the cash and already have Wortho then trade him in. Chris Goulding is super cheap after a run of bad games but had a nice scoring burst last round and is set to go up in value.
Maybe: Lucas Walker is returning from injury and looks fit again so is a great point of difference to consider. He has been playing excellent ball when fit and easily worth his price tag if he stays on court. Adam Ballinger is minimum price and could be a good gamble if you want some cash. He's not getting a lot of court time though most games so is really just a potential bench boost. Nate Tomlinson is more expensive than Goulding, while Mustapha Farrakhan has had too many games where he goes quiet, but both have potential if you want someone different.
Nope: All other Tigers. Sorry Tommy.
Other Trade Targets
If you're not taking a double match player then you want to be setting yourself up for finals.
Adelaide Players: Daniel Johnson, Adam Gibson, Anthony Petrie and Gary Ervin are all going to score well most games and all worth having. Rhys Carter seems to be settling into the lineup now and could be an interesting point of difference if you want a cheaper player.
Sydney Players: AJ Ogilvy, Sam Young, Ben Madgen and Tom Garlepp are almost compulsory selections for finals with Sydney having the two doubles. Jesse Sanders is a somewhat unknown factor, after returning with an average DT score, but he is the most likely to score big out of the remaining Kings. He'll definitely get court time and opportunity.
Wollongong Players: Waiting for another week or two for these guys is the best option as they are either expensive or erratic. That said, you'll definitely want Rotnei Clarke for the Grand Final round and picking the right other Hawk could be the most crucial difference.
Captain Choice
It's a flip of the coin between Mark Worthington or Scott Morrison to my mind, although Josh Pace could be a great option given that he's had a break and should be fit and firing. I'd pick a Tiger over other Crocodiles due to the tough nature of their games and it being the second double match round that they'll be playing undermanned. Chris Goulding is the wild card option for those looking for the risky big score.
Other Thoughts
If you're well established in your top four then either trade in a Sydney player or take the week off trading. I'll be trading Conklin to Madgen and then holding my last 3 trades like the precious commodity they are.
However, if somehow you have more than 4 trades left then trade, Trade, TRADE!!!
I've only been paying moderate attention to the AFL preseason so far but I got reminded in a big way on Monday that the season starts on March 14. I have a lot of preparation to do and I need to do it fast. I wonder how many outings I can cancel this weekend…
Good Luck!
Tristan
Coach of the Statismathgicians