Which Mid-priced player? – Defenders
During the week, Anthony asked for your tweets regarding mid priced defenders between $300k – $400k. Here is an analysis on the top 9 you are considering.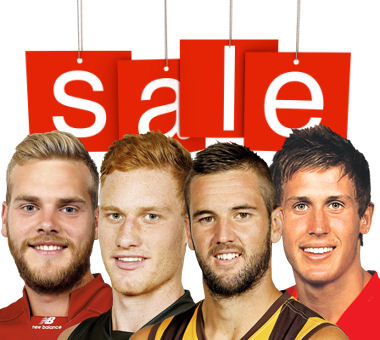 When the Gun's are too pricey and the Rooks can't be trusted where do we turn? It's that dangerous price range known as midpricers.
To help navigate this dangerous terrain I've sent out a tweet earlier in the week asking what midprice defenders priced between $300k – $400k are peaking your interest. 
Below are the top 9 players mentioned and a quick analysis on each one.
Elliot Yeo $314,600
Why is he so cheap?
Yeo is priced at an average of 57. Last year at Brisbane he was used primarily as a lock down defender on dangerous forwards and resting midfielders. Playing on players such as Howe, Monfries, Robinson. Also tagging players like Zaharakis and O'Meara. Not exactly the types of players you want to be running off and giving space.
Why Should I pick him?
Moving to West Coast this year has seen Yeo take on more of a rebounding defender role. Played 2 games and produced an average of 65 points from 72% TOG. He is only 20 and will be given game time and every chance to improve. The kid can run and seems to have been given more of a license to take the game on.
Verdict
While I do believe that Yeo has a lot of improvement in him, I just don't feel like he will be consistent enough this year. For every game of 90 I think you'll get one of 60. Also still a massive sub risk.
Better options at this price, pick him up if you enjoy rollercoasters. 
Nick Vlastuin $375,600 (mid)
Why is he so cheap?
Coming off an impressive debut season average of 69 despite a couple of sub effected scores and an injury in round 10 vs the bulldogs. Also dropped his average to 59 points over his last 5 games. A lot of rookies do naturally drop scores over the end of their first year, especially if they've played every game as their body still hasn't adjusted completely to the tempo and strain of a full season of AFL. Also played a few games tagging players including Barlow, Goddard and Kerr.
Why Should I pick him?
A massive fan of this kid's potential. Complete hard nut who's earn his place in Richmond's best 22. Hit scores of 101 and 131 in only his 3rd and 4th games. DPP status is always a massive bonus too. Played both NAB games so for for an average of 72 points from  72% TOG.
Verdict
Another preseason should see his endurance improve. Always a risk that he could get sent to tag though. Should be safe for a season average of 70 – 80 if all goes well. If he averages over 80 then you've won.
Currently sitting in my line up, DPP combined with GC in the first round free hit has him tempting me too much.  
Jack Watts $365,200 (fwd)
Why is he so cheap?
A season average of 68 after a slow start to his season/career…. Only managed 20 points in round 1 of 2013 and then found himself in and out of the team and sub vests averaging only 60 points per game till round 17.
Why Should I pick him?
Why did we stop his average at round 17? Because after that Watts finished the season relatively strongly. Averaging 82 points per game over the last 6 games of the season. That's some decent form to bring into 2014 which he possibly has, scoring 80 points from 76% TOG in his NAB game against Geelong.
Verdict
People have been burnt by Watts every year. Could this be the year that changes? With the Demons playing a very fantasy friendly, possession retention game style, if anyone can get the best out of an under performing player, it's Paul Roos!
If it was any other player based on just these stats I'd be the first to lock him in! But going on Watts past history this is one player I wouldn't mind missing out on.
David Swallow $377,000 (mid)
Why is he so cheap?
Priced at an average of 69. Played a few tagging games last season which possibly brought his average down a little.
Why Should I pick him?
88 points from 71% TOG against Essendon in his NAB game. Played a lot more midfield in that game and drifted forward for 3 scoring shots. The only other reason I can justify for picking him would be that you'd believe in his natural improvement.
Verdict
Honestly I think he is priced at a good indication of his ability. Some games he'll run free and score big, other's he'll be used to defensively tag. Of course if he's allowed to run free more often he could lift his average a little but I think there is better potential around this price list on this page.
It's a hard no for me. 
Matt Suckling $314,400 
Why is he so cheap?
ACL injury during last year's NAB cup saw Suckling miss the entire 2013 season. Receives a very nice discount this year.
Why Should I pick him?
Averaged over 80 in his last 2 seasons. Has one of the most efficient kicks in the AFL and Hawthorn loves getting the ball into his hands to come out of defence. His 2012 season average of 82 came despite a couple of vest effected scores. Played restricted game time in his two NAB matches, but showed he can still score with an average of 55 points for 52% TOG.
Verdict
Put simply, Suckling was a lock before his injury and we still hadn't seen his best. Expect him to start a little slow as he builds match fitness again but I think he's proven that he's worth the selection. However might be a sub risk in the first few rounds.
So here's a random strategy to ponder. Suckling is all but locked in every serious team. If you either bench him or don't start him all together and he is then used as a sub in the first one or two rounds. You may have a slight head start on the rest of the competition who will be taking that sub score in their backline.  

Lock him in. 
Cam Guthrie $301,000
Why is he so cheap?
Priced accordingly after playing last season as a tagger/lockdown defender. Averaged 55.
Why Should I pick him?
Nope 
Verdict
I can see why his name got thrown up here. His 95 in the NAB against Collingwood would have peaked some interest but it's what we'd call a statistical anomaly. His following week against Melbourne where he tagged Nathan Jones for a score of 45 is the norm and what you should expect if you choose him.
Back away, not today, disco lady. 
Sam Colquhoun $297,400 (mid)
Why is he so cheap?
He's just under the $300K price limit for a mid pricer but we had to sneak him in, because if he isn't on your radar, he should be!
Priced at an average of 55 points per game, of the 9 games he played in his debut season he wore the sub vest 4 times. Limiting his scoring potential.
Why Should I pick him?
This kid is a gun waiting to happen. If we take out his sub effected scores from last year, he would have averaged 72! He's another DPP (yay) and has kicked of his NAB preseason looking a bit bigger and a lot more confident, scoring 78 points from 64% TOG against Adelaide.
Verdict
The only risk here is whether he'll get the game time. Only playing 64% of the game against Adelaide and not playing the second round at all is a worry. Honestly though I think that's the only worry I have. Fantastic price and all the potential/skill in the world!
I'd keep him on that watch list. But if he starts getting consistent games you'll want to lock him in before his price rises too much! 
Curtly Hampton $348,700
Why is he so cheap?
Priced at an average of 63 points per game. I think this is a fair representation of his fantasy output.
Why Should I pick him?
I don't think Hampton is worth picking, honestly apart from 'he's in the giants best 22 and he might give you the odd 80+ score' I don't have a great reason here.
Verdict
Hampton is a very talented player but he will go missing on the stats sheet when a lockdown role is needed. His 2 NAB games sum things up perfectly for me. 52 points the first week and 77 points the next.
Also, did you know that Curtly Hampton is the most balanced player Dermott Brereton has ever seen? I thought I'd mention that quickly as he only ever seems to mention it whenever the Giants play, or Hampton gets within 10 metres of the ball…
You won't get any kind of consistency, look elsewhere.
Matthew Shaw $383,900 (mid)
Why is he so cheap?
Another player in this range who isn't necessarily cheap, just priced at their average. In Shaw's case it's a 70 point average. He did get injured in his last game of the season on 40 points but the did not affect his average too greatly.
Why Should I pick him?
Shaw is a gut running team player who works very hard both ways. Often finds himself in space on the wing and his team mates love getting the ball into his hands. An average of 70 still isn't bad for a defender and with the natural improvement in the GC team we could expect that average to grow this year.
Verdict
In all honesty, Matt Shaw peaked my interest against Essendon two weeks ago. He seems to be involved in everything! I thought 'how have I never noticed this kid before, he must have stepped up to a whole new level!' He finished that game on an impressive 92 points. I then paid closer attention to him against Brisbane the following week. Once again he was everywhere, just not having the same impact, a lot of the time just cruising past packs and not really affecting anything. He finished that game on 60 points.
After looking into his stats from the previous year I noticed 2 things, Shaw is a rollercoaster scorer. 6 scores under 60 and 6 scores over 80 last year.
But he also tends to score better (over 80) when GC is competitive or winning.
With GC set to have a big year, Shaw could be in for an over 80 average season.
His score deviation is enough to put me off. Even though it all averages out, those scores under 60 are the ones that cost you league wins!
You wouldn't be wanting to start too many of these guys in the same team, But with so little decent cash cow rookie mid options this year fitting in one or two could provide some decent job security while scoring and still earning cash. Do any fit your structure? Who are you considering? Are there any smokies I missed?
Join the conversation below and let us know your thoughts?
As always you can find me rambling and asking for the next midpricers on twitter:
@Anthonydsmith86