Bombers v Power – NAB Challenge (25th February)
The Power and the Bombers had plenty of fantasy relevant guys playing tonight and one guy seemed to get himself a new nickname… Jarrod Pol-Lock was all over twitter. Have a read to see what I thought of him and the other guys out there tonight.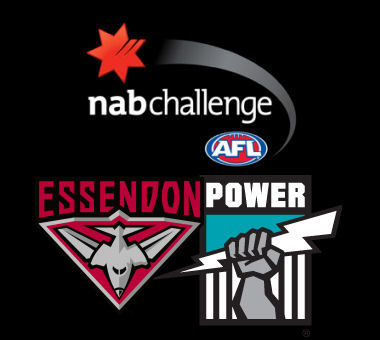 Essendon Bombers v Port Adelaide Power.
Etihad Stadium. Tuesday 25th February, 2013.
Click here for AFL Match Centre.
The first thing to notice about this game was the number of changes that were put through in the sides.  Particularly Port who had 11 changes from the side that took on Adelaide.  The first thing I noticed was that these 11 guys were a little rusty early on.
The other thing that was of note was the opening Subs.  Port left Chad Wingard and Hamish Hartlett in the vests and Essendon had Brendon Goddard and Zac Merrett.
I decided to type a few thoughts in each half and then below you have the full review of the players I felt were relevant.
First Half Observations
Bomber players seemed to want to keep kicking it around the corner… it wasn't working.
Port struggled early but finally got going.
Polec played across the wing and through the middle.  Looked good.  Some nice run and carry along with linkup play. 100% efficiency in first half on 16 disposals (good for Supercoach). 60 DT points!
Lobbe isn't doing a great deal only 5 hit outs, 2 handballs and one tackle at half time giving him 10 points.
Impey and White added much needed speed and looked ok.
Chappy looked good, but in a pregame bit we heard Bomber Thompson say that they would use him in the games that they needed to.  So it sounds like he will be rested when it is a critical game.  Only 20 points at the half with 6 touches and a tackle.
Boak spent the majority of the first quarter playing up in the forward line.  This won't happen in the real season.
Joe Daniher looks better than last year and has impressed me so far this year.  Taking some good grabs. 10 kicks, 6 marks and no handballs at the half!  56 points.
Hibberd was also lively for the Bombers and played a lot of time up forward before going down back.  Was subbed off and news at the half was that he may have twinged a Hammy.
Jobe Watson was inconspicuous but got plenty of it. 45 points in first half from 9 touches and 5 tackles.
Most important what is going on with haircuts at Essendon?  Hurley and Steinberg with those little pony tails on top of their heads.  Come on boys….  lift your game.
Subs only came on about 6 mins to go before half time.
Second Half Observations
Polec has just picked up where he left off.  Lock him in.
Pittard getting plenty of it too.  Still not sold on this guy though, but he is giving me something to think about!
Chappy having a great third quarter.
Westhoff is looking very good and is being very mobile.  With Schultz going down in the third quarter may see Hoff play closer to goals particularly if the coach doesn't have enough faith in Butcher.
Wingard picking up where last year left off.  Played all of the second half and was mostly in the midfield.
Ryder having a lot of hit outs but not getting much of it around the ground.  Will be the number one ruck though with Bellchambers out.
Final thoughts on some key DT related players.
Jared Polec (16kick, 7hb, 9marks, 1tackles, 102DT, 70%TOG)   Complete Lock.  Get him in your sides.  Simple.  Looked exactly the player everyone thought he could be.  Very clean and looked right at home in this team and should have forced his way into the top 22 at Port.
Matthew Lobbe  (1kick, 4hb, 2marks, 18HO, 1tackle, 33DT, 51%TOG)   Certainly not as good as he was last year.  Did share a lot of time with Renouf which I don't think will happen in the regular season.  I would hope to see a bit more from him to be honest.  Got a few touches in junk time.  Will have a keen eye on him in that last practice game vs St Kilda.  At his price 33 is certainly not good enough.
Chad Wingard (6kicks, 6hb, 2marks, 1 tackle, 1 goal, 46DT, 49%TOG) Doesn't look to have missed a beat over the preseason.  Will be a solid scorer again this year.  DPP may be enough to sway you to picking him in your forward line.  He is all class and a pleasure to watch.
Justin Westhoff (10kicks, 4hb, 9marks, 1tackle, 5goals (one was a free after his first goal when dumped on the goal line) 99DT, 82%TOG) Was impressive again tonight.  Spent a lot of time up forward, more time there when Schulz went off.  But still took a lot of marks around the ground and was down back at times helping out.  I think he may come into calculations again this year.  Not for me at the moment though.
Jasper Pittard (22kicks, 7hb, 13marks, 2tackles, 129DT, 79%TOG) Jasper has shown us a bit in the last few years, but this year he is looking to get to a new level.  Tonight certainly went towards that.  He linked up a lot across half back and this resulted in a lot of +6's.  His price is $311k and he has come under my consideration.  I would like to see him again next game to see how he goes.
Kane Cornes (19kicks, 11hb, 8marks, 3tackles 115DT, 76%TOG) Kane simply racks up the possessions.  However, at $578k he could be a bit risky.  115 won't be his regular score, but he will average around 100.
Tom Clurey (12kicks, 2hb, 11marks, 2tackles, 81DT, 92%TOG) Tom played well and is a good player, however, without Carlisle and Trengove he played most of the game.  When those two guys come back I can't see him holding his spot for now.
Jobe Watson (7kicks, 11hb, 3marks, 8 tackles, 84DT, 79%TOG) Unassuming in the way he went about it.  Purely professional.  Should be in strong consideration for your team. he is in mine at the moment.  I don't think he really pushed himself tonight.
Paul Chapman (12kicks, 12hb, 1mark, 3 tackles, 77DT, 76%TOG) Warmed into the game and did really well particularly in the third quarter.  I still don't think that he can be picked given he will be managed and will miss a few games, this was confirmed by Bomber at the start of the game).  He is a no for me.
Joe Daniher (11kicks, 0hb, 3 frees, 2goals, 65DT, 74%TOG) I liked his game.  Took a lot of contested marks and kicked a few goals.  His price makes him a little awkward though. Not sure he should be picked in your team.  Key forwards though don't generally make the best fantasy players.
Brent Stanton (15k, 2hb, 5marks, 2tackles, 67DT, 79%TOG) Had a reasonable night with a great kick to handball ratio.  Had flashes of what we know, but I don't think he got out of second gear.  Has more in the tank and will deliver come round 1.  I think he will deliver the standard Stanton season.
Brendon Goddard (11k, 5hb, 5marks, 1HO, 2tackles, 74DT, 49%TOG) Only played just over a half and just played a very good game.  74pts from less than 50% TOG should tell you that he is in for another great year.  Is he worth the price as a pure mid?  I think he is close to being someone you may want in your team even though he has lost the DEF eligibility.
Michael Hibberd (6kicks, 3hb, 3marks, 35DT, 35%TOG) He tweaked his hammy and left the field and was subbed out.  I liked what I saw of him whilst he was on, but if this hammy turns out to be troublesome you may want to look elsewhere.
Patrick Ryder (6kicks, 4hb, 3marks, 14HO, 4tackles, 64DT, 72%TOG) Patty will be the number one guy at Essendon with Bellchambers down for now.  He competed well and had a fair game.  He didn't get quite as much of it around the ground as I would have liked though.
There you have it.  It was an entertaining game despite both teams being a bit rusty early on.  Plenty of fantasy relevance in the game and hopefully you got something out of it too.  Give me a follow on twitter @pkd73 for all things fantasy.  I will be attending the Power v Saints practice game next weekend so will live tweet from there too.