Blues v Crows – NAB Challenge (24th February)
Matthew Wright is up to his pre-season tricks of smashing out crazy scores. He had 139 in his first NAB Challenge game and he dominated again. Check out Calvin's take on this interesting clash.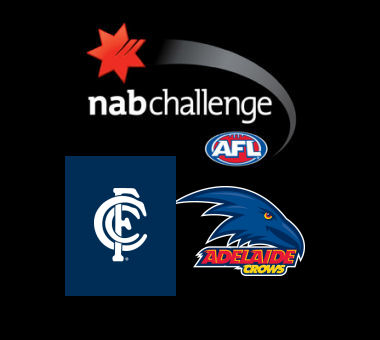 Carlton Blues v Adelaide Crows.
Etihad Stadium. Monday 24th February, 2013.
Click here for AFL Match Centre.
Matthew Crouch was awesome in his first NAB Challenge game with 85 from just 64% game time. He played the same amount of time here for only 54pts with 15 disposals. The kid is a ball magnet and now makes it really tough with all the midfield rookies on the platter this year. I still have my doubts whether or not he's in the best 22 though. Crow fans please comment below if you have an opinion on this one.
Brodie Martin ($150,300 AF) is really cheap this year. He had 58 (70%) in his first game and then just 47. Yeah he's cheap… but c'mon, we can find something better than this I reckon.
Ok ok ok, let's talk about Matthew Wright. "It's pre-season and I'm back"… of course you bloody are Wrighty. Burn me once shame on you. Burn me twice, shame on me. I will not
be getting burnt by this guy again. Last year he smoked the pre-season and then when onto average just 68 for the year.
So far this pre-season he has scored a massive 139pts from just 82% TOG (time on ground) and backed it up tonight with another big 111 from 29 touches (81% TOG). Is he seriously doing this to us again? The man is on fire, but people… take a breath and remember.
Two wrongs DON'T make a Wright and he sits firmly on my never again list and despite the fact he is setting the world on fire at the moment. I'll be passing!
Marc Murphy was impressive and he's cheap after averaging 85 last year. He scored 61 (71%) in his first game and then scored 95 here. He had 30 touches and found plenty of it in his 74% TOG. No one tags in pre-season though and we all know what can happen to Marc when they do. Crowley held him to 55 last year along with Jones (64) and Geary (53) just to name a few.
Probably the biggest story from tonight was Daisy Thomas. He is priced at an average of 75 and will smash that in 2014. Fresh from the move from Collingwood, he joins his old coach and looks ready to roll. The ankle seemed fine as he clocked up a solid 70pts in 66% game time.
Getting it done in quick time tonight was McLean and Gibbs who only played half a game for their scores of 79 and 87. Big returns in limited time from the boys.
Patrick Dangerfield was very quiet but do not let that deter you. He started deep forward (do worry) and then copped a knock. He basically did nothing all night for his 58 points. We're all still picking him so just let this one go through to the keeper.
@CalvinDT – for all your fantasy needs