Lions v Suns – NAB Challenge (23rd February)
Matt has had a look at the game in Townsville this afternoon, and there was a lot of relevant DT info to take out of it. Read on for all the details of the latest NAB Challenge match.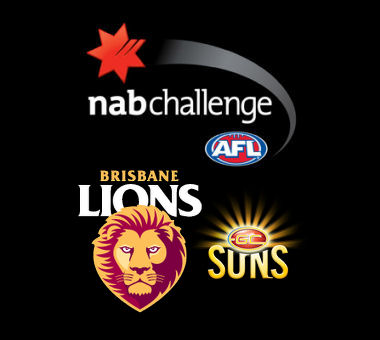 Brisbane Lions v Gold Coast Suns.
Townsville. Sunday 23rd February, 2013.
Click here for AFL Match Centre.
With almost everyone lining up for Brisbane, we got our first proper look at how they would structure their squad this season, and there was some damning results. Gold Coast rested quite a few players so it might be best to see how they track in their final pre-season game against Collingwood next week.
Time to take a look at the key players from todays game!
BRISBANE
Rockliff – There's enough man love for this bloke already on this site, so I shouldn't need to add too much. However we've tended to get carried away with Rocky in the past and he let us down big time back in 2012. I avoided that trap, however this season is different. Brisbane had their full quartet of stars in midfield and Rocky was in there the whole time. None of this resting forward business, he was in the guts and will stay there. 32 disposals and 8 tackles isn't a bad return for your first game of the season. A brownlow smoky for sure and definitely underpriced. A 110+ average surely on the cards, lock and load in both formats of DT for mine! 130 from just 70% TOG, yep you read that right. He will play 85% of the game time in the real stuff, you do the math.
Redden – The second half of the RedRock combo has returned with a bang! A massive 142 from 83% TOG has him back on a lot of our watchlists. People forget this bloke averaged 109.2 in his third year of AFL, he knows how to score big in DT. He is a tackling machine, however his averages have dropped down to 103 in 2012 before just 94 last year. I am confident he will return back to the century mark, but where he will finish is up for debate. A little risky for mine, dominated in the midfield throughout the game to finish with 28 touches, 10 tackles and a couple of sausage rolls.
Aish – Looked pretty solid running through midfield, he was definitely much more comfortable with some solid support around him. 60 from 71% game time was ok, however at his price you'd hope he could do a little more. We're blessed with midfield rookies this season, yet none are stepping up to the plate big time just yet. Has to be around the mark for your Read Dream Team squads, job security shouldn't be an issue. Overpriced in Fantasy.
Beams – The man we were all looking at. Did he do enough? I have no idea. He was just… meh. 57 from 75% TOG, and I wouldn't expect him to have much more game time than that in the real stuff anyway. He was playing through the midfield for most of the game, so that was a plus. Perhaps he just needs to warm back up to things. Might be a possible sub risk, see how he goes in Brisbane's final practice match. Didn't do enough to be locked in my team just yet.
Leuenberger – The big disappointment for mine. I get really excited when a player has a full pre-season to back up a great return from injury. I thought Leuey could take it to the next level this season, however West seems to have crippled his value. He was stuck in the forward line for a lot of the game and looked lost, not to mention very rusty. With West sharing ruck duties (23 hitouts to Leuey's 21) and looking capable, Brisbane will look to Leuenberger to help out their struggling forward line. 53 from 67% TOG was a very disappointing return. Unfortunately he's off my watchlist!
Hanley – I'm sure I'm not the only one to be tossing and turning over starting with Hanley. We all know he can rack them up across the half-back line, unfortunately now the opposition do so as well. I wouldn't read to much into his score (101 from 75% TOG), he received no attention all day. This won't continue from Round 1. No doubt he will have his big games, the question is how he'll continue to cope with the tight tags. Unfortunately we won't know the answer until it's too late either way!
Zorko – I'm glad I could help here. You may look at his score of 84 (67% TOG) and be persuaded into sneaking him in, however all I saw is flashbacks to last season and me waking up covered in sweat. Brisbane's midfield brigade all returned, and poor old Dayne returned to the forward line. Brisbane had it down there most of the day, so he didn't have many problems finding it. Actually he still did, with just 16 touches he had to rely on his tackling (9) to save his score. Trust me when I say, seeing him on the screen once every 10 minutes and hoping he can receive that half tackle is a painful thing to do. You've been warned!
Rich – Every year I hear this man will breakout. I'm sure it will eventually happen, but his 71 from 75% TOG hasn't convinced anyone. Save yourself the hassle and avoid him.
Cutler – He looked pretty solid down back, and even though his score of 31 isn't so promising, it came from just 27% game time. If he gets named Round 1 he's a lock in RDT at basement price, I wouldn't go paying the premium in Fantasy.
GOLD COAST
Lonergan – Jesse was promising, his 69 from 70% TOG was just as good a score as any other rookie mustered. However it was inflated by 10 tackles as he continues his struggle to find enough of the pill (11 disposals). Not worth the premium price.
Martin – I'm not sure what to think. We were promised so much by the Gold Coast, and I'm starting to think they have over hyped him. The kid must be feeling the pressure unfairly placed on him, I can't see anyway he will be better than O'Meara in his first year. I'm happy to be proved wrong though, his class is clearly evident. From a DT perspective, 1 kick and 10 handballs was not quite what I was after. He managed 52 from 72% game time thanks to some good tackling, but just the single kick and no marks is concerning. It will take quite a drastic turnaround for him to justify his extra cost in Fantasy, however his great job security still has him in my RDT squad.
Unfortunately the Gold Coast rested most of the players we wanted to watch, in particular David Swallow. Ablett was also rested as they look towards their final hitout against Collingwood next Sunday. The absentee I'm most concerned about is Kade Kolodjashnij (Copy and Paste). I really wanted to get a good look at him, and being left out of the teams final NAB Challenge game is very concerning. I said after my last report that we should read more into this weeks team selections, and this is the first casualty. He's out of my team until I get full guarantee of his playing time. Lewis Taylor also missed out, not good news for those relying on him getting a run early. I still reckon he'll be worth an F8 spot in RDT, however I would be reluctant to pay his premium in Fantasy. Watch out for these two in their respective teams final hitouts.
Some other players to look at included Matt Shaw, who managed 60 from 73% TOG. Are you really going to take the risk in starting him over Swallow? Bennell managed 87 from just 59% TOG, but his price is too much for me to take the punt on him in midfield without DPP eligibility. Dixon was poor again with 50 from 70% game time, so you can cross him off your lists also. Moloney smashed out 95 from just 60% TOG but I wouldn't take a risk on those 30 year old hamstrings. Karmichael Hunt could have been worse, 41 from 49% TOG wasn't too bad on his return. Broughton was even worse than normal, I'm not even going to mention his score as I don't think you guys will have buckets on hand. Sumner is on report for a head high bump on Rockliff, he can think about his 14 from 77% TOG during a few weeks on the sidelines. Finally Lester is tipped for a move into the midfield to replace Simon Black. I'm not sure how much truth there is to that, however his 71 from 60% game time was promising, backing up his 101 against the Hawks. Priced at around 330k in both formats, I would have him on the Fantasy watchlist if midpricers are your go.
So that's what I learnt from this game, quite a lot surprisingly. I hope this helped, bring on the next 6 games!