Magpies v Tigers – NAB Challenge (22nd February)
Anthony had a look at the game from Wangaratta this afternoon. Quite a few of the big guns played in this match and pleasingly stepped up. Read on for all of the goss from the latest NAB Challenge match.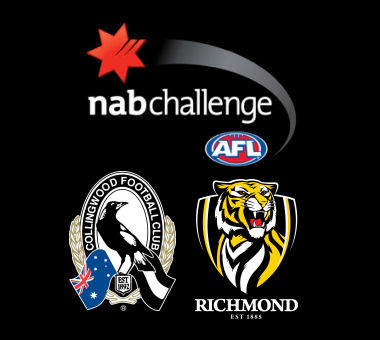 Collingwood Magpies v Richmond Tigers.
Wangaratta. Saturday 22nd February, 2013.
Click here for AFL Match Centre.
It was pretty clear from early on that Richmond wanted to put last weeks performance against Melbourne behind them.
They attacked the contest with intensity and really showed up to play.
It was also clear from early on that Collingwood really went in and gave no amount of $%#@'s…
He's the run down on the fantasy relevant, once again I'll show you their points in relation to the Time On Ground percentage…
WHO FIRED?
Trent Cotchin – ($511,300- MID) This guy just couldn't be stopped, alternating between midfield and resting forward he played the role to perfection. Racking up possessions at will around the ground and then providing a capable target when forward. Finished the game with a MONSTER 154 from 79% TOG
Dustin Martin – ($526,00 – MID/FWD) Looking very sharp and working hard across the half back line again with stints though the midfield. Chris Newman said during the call that all Tigers players are looking to get the ball into Dusty's hands to set up the play. Ended the game on 114 from 80% TOG
Brett Deledio – ($514,900 – MID) Impressive as always and really led the way early with intensity. Try finding the highlight from his smother/gather/goal on Armstrong early in the piece! 134 from 82% TOG
Anthony Miles – ($279,700 – MID) If this ex GWS kid scores that rookie elevation then he'll be hard to ignore. He's ticking all the boxes and impressing everyone at Richmond. Newman commented on his improved work ethic and willingness to learn. But when he's on the field he has always been fantasy point magnet. Started the game as the sub and came on after half time. Went straight into the midfield and scored 53 points from 41% TOG
Matthew McDonough – ($166,200 – FWD) Here's another kid who's doing all he can to earn a spot. If he does then I'd have no hesitation in slotting him into my fwd bench! Worked so hard patrolling the half fwd line alongside fellow tiger cub Sam Lloyd ($135,500 – FWD 66 from 80% TOG) to finish on 75 from 72% TOG
Scott Pendlebury – ($611,200 – MID) Ran hard all day as one of the few Collingwood midfielders who seemed to have shown up. The upside here is it highlights Pendlebury's work rate, you know he'll always push hard to score for your team! Finished the day on 104 from 83% TOG
Dane Swan – ($636,600 – MID) First game of the season for Swanny and he went about it with his usual disregard for the NAB series. Don't let his 80 points from 73% TOG put you off. Swan never gets out of 2nd gear for the preseason.
WHO FALTERED?
Brodie Grundy – ($335,300 – RUC) This kid played one of the most undisciplined games I've witnessed in awhile. Giving away free kicks and 50 metre penalties while chucking mini tantrums when things didn't go his way. Hopefully he'll watch this game back and adjust accordingly but in the meantime I won't be going near him. 24 points from 55% TOG. Add on the points deducted for the 3 free's against and his scored could look a little more respectable…
Steele Sidebottom – ($523,000 – MID) Another Collingwood midfielder who didn't get out of 2nd gear and lacked intensity. The difference is that Sidebottom isn't Swan. 71 points from 80% TOG
Alexander Fasolo – ($208,400 – MID) If you read up on TBetta's DECKofDT this year then this score wouldn't surprise you. 41 points from 72% TOG. His price and potential JS will keep tempting you. These types of performances and scores should be snapping you out of those thoughts…
Tony Armstrong – ($248,000 – DEF) Between last week and this week we have two different players. I said after last weeks game it's probably worth keeping Armstrong on your watch list just in case. Tried that this week but the only time I remember seeing him is the above mentioned Deledio highlight. 20 points from 62% TOG. Not the kind of performance that'll get you a best 22 spot Tony.
Heritier Lumumba – ($475,400 – DEF/MID) Not sure if this was an intensity issue or just 'wrong place wrong time'. I remember seeing him on the screen a lot but very rarely with a ball in his hands. 49 points from 82% TOG.
HONOURABLE MENTIONS
My honourable mentions are players who scored well and should be on your watchlist. Keep an eye on these guys in your Draft Leagues.
Nick Vlastuin $375,600 – DEF/MID (91 points 74% TOG)
Brent Macaffer $359,500 – MID (80 points 78% TOG)
Brandon Ellis $429,300 – MID (81 points 73% TOG)
Ben Griffiths $135,500 – DEF (68 points 88% TOG)

Actually Vlastuin is looking more tempting with his DPP Eligibility, and with Maric out injured Griffiths will be needed in the Ruck… I'm off to reshuffle my team on a totally unrelated matter…
So that's all I have to say on this game. Anything to add feel free to comment below. Anything you disagree with feel free to blast me on twitter! @Anthonydsmith86